Thursday, October 27, 2011
Page 3
Justice Maria Rivera Selected to Receive 2011 Aranda Award
By a MetNews Staff Writer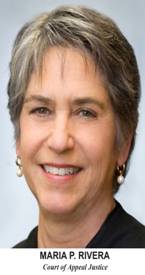 Court of Appeal Justice Maria P. Rivera of the First Appellate District's Div. Four has been selected to receive the 2011 recipient of the Benjamin Aranda III Access to Justice Award in December.
Named for the late South Bay Municipal Court judge who was founding chair of the Judicial Council's Access and Fairness Advisory Committee, the award honors a trial judge or an appellate justice whose activities demonstrate a long-term commitment to improving access to justice. It is co-sponsored by the California Commission on Access to Justice, Judicial Council, State Bar and California Judges Association.
Justice Laurie D. Zelon of the Court of Appeal for this district, last year's recipient, issued a statement on Tuesday with San Francisco attorney Richard W. Odgers of Pillsbury Winthrop Shaw Pittman LLP which remarked that "[a]ll of those who have had the opportunity to work with Justice Rivera know the passion and intensity she brings to this work, and the effectiveness with which she brings ideas to fulfillment."
Rivera's colleague from the First District, Justice James R. Lambden, commented that Rivera "has demonstrated relentless dedication to improving access to justice in furtherance of the goal of 'justice for all' " throughout her career.
Julia R. Wilson, executive director of the Legal Aid Association of California, echoed this sentiment, insisting Rivera "is completely deserving of this award based on her long-standing commitment to increasing access to justice for Californians in need and her involvement in multiple efforts to support legal services delivery around the state."
Rivera began working in public interest law while still attending law school at the University of San Francisco, spending her summers working at the San Francisco Neighborhood Legal Assistance Foundation—now part of Bay Area Legal Aid.
After graduating in 1974 and gaining admission to the bar, she entered private practice and one year later joined the Lawyer's Reference Panel Committee of the Bar Association of San Francisco. She also spent three years as a volunteer at the San Francisco Lawyers' Committee for Urban Affairs, handling cases for people who could not afford counsel but did not qualify for free legal aid.
She spent a year as a San Francisco deputy district attorney in 1978, and two years as an assistant U.S. attorney before returning to private practice in 1981.
Rivera was a member and officer of the Contra Costa County Bar Association, and was a founding member of the Women's Section of that association. She was a volunteer panel member for the Contra Costa Legal Services Foundation Ask-A-Lawyer program for many years.
She also served eight years on the board of the Contra Costa County Legal Services Program. While serving on that board, she supported and promoted the mission of that program to provide free legal assistance to the county's low and moderate-income residents. In 1992, she also chaired the Pro Bono Panel of the Contra Costa County Bar Association, which provided representation for indigents.
In 1996, Rivera was elected to the Contra Costa Superior Court. She was elevated to the appellate court in 2002 by then-Gov. Gray Davis.
Copyright 2011, Metropolitan News Company