Wednesday, December 21, 2011
Page 3
Dina Tecimer Elected Chair of Local Chapter of National Multiple Sclerosis Society
By a MetNews Staff Writer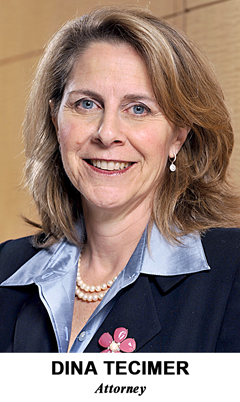 Los Angeles attorney Dina Tecimer of Manatt, Phelps & Phillips LLP has been elected to serve as chair of the Board of Trustees for the National Multiple Sclerosis Society, Southern California & Nevada Chapter, her firm announced yesterday.
She is the second woman to hold this position in the 64-year history of the chapter, which is part of a national organization devoted to assisting individuals with the challenges of living with multiple sclerosis and supporting research for treatment of the disease.
The attorney assumed her role Thursday and is set to serve a two-year term.
Tecimer has been involved with the chapter for decades, joining the chapter board in 1995 and taking the seat that had been held by her mother Lailee Bakhtiar, who was diagnosed with multiple sclerosis in 1984. Her brother also joined the board in 2008.
"From the beginning, we have dealt with this disease as a family," Tecimer said, "accompanying our mom to doctor's appointments, driving her to physical and occupational therapy sessions, coping with the side effects of clinical drug trials and minimizing the impact of her eventual loss of independence and mobility."
Up until her mother's death in 2009, Tecimer said "the MS Society has been a consistent resource of programs, services and specialists, and more importantly, a tangible source of hope." During her time in the leadership of the chapter, Tecimer chaired the major gift campaign from 2001 to 2003, during which time the campaign raised $1.2 million.
She also served for seven years on the Board of Trustees for The Marilyn Hilton MS Achievement Center at UCLA, a collaboration of the chapter and the UCLA Department of Neurology.
She is a member of Manatt's real estate practice, where she focuses primarily on purchase, sales and lease transactions.
Tecimer graduated cum laude from UCLA with a degree in Near Eastern Studies before attending Loyola Law School, where she served as Associate Editor of Loyola Law Review, and joining the State Bar in 1982.
Copyright 2011, Metropolitan News Company