Tuesday, December 6, 2011
Page 3
Snell & Wilmer Adds Commercial Litigation Associate
By a MetNews Staff Writer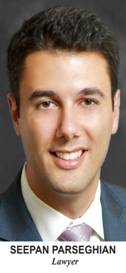 Snell & Wilmer yesterday announced the addition of a new associate to the firm's commercial litigation group in Los Angeles.
Seepan Parseghian joins the firm from Arusha, Tanzania, where he has spent the last four months working for the United Nations' International Criminal Tribunal for Rwanda.
UNICTR was established to prosecute persons responsible for the Rwandan genocide and other violations of international humanitarian law committed in the territory in 1994, and Parseghian has worked remotely with the tribunal since January through a partnership with the USC law school's International Human Rights Clinic.
Cary Jones, administrative partner of Snell & Wilmer's Los Angeles office, praised Parseghian as "a talented lawyer and committed humanitarian" whose "efforts in Tanzania prior to beginning his career with the firm are highly commendable."
Jones said the associate "exemplifies the ethic behind the firm's dedication to public and community service."
Parseghian graduated from Stanford University with a degree in Political Science and interdisciplinary honors in International Security Studies and a minor in Russian, East European and Eurasian Studies. He went on to earn law degree, with honors from USC, where he was the Class of 2011 recipient of the Carl Mason Franklin Award for excellence in international law coursework and extracurricular activities.
Copyright 2011, Metropolitan News Company