Thursday, October 27, 2011
Page 3
Heath Care Attorney Elizabeth Elson Returns to Firm
By a MetNews Staff Writer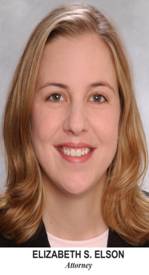 Los Angeles attorney Elizabeth S. Elson has rejoined Foley & Lardner LLP's Health Care Industry Team after a brief tenure as in-house counsel for a Thousand Oaks-based biotechnology company.
Elson left the firm as a partner in 2008, and returned Tuesday as of counsel. Larry Vernaglia, chair of the firm's Health Care Industry Team, said that Elson's experience "handling compliance issues as both inside and outside counsel gives her a unique level of insight into clients' complex challenges," and anticipated "leveraging her expanded perspective on behalf of our clients both regionally and nationally."
Elson's practice focuses on counseling clients on federal and state health care legislation and reimbursement and compliance issues arising under government programs such as Medicaid and Medicare, according to her firm biography.
She began working at Foley in 1998 as a summer associate in the Los Angeles office and worked there until she became counsel for Amgen three years ago.
While at Amgen, Elson advised its compliance department on issues such as state law reporting requirements, internal investigations and development of compliance policies, a spokesperson for her new firm said. She also provided legal guidance to commercial and research and development clients on Risk Evaluation and Mitigation Strategy program issues.
Elson graduated magna cum laude with a degree in psychology from Tufts University in 1996 before attending law school at UCLA where she served as a symposium editor for the UCLA Law Review.
She went on to serve as an extern for U.S. District Judge William D. Keller of the Central District of California and was admitted to the State Bar in 1999.
Copyright 2011, Metropolitan News Company