Thursday, August 5, 2010
Page 11
REMINISCING (Column)
William C. Petchner: Attorney, Reformer, Educator
By ROGER M. GRACE
William C. Petchner was a crusader in the local governmental reform movement of the 1890s and early 1900s; was active in partisan political activities; was a founder of the law school that would soon be absorbed into USC, and taught there; and was, in later years, a civic leader in the Antelope Valley.
Petchner was another of the 13 lawyers who, in 1896, were among the original tenants of the Wilcox Building at Second and Spring streets in Los Angeles.
He was then, at 26, an employee of the law firm of Hatch, Miller & Brown, whose colorful partners have been discussed here.
From before and during his career in law, Petchner associated with luminaries in the legal profession and the judiciary.
On July 23, 1896, a few weeks after moving into his new place of employment, he was wed in a noon ceremony in the home of the bride's mother. Performing that ceremony was Los Angeles Superior Court Judge Waldo York, one of the notables Petchner knew.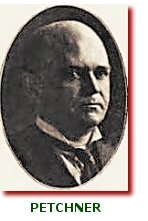 Petchner had studied law in the office of York & McLachlan, a firm which dissolved when York was appointed to the bench in 1894. York was to serve as a judge for 13 years. (His son, John York, became a member of the California Supreme Court.)
James McLachlan of York & McLachlan was district attorney in 1890-92 (York was his chief deputy), and was a member of the U.S. House of Representatives in 1895-97 and 1901-11.
Following York's ascendancy to the bench, Petchner studied in the office of former Santa Barbara Superior Court Judge David Patterson Hatch.
The knowledge of law Petchner had accumulated enabled him to withstand a grilling by a panel of the California Supreme Court in April, 1895, gaining admission to the bar.
Hatch in 1896 went into partnership with John P. Miller and Herbert Cutler Brown, and Petchner was hired as their associate.
During the seminal days of Hatch, Miller & Brown, Brown tried to give a financial boost to the young associate. Brown, as previously noted here, was married to the daughter of entrepreneur Thaddeus S. C. Lowe, who was king of a mountain—Mount Lowe. On April 16, 1896, articles of incorporation were filed for Mt. Lowe Hotel Company, with Petchner as one of the members of the Board of Directors. He held 10 shares of stock, valued at $1,000. (Brown had $296,000 worth of stock.)
When the firm was dissolved in October of 1897, Petchner stuck with Hatch.
The law firm of Petchner & Westover was formed in 1906, and lasted a short time. Myron Westover was appointed to the Los Angeles Municipal Court in 1926 and elected to the Superior Court in 1928, serving there until his defeat at the polls in 1946.
Petchner's partnership with Oscar Trippet was also short-lived. Trippet would attain the post of 1911 Los Angeles Bar Assn. president, and would sit on the U.S. District Court in Los Angeles from 1915 until his death in 1923.
It was not to be that Petchner would attain the prominence of those he studied under, worked for, or with whom he was in partnership. But he led an honorable life, and a meaningful one. He was an idealist and, though much interested in the political process—and intent on changing it—he did not have the makings of a politician and, so far as I can ascertain, never sought public office.
Petchner's political-party allegiances fluctuated. The lawyer was constant in his philosophy as a reformer, but the stances of established parties fluctuated, and parties formed to address limited issues came into existence and fused with others or evaporated.
In 1898, Petchner was elected sergeant of arms at a statewide convention of the Silver Republicans, held at the Southern California Music Hall, at 216 W. Third Street, participated in the party's county convention, and was temporary chairman of its City of Los Angeles confab. Members of that group were Republicans who repudiated the GOP's stance in favor of a gold standard and, in 1896, had rallied behind the Democratic presidential nominee, William Jennings Bryan.
In 1899, he was an organizer of the Club of the New Democracy, which proposed an alliance of Democrats, Populists and Silver Republicans, and favored the creation of the initiative and referendum.
Around that time, Petchner was, according to the 1994 book "California Progressivism Revisited," among a group of "self-described Christian socialists."
In the 1912 edition of "History of the Bench and Bar of California," he's listed as a Republican.
Copyright 2010, Metropolitan News Company