Thursday, April 8, 2010
Page 11
REMINISCING (Column)
Herbert C. Brown: 'Automobilist,' Early Leader of Auto Club
By ROGER M. GRACE
Attorney Herbert Cutler Brown, a pioneering Los Angeles "automobilist," was a leader of the Automobile Club of Southern California in its sprouting days.
Though not one of the organizers of the club in 1900, he did become involved not long after the organization's inception.
At the dawn of the 20th century, horseless carriages in the West were a rarity. Dennis McDougal's 2001 book, "Privileged Son: Otis Chandler and the Rise and Fall of the L.A. Times Dynasty," says:
"Shortly after its founding in 1900, [Times Vice President] Harry [Chandler] joined the Automobile Club of Southern California. The gentlemen's social organization had only forty-six members then, and there were less than 200 automobiles in the state."
A Nov. 3, 1903, Times article quotes a Los Angeles city councilman as mentioning that barely 1 percent of the populace possessed an automobile.
The vehicle Brown owned in 1904 was an impressive one: a four-cylinder 24-horsepower Pope Toledo, variously billed in ads as a "noiseless car," "a whirlwind on wheels," and the "mile-a-minute car." It was water-cooled, had three speeds and reverse, could hold 14 gallons of gas, weighed 2,350 pounds, and seated five persons.
Earle C. Anthony (later a radio and TV station owner) would have sold you such a vehicle at Western Motor Car Co., 730 S. Spring Street, for $3,650. That's equivalent to $88,500 today, the cost of a 2009 Mercedes-Benz E63.
(A 14-horsepower version of the model with two cylinders went for $2,150.)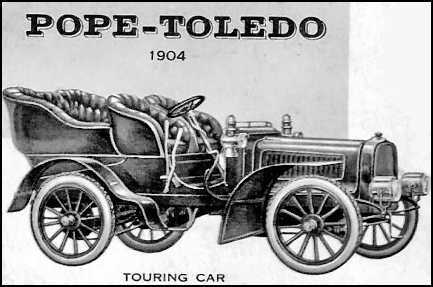 Brown—who on June 5, 1904, was elected as second vice president of the club and a member of the Board of Directors—also became chair of the Racing Committee. Back then, the Auto Club staged races.
As committee chair, he arranged for car owners, during that summer, to be able to compete on Saturday afternoons in races around the dirt track at Ascot Park. That track, which had opened the year before on the site of a vegetable garden, was designed for horse racing, which took place in the fall. It was located on Slauson Avenue, between Central Avenue and "South Park," now known as Avalon Boulevard. The facility closed in 1908 (largely because of E.T. Earl's Los Angeles Express railing against betting there), and had no relationship to the car/motorcycle raceway with the same name in Gardena, at 182nd Street and Vermont Avenue, that operated from 1957 to 1990.
Rules at the 1904 races included a prohibition on stripping the autos to reduce weight. All persons riding in a competition vehicle had to weigh at least 150 pounds, fenders had to be intact, and there had to be "at least two lamps" (in these days before built-in headlights).
Autos were divided into classes. At the June 18 meet, cars in four of the classes had to be fueled by gasoline; in two categories, they could be driven by gas engines or by steam. Class A was comprised of cars costing $800 or less, with one cylinder, and with the power of eight horses; Class G was unlimited as to cost or horsepower.
A major racing event was held by the Auto Club on Oct. 21 and 22, 1904, at Agricultural Park—now known as Exposition Park.
Brown's Pope-Toledo was originally entered in the competition, but for whatever reason, wasn't run. Earl C. Anthony had a like vehicle in one of the races. Oil tycoon Edward L. Doheny entered his Peerless. The driving was done by professionals.
Judges at the event were Henry Huntington, who owned controlling interest in Southern Pacific Railroad; Auto Club President Dr. Milbank Johnson, who held the curious post of chief surgeon for the Southern California Edison Company; and Walter Newhall, president of the California Club and son of the founder of the town of Newhall.
Brown acted as a "referee"—akin to the role he had played the previous year as an "umpire" at a race staged by a Northern California society, the "Automobile Club of California" (note absence of the word "Southern"), at which the legendary Barney Oldfield prevailed in the 10-mile race in his "Bullet No. 2" racecar, boasting a staggering 120 horsepower, but lost in a five-mile race in his "Baby Bullet" car.
Copyright 2010, Metropolitan News Company