Monday, July 12, 2010
Page 7
PERSPECTIVES (Column)
Challengers Rap Garcetti Over Three-Strikes Implementation—So Does Judge, From Bench
By ROGER M. GRACE
128th in a Series
GIL GARCETTI, in his 1996 quest for re-election, was pelted with verbal brickbats based on his hard-nosed application of the Three-Strikes law. It was a legitimate issue for election challengers to raise.
It was also raised by a non-candidate, a sitting Los Angeles Superior Court judge who popped off about the policy from the bench, right before the March 26 primary election, being widely quoted and adding seeming substantiation to the campaign assaults.
Enacted by voters Nov. 8, 1994, as Proposition 184, the law mandated "an indeterminate term of life imprisonment" for a third or subsequent felony conviction, with eligibility for parole set at 25 years unless one of two alternative provisions required a longer wait. It provided that the "prosecuting attorney may move to dismiss or strike a prior felony conviction allegation in the furtherance of justice" and vested no such power in the trial court.
The theme of the challengers was that Garcetti's office frequently failed to move to strike priors where the present offense was of a relatively minor nature, despite the drastic sentencing consequence.
(It was not until June 30, 1996, after the primary, that the California Supreme Court established that a judge could strike a prior, without concurrence of the prosecutor.)

Garcetti drew three formidable opponents, all deputy district attorneys—John Lynch, Malcolm Jordan and Sterling Norris—and two private practitioners.
A March 23 article in the Long Beach Press-Telegram tells of the controversy over Garcetti's response to the new law:
[A] criticism of Garcetti is his handling of three strikes cases. The challengers say there is no countywide policy. A person prosecuted under three strikes in Compton might not face charges in Long Beach or Pasadena.
Lynch, the head deputy in the Norwalk branch office, says he advised Garcetti early on that the office needs a uniform three strikes policy.
"I told him, 'Where you are in the county when you get arrested should not determine the prosecution.'"
Under former District Attorney Ira Reiner, Lynch held the No. 3 position in the office, director of Central Communications.
"There is one policy," Garcetti responds. It is "sufficiently flexible," giving the head deputy in each jurisdiction the final say.
Norris says the lack of a uniform policy is an indication of Garcetti's disdain for the will of the people.
"Garcetti has set about to embarrass the three strikes law by filing every imaginary charge and then refusing to exercise discretion," says the attorney best known for his prosecution of Freeway Killer William Bonin. "He hopes to clog the courts and thereby massage his ego in justifying his opposition."
A March 10 article in the Daily News quotes Garcetti as insisting in an interview:
"We're taking this law, and we're using it the way I think the people intended it to be used. People say we don't use our discretion. Well that's a bunch of BS."

Newspapers weighed in on the issue.
The Los Angeles Times, in a March 17 editorial, endorsed the challenger who went on to make it into a run-off with Garcetti, Deputy District Attorney John Lynch. On the subject of three strikes, the editorial says:
"[W]e are...disappointed with Garcetti. On the one hand, he warmly embraced the 'three strikes and you're out' law despite the harsh sentences it mandates for any third offense, even if the offense is nonviolent. Once the law took effect, however, Garcetti compiled an inconsistent record, prosecuting some third-strike defendants charged only with petty offenses and rejecting strikes for others charged with similar crimes."
In a March 19 editorial endorsing Garcetti, the Daily Breeze remarks:
"Garcetti's opponents say the law has been inconsistently enforced around the county. They charge that the district attorney—who favored an alternate three-strikes bill that would have required the third strike be a serious—violent offense, has been filing frivolous three-strikes cases.
"In such a large office, there are bound to be some fluctuations in the application of the three-strikes law, but the overall policy seems consistent: Head deputies have the power to strike a prior conviction. To do this, they consider whether the offender has engaged in repetitive criminal conduct, whether the priors were serious and whether the latest offense is serious or a felony."
The Daily News, while endorsing the incumbent on March 20, did so despite "his poorly handled administration of the 'three strikes' mandate—in which policies were inconsistent for different D.A. offices in the county."

David Yaffe is the judge who publicly excoriated Garcetti from the bench over his handling of third-strike cases. The denouncement came on March 4, and on March 8 it was reported by the Times...and picked up by other newspapers and by the Associated Press, and came to be referred to in various pre-election summaries of the race.
The defendant, Michael Newhouse, was acquitted by jurors of possession of a small amount of cocaine. After rendering their verdict, those jurors became a captive audience as the judge railed against the DA, with little likelihood that what he referred to in his discourse as a "public statement" was intended by him to be solely for their personal edification. He proclaimed that the case against Newhouse "was so weak that to prosecute it at all was questionable" and that to "make it a case involving life imprisonment"—that is, by not striking priors—"was grotesque."
A March 13 editorial in the MetNews observes:
Three weeks before the primary election in which District Attorney Gil Garcetti faces five challengers, a Los Angeles Superior Court judge spouted off from the bench about the county's prosecutor, asserting that he is either a "craven coward" or an "arrogant bureaucrat."
In uttering those remarks close to the climax of an election, Judge David Yaffe was or should have been cognizant of the likelihood that those remarks would receive public attention. Indeed, they did. They were published last Friday in the Los Angeles Times under a headline running the full width of a page reading, "Judge Assails Garcetti for Treating Drug Charge as '3rd Strike' Case."
As the Times reported, Yaffe lambasted the district attorney for a "gross abuse of prosecutorial discretion" in failing to strike priors in the case of a man tried for possessing three-tenths of a gram of cocaine. The man was acquitted. Yaffe's diatribe took place in the course of discharging jurors.
Not reported by the Times was that Yaffe specified that he did not intend an endorsement of any candidate and that he had "no information and no reason to believe that anybody trying to take the present district attorney's job would do this any differently or better than [Garcetti] would."
He added: "But this situation demands a public statement by this court and that's why I am making it."
Notwithstanding his disclaimer, Yaffe knowingly involved himself in a political race. As his statement reflects, he knew there was an upcoming election in which Garcetti faced opposition. His remarks about Garcetti were harsh, it is rare that a judge would utter such words about a political figure, and it was reasonably foreseeable they would be quoted and would be damaging to Garcetti.
It cannot be doubted that Yaffe intended to damage a man he asserted was either a "craven coward who is afraid to do his sworn duty" by striking priors because he is "afraid of public reaction" or an "arrogant bureaucrat" who is trying to thwart the public will by making the three strikes law look bad. And the judge intended to do that damage three weeks before an election. Viewed in context, Yaffe's remarks to jurors were nothing other than a political speech relating to a non-judicial race, and as such, were in blatant derogation of Canon 5 of the Code of Judicial Ethics.
If Yaffe believes the canon unduly restricts his speech, he should forthrightly challenge it, not try to sneak around it by uttering his political comments from the bench rather than a bunting-draped lectern.
On March 4, Yaffe proclaimed: "This situation demands a public statement by this court."
The situation—Yaffe's perception that the Office of District Attorney was remiss in not striking priors—did not call for any personal attack on the head of that office. It did not call for turning a courtroom into a political meeting hall. At that time, a public statement by the court was certainly not demanded.
The situation now does demand a public statement. It demands a public apology to Garcetti and an explanation of the conduct to any reporters who inquire. Ironically, Yaffe, who spoke when he should not have, now is mum. He met with Garcetti Friday but has issued no apology. He refuses to take calls from reporters, revealing himself to be—to employ his redundant phrase—"a craven coward."
An apology is all the more called for in light of Yaffe having uttered his denunciation based on misapprehensions of fact. He was ignorant of the defendant's prior felonies other than the two alleged and his four parole violations.
Yaffe owes it to Garcetti to make amends. He owes it to the public to talk with its "surrogates," members of the press. And he would do a favor for himself by ameliorating the harm and thus possibly minimizing discipline from the Commission on Judicial Performance.
It was shortly after that editorial appeared that my wife and I were at an event in Bel-Air. We were introduced to Yaffe. He shook my hand, but then glared at me, a prolonged glare—and displayed that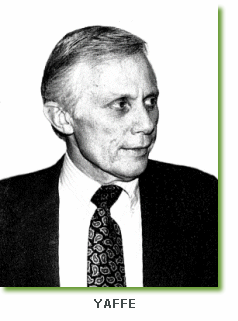 smug, sardonic smirk that attorneys frequently encounter when appearing before him.
The thought expressed in the editorial that Yaffe might apologize to someone was naïve. Having subsequently appeared before him in three cases, and seen his handling of scores of matters in other cases, it's clear to me that Yaffe is utterly incapable of erring…in his own mind.
Yaffe did not incur discipline. He should have. At the least, he used his courtroom as a forum for uttering a political charge, useful to Garcetti's challengers.
What Yaffe said in his address to jurors might well have been constitutionally protected speech outside the courthouse, notwithstanding a prohibitory canon. Divorcing judges from partisan politics has a valid purpose: Where judges are beholden to parties and their platforms, their devotion to neutrality, their independence, their fairness, are questionable. On the other hand, a canon that proscribes utterances by judges as to the policies and performance of the heads of governmental law offices who hold nonpartisan posts, especially nonpartisan posts that entail heading legal offices, is of doubtful utility to the public and might well impinge impermissibly on the free-speech rights of judges.
But Yaffe did not speak outside the courthouse, and did not challenge Canon 5, which requires "refraining from inappropriate political activity" in the form of taking public stances with respect to nonjudicial candidates.

Garcetti came under fire for the striking of a prior in a particular case.
Brian McMorrow had been convicted in 1983 on two counts of robbery. He was charged on Aug. 30, 1995, with attempted arson, evidenced by a videotape of his pouring gasoline on two vehicles. His grandfather, Bernard McMorrow—who had donated $10,000 in cash and $3,000 worth of office space to Garcetti's 1992 campaign—contacted the DA and asked for his help.
The outcome was that the younger Morrow on Nov. 22, 1995, pled no contest to vandalism and was sentenced to 16 months...rather than the indeterminate life sentence he would have received had a plea bargain not been worked out, under which a prior was stricken.
One election challenger, attorney Harold Greenberg, is quoted in the Feb. 28, 1996, edition of the Press-Telegram as observing that the system appeared to be based on "justice for everyone vs. justice for Garcetti contributors."
A March 10 Daily News article relates Garcetti's side of it:
"Garcetti said he asked Assistant District Attorney Frank Sundstedt to look into the case to make sure the charge fit the severity of the crime. Sundstedt said the charge was appropriate, Garcetti said, and he subsequently called Bernard McMorrow to tell him the charges would remain.
"It was only after judges questioned the charges that they were reduced, Garcetti said."
Prosecutors in the case insisted they had received no instructions to move to strike the prior, and acted because of concern that pouring gas on the vehicles could be viewed as the full extent of the misdeed the defendant intended to commit.
The Association of Deputy District Attorneys asked the Office of Attorney General to investigate whether Garcetti had misused his powers to benefit a contributor; the office did; it sent a letter to the association on June 10 reading: "After carefully evaluating the information, which you provided, we have concluded that no action on the part of this office is warranted."
Asserting specified deficiencies in the investigation, a deputy district attorney sent a letter to the AG's Office urging that the probe be reopened. His effort led nowhere. However, the deputy, one Stephen L. Cooley, reopened the matter, himself, by drawing major attention to it during his successful 2000 campaign to wrest the DA's post from Garcetti.
Copyright 2010, Metropolitan News Company