Wednesday, March 17, 2010
Page 9
PERSPECTIVES (Column)
Reiner, His Support Dwindling, Quits the Race
By ROGER M. GRACE
120th in a Series
IRA K. REINER made it into the run-off in his 1992 quest to gain a third term as Los Angeles County district attorney, though he trailed his chief competitor and erstwhile chief deputy Gil Garcetti in the primary.
After the vote was in, showing he had attained 26 percent of the votes to Garcetti's 36 percent, he appeared determined to fight off the challenge.
But his resolve was to wane.

His political chances shriveled even more in light of an action by the DA in the Reginald Denny case.
Denny, a white truck driver, was severely beaten during the Rodney King riot. Three blacks among six apparent participants were charged with attempted murder and other offenses.
Controversy was ignited when the DA's Office filed a challenge to then-Los Angeles Superior Court Judge Roosevelt Dorn, the only African American judge in the downtown Los Angeles criminal courthouse where the case resided. (Dorn resigned earlier this year as mayor of Inglewood, the day before pleading guilty to misdemeanor conflict-of-interest charges.)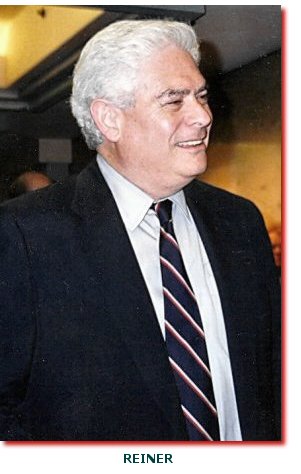 Reiner initially explained that the challenge stemmed simply from the fact that Dorn was not in a long-cause courtroom, so he couldn't devote enough time to the case. (In other words, a deputy's declaration under penalty of perjury, pursuant to Code of Civil Procedure §170.6, stating that Dorn was biased, was untruthful.) Dorn called a press conference and railed against the case being snatched from him. Reiner then publicly commented that the initial explanation was merely intended to spare the judge's feelings (that is, it was a lie) and the real reason was a matter of Dorn's "judicial temperament."
An Aug. 28 editorial in the Boston Globe, headed "Bad judgment in Los Angeles," comments that Reiner, through his handling of the matter, "has cast aside any attempt at racial reconciliation."
An Aug. 29 Los Angeles Times editorial says:
"We do not question Reiner's legal right to challenge Dorn, but we do question his judgment and veracity. His explanation was dishonest; he claimed first that Dorn's other judicial responsibilities might slow the trial of this case, and then claimed that his real concern was Dorn's temperament.
"The faith in the essential fairness of the justice system already had been shaken by the not-guilty verdicts last April of four white policemen charged with beating motorist Rodney King. Thus Reiner's contradictory explanation of why he challenged a black judge in the Denny case only served to further heighten suspicions about the system's procedural and substantive integrity."

Reiner on Aug. 27 attempted a face-saving maneuver: he suggested that both sides agree to send the case to another black judge, Donald Pitts, in Compton. However, the case had already been reassigned to Judge John Reid (after defense lawyers challenged then-Judge, later prison inmate, George Trammell). The parties' wishes that the case be routed to some other judge were obviously irrelevant.
A spokesperson for Reiner declared that the DA's Office had gained the impression from Supervising Criminal Courts Judge Cecil Mills that if it disqualified Dorn, and defense lawyers challenged a second judge, the case would go to Pitts. Mills publicly disclaimed having made such a commitment and pointed out that Pitts, recovering from eye surgery, was not available. On Aug. 31, he formally declined to yank the case from Reid.
All parties then agreed that the case could be tried by Judge Florence-Marie Cooper, who later became a U.S. District Court judge and died recently. That's an interesting procedure they sought to create: the parties choosing the judge.
Ordinarily, each side, no matter how many parties there are on the side, has one bid to disqualify a judge based on bias (under §170.6), without specifying the bases in a statement of disqualification (under §170.3). Invoking an exception, the Court of Appeal for this district granted a writ handing a separate challenge to one of the defendants on the ground that his defense was substantially at odds with one of his co-defendants; Reid was challenged; Judge John Ouderkirk got the case.

The public was taken by surprise by the report in the Times on Sept. 28 that Reiner would quit the race because, the story quotes him as saying, he "didn't have the stomach" for a negative campaign.
A Sept. 19 editorial in the Times says of Reiner:
"He proved to be a tough and in many ways capable prosecutor. But the office he administered stumbled badly in some high-profile cases that drew national attention. In what would prove to be the final months of his tenure the district attorney looked ineffective in a number of racially charged areas. Most notably, his office could not win even a single conviction against the four Los Angeles police officers accused in the Rodney G. King beating. His subsequent challenge of Superior Court Judge Roosevelt Dorn, a black, in the Reginald O. Denny attempted murder case was handled with notable ineptitude and insensitivity.
"In choosing to drop out of the race now, Reiner assures victory for Garcetti on Nov. 3. But in opting to drop out now he is also acting to make the transition smoother and certainly freer of the bitterness and divisiveness that desperate campaigning would have produced.
"There are various ways to end—or suspend—a political career. Reiner's way will not be found lacking in class."

I wondered at the time—and still do—whether Reiner's action was a sly ploy. By bowing out, he effectively cut off campaign funds going to Garcetti. Attacks by Garcetti would have seemed in poor taste; you don't kick a guy you've seemingly defeated. All this could have been in hopes that by the time of the Nov. 3 election, all the negativity toward him would have subsided, and his name recognition and ballot title would have carried him to victory.
He never did utter a Shermanesque pledge that "I...will not serve if elected."
If that was Reiner's hope, or his plan, it failed. Garcetti received 82 percent of the vote.
Reiner's career in politics ended, to borrow a phrase from T.S. Elliott, "[n]ot with a bang but a whimper." Or was even so much as a whimper audible?
On Dec. 7, 1992, his successor, Gil Garcetti, assumed the post Reiner had held for two terms.

Reiner was, like a DA of the early 1900s, Thomas Lee Woolwine, a man who craved publicity. He was, like the late Los Angeles County Supervisor Baxter Ward, a cruel individual who denigrated others in power in local government, often with flimsy cause or none, not to advance the public's interest, but to garner attention.
Reiner's self-imposed "prime directive" was to advance the political interests of Ira K. Reiner. He was quite good at that. Through good looks, a deep voice, self-assurance, and his constant chest-pounding pronouncements of having saved the public from harms that miscreants had sought to inflict, he gained favor with many. He was, to them, a hero, though his virtues were, upon inspection, illusory.
So far as his service in elective office—as Los Angeles city controller (1977-81), Los Angeles city attorney (1981-84), and Los Angeles County district attorney (1984-90)—he did not display proficiency.
He was elected city attorney (an office he sought unsuccessfully in 1973) because his chief opponent in the primary, City Councilman Bob Ronka, disgraced himself with irresponsible TV commercials that nauseated even his supporters, spelling Ronka's defeat in the run-off. Reiner was elected district attorney in 1984 because he ran as a Democrat (for a nonpartisan office); Democrats came out en masse to chose among candidates in the Democratic presidential primary; Republicans, to a large extent, stayed home because there was no question that incumbent Ronald Reagan would be the California Republicans' choice for renomination. Reiner gained re-election in 1988 because he had towering name-recognition and his opponent, then-Deputy District Attorney Lea D'Agostino, had no power base.

Reiner was in his glory at a press conference, cameras focused on him, fielding questions. But in meeting people at a cocktail reception, or other social situations where he was not in charge, he was not at ease.
Basically, he was a politician who was unsociable.
He was, in 1982, while city attorney, Southwestern School of Law's alumnus of the year. He didn't bother to show up at the dinner in his honor. Didn't even phone, I'm told.
Reiner also failed to show up at a joint meeting of the Italian American Lawyers Assn. and the Irish American Bar Assn. where he was to be the key speaker. No matter. The groups had such a good time socializing that the annual event, now called Gaelic and Garlic Night, has not had a guest speaker since.
One story that made the rounds was that Reiner and his wife, then-Los Angeles Superior Court Judge Diane Wayne, came to an event staged by members of the criminal courts bar, thinking they were arriving just in time for the dinner. Instead, it was the start of the cocktail reception. One turned to the other and was overhead as saying something along the lines of "What are we going to do among these people for an hour?" Maybe it's apocryphal. I don't know. It would seem to ring true.
A Los Angeles Times article of Aug 19, 1990, observes:
"….Reiner rarely mixes with his troops.
" 'He hasn't been in my face,' one senior deputy noted. 'Then again, he doesn't know what my face looks like.' "
A May 31, 1992, analytical piece in the Times by Sheryl Stolberg remarks:
"In many ways, Reiner is difficult to decipher, so detached and private that even his closest aides say they barely know him. He is sometimes uneasy in one-on-one conversation, but comes alive on television."
Reiner was known to be particularly uncomfortable raising campaign funds, and did badly at it.

In past columns, I've referred to Stephen M. White, who served as DA in 1882-84, and later as a U.S. senator, as "probably the most illustrious of the men who have served as Los Angeles district attorney." I've labeled J.R. Dupuy (1887-88) as "the most obscure" DA, and Woolwine (1915-23) as "the most controversial, the most complex, the most enigmatic."
The most corrupt, so far as is known, were Asa Keyes (1923-28), who wound up in San Quentin for accepting a bribe; Buron Fitts (1928-40), who prosecuted Keyes and later should possibly have gone to prison, himself, for bribery and perjury, but was acquitted; and Fred Howser (1943-46), who went on to become state attorney general. Howser sued columnist Drew Pearson for saying he had taken a bribe; a jury found it was true.
Reiner was far from illustrious, far from obscure. He was no enigma. Though not corrupt, he lacked intellectual honesty. Incessantly, Reiner subordinated his duties to the public to his primary loyalty: to himself.
His mark was as the most self-serving, grandstanding DA in Los Angeles County history.
Copyright 2010, Metropolitan News Company