Monday, March 29, 2010
Page 6
JUDICIAL ELECTIONS: Los Angeles Superior Court Office No. 28
Eight Seek Open Seat in Largest Field of Candidates This Year
Of the 15 candidates seeking open seats on the Los Angeles Superior Court this year, eight are in the same race. They are seeking the seat of Judge Emily Stevens, who is expected to retire before the end of the year. Three of the eight are prosecutors, one is a criminal defense attorney, one is a Superior Court referee and three are civil lawyers who are active as arbitrators and mediators. Three have run for the court before, including one who is running for the third time and another making a fourth try. There is only one woman in the field.
MARK AMELI
Civil Lawyer Seeks to Become First Iranian American to Serve on Local Bench
The desire to be a judge is something very personal for Mark Ameli.
The only immigrant in an open-seat contest this year, he talks softly but with passion about his father, who served as justice minister of Iran under the shah, who was overthrown in the 1979 revolution leading to the establishment of the Islamic Republic.
There was no such thing as judicial independence or the separation of powers, the candidate—who came to the United States as a teenager—explains, so being justice minister was akin to being both the chief justice and the attorney general in the U.S. system. His father wanted the courts to run independently, he explains, but "that was tremendously difficult" given the nation's history and the nature of the monarch, and his father had to resign the position after a conflct with a member of the royal family.
His father, who is no longer living, influenced his thinking in many ways, Ameli says. The candidate declares his belief in a judiciary that is "decisive...fair and impartial, free from bias [and] compassionate." Because "I have seen what has happened" in his native country, he says, "these things are ingrained within me."
Break With Traditions
While Iranian society is patriarchal, he explains, his father firmly believed in opportunity for his sons and his daughter. He wanted each of them to share equally in the family's possessions, contrary to the country's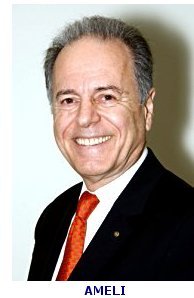 traditions, and sent all five of them to school, with all achieving at least a master's degree, Ameli says.
His own daughter, he notes, became a talent agent, but became so frustrated dealing with counsel over contracts that she decided to go to law school, a career choice she had considered and spurned a decade earlier. She is now at her father's alma mater, the University of West Los Angeles.
The candidate also has a son in medical school and a stepdaughter who is an investor.
From the time he entered law school Ameli—who has an undergraduate degree from UC Berkeley and a master's from USC—says he knew he wanted to be a judge someday but waited until this year because "I wanted to have a good shot at winning."
Seeing an open seat with no clear frontrunner, Ameli—founding member and a partner in the Law Offices of Ameli, Ayvazi & Associates LLP, which maintains offices in Beverly Hills and Encino—decided to take the plunge this year. He has hired David Gould as a campaign consultant, made plans to spend between $350,000 and $500,000 on the campaign, and attracted endorsements from Sheriff Lee Baca, several local officials, a number of prominent figures in the Iranian-American community, and a handful of local judges.
Those factors, Ameli says, make him likely one of the top three contenders in the race, along with Deputy City Attorney Chris Garcia and Referee Randy Hammock.
One of his endorsers, Los Angeles Superior Court Judge Gregory Keosian, who sits in Van Nuys, explains that he first met Ameli when the civil litigator handled cases in his court. "He was always very well-prepared and had the temperament" to be a judge, Keosian says.
The judge says he was also impressed with Ameli's establishment of an arbitration and mediation program focused on the Iranian-American community, and that he shares the candidate's goal of a more diverse bench. While Ameli lacks judicial experience, Keosian opined that an experienced mediator and arbitrator—Ameli served on the board of the Southern California Mediation Association last year—can prove up to the task of a bench officer.
Founder of Association
If elected, Ameli will apparently be the first Iranian-American on the local bench, although he notes that Judge Soussan Bruguera, who is seeking re-election this year, is Iranian-born, while of Armenian ancestry. Ameli helped found the Iranian-American Lawyers Association and served as the group's president in 1996. Early in his nearly-30-year career, he began airing five-minute spots in Farsi on local cable television, calling attention to his practice and explaining American legal concepts to the growing community.
As a civil litigator, he acknowledges, he has not had the heavy-duty trial experience of the three prosecutors and one criminal defense attorney who are running in the race. Although he spends about one-third of his time in court handling business litigation, personal injury, and workers' compensation cases, he explains, civil lawyers "try not to have trials."
He has done his homework, he says, and realizes that high-volume criminal courts are often the first stop for new judges. So he has been sitting in criminal courtrooms, talking to lawyers there, and reading the California Judges Bench Book on the subject, he explains.
"I adopted this country as my country because I believe in this country," he says. "I am not taking this lightly."
______________________________
CHRIS GARCIA
Deputy City Attorney Touts 'Breadth of Experience' in State, Federal Cases
As one of three prosecutors in the eight-candidate field, Los Angeles Deputy City Attorney Chris Garcia says he is working hard to separate himself from the pack. He has pumped $50,000 of his own money into the campaign and raised about $75,000 more, he says, which has enabled him to hire Cerrell Associates Inc., which has been running local judicial campaigns for 32 years.
The plan, he says, is to get his name out through slate mail and endorsements in order to obtain a place in what he believes will be a runoff with the only judicial officer on the ballot, Los Angeles Superior Court Referee Randy Hammock.
Garcia, who until recently was also a special assistant U.S. attorney, has the endorsements of three Superior Court judges who are former City Attorney's Office colleagues—Deborah Sanchez, George Lomeli and Daniel Lowenthal—as well as Superior Court Judge Peter Espinoza, Sheriff Lee Baca and a number of local elected officials.
Varied Background
Garcia says he is the most qualified candidate in the field because of "the breadth of experience" he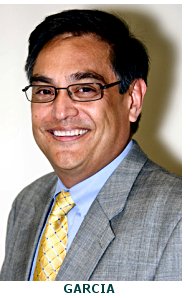 would bring to the office. He has prosecuted in both state and federal courts, litigated civil cases, and served as an arbitrator, mediator and judge pro tem.
He attended college at UC Berkeley, and worked on tort litigation matters as a law clerk for Lawler, Felix & Hall in Los Angeles after graduating from Harvard Law School in 1982. But he almost didn't become a lawyer, he explains.
Even with an Ivy League law degree, he explains, he really wanted to be a musician. He played the guitar in a band, and after failing the bar exam on his first try, thought maybe he wasn't cut out for the profession after all, he says.
But music wasn't very lucrative, he says, so he joined the family business, R.G. Construction Co. in San Pedro. There he handled bidding and contract negotiations, and obtained building permits and inspections as a construction supervisor.
His parents weren't exactly thrilled with that move, he says, persuading him that his legal education shouldn't go to waste. So he took the bar exam again, passed, and joined Rucker & Clarkson in Westwood as an associate, litigating complex commercial matters.
He later joined Cox, Castle & Nicholson in Century City, where he also litigated complex civil disputes, but in 1989 he returned to Rucker & Clarkson and litigated real estate, securities, antitrust and insurance bad faith matters.
Adjunct Law Professor
Garcia entered solo practice in Glendale in 1991, concentrating on real estate, construction, landlord/tenant, personal injury and criminal defense matters until he joined the City Attorney's Office in 1999. He is also an adjunct professor at Glendale University College of Law.
He currently serves in the office's Identity Theft & Fraud Unit. The head of that unit, Jerry Baik, is an unreserved admirer of Garcia and said he would be a "great judge."
The two have known each other since working in the Central Trials Section of the office more than 10 years ago. Garcia has also worked in the Consumer Protection Section and the Ethics, Training & Legislation Section. When he was named to head the new unit and told he could choose a second deputy to work with, Baik says, he chose Garcia because he had the civil and criminal experience necessary to work in the area.
Garcia, Baik says, is "a great writer and does considerable research" and is "someone I trust in terms of judgment." He adds "everything I've needed he's fulfilled."
Baik, a former member of the County Bar's judicial evaluation panel, says it would not be out of the question for Garcia to earn the coveted "Exceptionally Well Qualified" rating.
"He has a civil and criminal background and a fine educational background," Baik says, as well as "the ability to handle the chaos that goes on in the courtroom."
Garcia's federal experience is a result of having been cross-assigned to the Major Frauds Unit of the United States Attorney's Office, where he worked on cases involving identity theft, government benefit fraud and piracy of intellectual property. Although his appointment there has not officially expired, he has returned to the City Attorney's Office full time in response to the city's budget problems.
Attorneys who worked with him on the federal side said his work was of high quality, but asked for anonymity in order to avoid the perception of involvement in a political campaign.
______________________________
RANDY HAMMOCK
Civil Lawyer-Turned-Referee Making His Second Attempt to Win Superior Court Seat
For second-time candidate Randy Hammock, it's not quite déjà vu.
One of seven candidates for an open seat in 2006, Hammock again finds himself in a large field. But much has changed since then.
A busy private practitioner admitted in 15 states and juggling cases in all of them four years ago, he is now a judicial officer, a referee of the Superior Court.
He is no longer the neophyte candidate who spent most of his campaign funds on a candidate statement that did little to attract support to his candidacy. He finished sixth with less than nine percent of the vote.
Instead of traveling far and wide handling probate, family law, insurance bad faith, and civil rights litigation, Hammock—who earned membership in the American Board of Trial Advocates, an honor the group says is limited to the top 1 percent of trial lawyers in America—he can be found almost every business day in Children's Court in Monterey Park. For the past several months, he has been presiding over the calendar of Judge Emily Stevens, who has been on leave.
'High-Energy' Manner
While he is technically an "as-needed" judicial officer, he explains, he has been working every day since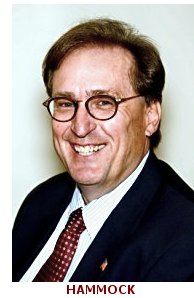 taking over Stevens' courtroom. And the busy pace of dependency court seems to fit in perfectly with Hammock's "evident high-energy way of operating," as the MetNews described it four years ago.
That was the year that 13 civil attorneys ran for the Superior Court, with only one—Hammock—earning a "Well Qualified" rating from the County Bar. He expects to do at least as well this time, he says.
"I would like to think I've raised my qualifications the last four years," he explains.
He has no doubt of his abilities. While there are other candidates with impressive credentials in the field, he says, "I'm the one that's doing the job now."
Dependency court, he adds, is "extremely difficult." Conflicts sometimes require that the county, several siblings, the mother, and one or more men who may or may not have legal father status all have separate counsel, with the bench officer alone sorting out the facts and the law.
"I'm the judge and jury," Hammock says.
Despite the difficulties, he boasts, he has not been made aware of a single complaint about his work. His superiors seem to be satisfied, because Presiding Juvenile Court Judge Michael Nash and Dependency Courts Supervising Judge Margaret Henry have both endorsed him.
Nash describes Hammock as "a hard worker" who "cares about kids" and "has been very helpful to us" in taking on a long-term assignment to Stevens' courtroom, after previously handling one other months-long assignment and several one- or two-day stints.
'Continues to Improve'
Taking over for Stevens, whom Nash describes as "probably the best judge that ever sat in the dependency court," could not have been easy, the presiding judge says. But Hammock received good reviews in his earlier assignments, and Nash says "he continues to improve as a judicial officer."
Hammock says he has worked hard to deal with an area of law in which he never practiced.
While a number of the judges, commissioners, and referees who sit in dependency came from juvenile law backgrounds, Hammock explains that when he was appointed less than three years ago "and they said 'dependency court,' I honestly didn't know what that was." But he has enjoyed the work so much, he says, he would happily keep the assignment if elected a judge.
"I love this job," he says effusively. "I absolutely love it."
And he is putting everything he has into his effort to become a full-fledged, constitutionally authorized jurist.
He and his wife have committed the equity in their home and their "entire life savings" of $250,000 to fund the campaign, which is being guided by a veteran political consultant, Jill Barad.
A Democrat, Hammock says he applied for a judicial appointment when Gray Davis was governor, but his bid never went anywhere because Davis was recalled not long after he turned in his application. He did not reapply under the current administration, he says.
Hammock's family moved from Baltimore to San Diego when he was 12. His father operated a linotype machine for the San Diego Union.
His first language was not English but American Sign Language, he explains, because both of his parents were hearing impaired.
He attended public schools, then went to San Diego State University. His aspiration was to become a film director, he says, but a professor convinced him he might have a bright future as a lawyer.
Hammock went on to the University of San Diego law school, and did insurance defense work in San Diego for two years before moving to Los Angeles.
______________________________
C. EDWARD MACK
Deputy Public Defender Who Made Runoff in 2008 Back for Fourth Try
No one will dispute Los Angeles Deputy Public Defender C. Edward Mack when he describes himself as "tenacious."
His entrance into the eight-way contest for Office No. 28 represents his fourth bid for a Superior Court judgeship.
He is encouraged, he explains, by the improvement that his 2008 showing represented over his first two bids for the court. That year, he received 34 percent of the primary vote, finishing second.
But he garnered only 37 percent in the general election, suggesting that his shortage of major endorsements and funding, a situation common to all four of his bids, may have placed a ceiling on his vote performance. It also suggests that he may have achieved optimum positioning in that particular race, being sandwiched between two prosecutors and being the only Democrat, enabling him to win the endorsements of Democratic groups in the officially nonpartisan race.
In 2006, he came in third in a three-way race, garnering 20 percent of the vote. In 2004, he finished last in a six-way race, with less than 7 percent, just behind Deputy District Attorney Ed Nison, who is also one of his opponents this year.
Early Career
Mack was admitted to practice in July 1989 and became a deputy public defender 14 months later, and has worked in Glendale, the San Fernando Valley, and now the Antelope Valley. He was a Los Angeles Municipal Court research attorney before joining the Public Defender's Office.
In Glendale, he staffed a misdemeanor courtroom overseen by then-Municipal Court Judge James Rogan, and opposed then-Deputy District Attorney Michael O'Gara, who wound up as his runoff opponent in the 2008 election.
Rogan, now a judge on the Orange Superior Court, did not endorse either candidate in that race, saying he liked both candidates.
"I have very fond memories of both of them," he said at the time. "They were both very good lawyers, and very ethical."
Response to Criticism
Mack drew criticism in past races, however, for claiming to have five years civil "legal experience." He responded to the criticism with a press release explaining that he "worked in the [Los Angeles] Municipal Court in the Legal Processing Department; first as a law clerk while in law school as a part-time employee (though I worked 40-hours per week), then about two years later as a full-time law clerk with benefits."
Since he was responsible for reviewing a wide span of issues and documents in civil cases, he argued, claiming that as part of his civil experience was not misleading, even though he was not a member of the State Bar at the time.
Mack was rated "qualified" by the County Bar in his past races. The 55-year-old attorney grew up in Jacksonville, Fla., graduated from Florida State University, and served in the U.S. Air Force before settling in California. He worked in the film industry and as a chemist before graduating from the University of West Los Angeles School of Law in 1987.
______________________________
Dispute Resolution Attorney Is Only Woman in Field Of Eight Candidates
As the only woman in a field of eight candidates, Elizabeth Moreno may have an advantage on her opposition.
Or, her candidacy may get lost in the shuffle. She is one of three candidates with some form of arbitrator/mediator designation, she has not hired a campaign consultant—although she says one is advising her behind the scenes on a pro bono basis—her projected budget of $50,000 to $70,000 is dwarfed by those of other candidates, and there has been speculation that voters specifically looking for a "female" candidate might settle on Kim Smith or Chris Garcia, not realizing that those are men.
25 Years as Lawyer
Moreno graduated from Loyola Law School after completing an undergraduate degree at California State University, Fresno. She has been a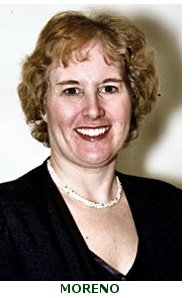 lawyer for 25 years, and now estimates that she spends about 80 percent of her time on third-party dispute resolution—handling about 100 such matters per year—and the rest on civil litigation and advising business clients on employment law issues.
She says she has tried 46 cases, about 40 percent to juries and 60 percent to the bench. Her criminal law experience, she adds, is limited to five misdemeanors she has prosecuted as part of a County Bar program in which volunteer lawyers are trained to assist the Los Angeles City Attorney's Office.
Moreno proudly notes that she won four of those five trials, losing only a solicitation-of-prostitution case.
She says that working as a neutral arbitrator or mediator is "a good basis" for becoming a Superior Court judge because it requires one to "listen to what [the parties and lawyers] have to say and decide."
She has been active in bar groups, including the Beverly Hills Bar Association, chairing its delegation to the Conference of Delegates of California Bar Associations. She noted that she has been working on eight resolutions for this fall's annual meeting while running for judge.
Moreno also notes that she is a member of Riverside County Bar Association, although she has never practiced in Riverside County, because she helps with the group's mediation program.
She says she doubts that her gender is going to get her into a runoff, but that she believes she can overcome her financial disadvantage with "hard work" and with an anticipated "Well Qualified" rating from the County Bar. She recently predicted that she would be on the November ballot along with another candidate who says he intends to spend relatively little money, Deputy District Attorney Edward Nison.
Advocate for Professionals
Moreno has been a hearing officer for the Los Angeles County Housing Authority and the cities of Santa Monica and Long Beach, has served as diversity chair of the American Bar Association Dispute Resolution Section and the Southern California Mediation Association, and has been an advocate for better treatment of neutral dispute resolution professionals.
She was the author of a resolution, approved by the BHBA but rejected by the County Bar, calling on the state to require parties to court-ordered mediation to pay the mediator unless indigent.
She grew up around Fresno and Madera, the daughter of a cannery worker and an elementary school teacher. Her campaign website notes that she "earned money for my education by packing fresh fruit and working in a winery."
She explains:
"This was an invaluable experience because I gained insight from those working in agribusiness. At an early age, I was exposed to individuals with lifelong challenges. My older brother was born developmentally disabled and I have taken an active role, as his conservator, in addressing his special needs. I became fascinated with the law and the importance the justice system is to our society and our lives."
______________________________
Veteran L.A. Prosecutor Makes His Third Bid for Election to Judgeship
One thing can be said about Edward J. Nison—he does not give up easily.
This is the third contest for the veteran prosecutor, who has spent 25 years in the District Attorney's Office, having run in 2004 and 2006. In this contest, as in his previous race, he jumped in during the closing hours of the declaration-of-intent filing period.
In his first effort, he finished next to last in a field of six with less than 7 percent of the vote for the seat that eventually went to then-Deputy Attorney General Gus Gomez. He did a little bit better the second time around, polling nearly 11 percent and finishing fifth of seven candidates, ahead of current opponent Randy Hammock, then a civil lawyer but now a Superior Court referee.
He explained in a recent interview that he went into the first effort expecting to be a serious contender, as other veteran prosecutors have been, but was blindsided when he was rated "not qualified" by the Los Angeles County Bar Association despite having tried about 30 homicide cases.
The second time he ran, he says, he was focused primarily on trying to improve the LACBA rating than on the ultimate result, in a contest finally claimed by another prosecutor, David Stuart. On that occasion, the committee rated him "qualified" after he appealed its tentative decision to rate him "not qualified" again.
Nison says his difficulties with the committee stem from his handling of the murder prosecution of Calvin Broadus, better known as Snoop Dogg.
High-Profile Acquittal
Broadus was charged with telling his then-bodyguard and co-defendant McKinley Lee to shoot a man at a park West Los Angeles as a result of a gang dispute. The defense argued that Lee fired in self-defense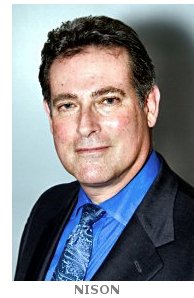 after the victim reached for a gun of his own.
The trial ended with jurors acquitting the defendants of murder and deadlocking, 9-3 in favor of acquittal on the lesser charge of manslaughter. The lesser charges were dismissed after Nison said he had no new evidence to present and doubted that a new jury would convict.
He was not the first local prosecutor to lose a high-profile case. Unlike others, though, he was held in contempt in the process.
Judge Paul Flynn fined Nison $200 for continuing to argue after the judge overruled a strenuous objection during cross-examination. In retrospect, Nison has said, he "probably should have shut up," but continues to insist that he intended no disrespect.
Flynn also reported him to the State Bar after a detective, acting on Nison's instructions, went to an apartment looking for a potential witness who was also the subject of an outstanding warrant. Nison maintains that the detective went to the apartment, where he was surprised to find Broadus, but did not find the witness.
In Flynn's view, the incident was an effort to communicate with the defendant without his attorney present, a violation of the Sixth Amendment. The State Bar investigation did not result in charges, Nison says, but that did not satisfy some members of the LACBA committee, who brought the matter up again during his 2006 evaluation.
'Qualified' Rating
Being rated qualified the second time around, he says, understated his years of service and his skills in the courtroom, but was the best he could realistically hope for as long as the Broadus case remained an issue.
He hopes to do better this time, though, and to be elected "on my experience and hopefully endorsements."
He has, as in the past, eschewed the strategy of hiring a professional consultant and spending liberally on slate mail, as opponents Kim Smith, Chris Garcia, and Randy Hammock are doing. He may rethink that strategy if he makes a runoff, he comments.
As for the run-in with Flynn, Nison says, he'd finally like to close the book.
"I've never had a problem with any other judge," he says. "It was one incident in a 25-year career."
A judge who knows Nison, who asked for anonymity in order to avoid being drawn into a possible conflict with a colleague, told the MetNews that Nison "got a raw deal" from LACBA.
"This is a smart guy, a fair guy," the jurist says. "A lot of people thought he got a raw deal because one judge trashed him" in the secretive committee process, which may be borne out by the fact that more than two dozen judges have endorsed him.
Nison says he has moved on professionally as well.
At the time of his last race, he worked in training, which is sometimes perceived as a backwater assignment, although the candidate disputes that. He now has a dual assignment, as a calendar deputy before Judge Richard Kirschner—one of his endorsers—in Van Nuys and carrying his own load of five homicide cases and one case of attempted homicide.
With new responsibilities come a new ballot designation. After running as "Deputy District Attorney" the last time, he is now a "Criminal Homicide Prosecutor."
He also does some training and teaching of prosecutors and law enforcement personnel in the areas of search and seizure and homicide.
His overall prosecutorial background is broader than that, he points out.
Some months after the Broadus trial, he transferred from hard-core gang member prosecutions to the unit that prosecutes environmental and job safety crimes. There he prosecuted the company that makes Morton Salt in the death of an employee.
Jurors voted 11-1 to convict the company, but acquitted two managers who were individually charged.
Nison grew up in Ohio and graduated from Indiana University before coming west to attend Hastings College of the Law.
______________________________
Candidate Says He Expects 'Not Qualified' Rating, Plans to Win by 'Working Hard'
Among the eight candidates seeking election in Office No. 28, there's one who seems to be a real, real,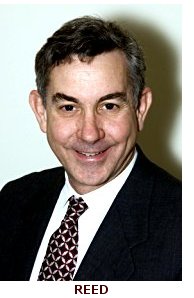 long shot, Kendall C. (Ken) Reed.
He has no endorsements of consequence, says he will spend less than $1,000, will be on no slates and expects to be rated "Not Qualified" by the County Bar. His ballot designation of Attorney/Arbitrator/Mediator is not particularly potent—and he's endorsed another candidate for the same seat he is running for.
Reed explains that his decision to enter the race came well after he endorsed West Los Angeles attorney Elizabeth Moreno, with whom he has worked in organizations promoting alternative dispute resolution and who is now one of his seven opponents.
And yet, he has a plan for success, which is that he's "going to work hard."
Reed reasons that a large bank account will not matter in the primary, because "the value of a large sum is going to be diluted" in the huge field.
First-Time Candidate
The first-time candidate explains that he spends about one-third of his professional time practicing business law as of counsel to a Long Beach firm and the rest of it as a mediator and arbitrator. Before settling into the dispute resolution business, he worked in corporate law departments, and he acknowledges that his lack of jury trial experience would present difficulties in transitioning to the bench.
As an arbitrator, however, he has experience in taking evidence, ruling on objections, and rendering decisions, he points out. Much of his work in recent years has been with the National Arbitration Forum, ruling on complex disputes involving ownership of Internet domain names.
He handled three bench trials as an in-house defense lawyer earlier in his career, but has not appeared in state court at all in recent years. In fact, he exhibits a near-total lack of knowledge of the local courts, being unable to name the presiding judge of the court he is running for or any of the justices of this district's Court of Appeal, and being unfamiliar with local judges, even those who have been through high-profile election campaigns.
USC Law Graduate
Reed was born and raised in the Los Angeles area. He attended UC San Diego, majoring in philosophy and psychology and graduating in 1979. He graduated from USC's law school in 1983, and earned his LL.M. in dispute resolution studies from Pepperdine Law School, Straus Institute for Dispute Resolution, in 2004.
He applied for a judgeship in 2004, he notes, but says he did not get far in the process, and did not expect to, either. His "decline-to-state" registration did not help, he surmises.
He exhibits a sense of familiarity with the judicial assignment procedure, recognizing that new judges are often assigned to busy criminal courts or to juvenile court—areas in which he has not worked and in which his mediation skills would be of little value.
"I would rely on counsel to provide briefs and I will follow the law," he says, expressing confidence his research skills would prove him equal to the task.
______________________________
Prosecutor, a Military Veteran, Is Described as Intense by His Backers and Critics Alike
People who know Kim Smith universally describe him as politically conservative, fiercely patriotic, extremely intense and very self-assured.
Where they differ is as to whether those attributes make him a good choice for the trial bench.
Smith declined an in-person interview with the MetNews, although he was briefly interviewed by telephone when he first became a candidate.
Nonetheless, a picture of the 62-year-old ex-college football player, ex-sheriff's deputy, ex-deputy district attorney, ex-military reserve officer, and now Hawthorne deputy city attorney emerges from discussions with members of the legal community who know him. And there is a surprising consistency in what his supporters and critics have to say about him.
Take Tony Molino, a Mid-Wilshire civil attorney who has known Smith for over 20 years and counts him as a good friend. He describes Smith as "very intelligent and very intense," emphasizing, and chuckling at, the latter part of that reference.
Molino says he met Smith when they were volunteer coaches in youth football in the late 1980s. They hit it off, he says, even though their backgrounds were dissimilar.
Molino says he grew up without much in the way of material goods and worked his way through school, lastly as a stockbroker before he was admitted to practice law. Smith, he says, was relatively privileged, growing up in the affluent Rolling Hills area and attending Occidental College.
Former Sheriff's Sergeant
Smith was a deputy district attorney at the time, having left the Sheriff's Department, where he was a sergeant, to become a prosecutor. And while his intensity was obvious even on the youth football field, Molino says, "he didn't scream or get in their faces."
Molino adds that Smith would be an asset to the bench because he's a hard worker who won't wilt under pressure. He notes that Smith earned a master's degree at USC while working full time, served in combat during the Gulf War and retired from the military as a lieutenant colonel.
"A lot of judges don't have the street smarts" that Smith gained in law enforcement and the military, Molino posits, and "a lot of judges won't work as hard." Smith, he says, will put in 12-hour days if that's what it takes to keep his court working.
He's just that kind of guy," his friend says, noting that Smith took the Hawthorne misdemeanor prosecutor's job because he wanted to stay in the courtroom, even though he draws pensions from both the county and the federal government and comes from a well-to-do family.
Molino acknowledges that Smith's political views may rub people the wrong way, but disputes that they would affect his behavior on the bench.
Tough Talking
But a number of people who have worked with Smith, while complimenting him as a person, say he has a tendency to shoot from the hip and use language that might seem to exhibit racial or sexual bias, even though they don't believe he actually has prejudices.
"He's the very caricature of a right-wing tea partier," one judge said, asking anonymity due to the sensitivity of the subject. Two deputy district attorneys who worked with him, also asking that their names not be used, agreed, with one of them adding that he tends to be "tough talking" and verbose.
"If you ask him what time it is, he'll tell you how to make a clock," that individual commented.
But Michael Norris, a criminal defense lawyer in Redondo Beach who says he has "opposed [Smith] in court for the last 20 to 25 years" on all types of criminal cases, says "we'd be lucky to have him as a judge."
He agrees that Smith's political views stand well to the right. "But he's not a zealot, he's somebody who listens to both sides and follows the legal and equitable arguments," Norris says.
"I've known many, many prosecutors who've pounded on tables...and were very, very difficult to get along with," he adds. "Kim is not that type of person."
Another lawyer with a high opinion of Smith is David Berger, who was his office mate for a time when they were neophyte deputy district attorneys and who recently returned to the office after serving as a special assistant to Los Angeles City Attorney Carmen Trutanich.
"He would make a fantastic, no-nonsense judge," Berger says.
Copyright 2010, Metropolitan News Company