Monday, March 22, 2010
Page 6
JUDICIAL ELECTIONS: Los Angeles Superior Court Office No. 107
Three Attorneys Run In Open-Seat Race With Fewest Candidates
The prosecutor and two private practitioners forming the smallest field for an open seat on the Los Angeles Superior Court bench in the upcoming judicial election are all Democrats and active in local government, but each is taking a drastically different approach to the race to succeed Judge William R. Weisman. Deputy District Attorney Valerie F. Salkin says she will spend up to $100,000 in the June 8 primary alone, while Pasadena personal injury lawyer Anthony de los Reyes says his entire campaign budget will be about that amount and San Pedro attorney R. Stephen Bolinger claims he will spend no more than the cost of his filing fees.
VALERIE F. SALKIN
'Gang Prosecutor' Has Funds, Endorsements, History in Politics
Deputy District Attorney Valerie F. Salkin will use the ballot designation "Gang Prosecutor," a title that historically has garnered victory for those who bear it, and she is no stranger to elections.
Before joining the District Attorney's Office in 1997, Salkin worked on the first Clinton/Gore presidential campaign and Bill Press' successful bid to become chair of the California Democratic party. She also spent four years as deputy legal counsel to then-Board of Equalization Chair Brad Sherman before making a failed run for the state Assembly in 1996, losing to Tony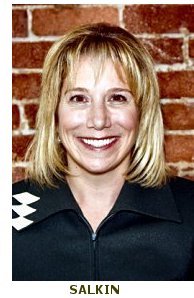 Cárdenas, now a city councilman.
But Salkin refers to the time she was "doing the politics thing" as a "detour" from her goal of becoming a prosecutor, necessitated by a hiring freeze at the DA's Office when she graduated from USC Law School in 1992.
"I wanted to be a DA to begin with," she relates. "Criminal law was always where my heart was."
She says that a summer spent working for the federal public defender's office in Chicago convinced her that defense work was not for her.
"I didn't want to use my skill as a lawyer—or what I hoped would become skill because I clearly didn't have any skill yet—to get guilty people off," the petite prosecutor explains, laughing a bit at her self-deprecation.
Defense lawyers, she opines, "kind of have to do a tap-dance" since "their obligation is to their client." Salkin hastens to add "that's a noble thing," but she prefers the "luxury" prosecutors have of only being obligated to "do the right thing."
For her, Salkin insists, being a prosecutor has "never been about winning," but "about doing the right thing" in every case, regardless of whether the charged crime is driving on a suspended license or a homicide.
"The idea of trying to convict somebody who is not guilty…is just antithetical to the whole process," Salkin contends, adding that the "best thing I ever did as a [deputy] DA" was to help exonerate a defendant she did not believe was guilty.
Downey criminal defense attorney Eber Bayona says "I thought for a lot of [deputy] DA's, the ultimate goal is to take the case forward to conviction." But he comments that his experience facing off with Salkin on a recent murder trial "changed my perception."
He praises the prosecutor as "one of the most ethical, fair, [deputy] district attorneys I've ever had on a case."
Sherman Oaks attorney Louisa Pensanti also defended a client in a murder case prosecuted by Salkin and recalls it as "a pleasant experience."
Pensanti explains that "a lot of times the [deputy] district attorneys can't separate defense attorneys from their clients" but Salkin "was definitely without rancor."
Salkin has "judicial temperament…the ability to look at both sides and make a decision, and not be biased for one side or the other, and to follow the law," Pensanti opines, adding that she "definitely" plans to vote for the prosecutor.
Pasadena criminal defense attorney William Gilmore reflects that Salkin has been practicing law "long enough that she has sort of seen all sides of the issues," and that he "got the impression," when they faced off in a murder trial in 2008, "that she doesn't come into a situation with her mind already made up."
Campaign Expectations
Salkin says she anticipates a favorable rating by the Los Angeles County Bar Association, and that she would be "surprised" if she were not given at least a "qualified" rating. But, she says, "Of course I'm hoping it will be the top of the scale"—which is "exceptionally well qualified."
The prosecutor also has the backing of 56 superior court judges, 36 homicide detectives and 17 elected officials, including her boss, District Attorney Steve Cooley.
Cooley has also thrown his support to de los Reyes, but Salkin says that Cooley did so six months before she entered the race.
"What can you do with that?" she asks, shrugging.
Salkin says she is "leaning on Republican support" for the election, even though she is a Democrat.
"I think I've done a good job creating a bipartisan coalition supporting me," she says. "Democrats trust me because they know me and Republicans trust me because I've put people away for a long time."
For her campaign, Salkin has retained the consulting services of Cerrell Associates and claims to have "more than enough" money in her war chest.
"I can't imagine spending more than $100,000 in the primary," she remarks.
With a field of only three candidates, Salkin says she is hoping there will be no run-off election, but predicts "if there is a run-off, I'll be in it."
Salkin says she has handled about 100 jury trials and an additional 100 juvenile adjudications during her 12-year tenure with the District Attorney's Office. She claims a "very strong legal record," with "no problems" with any defense attorneys and "no disciplinary issues."
Although she was the victim of a shooting as a teenager and still bears a scar on her leg, she insists the incident has "no impact at all" on her attitude towards defendants, remarking: "I'm over it."
But, the experience sometimes helps her when she is talking to a witness or a victim, she says.
"They'll say to me, 'You don't know what it's like to be shot at,' and I can say, 'You know what, I do.' "
Salkin says that she began considering a run for the bench after successfully prosecuting "the biggest case of my career," a five-defendant, multiple-victim gang murder case.
She received the "Prosecutor of the Month" award in September 2008 for her handling of the case, and "after it was over, I said, 'All right, I've done what I came her to do.' "
However, she says, she decided she was ready after doing "back to back special circ[cumstances] murders" before Judge Robert Perry, who called her into chambers after the second trial and suggested that she was qualified to become a bench officer.
Perry calls Salkin "an outstanding judicial candidate," praising the prosecutor as "personable," "friendly" and "highly capable."
Had Salkin come to her decision sooner, she says, she probably would have applied for an appointment rather than run. She said she was advised that "it was essentially too late to apply under this administration."
In filing for Weisman's seat, Salkin effectively edged fellow prosecutor Laurie Trammell-Castaneda out of the judicial race.
Trammell-Castaneda says Salkin took out papers for the seat that she had intended to pursue.
"I wasn't thrilled about it, but that's politics," she remarks, adding that she bears her Salkin no ill-will as a result.
"I wish her luck," she comments.
Professional Reputation
A fellow deputy district attorney who requested anonymity says the candidate has the attitude that "everyone should stop for her—everything relates to her," and while she is "generally a pleasant person," she has "that undertone of being a prima donna."
If elected, the colleague opines, Salkin "would be efficient and hard-working but, like Hillary Clinton, [would] be polarizing."
The colleague also says other attorneys find Salkin "abrasive" at times.
Another of Salkin's colleagues described her as "entitled" and "out of touch with reality."
Both current and former prosecutors, who did not speak for the record, echoed the criticism. However, defense counsel in two of the candidate's recent cases say they enjoyed cordial relations with her.
Encino criminal defense attorney Mark Shapiro admits that he is "naturally difficult" and prosecutors "tend to hate me," but Salkin "kept it pretty professional" in her dealings with him.
"I'm not going to lie and say we didn't get into it, because we did, but she kept her composure pretty well," he recalls. "She was tough and...she fought hard, but nothing dirty, nothing underhanded."
Another criminal defense attorney, Larry Williams of Los Angeles says he remembers Salkin "graciously got along with five different defense attorneys and a judge" during a trial which lasted several weeks.
"We all really respected her and found it a pleasure to be with somebody like that in a case that long," he says. "She was, if there is such a thing, a good prosecutor to work against."
_____________________________________________
ANTHONY DE LOS REYES
Pasadena
Attorney Has Reputation as 'Gentleman,' Years of Experience
Veteran Pasadena attorney Anthony de los Reyes describes himself as "a low-key kind of guy" who is "not into drama," and was "trained well" by Raoul D. Magaña of Magaña, Cathcart & McCarthy, who died in 2007.
Magaña "is a legend not just because he was really smart…but he had an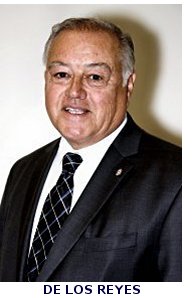 old world gentility about him," de los Reyes says. "In my 12 years working with him, I tried, not to mimic it, but to adapt it to my own personality."
When de los Reyes applied for appointment two years ago, he explains, he provided the names of 75 attorneys to contact as references, and "received not one negative comment from anybody." The attorney emphasizes that more than half of them had been his opposing counsel.
Chuckling, he adds: "One year, I got five cases in from defense counsel, who referred me to members of their family and friends."
Three of his most recent courtroom opponents also have high praise for the candidate, each describing him as " a gentleman."
Stanley Orrock of Bell Orrock & Watase in Riverside says that de los Reyes represents "what our practice once was" when "we used to have civility between the plaintiffs bar and the defense bar."
He opines that the candidate is "a man of civility," with "an extremely complimentary demeanor about him." De los Reyes "is not one who overstates his case, [but] understands its strengths and weaknesses, and is willing to work with opposing counsel," Orrock says.
John Larson of Larson & Gaston LLP in Pasadena says he and de los Reyes "have been adversaries over the years" but he has consistently found de los Reyes to be "a very good, collegial lawyer," who is "knowledgeable," "a good advocate for his client and a reasonable person to litigate with."
Fullerton attorney John Plinski of Peterson Oliver & Poll comments that de los Reyes was "always very respectful" and "very cordial" in their interactions.
"He was always very willing to listen, not quick to respond, but very thoughtful, and that's really what impressed me about him," Plinski says. "I was able to get both cases that I had with him resolved because of his willingness to listen."
Plinski describes the candidate as "objective," "reasonable" and "the type of guy that would be an asset to have on the bench."
Orrock expresses a similar sentiment, predicting that de los Reyes, if elected, would bring to the bench "an attitude that would bring parties together…and make their differences less onerous."
'Tough' Race
De los Reyes says this election is "the first time I ever ran for anything," and he predicts that the race is "going to be a tough go."
He says he plans to spend between $100,000 to $150,000 on the race, and that he has "the key slates locked up."
The attorney has the backing of District Attorney Steve Cooley—who has also endorsed Valerie Salkin—City Attorney Carmen Trutanich, Sheriff Lee Baca, the Mexican American Bar Association and a dozen judges.
Although he has been a civil attorney for the past 40 years, the candidate emphasizes that he has the endorsement of people in the criminal justice system as well as the civil litigation area. He says he also has "a background in law enforcement," having served as civilian hearing examiner for the Police Commission on Boards of Rights since 1994.
De los Reyes says he has heard over 60 cases "sitting as a judge" in these proceedings, which are administrative tribunals for officers accused of misconduct. He is using the ballot designation "Attorney/Hearing Examiner."
The attorney has also served on several other commissions under four different mayors over the past 27 years, joining the Civil Service Commission in 1983 at the request of then-Mayor Tom Bradley. During his eight-year tenure there, de los Reyes notes he heard over 1,000 quasi-judicial disciplinary appeals and served two terms as president of the commission.
After the Rodney King beating in 1991, de los Reyes says, Bradley personally asked him to join the Board of Police Commissioners, which sets policies for the Los Angeles Police Department and oversees its operations.
In 2003, then-Mayor James Hahn appointed de los Reyes to the Cultural Affairs Commission for the City of Los Angeles, where he served as president from 2004 to 2005, and in 2005, Mayor Antonio Villaraigosa re-appointed him to the Civil Service Commission, where he serves as vice-president.
He says he would "love to do full-time what I've been doing part time for the past 27 years," which is "public service," remarking that the time he has spent "sitting in the judge's position, both in civil service and for the LAPD, is some of the most rewarding work I could ever imagine doing."
Legal Career
De los Reyes began his legal career as trial counsel for an insurance company in 1969 after graduating from Whittier Law School. He later joined Magaña, Cathcart & McCarthy, where he focused on major personal injury litigation with specialties in maritime and aviation law, and then moved to Kern & Wooley, another civil litigation firm.
In 1992, he joined Thon Beck, where he continues to litigate personal injury and wrongful death cases.
A native of New York, de los Reyes relocated to Los Angeles with his parents at the age of seven and grew up in Lincoln Heights. He worked in the family-owned tortilla factory while attending Loyola High School and USC.
The father of three boys and the grandfather of one, de los Reyes says he is using the name "Tony" on the ballot because "nobody knows me as Anthony." He adds that his father was a Tony and so is his eldest son.
_____________________________________________
R. STEPHEN BOLINGER
San Pedro Solo Practitioner Says Diverse Background Will Serve Him Well
San Pedro attorney R. Stephen Bolinger says that in the 26 years that he has been a licensed attorney, he has handled virtually every type of legal matter there is.
"Family law, civil rights litigation, business litigation…," Bolinger rattles off a list.
He claims over 116 trials to his name, about 50 of them jury trials, in both civil and criminal matters. The only areas he says he has had no experience in are bankruptcy and collections.
Bolinger's current practice primarily involves representing minors in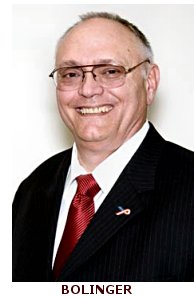 juvenile court, although he has also been a reservist in the Judge Advocate General's Corps for the California State Military Reserve, a volunteer operational force that performs such military duties as the governor directs, within the parameters of applicable federal and state law, since 1988.
Having such a diverse background, Bolinger opines, would serve him well as a judge, since "it's good to have been on both sides" of a case and he is "not entrenched" in the mind-set of a plaintiff's attorney, prosecutor or defense counsel.
He said he had twice applied for appointment but "was told my application was sitting on Gray Davis's desk when he walked out the door." He also says his second application was "on the verge of going to [the Commission on Judicial Nominees Evaluation]" but stalled when Sharon Majors-Lewis became the judicial appointments secretary for Gov. Arnold Schwarzenegger in 2007.
Under Majors-Lewis, Bolinger observes, the appointment process "has a tendency to favor district attorneys" and so he decided it was time "to take my future into my hands" and seek election since a position on the bench was the next step in "the natural progression of my career."
Political Activity
Bolinger is in his third term as a member of the Orange County Democratic Central Committee and says he has never run for any other political office before.
The attorney lives in Santa Ana, but says he is pursuing a seat in Los Angeles county because this is where he practices and more trials are held.
For the judicial race, he says he paid his filing fee and is not planning to spend anything more, relying on the Internet and word-of-mouth to reach voters.
He is working without a campaign consultant and insists: "I don't need to buy support, I have it."
Bolinger says "there are people out there who are willing to help" him in his campaign, who "may not be professionals" but have "worked in the political area at one time."
As for whether his efforts will be enough to garner the vote, he remarks, "I'm going to find out, aren't I?"
If elected, Bolinger says, his "judicial philosophy" can be summed up in one word: "fairness."
He opines that litigants "want someone to understand they've been aggrieved and why, and that's what the court system is for."
The attorney also complains "if courts get too focused on their calendars, they forget those calendars are made up of people" and that such a "time-critical" approach to cases "doesn't work."
"We're not there for our convenience, we're there to settle disputes," Bolinger says, naming Los Angeles Superior Court Judge John J. Cheroske as an example of a jurist who is "too interested in the calendar [and] moving things along."
Bolinger disclaims any "bad experiences" with the jurist and acknowledges that "he's probably got pressures on him that I'm not aware of," but insists that he would handle his courtroom, if elected, differently.
He says he has experience running a courtroom, having served as a judge pro tem in traffic and small claims and as a summary court-martial judge for the military. Bolinger estimates that he has presided over about a dozen cases as a summary court-martial judge and about 80 to 90 matters as a member of a legal separation board, which he describes as the military equivalent of an administrative hearing.
Native American Ancestry
A native of Minneapolis, Bolinger is part Osage and Omaha and carries an Osage nation membership card.
He played football for Northwestern University for one year before being sidelined by injuries and transferring to the University of Tulsa. Bolinger says he came to USC his junior year in hopes of being able to play again, and decided to stay in Southern California—even though team doctors declared him ineligible to play—because of the weather.
After graduating from USC, Bolinger spent some time working as a photographer and journalist for the Downey Paramount Herald American, doing public relations, and serving as an assistant manager for the Hamburger Hamlet restaurants in Westwood and Beverly Hills.
Bolinger also worked as a security guard for the Disneyland Resort for 17 years while earning his law degree from the University of West Los Angeles, and continued even after he was admitted to practice in 1984.
His first trial was before the National Labor Relations Board defending his Disney co-workers' formation of a union, and he has maintained a solo practice his entire career, he says.
Copyright 2010, Metropolitan News Company