Tuesday, March 16, 2010
Page 7
JUDICIAL ELECTIONS: Los Angeles Superior Court Office No. 35
Private Practitioner Attempts to Unseat Incumbent Judge
Los Angeles attorney Douglas W. Weitzman is facing off against Los Angeles Superior Court Judge Soussan G. Bruguera, the second of three challenges to sitting judges that will appear on this year's ballot. Weitzman, a licensed real estate broker who has twice unsuccessfully sought election to an open seat on the court, will appear on the ballot as "Public Rights Attorney." Bruguera, whose 21 years on the bench follow seven years of practice as an attorney, will be listed as "Judge of the Superior Court."
Daughter of Immigrants Fights Challenge She Attributes to Her Name
Independence Day has special meaning for Los Angeles Superior Court Judge Soussan G. Bruguera.
The daughter of immigrants from the former Soviet Union who waited 15 years in Tehran to come to the United States as permanent residents in the 1960s, Bruguera, 53, says she "grew up with patriotism on a grand scale," adding:
"We really did celebrate the Fourth of July."
So it is not without irony that she feels the need to identify herself as "Soussan (Suzanne) Bruguera" on the June ballot in order to defeat a challenge she attributes to a "foreign-sounding" name.
Born in Tehran in 1956, Bruguera came to the United States with her parents and younger brother at age 8. The family settled in a two-bedroom apartment in the Fairfax area of Los Angeles where, she recounts, her parents slept in the living room so she and her brother could each have their own room.
Bruguera attended USC and says she decided to become a lawyer after attending a class on constitutional law. She attended Loyola Law School, where she met her future husband, Deputy Attorney General S. Paul Bruguera, and the pair married after she passed the California bar examination in 1981.
Private Practice
Soussan Bruguera initially practiced privately in Torrance as an associate with Voorhees, Knable & Voorhees, but moved to the Los Angeles County District Attorney's Office in 1983. The following year, she joined the Attorney General's Office, where she started out in medical fraud before transferring to the Business and Tax Section.
In 1989, then-Gov. George Deukmejian tapped her to join the Los Angeles Municipal Court, and she was elevated to the Superior Court in 2000 upon court unification.
Bruguera and her husband have two daughters in college, and she says she works to make sure they "don't take for granted the amazing blessing and privilege of being born here."
She adds:
"It's hard to explain to those that have the privilege, how hard it is to get here."
Bruguera's parents met and married in a Russian-Armenian ghetto in Tehran, she says, where her father had to live within "a real hierarchy" he still "lives with," and her mother had to put up with a disabled hip because she could not obtain treatment.
"They never would have imagined their daughter could become a judge," Bruguera says.
Name Pronunciation
Citing the advice of consultants, including Fred Heubscher, whom she has retained, Bruguera says she felt the need to Anglicize her name so voters know how to pronounce it and that she is female. She points to the example of former Superior Court Judge Dzintra Janavs, who after 20 years on the bench was defeated in a 2006 challenge that has often been attributed to her name.
"Names are an issue in Los Angeles County," Bruguera concedes. "It's bigger than I thought."
Bruguera says she will be active in seeking to be returned to the bench.
"I'm going to fight," she says. "I love my job [and] I'm going to raise as much money as I can."
Bruguera adds that her love for her current job is why she has not sought appointment to the Court of Appeal.
She says voters should elect her because "I have 21 years of experience serving the people as a judge and my opponent has not had that experience," and that the one good aspect of the challenge is that it will give her "a chance to get out and meet more of the community."
She also says she would be grateful to be re-elected and promises to serve "even better."
Review of Performance
Like other bench officers, Bruguera is the subject of postings on the Internet evaluating her performance, but the negative comments she draws are mixed with positive reviews.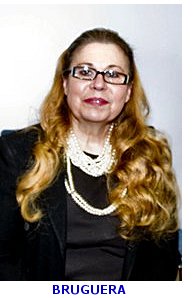 Anonymous online postsaside, her tenure as a judge appears mostly non-controversial, and she draws support from a number of attorneys who have appeared before her.
Former State Bar President Holly Fujie, of Buchalter Nemer, had a business case in front of Bruguera approximately eight years ago and says the judge was "instrumental" in reaching a settlement.
Fujie, who has endorsed Bruguera, says the judge was "very respectful" to counsel, but "realistic and practical," explaining:
"You couldn't pull the wool over her eyes."
Fujie recalls that the parties told Bruguera they were close to settlement, but "pulled it too many times," so the judge called them in and examined everything "in minute detail."
Bruguera told the parties to prepare for trial if they could not settle because she was "not going to let it hang around," Fujie recounts, and then "sat us down and made us resolve it" upon learning that the parties were close to settling but merely being "stubborn."
Glendale attorney Linda Savitt, of Ballard Rosenberg Golper & Savitt LLP, says Bruguera is "very inquisitive" and "very hard-working," as well as "very open to changing her mind."
Savitt recounts a case in which Bruguera in 2008 tentatively awarded part of the relief Savitt's client sought, then awarded all of it upon reflection.
"She wanted the order to be clear so the Court of Appeal would knew what she was trying to do…," Savitt says. "I was very impressed with her, that she was willing to make time to do that. She has a ton of cases, but she gives 100 percent of her time to the case before her."
'Comfortable' Atmosphere
Savitt also credits Bruguera's friendliness towards counsel, noting that when the courtroom is not full, Bruguera handles matters a little more informally, making the atmosphere "really comfortable."
Savitt adds: "She's not a stuffy judge."
Irvine attorney Patrick Hennessey of Palmieri Tyler Wiener Wilhelm says he appeared before Bruguera on several occasions over a period of a couple of years on a complex eminent domain case. Commenting that the issues were "not typical," he says Bruguera was "good about hitting the books and learning what she had to learn" about the issues.
Hennessey also says Bruguera "bends over backwards to be fair to both sides."
Assistant Attorney General David Chaney, who served as a co-worker to Bruguera in the Attorney General's Office and says he has observed her on the bench, echoes Hennessey's praise.
"She's very approachable," Chaney says. "Litigants feel comfortable….She's the kind of judge you don't mind appearing before, even if you have a bad case."
Like the others, Chaney indicates that he thinks Bruguera should be returned to the bench.
"She the kind of judge we like," he explains. "She enjoys her job and takes it seriously, and is not intimidated by hard decisions."
______________________________________________
Third-Time Candidate Promises to Donate Part of Salary Back to Court
Douglas W. Weitzman, 54, is making his third run for the Superior Court, this time targeting an incumbent after two unsuccessful bids for open seats.
Touting "14 years experience as a judge pro tem" and his background "as a court mediator and arbitrator," Weitzman says he has aspired to become a judge since he went to law school, and that "law and order was very important" to him while growing up.
When asked whether his challenge to Bruguera is based on her name, he comments simply that he "picked this office because I believe I can do as good a job or better."
Weitzman also promises, if he wins, to donate 50 percent of his first year salary, and at least 25 percent of following years' salaries, back to the court to "save one or two or possibly three jobs from elimination."
He explains:
"The presiding judge and the Superior Court executive committee have announced massive lay-offs, and I want to prevent some of those people from losing their jobs."
Real Estate Broker
A graduate of law school at Southwestern University with a master's degree in tax from USC, Weitzman has been a licensed real estate broker for almost 30 years.
He was designated "Corporate Attorney/Professor" on the 2006 ballot, but a searchable civil register maintained on the Los Angeles County Bar Association's website indicates he has not made any appearances before the Superior Court in the last 13 years.
Weitzman says he has an "active" law practice in transactional and real estate matters, and that he also works part-time as in-house counsel for a "very large property management and ownership firm in Beverly Hills."
He said in 2006 that the "professor" part of his ballot designation referred to prior experience teaching law-related courses at the University of Phoenix, a for-profit institution which bills itself as the nation's largest accredited private university
Weitzman had no campaign consultant or endorsements in that race, and little in the way of funding. He also drew a "not qualified" rating from LACBA, and only 14.51 percent of the vote in a three-candidate primary election against then-Deputy District Attorney Judith L. Meyer and Deputy Attorney General S. Paul Bruguera.
Appearing on the 2008 ballot as "Consumer Law Attorney," he declined to cooperate with LACBA in its evaluation of his fitness for office, and again drew a "not qualified" rating. Weitzman received 24.56 percent of the vote in a three-way race with Robert Davenport and Jared Moses, who won outright with over 54 percent.
Ballot Designation
Now setting his sights on an incumbent, his ballot designation is "Public Rights Attorney."
Weitzman says he does not know whether he will hire a consultant or what his budget will be, but indicates he is actively trying to obtain endorsements.
Asked about Bruguera's placement of the pronunciation of her first name in brackets on the ballot, he says he thinks she "should use her legal name" but that voters "are smart enough to figure it out."
He also indicates he will not be participating in LACBA's rating process this year, criticizing what he perceives as a bias against "attorneys that are either not in the public sector, that they don't know, or that are not members."
Weitzman was previously sued by Allstate Insurance Company in connection with allegedly staged accidents, but maintains that he did nothing wrong.
The case was ultimately settled, but not before the Court of Appeal ruled in People ex rel. Allstate Insurance Company v. Weitzman (2003) 107 Cal. App. 4th 534, that Weitzman and his co-defendants could be sued on a qui tam theory under the California False Claims Act.
Weitzman says he was "wrongly sued," and that at the time he had already announced that he was closing his firm. He also comments that "[a]ll of the acts that they alleged happened after I had stopped taking" cases, and maintains that he did not pay out any money in the settlement.
"I was a victim in this matter as well," he says.