Thursday, June 10, 2010
Page 1
Three Judges Retain Posts, Salkin Elected, Two Runoffs Set
By KENNETH OFGANG, Staff Writer
Three incumbent Los Angeles Superior Court judges have retained their offices as a result of primary voting, while one open seat was one by a prosecutor and two others went to runoffs.
Final returns from all Los Angeles County precincts in Tuesday's primary showed that Judges Soussan Bruguera, Laura A. Matz, and Maren E. Nelson easily turned back challenges. Deputy District Attorney Valerie Salkin won more than 50 percent of the vote to defeat two other candidates for the seat last held by Judge William Weisman, who retired last month.
While Registrar-Recorder Dean Logan reported yesterday that nearly 150,000 absentee and provisional ballots remained to be counted, compared to more than 800,000 counted on election night, it did not appear likely that Salkin might fall below 50 percent, which would force her into a runoff with runner-up Tony de los Reyes, a civil lawyer from Pasadena.
'Not Inconceivable'
De los Reyes' campaign consultant, Jill Barad, acknowledged that the math was difficult but said it was "not inconceivable" that there could still be runoff. Salkin, she estimated, would have to fall below 46 percent of the remaining votes cast in the race—there being no way to tell how many of the outstanding ballots include a choice for that seat—in order for the outcome to change.
Hal Dash of Cerrell Associates, Inc., Salkin's consultant, said there was little chance of that happening, although his client was "a little superstitious" and would not claim victory, "at least for a day or two."
Fred Huebscher, a campaign consultant who was not working for the Salkin campaign but is a self-described "friend and supporter" of the candidate, said there would not be a runoff, and that de los Reyes should be thankful for that, because "there's no way" he could defeat Salkin, who spent substantially and had the potent ballot designation of "Gang Prosecutor."
The third candidate in that race, R. Stephen Bolinger, said he was diappointed with the process, noting that he spent less then $10,000, while his opponents each spent six figures. He said he was grateful, however, for the "Well Qualified" rating he received from the County Bar.
Nelson had the largest margin of any candidate, polling more than 84 percent to defeat Jim Garo Baklayan, a civil attorney who had little in the way of a visible campaign. The incumbent—the only candidate in the county this year to draw a rating of "Exceptionally Well Qualified," the highest possible, from the County Bar, won the endorsement of the Los Angeles Times and hired political consultant Huebscher, who arranged her placement on a number of slate mailers.
Baklayan said in an e-mail to supporters that it was "pretty amazing" that he received nearly 97,000 votes, adding:
"Even though I didn't win this time, I learned a lot about campaigning and will be even more prepared next time....I feel even more confident about running again next time."
'Humbled and Grateful'
Bruguera, who received 73 percent of the vote, said she was "humbled and grateful to this country." The Iranian-born immigrant of Armenian descent said she was also "thankful for the support the legal community and the L.A. Superior Court has given me."
Her opponent, Douglas Weitzman, did not respond to a MetNews request for comment.
Matz received 78 percent to defeat Glendale attorney Marvin Fischler, who—like Weitzman and Baklayan—ran without significant funds or endorsements, although he did manage, unlike the other challengers, to be rated "Qualified" by the County Bar. Matz declined to comment on the election beyond saying she was glad it was over, and Fischler could not be reached.
In the two runoffs, Superior Court Referee Randy Hammock faces Beverly Hills attorney Mark Ameli, while Deputy District Attorney Alan Schneider faces Los Angeles Deputy City Attorney Tom Griego.
Hammock, whose campaign was directed by Barad, said in a statement:
"I am more than ready, willing and able to engage in any reasonable discussion with anyone as to the simple issue of whether Mr. Ameli can do the job of a judge better than me. In my opinion, this is a discussion worth having, and it would be a debate in which I would clearly prevail on the merits."
Hammock finished first with nearly 22 percent, and led all night while several others were tightly bunched. In the end, it was Ameli who finished second—about 6,000 votes ahead of Hawthorne Assistant City Attorney Kim Smith and about 7,500 ahead of Los Angeles Deputy City Attorney Chris Garcia. There were eight candidates in the race.
Ameli, bidding to become the court's first Iranian-American judge, could not be reached for comment, while Huebscher—who worked for Smith—opined that Ameli's second-place finish was due to his spending enough money to get on "several key slates." Huebscher also opined that his candidate's strong showing, despite being rated "Not Qualified" by LACBA, "proves once again that the County Bar ratings don't mean much."
Schneider, who came in first with 44 percent to Griego's 30 percent, said he had made "a strong showing" and would "continue to run an aggressive race," emphasizing his "Well Qualified" rating from LACBA. Griego, who was rated "Not Qualified" by the County Bar, did not return a MetNews phone call.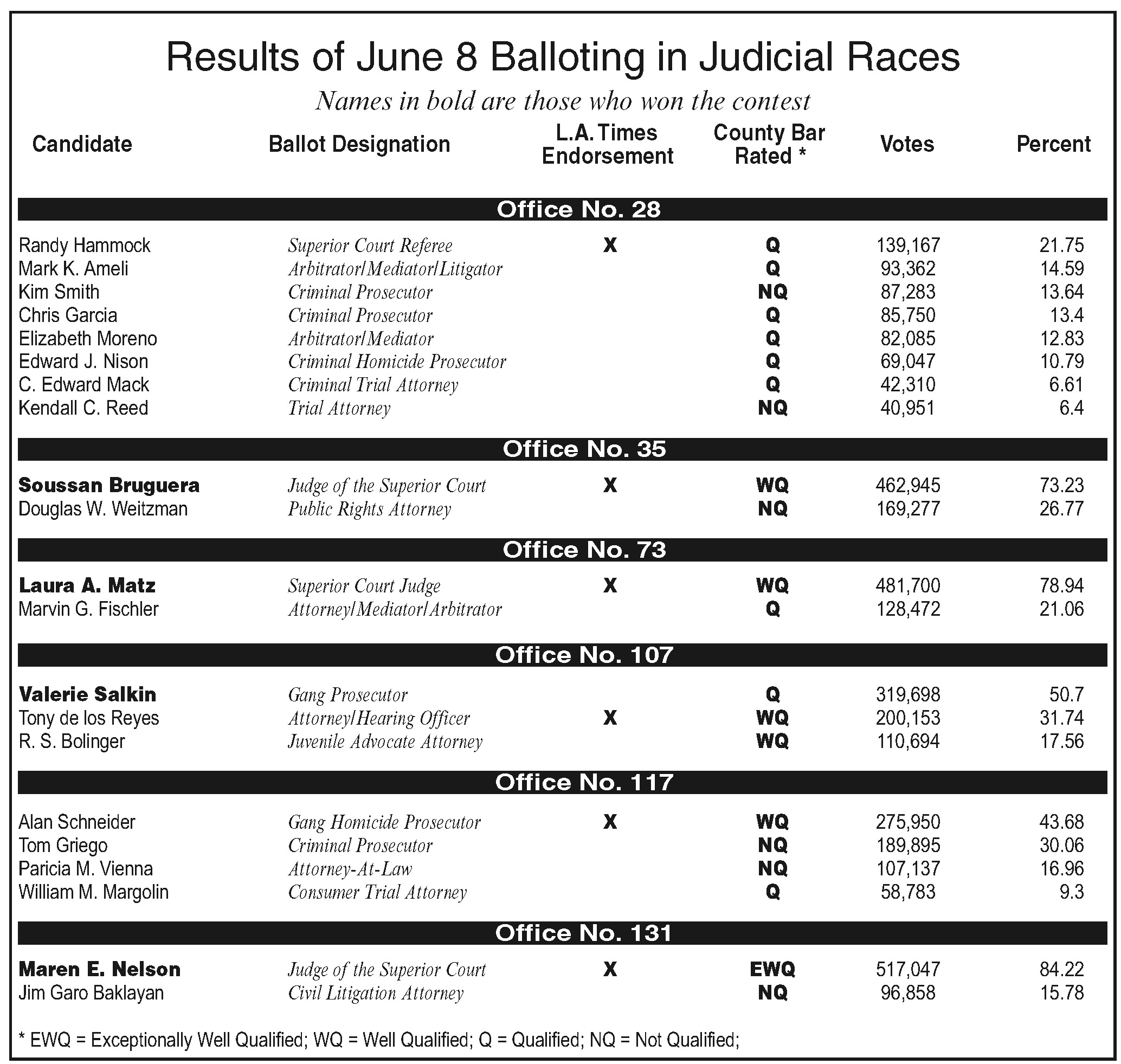 Copyright 2010, Metropolitan News Company