Thursday, August 27, 2009
Page 15
REMINISCING (Column)
Letter Comes From a Judge Who Died in 1912
BY DAVID PATTERSON HATCH
As transcribed by Roger M. Grace
In place of the twaddle customarily imposed upon readers each Thursday in the left column on the antepenultimate page of this periodical, I herewith offer a brief account of my life, as well as touching upon my attainments in the after-life. The prose is constructed by myself, and dutifully transcribed by the individual whose writings normally appear here, to whom I have, to my delight, succeeded in transmitting my thoughts.
I am, indeed, the David Patterson Hatch who authored three books subsequent to my departure in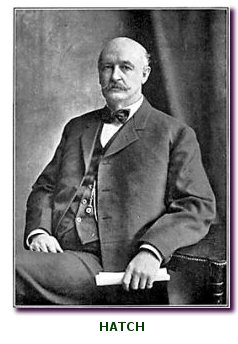 1912 from the terrestrial realm in which you presently dwell.
The books are comprised of my letters, issued from the spiritual realm, containing messages that were uplifting and pertinent to current happenings of the times. They were published in London and New York, and met with favorable reception. Particularly abroad, gleeful amazement, but acceptance, attended my feat of having communicated from the Beyond to my acquaintance Elsa Barker, a writer who willingly assumed the role of my scribe.
Miss Barker (who in 1954 herself crossed over) wrote out in longhand the dictations I psychically imparted to her. The process which was employed has been described as "automatic writings" or "channeling." My utterances were published in three books, to wit: "Letters from a Living Dead Man" (1914), "War Letters from the Living Dead Man" (1915), and "Last Letters from a Living Dead Man" (1919). The missive you are now reading represents my first effort at "automatic keystroking."
I shall proceed to provide in this instance a brief autobiography, confined to the time I resided on your plane. In subsequent communiqués, I shall tell more of my earthly experiences—including my presiding over a paternity action of particular note—and shall discuss events occurring during the time of this, my post-corporeal existence.
I was born in Dresden, Maine, on Nov. 22, 1846; graduated from the Maine Wesleyan Seminary in 1871; undertook legal studies at University of Michigan in 1871-72; completed my preparation for the bar by studying in the St. Paul, Minn. law firm of Flandreau & Clark; and was admitted to practice by the Supreme Court of Minnesota on March 28, 1872. In 1874, I was elected district attorney of Otter Tail County, Minn.
I moved with my bride, Ida, to California in March, 1875, settling in Santa Barbara County, and entering into a partnership in the practice of law with the Hon. E. B. Hall, former attorney general of West Virginia. I was, in the spring of 1880, elected city attorney of Santa Barbara, but soon thereafter relinquished that post, having been appointed by the governor to a vacancy on the county's superior court. I was, in 1884, elected by voters to succeed myself in that office.
It is with particular pride that I recite an event of June 14, 1886. My wife was, on that date, in Department Two of the Los Angeles Superior Court, sworn in as a member of the bar, entitling her to practice, in all courts within the county, the noble profession which we now shared. She had matriculated at Hastings College of Law in San Francisco.
I was one of 13 members of the bar who, in 1896—alas, it seems like yesterday!—moved into quarters in the newly constructed commercial edifice at Second and Springs streets in the downtown sector of the City of Los Angeles.
I quit this city in 1900, exhausted from the rigors of my extensive law practice, relocating in the mountains of British Columbia. In 1903, I was obliged to return to Los Angeles to testify in an action brought by Herbert C. Brown, Esq., and myself against a man to whom we had unwisely accorded a partnership and who, with shameless ingratitude, diverted partnership assets to himself and his wife. Our action was successful.
In 1905, refreshed, I resumed residency in Los Angeles and returned to the practice of law.
My books included "Scientific Occultism" and "The Blood of the Gods." I passed over to the other side on Feb. 21, 1912, thereafter continuing my writings.
Copyright 2009, Metropolitan News Company