Thursday, August 20, 2009
Page 15
REMINISCING (Column)
Lefroy Travels the World, Winds Up Here
By ROGER M. GRACE
Francis P. Lefroy had been a world traveler before settling down Los Angeles in 1891, and taking up law practice.
Born in Great Britain on Jan. 11, 1857, he moved to Australia. Records show he sailed in 1880 from Liverpool, England to New York, arriving April 19. Last week, I quoting the Brisbane (Australia) Courier of Sept. 3, 1884, as saying: "Lefroy's health has been in weakly condition for some time past, and he recently traveled on the Continent of Europe and elsewhere in consequence."
One place he visited was Kashmir, a "princely state" (meaning the illusion of autonomy) in Great Britain's Indian Empire. Lefroy's article "Summer Days in Kashmir" appears in the May 1893 edition of "The Californian Illustrated Magazine." It's billed by the publication as a "a handsomely illustrated account…of a delightful trip on a long-boat."
It begins: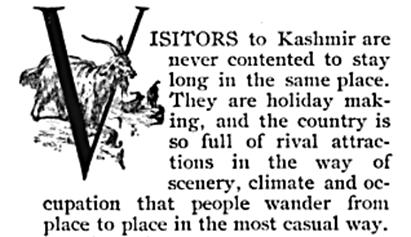 The article recites, matter-of-factly, abysmal working conditions:
"The payment for ponies and coolies which is all fixed by the government, is determined by the march. There is nothing to prevent a traveler doing two marches in the day if he so desires, but people who have plenty of time at their disposal are generally contented with one. The servants, who have to go to work as soon as they get in, at unpacking, putting up tents, and preparing meals, are quite satisfied to stop at the end of one march.
"The burdens carried by Kashmir coolies are often enormous. The recognized load for a coolie in India proper, is between fifty and fifty-five pounds. In Kashmir they often carry double that amount without complaining, and this at the rate of four annas a march, which sum is supposed to be equal to twelve cents, but at the present rate of exchange is worth about eight cents of our money."
Earlier, Lefroy's article "A Sheep Station in Western Australia" appeared in the July, 1891, Overland Monthly and Out West Magazine, published in San Francisco. The Salt Lake Herald's issue of July 5, 1891, terms it "readable" and says its depicts "a life vastly attractive to people shut in by the conventions of city life."
In that article, Lefroy tells of his first experience eating kangaroo—a meat which, he says, when "cooked with a bit of pork to supply the fatness it lacks," comes as "a very welcome variety to the tough steaks and scraggy mutton chops that form the usual bill of fare in Australian hotels."
With such lousy food in Australia, it's no wonder he and his family forayed to Los Angeles.
The California Supreme Court minutes of Nov. 9, 1891, recite:
"Ordered that Francis P. Lefroy be and hereby is admitted to practice as an attorney and counselor-at-law in all courts of this State."
It's a sure bet he was not subjected to quizzing on the law by the justices, as applicants customarily were. He had previously been "called to the bar" in Great Britain.
An item in the March 1, 1892 issue of the Daily Journal, bearing the headline, "Another Lawyer," begins:
"The latest law office opened in the city is by Mr. F. P. Lefroy in the Los Angeles Theater building. Mr. Lefroy is an English barrister at law direct from London. Three years ago he came to Los Angeles for his health. Since then he has been traveling the greater part of the time but has decided to locate permanently in Los Angeles."
A Los Angeles Times report of Sept. 5, 1893, says:
"On motion of United States Attorney [George J.] Denis, Francis P. Lefroy was yesterday admitted to practice before the Circuit Court."
Lefroy became a law partner in 1893 of Lewis A. Groff, previously profiled here. He died three years later, at the age of 39. The grandson of the chief justice of Ireland had done much traveling but, apparently by virtue of ill health, little achieving.
Copyright 2009, Metropolitan News Company