Metropolitan News-Enterprise
Thursday, April 2, 2009
Page 15
REMINISCING (Column)
Lewis A. Groff Comes to Los Angeles
By ROGER M. GRACE
There was a going away event for Lewis A. Groff as he was about to depart for Los Angeles. This dispatch from Washington, dated March 24 of 1891, was published in the next morning's issue of the Los Angeles Times:
"Commissioner Groff, of the General Land Office, whose resignation has been accepted by the President, was at the office today and held an informal reception, which was attended byevery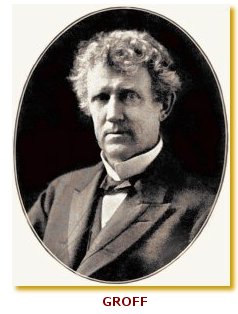 clerk and messenger attached to the office. Groff will leave Washington for California next Saturday to engage in private business…."
The stated ground for the resignation was that Groff was in ill-health…though the vibrancy of his activity both before and after the resignation suggests the actual reason was something different. As phrased in a March 30, 1891, report in the Logansport (Indiana) Reporter, Groff "resigned because of a difference of opinion with his immediate superior in office, [Interior] Secretary [John] Noble." A March 23 article in the Weekly Wisconsin says the conflict between Groff and Noble "has become a steady one." Most recently, Noble had spurned the commissioner's call for recognizing landclaims of members of a socialist colony in California's Tulare County who had, as Groff saw it, gained entitlement to deeds before the acreage was assimilated into the Sequoia National Park.
So it was that on March 28, Groff left for Los Angeles…with no inkling that he would, within the decade, become the first dean of the USC Law School.
The April 7, 1891, edition of the Times reports that the previous morning, the California Supreme Court admitted Groff to practice in the state "on a license of the United States Circuit Court." He was among eight who were enrolled as California lawyers based on having attained licensure elsewhere (three of them in Canada), sparing them the need to undergo an oral examination administered by a panel of the justices.
Groff lost no time tacking up his shingle. That same issue of the Times announces in "City Briefs" (which included paid news items) that "Judge Groff is located temporarily at No. 403 Temple Street." Unstated was that the address was that of a rooming house.
Groff was one of five lawyers who, on Sept. 14, 1891, were admitted to practice before the U.S. District Court. The judge who granted the motion was Erskine M. Ross (nephew of former District Attorney Cameron Thom). Ross was a former justice of the California Supreme Court and was later to serve as a judge of the United States Circuit Court of Appeal.
Groff and Ross were not on the same wave length. Ross on April 16 had declined to lend weight to Groff's conclusion that the colonists had a valid claim to the land they had settled. He acted in a criminal action against five members of the Kaweah Colony for cutting trees in a national forest. Ross refused to give a jury instruction, requested by their lawyer, Henry C. Dillon, that the cutting of trees for use by them in making improvements in their village was privileged. A jury that day convicted the five and Ross subsequently fined them.
On May 23, 1892, Ross sustained a demurrer to a cross complaint ("cross bill") filed by a colonist, Walter Braddock, whom the government was seeking to enjoin from cutting down trees in the area of the settlement. He was suing to establish legal entitlement to land on which he had filed a claim and which Groff had ruled should be awarded to him. (Braddock's lawyer, Dillon, was elected on Nov. 8 of that year as district attorney.)
Ross in 1894 ruled against Groff's client in a contract action to obtain $82,000 (roughly $2 million in terms of 2007 dollars).
Groff was quick to establish an identity here. He and his wife gained frequent mention on the society pages. The former Nebraska judge joined local organizations and assumed leadership roles in a few, including the Chamber of Commerce.
He was an organizer in January, 1892, of the Republican League of Los Angeles (a local chapter of a national organization) and was chosen co-vice president of the group, his counterpart being John A. Donnell…who would be elected district attorney in 1894, running on the Republican ticket.
Groff would make two attempts to gain what was then a partisan office: a Los Angeles Superior Court judgeship.

Copyright 2009, Metropolitan News Company