Thursday, December 31, 2009
Page 7
PERSPECTIVES (Column)
Reiner Does Battle With Judge in Compton and With Zsa Zsa Gabor
By ROGER M. GRACE
116th in a Series
IRA K. REINER, Los Angeles County's district attorney, in 1988 and 1989 was readying his campaign for the Democratic nomination for attorney general in 1990, and was no doubt hoping to avoid the sorts of controversies in which had been enmeshed in the past.
These included his double-barreled public reproval by the State Bar and negative public reaction to his trumped up charge of racism on the part of a Municipal Court commissioner.
The closing years of the 1980s did not feature Reiner at his most contentious or outrageous. On the other hand, he had not become sedate; he had not been defanged.
1980s news stories involving Reiner, following his 1988 reelection as DA, include these:
•June 24, 1988: The Times reported that Reiner's attempt to mandate 180-day minimum sentences county-wide in minor drug-peddling cases was dealt a fatal blow at the Compton Courthouse. Superior Court Judge Nancy Brown (since retired) just said "no," and was getting cases settled with 90-day sentences.
This rendered inefficacious Reiner's recent edict that deputies file challenges under Code of Civil Procedure §170.6 to the first judge in Compton to defy his sentencing guideline, Arthur H. Jean. Now, if deputies disqualified Jean, they'd get Brown; if they forced Brown off a case, they'd get Jean.
When Reiner instituted the blanket affidaviting of Jean, the Los Angeles Business Journal recoiled, commenting in a May 23 editorial:
Correctly perceiving narcotics as a knee-jerk issue, Reiner grandstanded by proclaiming a policy demanding a minimum sentence of 180 days for a person guilty in a minor drug possession or sales case. Sounds great, right?
Not to Compton Judge Arthur H. Jean, one of Los Angeles County's most respected jurists, who is not about to be told how to run his courtroom by Reiner. To help unclog overcrowded Compton court dockets, Jean has allowed defendants in minor drug cases to cop pleas for 90-day sentences, instead of Reiner's demanded 180.
Retaliating, the D.A.'s office decided to try bullying tactics [with affidavits of prejudice].
Asserting he was not about to be bullied about something he knew a good deal more about than the D.A., Jean said Compton has been clogged with trials because of Reiner's-180-day policy for minor drug cases. Such clogging, the judge contends, is forcing delay after delay of more serious cases, for the Compton court with 10 judges gets about 200 murder cases a year and 250 to 325 new felony cases a month.…
We all might want stiffer drug sentences, but faced with a l80-day sentence, instead of 90 days, more defendants opt for trials.
And the D.A.'s record on winning trials is poor.
Of 28 minor drug possession and sales cases argued from September to April in Compton, the prosecution won only six convictions with six-month sentences. That's barely one-fifth—not great odds.
As an elected official, Reiner is a politician. As such, he should bear in mind politics is the art of the possible.
Mandatory minima are within the province of the Legislature to enact…but not a DA. Reiner's attempt to dictate to the courts a minimum sentence was plainly audacious.
With Brown joining Jean in asserting that the determining of sentences, within legislatively defined limits, is a judicial function—and solely a judicial function—an over-reaching policy by the DA was thwarted in one courthouse, setting an example.
•Dec. 5, 1988: Reiner was sworn in for his second term. His wife, then-Los Angeles Superior Court Judge Diane Wayne, administered the oath of office. An article the next day in the Daily News says:
"In an interview after the ceremony, Reiner dismissed rumors about his desire to run for state Attorney General in 1990."
•Jan. 6, 1989: Reiner announced he would be a candidate for the Democratic nomination for attorney general. This came on the heels of Gov. George Deukmejian declaring he would not seeking a third term which virtually assured that incumbent AG John Van de Kamp would not run for reelection and would instead seeking the governorship.
An article in the next day's issue of the San Diego Union observes:
"During his rapid rise in Los Angeles politics, in which he has never served more than one term in any office, Reiner, 52, has become known as a savvy self-promoter, often at the expense of his legal reputation."
Reiner is quoted as saying:
"I'm aggressive. I speak my mind. I try hard to be innovative. I take risks and I don't worry exceedingly about criticism. I'm not excessively cautious about things, but every time I have presented my record to the people, they have endorsed me overwhelmingly."
•Feb. 9, 1989: Columnist Jim Murray provided a look at a different side of Ira Reiner. His Los Angeles Times column (which was syndicated nationally) says:
"Ira Reiner is the district attorney of Los Angeles County. Therefore, most people think his life's dream is to be governor. Or, maybe, U.S. attorney general.
"Hah!
"If Ira Reiner could be anything he wanted to be, It would be the owner of the Los Angeles Dodgers. The New York Yankees. Heck, the Seattle Mariners.
"Ira Reiner would a whole lot rather be haggling with a .250-hitting second baseman than plea bargaining with an ax murderer."
Murray reveals that Reiner had purchased a chunk of a minor league team, the Stockton Ports, remarking:
"Chances are, you have never heard of the Stockton Ports. But have you heard of 'Casey at the Bat?' Of course, you have.
"Well, Mudville, that was Stockton. When San Francisco sports writer Ernest L. Thayer wrote his famous verse in 1888, he was referring to a forerunner of the modern Stockton teams, a nine that played its games in the Mudville Flats area south of the city. Reiner bought more than a piece of a team, he bought a piece of history."
Murray writes:
"Growing up in Los Angeles, Ira Reiner learned all about minor league baseball. Before Walter O'Malley brought the game West in 1958, that's all L.A. had.
"Reiner cannot only name all the players on the 1947 minor league Angels but can recite their batting averages, field numbers and batting weaknesses. He can tell you every home run Clarence Maddern ever hit and who was on base at the time."
A deputy district attorney who ran against Reiner in 1988, Lea D'Agostino, observes that Reiner was "an incredibly good looking man, and his voice was magnificent." D'Agostino, now retired, further describes him as "very charismatic" and "very photogenic." With those qualities, coupled with his interest in sports, Reiner would surely have been a success as a sportscaster. It's regrettable he missed his calling.
•March 1, 1989: The Torrance Daily Breeze reports:
"District Attorney Ira Reiner drew intense criticism Tuesday for maintaining nearly the worst record in the state for helping single parents collect child-support payments.
"Critics said the failure results in the loss of millions of dollars to the state treasury and to children.
"Although Reiner is charged under state law with enforcing child-support laws, the county's effort has been 'paralyzed' by his 'gross negligence and mismanagement,' said a report issued Tuesday by the Los Angeles County Child Support Task Force.
"Spokesmen for Reiner blamed the system's failings on the county Board of Supervisors for not implementing reforms he suggested. They also said it was unfair to compare Los Angeles County with others because it is so large."
Of California's 13 largest counties, Los Angeles was found to be the least effective at exacting child-support payments, and was rated the second-worst at such efforts in the state, behind Sierra County.
•Aug. 29, 1989: From the Los Angeles Times:.
"With feminists increasingly determined to make a mark on the 1990 elections, the political arm of the California National Organization for Women is about to plunge headlong and headstrong into the upcoming campaign for state attorney general, denouncing front-running Los Angeles Dist. Atty. Ira Reiner as 'simply unacceptable to the women of this state.'
"The group, in a move it acknowledges is rare 10 months from Election Day, says it will endorse underdog Democratic candidate Arlo Smith, who is the district attorney of San Francisco. The announcement is scheduled for Wednesday.
"The No. 1 issue for feminists right now—abortion—is not at the root of California NOW's early endorsement, according to state coordinator Linda Joplin. Both Democratic candidates are considered pro-choice.
"Rather, Joplin said, it is a smorgasbord of other women's issues, from rape prosecution to Reiner's controversial record on collection of child support payments."
•Oct. 18, 1989: Newspapers across the globe carried an Associated Press dispatch from Beverly Hills which begins:
"Zsa Zsa Gabor deserves 30 days in jail for hitting a policeman, Los Angeles County's top prosecutor said Monday in castigating the actress for mocking the judicial system.
" 'She created this situation for herself with her celebrated mouth. She made her bed and she can lie in it, and that's at Sybil Brand,' the women's jail, District Attorney Ira Reiner said."
The actress contended the police officer, who had stopped her for having expired registration tags, manhandled her and that she acted in self-defense.
She was convicted by a jury of battery on a police officer, driving without a valid license, and driving with an open container of liquor in the car, and was sentenced Oct. 24 to three days in jail, plus community service and $12,000 in fines.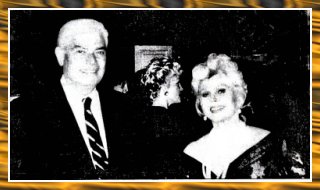 The next night, on Fox TV's "A Current Affair," she said of Reiner, according to news reports:
"He's not on my hit list. He's not good enough for my hit list....This man is not equal to me."
She displayed a photograph of herself with Reiner, subsequent to her arrest (at left), which she said was taken at a dinner party in Beverly Hills, at his behest. He provided assurances that she needn't be concerned about the charges, she asserted.
An AP story published on Friday, Oct. 27, says:
"Zsa Zsa Gabor's husband [Prince Frederick von Anhalt] said Thursday that after her arrest, District Attorney Ira Reiner begged to pose for a photograph with her and said, 'Sweetheart, don't worry,' when she recounted her slap fight with a Beverly Hills police officer."
A Reiner spokesperson acknowledged that the photo was taken at a dinner party subsequent to the arrest but denied that the DA asked that it be taken or that the case was discussed. Here's the photograph:
The Times on Oct. 27 quotes von Anhalt as saying that after his wife displayed the bruises on her wrists from the handcuffs, Reiner said, 'Sweetheart'—and that's exactly what he said—'Sweetheart, don't worry, we'll take care of that. If that policeman did that to you, he's going to be punished.' "
•Dec 29, 1989: The Times reported that Alhambra Municipal Court Judge Carlos A. Uranga had "chastised Los Angeles County Dist. Atty. Ira Reiner for publicly announcing that he will seek 30-day jail sentences for five anti-abortion protesters convicted last month of trespassing at a Rosemead family planning clinic."
Uranga sentenced three of the defendants to five days in jail or 10 hours of community service, and delayed sentencing as to two others.
Taken aback that the DA would make his pitch for a particular sentence at a press conference, Uranga commented:
"The court is deeply disappointed that the district attorney saw fit to release the sentencing memo two weeks prior to trial sentencing."
An attorney for the defendants is quoted in the article as remarking that Reiner's comment was "directed to the media for a purpose," spelling out:
"I think it was to apply pressure on the judge to give a more rigorous sentence."
A Reiner spokesman, the story says, noted that Reiner had also publicly called for a 30-day sentence for Gabor, and commented:
"I don't think you can interpret it as trying to pressure the judge. [Reiner is] simply trying to make his feelings on the matter known."
Copyright 2009, Metropolitan News Company