Tuesday, December 29, 2009
Page 7
PERSPECTIVES (Column)
Reiner Demotes Garcetti, Shifts D'Agostino to Less Desirable Assignment
By ROGER M. GRACE
114th in a Series
IRA K. REINER won reelection as district attorney on June 7, 1988, and not long after that, shunted a stunned Chief Deputy Gil Garcetti from his post as next-in-command to merely heading the outpost in Santa Monica. A reason wasn't announced.
Too, he ejected his chief opponent in the election, Deputy District Attorney Lea Purwin D'Agostino, from her plumb assignment of prosecuting career criminals at the Criminal Courts Building downtown, relegating her to serving as a calendar deputy in Van Nuys. She claimed retaliation; Reiner said he wouldn't dignify her allegation with a response.
One theory bandied about was that Reiner wanted to take Garcetti out of the limelight, fearing he might be contemplating a possible challenge to him for reelection in four years. D'Agostino had opposed him once, and might build up strength and do it again.
Or is there a flaw in that theory? Reiner, even then, was gearing up to run for state attorney general in 1990 and, given his ego, it's doubtful he would have contemplated the prospect of defeat.

Was his motivation punishment, pure and simple? Two major foul-ups for which Reiner, as head of the office, was being blamed—and which loomed as possible campaign issues against him in the AG's race—were the short-lived prosecution of U.S. Rep. Bobbi Fiedler, R-Northridge, for a supposed bribery attempt, and losing the "Twilight Zone" case.
Garcetti had actively pursued the prosecution of Fiedler, a 1986 candidate for the Republican nomination for the U.S. Senate, while Reiner was off on vacation in Europe, as previously recounted here. Fiedler's camp had supposedly tried to buy off state Sen. Edward M. Davis, the former Los Angeles City police chief, from pursuing his rival candidacy. The January, 1986 indictment of Fiedler had been a surprise because the DA's Office had sought a true bill with respect to Fiedler's chief aide/fiance but not her, and Reiner apparently wanted Garcetti to pursue an investigation—not a prosecutorial offensive—while he was gone. Garcetti launched the latter, and uttered bold press statements. Reiner, once back from vacation, viewed editorial criticism of the prosecution, and called a halt to it. He blamed Garcetti, and relations with his chief reportedly became tense.
Of course, if Reiner had managed to stay in touch with his office while away, the prosecution would not have taken the course it did.
D'Agostino had handled the prosecution of director John Landis and four others for the deaths of actor Vic Morrow and two young children on the set of "Twilight Zone—the Movie," allegedly as the result of criminal negligence. A helicopter crashed down on them during the shooting of a Vietnam War battle scene. The trial lasted 10 months and guilty verdicts were generally expected, but the jury acquitted all five defendants on May 28, 1987.
Relations with Reiner during the trial were not altogether pleasant, D'Agostino, now retired, relates.
She says there was a "major flare-up" between them, recounting:
"He wanted me to put a certain witness on the witness stand and I refused because I believed that person committed perjury at a previous hearing."

D'Agostino preceded Garcetti in being reduced in standing. It wasn't actually a demotion; she still held the same grade as before as a deputy DA. It was, nonetheless, a comedown.
The Aug. 2 Page One banner headline in the Herald Examiner reads: "Reiner transfers election foe to Van Nuys office."
D'Agostino publicly protested her transfer at the time, terming it "vindictive." It wasn't being sent to Van Nuys that upset her. She had, in fact, proposed going either to Van Nuys or Santa Monica, if Reiner were uncomfortable having his former election challenger right there in the downtown office. What drew her ire was being stripped of duties in going after career criminals.
(She was offered a spot in Torrance prosecuting career criminals, but that was far from her home, and, shying away from traveling on freeways, she turned it down.)
"There was no doubt in anyone's mind," she now recalls. "It was a retaliatory transfer."
D'Agostino says that moving her from downtown was "definitely to get rid of me."
The Herald Examiner article tells of an incident which D'Agostino speculated might have contributed to the transfer:
"She said she may also have incurred Reiner's wrath because of an off-the-cuff joke about the prosecutor's habit of being chauffeured to restaurants.
"Encountering Reiner's driver, investigator Henry Grayson, waiting for his boss outside a Civic Center restaurant, D'Agostino said she wisecracked, 'What's the matter, he can't walk two, three blocks like I do?'
"In a more serious tone, D'Agostino's companion asked Grayson, whose salary has topped the $90,000 mark, 'Am I paying for this?'
"Two days later, D'Agostino said, she learned she was being transferred.
"After a Herald Examiner story examining Reiner's security expenses, which includes a full-time driver for social and business events, D'Agostino called for an investigation."
Garcetti and Bureau of Central Operations Director Richard Hecht both told the Herald-Examiner that her transfer had already been approved prior to her remark to Grayson.

The Times, the next morning, quotes Reiner spokesman J. Schuyler Sprowles as terming D'Agostino's charge "farcical," insisting that her reassignment was routine, and noting that there were about 150 transfers each year among the 800-or-so deputies. It was that statement, I would suggest, that was "farcical."
Annual transfers, said by Sprowles to number roughly 150, surely entailed, predominently, calendar deputies being shifted from one courthouse to another. This is hardly akin to a lawyer in the office who had been entrusted with highest-profile prosecutions, who was currently pursuing career criminals, being tossed down the stairs and told to handle any case that happened to come into a particular department.
This would approach the scenario of a judge who supervised the criminal courts in the Los Angeles Superior Court running for assistant presiding judge, losing, and when his rival was about to become PJ, being banished to small claims…with the court's public information officer explaining that well, heck, judges are transferred all the time.
The Daily News on Aug. 3 quotes Garcetti as saying that D'Agostino "is someone who is simply being transferred after having spent an inordinate amount of time in a (desired) unit" and that other DDAs should take a turn there. He had no notion there that the same reasoning might be applied to someone else having a turn at serving as chief deputy.
D'Agostino is quoted as commenting:
"Everybody wants to be in the special unit because you get better cases and you have more time to handle them. I don't mean to demean calendar deputies. Everybody cannot be in a special unit. But when you are taken out of a special unit, it is considered a demotion."
Whether a "demotion" or not, she was spirited downward.
The Aug. 3 issue of the Herald Examiner contains this cartoon, depicting a gift from Reiner to D'Agostino of a flesh-eating Venus flytrap: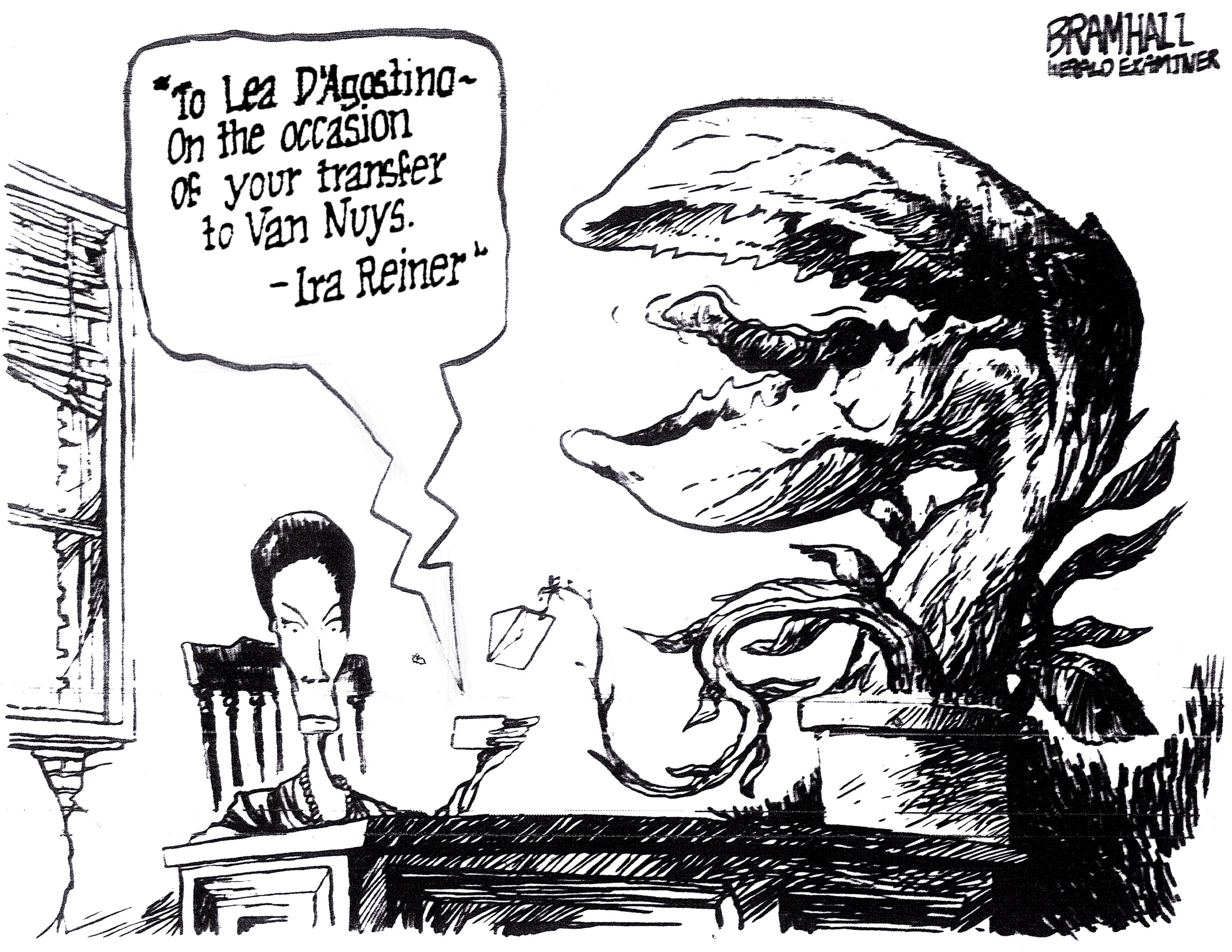 An editorial next to the cartoon, titled "A tale of two egos," begins:
"The scene is the L.A. District Attorney's office, post-election, where the egomaniacal poobah is plotting revenge on a former campaign opponent and current deputy known as the Dragon Lady. Defeat hasn't blunted her razor-sharp tongue, and when she gets the chance she skewers his taxpayer-funded chauffeur. Which, in turn, gets her booted from a prestigious assignment downtown to a grunt job in the outback known as Van Nuys. So much for the poobah's election night promise to foreswear revenge on his enemy."
The editorial proceeds to take swipes both at Reiner and D'Agostino, and calls for a cessation of hostilities between them.

It was on Sept. 14, 1998, that Reiner announced an office reorganization under which Garcetti would be ousted as chief deputy, effective Oct. 3. He would be replaced by Gregory Thompson, then special assistant.
Reiner issued a press release saying that Garcetti "has done a superlative job for me, the office and the community" and that the reorganization "should in no way diminish or detract from his remarkable accomplishments."
The next morning's edition of the Los Angeles Times quotes Garcetti as saying, "Yeah, it's a possibility" when queried as to whether he might resign from the DA's Office.
"Gil was devastated by the move," D'Agostino recounts.
A Sept. 15 article in the Daily News says: "D'Agostino, who earlier called her transfer vindictive, said she had no comment on Garcetti's ouster, even though the two locked horns publicly over her transfer."
She now relates that she did empathize with Garcetti and sought to commiserate with him. D'Agostino says she telephoned Garcetti's home and that his wife, Sukey, answered, to whom she related her feelings. D'Agostino says that Sukey Garcetti was thankful for her buoying words and used a phrase which she hadn't heard before, though she's encountered it since: "My enemies' enemies are my friends."
That Sept. 15 article in the Daily News was by staff writer Sandi Gibbons, who was soon to become a DA's press aide, a position she continues to hold. The article reports:
"Garcetti said Reiner told him last Thursday [Sept. 8] that he was being replaced, adding he had accepted a position as head deputy district attorney in Santa Monica, near his Brentwood home.
" 'When I was informed, I was stunned, shocked,' Garcetti said. 'I realized when I took this position, this is a political office and as soon as I could be appointed, I could be removed. I came in with my eyes open and I leave with my eyes open.' "
Gibbons notes:
"Garcetti said the district attorney told him he could chose a head deputy's job in any of the branch offices, but he was not given the choice of a more powerful bureau director's position."

Garcetti is generally attributed with having been a major player in the early days of Reiner's 1984 effort to topple DA Robert Philibosian. Garcetti was apparently riled at the DA for yanking him from high-profile responsibilities in overseeing investigations of police shootings. Philibosian largely dismantled the "roll-out" program his predecessor, John Van de Kamp, inaugurated under which a deputy DA sped to the scene of virtually every fatal shooting in the county by a police officer.
As DA, Reiner was the star of the show at press conference after press conference, and made major policy decisions, while Garcetti ran the office on a day-to-day basis. But now Reiner traded Garcetti's talents for those of Thompson, whom he had met in Sacramento while Thompson was executive director of the California District Attorneys Assn. There was speculation that Thompson would help the Los Angeles DA, who was eyeing a state constitutional office, gain statewide identity.
However, the Sept. 15 Times article reports that Thompson insisted his appointment had "no connection" with Reiner's possible run for the AG's Office, quoting him as saying: "It's not my job to get him there."
While Reiner did not meet with reporters, Garcetti did. The Times article recounts:
"Garcetti, speaking slowly and with emotion, said: 'I know what I've done for him (Reiner). I know what I've done for this office. And I stand by those accomplishments."
Garcetti was to go to Santa Monica to head operations there. But the deputy already in charge at that branch had not received any transfer orders.
The Sept. 15 issue of the Torrance Daily Breeze says:
"Mike Carroll, Santa Monica's chief deputy, said he was surprised by the move. Carroll said he won't leave his post, however, until he's sure Garcetti accepts the reassignment.
" 'It sounds like he may quit,' Carroll said of Garcetti. 'I don't want to pack until I know what he's going to do.' "
Garcetti remained with the office—but did not go to Santa Monica. Rather, he stayed downtown, However, the Criminal Courts Building was not big enough for both him and Reiner, and he secured space in another government building.
I'll get into that tomorrow.
Copyright 2009, Metropolitan News Company