Tuesday, December 22, 2009
Page 7
PERSPECTIVES (Column)
Reiner Fends Off Election Challenge by the 'Dragon Lady,' Two Others
By ROGER M. GRACE
113th in a Series
IRA K. REINER had pulled one boner after another since taking office as Los Angeles district attorney in December, 1984. Nonetheless, his incessant press conferences and torrents of press releases, as well as service in past political offices, endowed him with pervasive name-recognition…and, given the lack of a challenge from a politico with a following, the near certainty of reelection in 1988.
The question was not so much whether Reiner would be reelected that year…but whether he would garner sufficient votes in 1990 to catapult him to the office of attorney general.
The DA drew three opponents in the June 7, 1988 primary:
•Lea Purwin D'Agostino, a deputy district attorney, was Reiner's major adversary. She was formidable in the courtroom,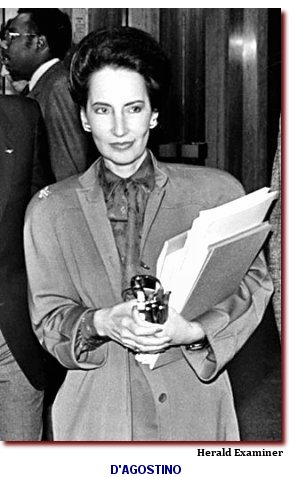 but not in the political arena. A Republican, she did not have Republican dollars or organization behind her in seeking the non-partisan office.
What's more, she had just lost a case, a big one: the prosecution of director John Landis and four others for involuntary manslaughter in connection with the deaths of actor Vic Morrow and two young children on the set of "Twilight Zone—the Movie." A helicopter crashed down on them—through criminal negligence in arranging the scene, according to the prosecution; through unforeseeable mishap, according to the jury.
(I don't know whether the verdict in that case was sound or not. I would simply observe that when a jury convicts, the prosecutor, no matter how sloppily prepared the case was, no matter how weak the evidence was, emerges as a hero; where the jury acquits, the prosecutor, notwithstanding strength of evidence and skillful presentation of the case, is in disrepute. It's not performance that counts; it's the result, even if it's the product of a jury's confusion, bias, or whim.)
Leonard Levine, a lawyer for one of the defendants in the case, was quoted as commenting on D'Agostino's candidacy by quipping: "I've never heard of a prosecutor riding the coattails of defeat."
Feisty and able, D'Agostino might have made a hell of a DA. But was Los Angeles County ready for a female chief prosecutor in 1988? A five-foot one-inch, 90-pound female did not look the part. She bore no resemblance to William Talman, the actor who portrayed Hamilton Burger on the relatively recent "Perry Mason" TV series. That's what the public expected the Los Angeles County district attorney to look like…and Reiner, with his white hair and deep voice, fit the stereotypical image of a DA even better than Talman.
Then there was the matter of her nickname. She was widely known as the "Dragon Lady." In her campaign, she made light of that. "I'm not called the Dragon Lady because I have dark hair and red fingernails," she's quoted in a Los Angeles Times article as telling a group, declaring: "It's because I'm tough." Indeed, the sobriquet was conjured up by one Muharem Kurbegovic, dubbed by the press as the "Alphabet Bomber," who knew she was tough; he was successfully prosecuted by her in 1980 for the bomb-murders of three persons (and injuries of 36 others) at Los Angeles International Airport in 1974. The term was not meant by Kurbegovic to be laudatory, and doubtlessly was perceived by many as the opposite; the "Dragon Lady" in "Terry and the Pirates"—a popular comic strip, 1950s TV show, and a radio serial—was a heartless villain.
•Iver Bye, a deputy district attorney, was also a candidate. He had no money, no name identification, no chance.
•Alfred Calabro, an attorney in private practice, had the same political impediments as Bye, but had a mission. He was seeking revenge for Reiner's victimizing of his younger brother, Glendale Municipal Court Commissioner Daniel Calabro, at whose expense the DA had attempted to garner publicity. Reiner ordered deputies not to stipulate to the commissioner in light of his use in court of a racial epithet...even though Calabro's remark was in the nature of expressing repugnance at the continuing use of the word which, according to a police report before him, was uttered by an alleged assailant.

Reiner's fumbles are outlined in a May 29, 1988 Los Angeles Times article, which points out:
"If this were a more volatile political year, it is safe to say, Reiner would be spending plenty of time away from his family trying to defend himself against charges that he has brought embarrassment—some say ridicule—to the district attorney's office.
"His 3½ years at the helm of the largest prosecutor's office in the nation have been marked by a string of highly publicized failures: the short-lived indictment of then-Rep. Bobbi Fiedler (R-Northridge) [previously discussed here]; the acquittal of film director John Landis and four associates after a long, circus-like trial; the attack on a Glendale Municipal Court commissioner, which was widely perceived in the legal community as unfair [also the subject of a column].
"Interspersed with these events were other episodes that raised hackles, especially among some veteran prosecutors, including a verbal assault on the entire Huntington Park Police Department and the unsuccessful filing of attempted murder charges against a man who sold AIDS-contaminated blood.
"Critics, including defense lawyers and judges, say the district attorney's office has been tarnished by Reiner's seemingly insatiable thirst for publicity and his long-standing tendency to 'shoot from the hip.' "

The baseless blast at the entire Huntington Park PD and his institution of attempted murder charges that were not legally supportable were among various minor missteps which, combined with the Fieldler, Landis, and Calabro matters, and imposition on him of a State Bar public reproval, might well have resulted in Reiner's ouster by voters, had there been a heavyweight opponent.
The assault on the police department—which the DA termed "an embarrassment to all of law enforcement"—was spoken Dec. 18, 1986, when he announced charges against two discharged officers who used an electric stun gun on a suspect. The incident had been referred to the DA's office for a prosecution by the department. There was nothing to show that the defendants were other than "rogue cops," acting in defiance of department policy and practice. (The ex-officer who committed the torturing was sentenced in 1988 to two years in prison, and the other dismissed officer, who aided him, drew a six-month term.)
Attempted murder charges against Joseph Markowski, a male prostitute with AIDS who had sold his blood, were announced by Reiner at a June 29, 1987 press conference. Los Angeles Superior Court Judge Ronald S. Coen on Dec. 1, 1987, dismissed the attempted murder charge, saying he was compelled to do so because the law "states that the defendant must...specifically intend to kill some person" for a murder or attempted murder charge to be sustained. He also scrapped an assault with a deadly weapon charge because there was no evidence that the "deadly weapon"—the blood—had been received by anyone. Coen ruled that "there is no such crime as attempted assault." The judge allowed a prosecution to go forward on two counts of attempted poisoning of a pharmaceutical; on those counts, the defendant was acquitted by a jury.
A March 28, 1988, Copley News Service article reports:
"Critics say Reiner knew Markowski's actions were not a crime under existing law and that any prosecution was doomed to fail. They also said Reiner filed the charge only for the purpose of staging several news conferences that exploited the public's fear of AIDS.
"Reiner countered that it is the district attorney's job to break legal ground in cases such as the Markowski one if protection of the public is at stake.
" 'You go as far as you can,' he said. 'We could make what we felt was a valid argument for attempted murder, granted it was right at the margin. But that's where we're supposed to go; we're supposed to go out to the frontier.'"
Coen, a former deputy district attorney, is quoted in a March 25, 1988 Times article as saying—not with specific reference to the Markowski case: "My personal belief is that if the weight of the law is against you, you don't file a charge in the hopes of changing the law in the future."

The Copley report comments that none of the three challengers "is sufficiently well-known or financed to be considered strong enough to force Reiner into a November runoff by preventing him from receiving a majority of the votes in the primary." Given the perceived weakness of those competitors, newspapers gave Reiner their endorsements.
"You can't beat somebody with nobody," the Long Beach Press-Telegram editorial of June 1 observes. "With opponents who lack stature, Ira Reiner deserves reelection."
Reiner had been slammed by Los Angeles newspapers recurrently in their editorials in connection with his various gaffes. Now that they were endorsing him, Reiner suddenly seemed to these periodicals not to be such a bad DA, after all.
•The Press-Telegram says in that same June 1 editorial that while Reiner "has often seemed to be more concerned with publicity than law enforcement," he "has done a reasonably solid job in the day-to-day management of the nation's largest prosecutor's office." Actually, it was Chief Deputy Gil Garcetti who did the day-to-day managing, and Reiner who made major decisions and handled the countless press conferences. Anyway, the editorial continues:
"Morale is improved. The men and women who try the cases get the support they need."
•The Los Angeles Times, in May 25 editorial, proclaims:
"When Ira Reiner set his sights on the job of Los Angeles County district attorney, there were legitimate concerns that he saw it merely as one more stepping stone to higher office. During his first term, however, the agency has achieved a felony-conviction rate of nearly 93%, and morale among the huge staff of prosecutors has improved. He has worked hard enough to justify a second term, and we recommend a vote for his reelection on June 7."
The editorial makes only this one reference to a rival candidate:
"Reiner has a better grasp of the day-in and day-out explosions of violence fueled by cheap cocaine and huge profits than has his chief opponent, Lea D'Agostino, a deputy district attorney. Reiner knows his way around some pretty tough sections of the county, and he meets willingly with leaders of crime-ridden communities."
One sideswipe is taken at the DA, but it's in passing:
"Reiner, ambitious and calculating, may—as critics say—weigh every decision on a political barometer, and he may only be passing through the chief prosecutor's office on his way to better things. If so, he has put the time of passage to good use and proved himself a capable district attorney."
•The Herald Examiner—which had been flagellating the DA over extravagant spending on his own security—surprisingly made no reference in its June 2 editorial endorsing him to its recent charge. It declares:
"Arrogant. Brash. Ambitious. Flamboyant. Grandstander. Headline hunter. Ira Reiner is all this. But what counts is that he's served Los Angeles well as district attorney these past four years. And, despite the possibility that he soon will seek higher office, he deserves to be reelected to a second term."
It says that "Reiner has certainly made his share of goofs," labeling his "unwarranted assault" on Calabro as "perhaps the worst."
Taking a slap at both Reiner and D'Agostino, the editorial remarks:
"As would be expected in this immense jurisdiction, Reiner has also made some questionable prosecutorial calls. Not the least of these was assigning Deputy District Attorney Lea D'Agostino to the so-called Twilight Zone case, which she botched. Ironically, she's now his leading foe in the campaign."
Turning to praise, there's this assessment:
"All in all, however, Reiner has improved operations in the district attorney's office. The felony-conviction rate is impressive and morale is up. While everybody else talks tough on drug dealers, he actually has seen to it that the typical felony pusher gets months instead of days in jail. He has instituted a management training program that ought to be emulated in every district attorney's office in the state.
"His new curfew-enforcement plan was no doubt timed to coincide with the election next Tuesday, but it is just one aspect of an excellent approach to treating kids who are on their way to big-time trouble.
"Don't wait to intervene until youngsters become hoodlums who must be harshly treated, he says. Instead, make them understand from their first contact with the police that bad consequences come from illegal gang activities and other outlawry. Book them. Return truants to school. Call in the parents. That approach, he believes, as we do, would prevent many kids from becoming lifetime criminals, or young fatalities. In the long run, it would reduce the prosecutions the district attorney's office must take on.
"Such far-sightedness should be expected of all public officials."
Reiner won, attracting 68 per cent of the ballots. D'Agostino wound up with only 13 percent.
Copyright 2009, Metropolitan News Company