Monday, November 16, 2009
Page 7
PERSPECTIVES (Column)
Reiner Accuses Philibosian of Offering 'Nuremberg Defense' as to His Plea-Bargaining
By ROGER M. GRACE
104th in a Series
ROBERT H. PHILIBOSIAN and IRA K. REINER were dogged combatants in 1984 in one of the most intense contests in Los Angeles County's history for the post of district attorney—a contest that, like many, became increasingly fiery as election day approached.
Harsh remarks are frequently unleashed in the closing days of a campaign, generally attracting little note at the time and seldom remembered when the election is over. One gibe by Reiner at a May 31 press conference, though not widely remembered, remains noteworthy.
First, the background. Philibosian, as district attorney, had a predisposition against plea bargaining in cases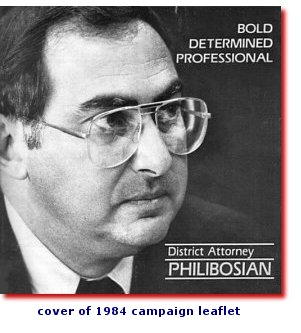 involving serious felonies—and aside from his personal views, there were new statutory mandates by which his office was bound. He caused a "Felony Case Settlement Policy" to be distributed to deputies on Feb. 2, 1984, setting forth restrictions on plea bargaining contained in the "Victims' Bill of Rights," Prop. 8, enacted by voters in 1982. Plea bargaining was barred with respect to specified serious felonies. In a clamp-down on the exercise of discretion by deputies, whenever a plea bargain involved no prison time, the written assent of a head deputy had to be obtained, as did any action, such as dismissal of a charge, "in the interest of justice."
A few days prior to the May 31 press conference, Reiner, the flamboyant Los Angeles city attorney, had laced into Philibosian for supposed hypocrisy. Philibosian was proclaiming his abhorrence of plea bargaining while, in fact, he had engaged in that very practice in 1978, the challenger charged; he had asked a judge to approve a deal under which a murder charge would be reduced to voluntary manslaughter. (The defendant served his term, was released from prison, and proceeded to murder three persons.)
On the face of it, Reiner's allegation of hypocrisy was absurd. In 1978, Philibosian was a deputy district attorney, bound to carry out office policies, not the district attorney, empowered to make policies.
Philibosian was irked by the Herald Examiner's May 30, 1984 report on Reiner's allegations in that it implied that it was he who made the call in 1978 to reduce the charge. The next morning's Los Angeles Times quotes him as saying at a press conference:
"I was operating on instructions from Mr. [Billy] Webb, who was my boss at the time and who worked out this disposition with a senior trial deputy."
Now we get to Reiner's May 31 press conference. As the Herald-Examiner reports it in its June 1 issue:
"Reiner accused Philibosian of using 'a preposterous Nuremburg defense' in claiming that as a deputy district attorney he did not 'negotiate' the controversial plea bargain [at issue]…but was 'only following orders.' "
A Nuremburg defense? At Nuremburg, alleged Nazi war criminals sought to justify their roles in the Holocaust by claiming they were just following orders.
Philibosian now reflects:
"I was carrying out a direct order in the DA's Office to follow a disposition worked out by the boss."
He says he finds repulsive Reiner's comparison of "a deputy district attorney doing his job with a Nazi soldier killing Jews."
But Reiner got what he wanted. He was quoted. His mission was in the past, and would be in the future, attracting the limelight.
The contest was perhaps the most heated district attorney race since 1910 when a publicity-hungry candidate who delighted in making waves, opposing the establishment, sensationalizing and distorting, toppled the incumbent. Could it possibly be that Reiner is a reincarnate of Thomas Lee Woolwine?

The acrimonious nature of the campaign engendered a distaste for both candidates on the part of some—including editorial writers for the county's three major newspapers.
●The Daily News, in a May 31 editorial, remarks:
"It is fortunate that the campaign is just about to end. If it had gone on a few weeks longer, voters might have been too disgusted to cast ballots for anyone."
The newspaper takes issue with Philibosian's bid to be included on a particular slate mailer (to be discussed in the next column), and notes that Reiner "had his knuckles rapped by a Superior Court judge who ruled that the city attorney had violated professional ethics…." The upbraiding by the judge is recited below.
The editorial concludes that Philibosian was the better of the two candidates, declaring:
"Philibosian has the right idea about what the district attorney should do—put public safety first. Furthermore, he is a career prosecutor, and not a career politician."
It goes on to hail Philibosian for being un-Reiner-like:
"[Philibosian] has not flitted from office to office for the past decade, lighting on his current job as if it were just a brief stopover on the way to better things. And he has not mistaken his job for a political soapbox. Last year, Ira Reiner was dumped from his defense role in the police spying case because he could not hold back from criticizing police intelligence officers—his clients—in public. The city eventually paid more than $2 million for outside legal help to replace him.
"Philibosian has never made a mistake like that and, given what we have seen of him as district attorney so far, our guess is that he never would."
●The Los Angeles Times' June 1 editorial also expresses displeasure with both candidates. It takes a slap at Philibosian for a comment he made Jan. 23 after the U.S. Supreme Court upheld a death sentence for Robert Alton Harris, who had abducted two teenagers outside a Jack-in-the-box, taken them to the woods, slain them, went to his apartment, and laughed about the killings as he finished their hamburgers. Philibosian's comment was:
"The decision now clears the way for the imposition of the death sentence, and I intend to witness the execution."
What I would infer from that is that he felt he had a duty to do this, as a district attorney who advocated the death penalty. The Times viewed it differently, commenting:
"To demonstrate his dedication to a crime-free society, Philibosian asks to watch a man die in San Quentin's gas chamber—a chilling lapse from the human instinct."
The editorial continues:
"Reiner plays on other concerns high in the public consciousness, focusing on violations of toxic-waste laws and other newsworthy crusades available to a city attorney—good causes that come off in Reiner's hands somehow as showboating."
The view is expressed that "the prudent vote would be for Philibosian a known quantity after 15 months in office." It says he "probably is right" to have stopped the practice of sending a prosecutor to the scene of every police shooting, is "diligent," draws criticisms from some deputies that he pushes too hard, and has maintained the office's high conviction rate. The Times concludes:
"He is entitled to a full term in which he can concentrate on correcting faults and enhancing the qualities that could make him a first-rate district attorney."
●The Herald-Examiner didn't make an endorsement, declaring in a June 4 editorial:
"[O]n those rare occasions when we do not endorse, our purpose is not to duck a choice….Our purpose is to inform our readers that no candidate meets the standards we feel must be met before we can, in good conscience, let our name be associated with his."

In the last month of the campaign, Reiner was hit with consequences flowing from two breaches of legal ethics, Those breaches were alluded to in a recent column.
●Then-Los Angeles Superior Court Judge Ronald M. George (now state chief justice) on May 8 ruled that Reiner was guilty of "a breach of professional ethics," and he accused Reiner's office of having a "begrudging and cavalier attitude" about its duties to clients.
The comments were made in the course of a 29-page order barring use before the Grand Jury of evidence gathered in the course of two city investigations of city Planning Director Calvin Hamilton. The evidence, George ruled, was tainted.
Hamilton had sought legal advice from the City Attorney's Office on Jan. 25 as to whether his operation of a private tourism and foreign trade firm breached any conflict-of-interest laws. That inquiry sparked a criminal investigation, culminating in Reiner's public announcement that he would prosecute the planning director on a misdemeanor charge, unless Philibosian prosecuted him for a felony.
George declared that there was "no doubt" that an attorney-client relationship existed between Reiner and Hamilton, rebuffing Reiner's contention that the city was his client, not Hamilton. George responded:
"The city Charter imposes upon the city attorney the duty to act as attorney for all 'officers' of the city and therefore for the planning director."
Reiner had asked George not to rule on the matter, saying in a letter:
"For you to proceed with the matter could only have the appearance of political partisanship by a member of the judiciary."
Reiner is a Democrat; George and Philibosian are Republicans. The office of district attorney is a nonpartisan one, as is the office of Superior Court judge—but political non-partisanship was a concept Reiner did not grasp.
It was at Philibosian's suggestion that George, as supervising judge of the criminal courts, scheduled the matter for a hearing. Philibosian did so after Reiner had asked him to bring felony charges.
Reiner insisted in his letter that it would be "improper and unnecessary" for George to rule—improper because Philibosian should himself decide whether to bring felony charges and improper because the contention by Hamilton's lawyer that legal ethics had been breached was frivolous.
An April 26 article in the Herald Examiner quotes George as labeling Reiner's reasoning "absurd" and commenting:
"There's a definite legal basis for the court to review this matter."
The day after George made his ruling, Reiner thundered in an interview with the Times:
"The logical conclusion of this decision is that we should conceal all information of corrupt activities brought to our attention by any city employee or any city official. I'll be damned if I'll be a party to that."
The city attorney went on to say:
"I'll be damned if any city official is going to walk into my office and tell us that they committed a crime against the city and have me give them a pat on the head and tell them not to worry, that I won't tell my client about it because it's just between you and me.
"The judge is dead wrong. The law is clear. There isn't room here for a scintilla of doubt."
Reiner said of Philibosian:
"What he has done is nothing less than attempt to sabotage a very important case involving alleged corruption of a public official...for political purposes."
A May 10 editorial in the Daily News says Reiner "fumbled," and declares that "there is...no excuse for Reiner's sloppy handling of the Hamilton case."
At a fundraiser on May 10, Philibosian charged that Reiner "simply didn't know what his responsibilities were as city attorney" and that he was "so busy chasing headlines that he trips over legal principles."
●A Times story on June 2—three days before the election—reveals that the State Bar had instituted a disciplinary proceeding against Reiner in connection with his public betrayal of the interests of clients.
Reiner's office in 1983 was defending 11 members of the Los Angeles Police Department's Public Disorder Intelligence Division, accused in a lawsuit filed by the American Civil Liberties Union of improper "spying" by infiltrating dissident groups. Reiner—despite being exhorted by his chief aide not to do so—bad-mouthed his own clients at a City Council committee meeting. He denounced a unit within PDID as being comprised of "zealot officers" who "believe it is completely appropriate...to abuse every single moral or ethical precept that's involved in what we understand is a free society."
Then-Los Angeles Superior Court judge Lester Olson (now a private judge) yanked Reiner off the case, declaring there to be a conflict of interest. The law firm of Gibson, Dunn & Crutcher took over the defense, receiving more than $2 million for services Reiner's office should have been performing.
The newspaper had been able to get a hold of a copy of a confidential May 15 letter advising that "the referee has concluded the facts warrant the issuance of a formal complaint."
George's finding as to unethical conduct by Reiner, coupled with the State Bar's action, should have been enough to kill the city attorney's chances. But this was an election that would take place under singular circumstances...ones which, as I'll discuss in the next column, rendered a Philibosian victory highly improbable.
Copyright 2009, Metropolitan News Company