Tuesday, November 10, 2009
Page 7
PERSPECTIVES (Column)
DA Candidates Seek Images: Philibosian as Crime-Battler, Reiner as Foe of 'Big Shots'
By ROGER M. GRACE
103rd in a Series
ROBERT H. PHILIBOSIAN, the appointed district attorney of Los Angeles County, was hoping to gain election to his post in 1984 without opposition. His campaign coffers at the outset of that year were stuffed with more than half a million dollars…seemingly enough to deter challenges, or at least any meaningful ones.
The money had been amassed despite a slow start on putting together an election effort. Philibosian had been chosen by the Board of Supervisors on Dec. 28, 1982, to replace John Van de Kamp…who vacated the post to assume duties as state attorney general, having been elected to the office in November.
An April 18, 1983 article in Los Angeles Times observes that Philibosian was so busy organizing the office that he wasn't gearing up yet for the June 5, 1984 election. It quotes Supervisor Mike Antonovich as saying:
"I told Bob he has to begin campaigning now in order to assure he has a broad base of support when he runs in June of 1984."
These words are attributed to Philibosian:
"Yes, I am going to run. Yes, I am going to run very vigorously. But in terms of the details, they are going to have to take the back burner."
Ira K. Reiner, the Los Angeles city attorney, is quoted in that article as saying, with respect to his political plans: "I am not interested in the district attorney's office."
As of the start of 1984, he was primed to run against Los Angeles Supervisor Deane Dana (since deceased). Then, rumors began surfacing that he might take on Philibosian, instead.
Reiner had been known to flipflop with respect to political plans in the past. He had been readying a 1981 challenge to Mayor Tom Bradley, then suddenly shifted gears and sought the post of city attorney. He was up against then-City Councilman Bob Ronka, whom he defeated in a run-off. A June 7, 1981, analytical piece in the Times by staff writer Kenneth Reich (since deceased) recites, with reference to Reiner: "Several times, under challenge from Ronka during the campaign, he pledged without qualification to serve out his four-year term as city attorney." Nonetheless, Reich notes in his article—which appeared only five days after the election—Reiner was already talking about seeking other elective office.
Philibosian was asked about the prospect of a Reiner challenge on a session of Channel 4's "News Conference 4 L.A.," aired on Jan. 15, 1984.
"Ira Reiner is a gentleman who is probably characterized by unpredictability," Philibosian responded.
A declaration by Reiner of his political plans was expected shortly.
"His announcement could be of any nature," the DA noted, "so we'll have to wait and see what he has to say."

What Reiner had to say at his Jan. 23 press conference was that he would not seek to bump off the supervisor, a Republican—though fellow Democrats were urging him to try to do so—because it would be disruptive to his family to relocate to the Fourth District in order to be eligible to run. He and his wife, then-Los Angeles Superior Court Judge Diane Wayne (now a mediator/arbitrator), had a daughter, 8, and a son, 6, and they would have needed to move from their Hollywood Hills home to Long Beach or some other coastal location.
"When you put it all together, it just simply isn't worth it to make the move," Reiner told reporters.
The next day's issue of the Herald Examiner notes:
"Labor leaders had promised Reiner they would pay off his debt from the 1981 city attorney's race, which now stands at $150,000, and would ensure him enough money to win what was expected to be a bitter battle against Dana."
As to that figure of $150,000, it seems to have been considerably lower than the actual sum Reiner still owed. A Feb. 10 report in the same newspaper says: "City Attorney Ira Reiner's latest campaign statement shows he's still $289,252 in debt from his 1981 city attorney's race."

It was on Feb. 29 of that leap year that the probability of Reiner running for the post of DA became known. A Times story that day reports that "sources close to Reiner" said that such a contest might be in the offing, with one anonymous source advising that "the vibrations are very strong" that it would occur.
On March 8, Reiner announced his candidacy at a press conference, pledging to be a "district attorney for all the people, not for the special interests or any other groups that are used to having friends in high places."
He told reporters that as city controller, then city attorney, he "laid down the law to a lot of people who thought they were above the law, whether they were politicians with their junkets and expense accounts, street gangs with their graffiti, slumlords, or corporate presidents dumping their toxic wastes on the public."
Philibosian called his own press conference, at which he accused Reiner of being "a political job-hopper and a soft prosecutor who is more at home with trendy issues than vigorous law enforcement."
Daryl Gates, L.A.'s popular police chief, declared that Reiner "has a spotty, shoddy record as city prosecutor" and said he would campaign, on his own time, for Philibosian.
The vow to engage in campaigning was not kept, in light of grumbling that he would be misusing the influence of his office if he did. His involvement was restricted to an incidental, non-speaking role in a Philibosian television commercial, which was aired beginning May 29. In it, Philibosian is seen talking with a group of about 40 off-duty police officers, one of whom was Gates.
The announcer in the commercial intones:
"If you want to know who'll be the strongest DA, ask any off-duty police officer."
(Even the miniscule role Gates did play evoked controversy. On July 13, attorney Barbara Schlei, a new member of the Police Commission, termed Gates' participation in the commercial "shocking." The Grand Jury's investigation into improper police spying was "compromised" by the chief doing a political favor for the county's top prosecutor, she asserted.)

The commercial in which Gates appeared was one of several which "Friends of Philibosian" paid to have aired. Both candidates relied heavily on television advertising.
One Reiner commercial featured Mayor Tom Bradley making a pitch for the city attorney...for whom he was known to have no use.
Was it was a matter of Democrats sticking together? His showing gratitude to Reiner for not going through with challenging him in the 1991 election? Was it motivated by his not wanting an ally of Gov. George Deukmejian (with whom Bradley would compete in the 1986 gubernatorial election, as he had in 1982), in a position of power in the county? Did he simply want Reiner out of city government? For whatever reason, Bradley made the commercial.
He comes across as relaxed and sincere. His script reads:
"I believe it's important to all of us that we elect Ira Reiner our next district attorney. Ira has proven to me that he is tough and independent, and I respect his courage to stand up for what he believes. There is no question that Ira has been an innovative and dynamic city attorney. He has fought for, and won, stiffer jail sentences in case after case. Just imagine what he could do if he were our district attorney."
Reiner had another TV spot in which a hand was seen plunking Alka Seltzer tablets in a small glass of water. Then a larger glass. Yet a larger one. A pitcher. There was a mound of tablets. The announcer says:
"The thought of Ira Reiner becoming the next district attorney is very upsetting to the political power structure that controls L.A. County. They're upset because this time, they can't appoint the next district attorney. They're upset because they know from experience that Ira Reiner is too tough and independent to suit them. The more the big shots think of Ira Reiner taking a turn in the DA's Office, the more it turns their stomach."
Since it's the Board of Supervisors that makes appointments of DAs, it's inferable that the supervisors were the "big shots" with whom Reiner was promising to be at odds. Or were there super-big shots who controlled the supervisors in their appointments? Why would these big shots be so concerned that they could not pick the DA? Did they control the present appointee? Did they fear prosecution by an elected DA?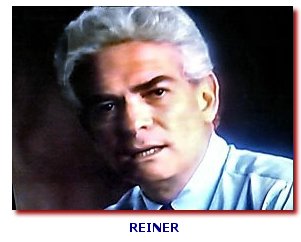 The image Reiner was striving for was being anti-establishment, a maverick. The commercial was high on dramatics, laden with innuendo, but just whom it was he was attacking, and on what factual bases, well, that was, and remains, unknown. (I haven't been able to ask Reiner for a clarification; he did not respond to a request for an interview…but that might have something to do with antipathy toward him expressed here in the past.)
To many, the city attorney's image was a negative one by reason of his constant assaults on other office-holders, the discord he stirred, so often over so little. In a TV spot, Reiner adroitly seeks to counter the criticism, declaring, defiantly:
"Yes, I'm outspoken. Yes, I've stepped on some big political toes—but that's what it takes to get the job done....I worry very little about what the big shots downtown say about me. I worry more about what you would say if I didn't do my job."

While Reiner's target as DA would be the county's "big shots," Philibosian made it clear that he would target felons.
In one commercial, taped in a courtroom, he says:
"In my 16 years as aprosecutor, I've spent a lot of time in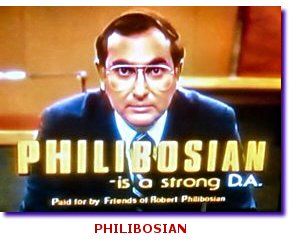 courtrooms. My job was to protect thepeople of this county. As your DA, that's still my job. Last year, I increased the number of people going to state prison 27 percent. That's the way to reduce crime: put violent criminals, dope peddlers, rapists and child molesters in prison."
The announcer proclaims: "Bob Philibosian is a strong district attorney."
Another commercial shows Philibosian in an auditorium; it appears from the context of his remarks that those seated there are crime victims. He tells them, "You are the people I care about" and expresses the view—to which none were apt to dissent—that "[v]icious criminals should be in San Quentin—not on the streets with law abiding people."
In yet another TV spiel, Philibosian is seen chatting with a group of high school students, then heads down a hallway, remarking that "our young people need special protection from drugs and gang violence."
While none of Philibosian's TV spots features an attack on the controversial city attorney, one radio commercial does. In it, it's asserted that Reiner had made "too many mistakes" to be DA.
An article in the Times on June 3 reports:
"Reiner...put together a hastily organized campaign that has depended largely on big loans from a few friends to finance a last-minute media blitz, including $200,000 spent on television and radio advertisements in the closing week. Last Thursday alone, Reiner booked 25 half-minute advertisements on Los Angeles television stations."
Copyright 2009, Metropolitan News Company