Wednesday, October 21, 2009
Page 7
PERSPECTIVES (Column)
Philibosian Prevails Over Stirling, Trott for Appointment as District Attorney
By ROGER M. GRACE
Ninety-Ninth in a Series
ROBERT H. PHILIBOSIAN had two heavyweight rivals in December, 1982, for appointment by the Board of Supervisors as Los Angeles County district attorney: David Stirling and Stephen S. Trott.
Although the office is a nonpartisan one, it drew attention in the press at the time that all three were Republicans, and that the board had a 3-2 Republican majority.
Stirling was an assemblyman from Whittier. Earlier that year, he had sought the Republican nomination for attorney general, losing to Senior Deputy Attorney General George Nicholson. Nicholson, in turn, lost in the general election to Los Angeles County District Attorney John Van de Kamp, whose capturing of the office created the vacancy the board was to fill.
After Stirling lost in the primary, Philibosian recounts, "he started lobbying for appointment as district attorney." By contrast, he says, "I did nothing to campaign for DA," explaining that he did not want to project a lack of confidence in Nicholson's capacity to defeat Van de Kamp…in which event there would have been no vacancy.
It was election night on Nov. 2—after it had become clear that Van de Kamp had been elected attorney general—that Philibosian told a reporter, Cynthia Allison of KNBC, of his interest in being appointed district attorney.
Fifth District Supervisor Mike Antonovich (the only member of the board in 1982 who's still there) favored Stirling. The two had served together in the Assembly.
"Mike was committed to Dave very early," Philibosian recalls.
Stirling later served as a Sacramento Superior Court judge, as chief deputy attorney general under Dan Lungren, and was the unsuccessful 1998 Republican contender for attorney general, losing to state Sen. Bill Lockyer. He's now of counsel to the Pacific Legal Foundation.

Trott was United States attorney for the Central District of California, and had served ably as Van de Kamp's chief deputy from 1975-79. His bid for appointment as DA was championed by Supervisor Ed Edelman of the Third District.
Did Edelman act in deference to wishes of his fellow Democrat, Van de Kamp? Van de Kamp recalls that "Steve clearly was my choice" but says he doesn't "remember getting heavily involved" in lobbying for him.
Edelman says he's not sure, but thinks that Van de Kamp's support of Trott "may have been a factor" in his own advocacy of Trott's appointment.
Fuzzy recollections are understandable; this was, after all, 27 years ago.
The West Los Angeles ex-politico says of Trott:
"He was a fine person, working in the DA's Office, and had strong credentials."
He opines that Trott was "the best of the three" because he was "less partisan," politically, than the other two.
Trott has been a judge of the Ninth U.S. Circuit Court of Appeals since 1988.

Philibosian had the backing of Fourth District Supervisor Deane Dana. The county lawmaker had been encouraged by fellow Long Beach Republican and longtime friend George Deukmejian, then the state attorney general and governor-elect, to aid Philibosian.
First District Supervisor Pete Schabarum is quoted in a Times article as saying that Deukmejian made "a suggestion" to him in a conversation "between two individuals who had known each other for 18 years" that Philibosian would be a sound choice.
Van de Kamp remarks that for Deukmejian to make calls to supervisors to express his confidence in Philibosian was "entirely appropriate."
Deukmejian says his reason for recommending Philibosian was "real simple," explaining:
"He had headed up the criminal law division within the Attorney General's Office when I was attorney general. He did such an excellent job that I knew he was very well qualified to be district attorney of Los Angeles County."
The former governor remarks that Philibosian had been a deputy district attorney in this county and was "very familiar" with the office. Having been a trial deputy, he knew what it took to gain convictions, Deukmejian says…and with his experience in heading the division in the AG's office that represented the People in criminal appeals, he adds, Philibosian knew what needed to be done at trial for convictions to stand up in the appellate courts.

Los Angeles Times writer Steve Harvey—who for years wrote the popular "Only in L.A." column and has recently taken over "L.A. Then and Now"—had a column back then called "Around the Southland." The Nov. 27, 1972 column contains this item:
"No sooner was it revealed that Gov.-elect George Deukmejian wants aide Robert Philibosian to be named Los Angeles County district attorney than some deputy prosecutors decided to prepare. Judith Cohen, Jeff Semow and Lance Ito altered the nameplates on their doors to read Cohenian, Semowian, and Itonian."
Is the story true? Ito (now a Los Angeles Superior Court judge, as you're no doubt aware) says:
"Guilty as charged. I want a lawyer."
By the way, it was Deukmejian who appointed Ito to the Los Angeles Municipal Court in 1987, and to the Superior Court two years later.

Aspirants for the appointment had private meetings with individual supervisors. Philibosian says that Second District Supervisor Kenneth Hahn—who died in 1997, and after whom the Hall of Administration is now named—asked "some interesting political questions."
He recounts this dialogue:
HAHN: "Do you know what BIOLA stands for?"
PHILIBOSIAN: "Bible Institute of Los Angeles."
HAHN: "How do you know that?"
PHILIBOSIAN: "Both of my uncles were Baptist ministers."
Did he know the difference between Baldwin Hills and Baldwin Park? Philibosian identified where each was located—and volunteered that he knew the difference between Paramount and Panorama City.
After the interview, Philibosian says, he "thought" Hahn "would be the third vote."
"I was cautiously optimistic I could get Schabarum," he notes.
That's the way it turned out—though not on the first ballot.

There was another candidate for the post whom Hahn was ostensibly supporting: Assistant District Attorney Johnnie Cochran.
Hahn represented a largely African American district, and Cochran was an African American. The supervisor got Brownie points in his district for backing a favorite son; Cochran got some publicity. As Philibosian recalls it, Cochran, in actuality, was "never interested in being DA."
Hahn's assistant chief deputy was former state Sen. (and future Los Angeles City Councilman) Nate Holden, who confirms that the supervisor's support of Cochran was merely for show. He says Cochran didn't "really want" the appointment. In fact, Holden advises, Cochran had told him:
"I've been here long enough [as assistant DA] that I know I don't want the job."
He discloses:
"Johnnie said it was time for him to make some money, now."
Cochran—who went on to lead the "Dream Team" that gained the acquittal of O.J. Simpson on a charge of murder—died in 2005.
The fact that Deukmejian wanted Philibosian to be appointed was a factor in Hahn's decision to vote to him, Holden says. He explains that the governor-elect, having already "committed himself to support the Kenneth Hahn Park," was in goods graces, indeed, with the supervisor.
Through state funding, land for the park was acquired, and Hahn on Nov. 19, 1983 dedicated the Baldwin Hills State Recreation Area he had long envisioned. The Legislature in 1988 voted to replace the words "Baldwin Hills" with the name of "Kenneth Hahn" (who had been debilitated by a stroke) and Deukmejian signed the bill.
Holden stresses that there was no "quid pro quo" arrangement in terms of Deukmejian having agreed to backing the establishment of the park in Hahn's district in return for Hahn voting for Philibosian.
Was Hahn among those supervisors Deukmejian contacted?
"I'm pretty sure I talked to him," the former governor says, while noting that he lacks precise recollection of any such conversation.
"We had a relationship," Deukmejian says. He relates that through the years, "from time to time," Hahn "would call me," seeking support of interests he wanted to advance.
Too, Deukmejian had served in the state Senate with Holden and the two were on favorable terms.

The board made its choice on Dec. 28. It acted in a public session although, legally, it could made the decision in an executive session, given that it was a personnel matter.
On the first two ballots, Antonovich voted for Stirling, Edelman opted for Trott, Dana put forth Philibosian's name, and Hahn nominated Cochran. Each time, Supervisor Pete Schabarum abstained.
On the third round, Schabarum voted for Philibosian, then Hahn did the same, giving Philibosian a majority. The board then made it unanimous.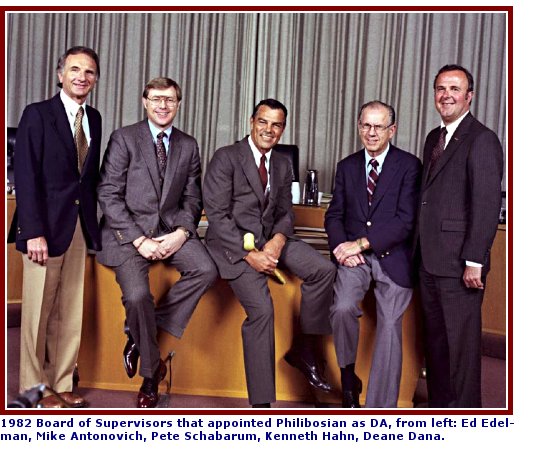 Don Knabe, now the county supervisor from the Fourth District, was then chief deputy to Dana.
"I actually had Bob 'hidden' in my office during the appointment debate," Knabe recalls, explaining:
"We were pretty sure we had the three votes but there was considerable discussion and debate and the press was chasing him as well and knew he was 'in the house.' So it was really a matter of protecting Bob from the press should there be a continuance or not having three votes."
The supervisor says he and Philibosian "laugh about it to this day."

Philibosian says he's never discussed with Schabarum why the supervisor gave him the second vote. As to the reason for his holding off support until the third round of balloting, Philibosian speculates that "Schabarum kept his powder dry" and that "when Schabarum saw that Deane Dana was sticking with me, he felt safe going for me."
Schabarum—who suddenly retired in 1991—pled "no contest" in 1997 to three counts of felony tax evasion, the convictions being reduced to misdemeanors in 1998 by Los Angeles Superior Court Judge Charles Horan. Now legally blind, Schabarum lives in retirement in Indian Wells, and did not return phone calls.
As to Hahn, he had a proclivity for supplying the third vote on matters, Philibosian notes.
The Dec. 29, 1982, issue of the Times quotes Hahn as saying, after the vote for DA, that the "realities of politics" were that a Republican would be selected, in the end, and that among the three leading contenders who were all members of the GOP, "I thought Philibosian was a little bit better."

Stirling is quoted in that article as remarking that he "never had the impression that the governor-elect was working very hard" in promoting Philibosian, but went on to say that Deukmejian's support "must be something that convinced the board to vote for this man."
He tossed in this barb:
"I can't understand how the board could roll over and go with Philibosian just because the governor[-elect] wanted him."
(Trott, by contrast, had no comment other than to offer his congratulations to Philibosian.)
The term "sour grapes" is derived from an Aesop fable about a fox who couldn't reach some grapes on a vine. The disappointment sparked a baseless proclamation by the fox that "these raisins be sour."
Stirling couldn't get three votes, so the process was corrupted. Sour grapes.
The truth is that Philibosian did have more going for him than Deukmejian's blessing. He had headed the criminal division of the Attorney General's Office (and in the waning days of the administration was chief deputy); he had tried major cases as a trial deputy in the L.A. District Attorney's Office and had supervised the DA's operations in Van Nuys.
Copyright 2009, Metropolitan News Company