Wednesday, July 29, 2009
Page 7
PERSPECTIVES (Column)
Van de Kamp Runs for Democratic AG Nod, AG, Reelection as AG, Nomination for Governor
By ROGER M. GRACE
Ninety-Fifth in a Series
JOHN VAN DE KAMP, like Evelle J. Younger, was a Los Angeles County district attorney who ran for, and became, state attorney general, serving two terms. Like Younger, he then sought the governorship, and lost. And, like Younger, he was a considerably worthier candidate than the one who became the state's chief executive.
Van de Kamp ran for the Democratic nomination for AG in 1982 against state Sen. Omer Rains of Ventura, chairman of the Judiciary Committee. At the outset of the tussle, Van de Kamp asserted that the AG's Office,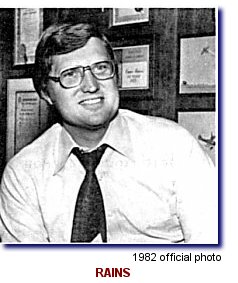 "the most important crime-fighting post in California," is "no place for an amateur," while Rains crowed that he had more courtroom experience than his rival.
Rains started out as an underdog, and finished as such after spewing charges he could not substantiate. Most notably, he asserted that Van de Kamp had a "consistent pattern" of accepting financial contributions from persons under investigation by his office and, in return, not prosecuting.
At a June 4 press conference outside the Criminal Courts Building, Rains insisted that Van de Kamp "lied" about having returned a 1979 political contribution from someone who was then under investigation. The Los Angeles Times checked; records showed the DA's statement was true.
At that same sidewalk press conference, Rains insisted that Van de Kamp had accepted a 1976 political donation from a union even though it and a leader of it, one Herman "Blackie" Leavitt, were being probed in connection with possible ties to organized crime. Rains did not produce documentation, and the upshot appeared to be that the union had been under scrutiny by federal authorities.
Rains also claimed that a neophyte deputy DA, Lea D'Agostino, had been hired by Van de Kamp on orders from Leavitt, for whom she worked as a secretary.
"I never worked for him," D'Agostino, now retired, tells me, adding that Leavitt played no role in her landing her post as a prosecutor.
At the time she was hired by Van de Kamp, after going through civil service screening, she was already a law clerk in the office, given that job by Van de Kamp's immediate predecessor, the late Joe Busch.
Recalling her immediate reaction to Rains's allegation, D'Agostino says: "I was devastated that this man would come out with that." She adds:
"Can you imagine anyone telling John Van de Kamp to do anything? He's Mr. Straight Arrow."
If Rains had been interested in the truth, D'Agostino says, he would have contacted her to check out the rumor he had apparently heard. "He never called me," she relates.
In an interview yesterday, Rains did not have a clear recollection of those charges of 19 years ago—though he did remember lambasting Van de Kamp in connection with his decision not to prosecute in the "Hillside Strangler" case.
Now chairman of the privately funded Board of Rural Education and Development (READ) Global, which builds libraries in places like Nepal and India, Rains says he lost in the 1982 primary because Van de Kamp's "name recognition and money were just too much for me to overcome."
Rains notes that he has "good feelings about John," calling him a "very honorable person." He comments:
"He was painfully shy for a politician, but in kind of an admirable way. He didn't seem to have the colossal ego that most of us had."
Rains adds: "Had be been a more effective politician, he would have been governor."

The two Republican contenders that year were Senior Assistant Attorney General George Nicholson and Assemblyman Dave Stirling, of Hacienda Heights. Both were early supporters of an effort to recall Chief Justice Rose Bird.
Van de Kamp handily beat Rains and Nicholson prevailed over Stirling.
| | |
| --- | --- |
| | |
| 1982 campaign flyers | |
Nicholson proceeded to play on Van de Kamp's former membership in the left-of-center American Civil Liberties Union, portraying the ex-federal public defender as a champion of the rights of criminal defendants, a misfit as a prosecutor. Van de Kamp described Nicholson as an "extremist," a member of the camp of "ultraconservatives."
A Sept. 13 Los Angeles Times article says:
"Last month, Nicholson charged that Van de Kamp...called him a fascist in Northern California. When asked by Sacramento reporters about [this], Van de Kamp denied that he ever used that term.
"However, as he walked back to his car with a Times reporter, Van de Kamp said: 'I'm not saying he isn't a fascist. I'm just saying I personally would never use that word.'"
Nicholson, like Rains, assailed Van de Kamp for alleged ethical improprieties. Again, substantiation was lacking; his effort didn't work.
The Republican nominee alleged that in 1974, while federal public defender in Los Angeles, Van de Kamp was told by his client that he had committed a kidnapping and helped bury the victim, 16-year-old Larry Adell, slain by his coconspirator. Nicholson produced a detailed report by Oakland attorney Howard Gilbert, telling of the outcome of a "special investigation." The full report was published in this newspaper on Oct. 15.
Nicholson declared in a written press statement accompanying the report:
"This special investigation has established that despite Van de Kamp's pre-trial knowledge of the murder, he introduced and argued evidence he knew to be false in an effort to convince the trial jury that Larry Adell had not been kidnapped and was seen alive after the offense allegedly occurred."
At a press conference, Nicholson said of Van de Kamp's conduct:
"I don't think there is any question that it is immoral, irresponsible and corrupt."
In a public statement, published in the MetNews on Oct. 29, Van de Kamp declared:
"My opponent knows full well that the canons of legal ethics prohibit me from releasing information obtained in confidence and covered by the attorney-client privilege unless the client waives the privilege.
"Violations of those canons would subject me to potential disciplinary proceedings.
"This I can say:
"The conduct of the Pheaster defense was and is consistent with the canons of legal ethics.
"At no time during the trial was evidence knowingly presented which was false."

I talked yesterday with Nicholson, now a justice of the Third District Court of Appeal. He says Gilbert prepared the report on the Pheaster case—a report he terms "the equivalent of a trial brief"—because "I asked him to look into it." He notes that he placed stock in the report because Gilbert, since deceased, was an "able lawyer" and a "moral and honorable and ethical man."
The charge drew major attention in 1982— but not in the way Nicholson wanted.
An Oct. 15, 1982 Times editorial says that Nicholson's attack "exceeded the bounds of propriety" and asserts:
"Nicholson's accusations raise no questions at all about Van de Kamp's suitability for public office, but they do create serious doubts about Nicholson's qualifications."
Then-State Bar President Anthony Murray remarked that Nicholson had displayed "fundamental and appalling ignorance" of the role played by criminal defense lawyers, and asserted that "[a]ny good lawyer should recognize the absurdity of his claim."
In 1978, Pheaster, who was under a life sentence for kidnapping and a 70-year sentence on other counts, led authorities to the gravesite and alleged that he had told Van de Kamp of his guilt four years earlier. Rob Bonner, who was the prosecutor in the case as U.S. attorney for the Central District of California (later a federal judge, still later head of the Drug Enforcement Administration), publicly scoffed that Nicholson was "giving credence to one of the most vile, loathsome and vicious individuals I have ever prosecuted." He declared: "I have absolutely no reason to believe that Mr. Van de Kamp, during that trial or after that trial, acted in any way except in a legal and ethical manner."
Van de Kamp bagged 52.8 percent of the vote, Nicholson 41.3 percent, with the balance divided between candidates of the Libertarian and the Peace and Freedom parties.
Offering the same reason Rains does for losing to Van de Kamp, Nicholson says:
"He was more visible than I and had more money than I."
The jurist also says, echoing Rains's assessment of Van de Kamp: "I have always recognized him as an honorable person."
Eight years later, Van de Kamp and Nicholson were to have another encounter, of a different sort...which I'll get to in the next column.
| | |
| --- | --- |
| Van de Kamp, left, and Nicholson address attendees at 1982 State Bar convention. | |

Three obscure Republicans vied for the party's nomination for attorney general in 1986. The winner was Panorama City attorney Bruce Gleason, who had incurred a State Bar public reproval in 1957 but had gained confidence of fellow practitioners and was elected the 1970 San Fernando Valley Bar Association president.
A former Democrat, he was an organizer in 1965 of the Panorama City Democratic Club, and in 1960, was a member of a lawyers' committee supporting Democrat James Corman in his first of a succession of successful bids for Congress.
Gleason put on virtually no campaign. Van de Kamp terms him now, as he did in 1982, a "nice guy."
The former attorney general recalls that he was the speaker at a breakfast in the San Fernando Valley and spotted Gleason among the attendees. "So, I introduced him and I said I'd want everyone to meet my esteemed opponent, Bruce Gleason, who's in the back of the room," Van de Kamp relates. Gleason stood and received applause.
Van de Kamp drew 66 percent of the vote, Gleason garnered 29.8 percent, and three minor-party candidates shared the few remaining points.

After seven years as district attorney and eight as attorney general, Van de Kamp's political career came to an end. He ran for the Democratic nomination for governor, and for the first time faced an adroit campaigner as an adversary: San Francisco Mayor Diane Feinstein. As Van de Kamp recounts:
"She did something that was very smart. In January of that year, 1990, they spent a million dollars, and they went on the air…television ads and some radio ads. It was a cheap buy—and no one else was on the air."
The conventional wisdom was that political candidates should save their money for the end of the campaign, he notes, continuing:
"I had a 10- to 15-point lead, early on. At one point, she almost dropped out, in early December. Bad health, her campaign manager had left her, and things were in disarray. But then, she decided, by God, I'm going to do this."
Once the commercials went on the air, he says, his chances plummeted. He explains:
"The numbers flipped. She was up by 15 points. And we never could come back from that."
Feinstein, now a U.S. senator, lost to then-U.S. Sen. Pete Wilson.
In the next column, I'll look at Van de Kamp's years as AG.
Copyright 2009, Metropolitan News Company