Tuesday, June 30, 2009
Page 7
PERSPECTIVES (Column)
John Van de Kamp: a Serious-Minded DA Who Was a 'Bastion of Integrity'
By ROGER M. GRACE
Ninety-Fourth in a Series
JOHN VAN DE KAMP draws high marks for his seven years of service as Los Angeles County district attorney.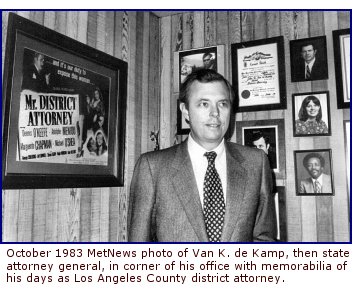 He's remembered as a DA who, with drive, rebuilt an office that had backslid during the administration of his predecessor. Respected by his troops and by the defense bar, Van de Kamp was known for truthfulness, indefatigability, and a clear head.
Terree A. Bowers, a former U.S. attorney for the Central District of California and now a partner in Howrey LLP, expresses the perception of many in saying:
"I have always been impressed with John Van de Kamp's focus on what is the just thing to do. While pragmatic in his approach to law enforcement, he never allowed political expediency or popularity polls to distract him from what he perceived to be the right course of action.
"He has always been a bastion of integrity."
Steve Cooley, the present DA, credits Van de Kamp with having come up with "vanguard stuff" as DA, such as vertical prosecutions, with one deputy DA handling a case from the first stage to the conclusion.
"It was very logical, but no one ever thought of it before," Cooley says.
He opines that Van de Kamp is "way up there" among the DAs in the history of this county, terming him "probably a bigger-picture kind of a guy than most DAs."

Ronald Coen, a Los Angeles Superior Court judge, was a young deputy district attorney when the Board of Supervisors appointed Van de Kamp in 1975 to replace Joe Busch, who had died. Coen recalls that there was some apprehension within the office. This was the year that Penal Code §1203.06—the "use a gun go to prison" law—had been passed, and Coen and other deputies "were concerned how Mr. Van de Kamp would view these sections and how it would affect the office," the judge says.
"I had heard that he was against mandatory prison sentences as well as the death penalty," Coen relates, continuing:
"This man set aside any personal views he had and not only enforced the law, but enforced it vigorously. In 1978, I filed the case of Stevie Lamar Fields, a death penalty case. The death penalty was authorized under his watch, obtained and sentenced."
Coen notes that the conviction was affirmed—"yes, even under Rose Bird," he remarks.
"He has been on death row almost 30 years. I understand he is the longest surviving affirmed inmate on death row."
Coen says of his one-time boss:
"John Van de Kamp was, and is, a real mensch. I respect him completely."

Lance Ito, also a judge of the Los Angeles Superior Court, recalls his hiring interview with Van de Kamp.
"I had long hair then as was the style," he says, "and I was not then a supporter of the death penalty."
He told the district attorney about his reservations, Ito says, "and he assured me that as a young DDA I would not be handling such serious cases and that I had the option, if I so chose, not to prosecute such cases."
The jurist recounts:
"Of course just a few years later I was prosecuting gang murder cases."
He also mentions:
"I do also recall that during the contested elections that he won handily, he declined to accept any campaign contributions from anyone inside the office and I know that he returned checks that he could identify as coming from employee family members. The right thing to do.
"While he was not the firebrand type of DA some in the office would have preferred, I admired him for his intellect. By and large he made the right decisions at the right time."
One decision he hails is creating "a special unit within the office to conduct independent investigations of official misconduct."

Lea D'Agostino, a retired deputy district attorney—a relentless one, known as the "Dragon Lady"—declares:
"John was, without question, one of the most honorable men to hold that office."
She terms the former DA "an extraordinarily 'hands-on' individual," elaborating:
"I'll never forget that after I concluded prosecuting my first major case, I was standing on the 18th floor waiting for the elevator so that I could go down to the snack bar—when lo and behold he came out of his office in his shirt sleeves, saw me and said, 'Lea, congratulations on that wonderful verdict in the Cantu case."
She says she was "flabbergasted" that Van de Kamp "not only that he knew about the verdict, but that he also knew the defendant's name."
D'Agostino remarks that "despite the pervasive feelings that he had no sense of humor—I can attest to the contrary," declaring that he has a "wonderful" sense of humor.

Andrea Ordin was Van de Kamp's initial assistant DA (resigning in 1977 to become U.S. attorney for the Central District of California), and she served as Attorney General Van de Kamp's chief assistant AG from 1983-90. She confirms that Van de Kamp does have a sense of humor.
She also confirms the general impression that he is serious-minded in his work.
"He is extremely intelligent, extremely hard-working, serious," Ordin comments.
The insider says that Van de Kamp came into the office from the outside (he had been acting U.S. attorney here, then federal public defender) and "wanted to learn everything he could" about the office. She tells me he got to know "about all of the office, all of the sections, got to know most of the 550 staff members."
He was active in recruiting lawyers, she brings to mind. Ordin says that Van de Kamp personally interviewed all applicants for deputy district attorney who made it through Civil Service screening, doing so along with her (third in command) and Steve Trott (chief deputy and second in command).
"Very tough questions" would be posed, the Los Angeles police commissioner says. But there was no "litmus test," she explains.
One question to applicants, she says, was how they stood on legalization of drugs.
"We didn't care what the answer was," Ordin notes. "We wanted to see how they responded."
She says it was an effort to "test their reasoning."
Ordin, now senior counsel to Morgan, Lewis & Bockius LLP, remembers Van de Kamp having frequent meetings with executive staff in order to obtain a panoply of views. As attorney general, she says, he had the same "collaborative style."

John J. Collins, who was Los Angeles County Bar Assn. president when Van de Kamp was State Bar president in 2004-2005, terms the ex-DA "a good human being" who "always tried to do the right thing" and is an "honest, hard-working guy."
Joe Ingber, a veteran criminal defense lawyer, observes: "John was well liked. The office morale was really high."
Joan Dempsey Klein, presiding justice of Div. Three of this district's Court of Appeal, reflects:
"Van de Kamp and I worked together in the '60s in the U.S. Attorney's Office. I gained a great deal of respect for the man at that time for his judgment, his integrity, his work ethic."
Warren Ettinger: "A class act, terrific, as honest as the day is long, a straight shooter."
Richard Kalustian, a retired Los Angeles Superior Court judge—whom I remember covering when he was the prosecutor in a high-profile case in 1972—terms Van de Kamp an "excellent" DA who was "hands-on," yet "didn't micro-manage the office." Kalustian adds:
"He didn't play favorites. He was up front with everybody."
Michael Marcus, a deputy district attorney from 1968-1985, now a mediator and State Bar governor, says Van de Kamp "was hands-on, bright, concerned, ethical." He declares "you never had to worry" about his placing self-interest above the interest of the office. "The interest of the office always came first," Marcus declares.

Van de Kamp, himself, tells of "the different things that we put into place," enumerating:
"The hard-core unit, that Jim Bascue ran, that went after gangs, hard-core gangs; the sexual assault program—which was basically vertical prosecution of major rape cases; the child-abuse unit that Jean Matusinka ran, which put us in coordination with many of the county agencies dealing with child abuse and child victims; the vertical prosecution we put into central that Curt Livesay organized; the crimes-against-the-police unit that we established after we put in the roll-out program."
Bascue later became a Los Angeles Superior Court judge, serving as presiding judge in 2000 and 2001, retiring in 2007; Matusinka, who died in 2006, also served on the Superior Court bench; Livesay, chief deputy district attorney on a now-and-again basis, is slated to give a boost to Carmen Trutanich's administration as Los Angeles city attorney, starting tomorrow, by serving at the outset as chief deputy.
Van de Kamp was a skilled DA, an outstanding DA…one of the best in the county's history.



SIDE NOTE: Harlan Braun, a celebrated criminal defense lawyer, was a deputy district attorney during the regime of Van de Kamp's predecessor, Busch. He remembers the high volume of drinking among deputy DAs then, at lunch as well as after hours. "They all drank," he says.
J. Miller Leavy, director of the DA's central operations, extended hospitality in his office at the end of the day, Braun discloses, saying:
"You'd go over there and have a drink. It was a custom."
He adds, however:
"I never saw any drinking in the Hall of Justice until 5:00."
That didn't mean that boozing did not occur earlier in the day elsewhere.
"Judge David Fitts was drunk on the bench," he alleges, matter-of-factly.
Little Joe's on North Broadway, now shuttered, was a hangout for prosecutors and defense lawyers, Braun notes, saying that you'd encounter crowds of "five people-deep at the bar."
Even more popular among the criminal bar and judges was Nikola's on Sunset Boulevard. That's the "watering hole" from which John Howard, acting-DA after Busch died, emerged in his car, getting into an accident and being arrested for drunk driving and hit-and-run. (But for that incident, Howard probably would have been appointed DA, rather than Van de Kamp.)
Shortly after he became district attorney, Van de Kamp declared Nikola's off limits to his deputies, a decree which he says remained in place for 90 days.
One person on his staff had a severe drinking problem, Van de Kamp says, adding: "He never embarrassed me publicly."
Copyright 2009, Metropolitan News Company