Wednesday, April 8, 2009
Page 7
PERSPECTIVES (Column)
Van de Kamp Draws Election Challenge From Deputy Who Was Anti-Busing Leader
By ROGER M. GRACE
Ninetieth in a Series
JOHN VAN DE KAMP's performance as district attorney, as a 1975 appointee of the Board of Supervisors and following his election in 1976, was admirable…and the prospect of him being toppled in a 1980 election contest remote. Nonetheless, a bitter detractor took him on, and garnered support of police organizations, unhappy with a particular policy the DA had instituted—one which police in the county today solidly back.
The challenger was Deputy District Attorney Sidney D. Trapp Jr. If evaluations had been made by the Los Angeles County Bar Assn. of candidates for district attorney according to the system now used for those running for the Superior Court, Van de Kamp would doubtlessly have been rated "exceptionally well qualified," and Trapp "not qualified."
Trapp's name is one not apt to be remembered today except by veteran members of the DA's Office or defense bar. But back in 1980, the name was one with a familiar ring to some voters. Trapp had been in the news in 1978 in connection with school busing and an unrelated drive—a successful one—to boost the number of election challenges to sitting judges.

A divisive and volatile issue in 1978 was "forced busing," of which Trapp was a vigorous opponent. There had been an order by the Los Angeles Superior Court to the L.A. Unified School District to end de facto segregation, followed by the school board setting up a system under which pupils within the district would become, in essence, exchange students. With the aim of achieving racial balance, some pupils were to be removed from schools in their own neighborhoods and traded for pupils living in other areas. The passing of yellow buses carrying youngsters to new schools was slated to commence Sept. 12, 1978.
A Thursday, May 12, 1978 article in the Times quotes Trapp as exhorting parents at a meeting in a San Fernando Valley elementary school: "Just don't put your kids on the bus."
The article continues:
"He suggested that if 100 parents allowed themselves to be arrested and brought to trial for keeping their children out of school, the resulting cases would clog the courts and force the district to reconsider its busing plan."
The next day's issue of the Times reports Van de Kamp's comment that he was preparing to ask the state Attorney General's Office to determine whether Trapp broke the law in urging parents to keep their children home in violation of mandatory attendance laws. A missive was, in fact, dispatched by Van de Kamp to the AG, expressing the view that the deputy's comments would appear "to put him in the position of actively encouraging violation of the Education Code."

The following Monday, Trapp held a press conference. He released a letter he had delivered to Van de Kamp in which he proclaimed: "In my judgment, there is substantial evidence that the members of the school board are chargeable with felony conspiracy to commit child endangerment." Trapp explained to reporters that the board's plan entailed "sending children from low crime areas into high crime areas."
Van de Kamp is quoted in the next morning's edition of the Times as scoffing: "It is patently absurd for a lawyer to put forth this sort of theory, and I can assure you there is not going to be any such investigation launched."
Trapp's legal theory was, indeed, bizarre…and this comes from a father who was most certainly resentful in that era of his daughter being uprooted from an elementary school within walking distance of our home and carted elsewhere. Valid legal arguments existed against the busing plan—primarily that there was no rational basis for supposing that the equal protection clause in the state Constitution, being relied upon, had greater expanse than that in the federal Constitution…which had been viewed as not mandating busing.
Trapp entreated Police Chief Daryl Gates to back him up in his contention that the areas inhabited predominantly by minorities, into which white children were to be bused, had higher crime rates than in their home turf. Gates told Trapp to go about gathering statistics from public sources, himself.
The deputy DA then called upon Gov. Jerry Brown and state Attorney General Evelle J. Younger to support his effort to block the busing. Attempting to promote favorable response from those two statewide office-holders, Trapp asserted at a May 24 press conference that his "boss," Van de Kamp, had "turned his back on the question of whether busing endangers students." Neither Brown nor Younger embraced Trapp's cause.
Younger's office did, however, hand Trapp one victory. Deputy Attorney General Frederick R. Millar Jr. told Van de Kamp in a letter that Trapp could not be prosecuted for his remarks, saying:
"There is no statute under which such a prosecution could be maintained, and such a prosecution could not withstand First and 14th Amendment scrutiny under applicable U.S. Supreme Court standards."

Trapp brought suit in federal court to enjoin the busing. U.S. District Court Judge Manuel Real of the Central District of California denied relief. The Sept. 16 edition of the Times quotes him as saying:
"I think Mr. Trapp did this as a publicity stunt and I think that it is reprehensible for any party to do it.
"For a lawyer to do it is a disgrace and brings into disrepute the law profession, because to use the precious system of justice for personal aggrandizement I think happens to be a disgrace."
Trapp sought emergency relief from the Ninth U.S. Circuit Court of Appeals and, failing there, sought a stay order from United States Chief Justice William Rehnquist, as did the organization Bus Stop. The nation's top judge declined to intercede inasmuch as the state was acting under the state Constitution.

A campaign leaflet distributed in 1980 by the Committee to Elect Sid Trapp begins with this message, summarizing Trapp's anti-busing actions:
"Sid Trapp is well known for his strong stand against forced busing of schoolchildren in Los Angeles. He put his career on the line to protect our children. He voiced the sentiment of our community when he opposed forcing our children into high crime areas. He carried our concerns all the way to the United States Supreme Court with a federal lawsuit. Rebuffed, he returned to urge parents to keep their children off the buses. You responded by removing thousands of children from the school system, placing them in private programs at great personal expense and sacrifice. Your actions sent a strong message to judges and politicians.
"Efforts are now directed toward achieving the goals of integration without the stigma of forced busing. Sid Trapp supports these efforts."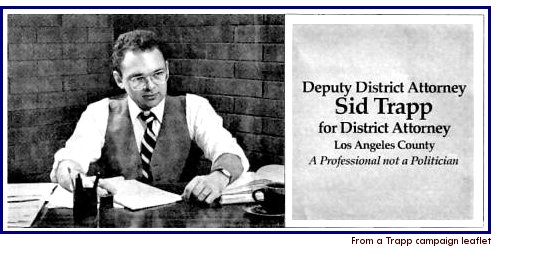 On Nov. 6, 1979, voters had approved an amendment to the state Constitution which barred "use of pupil school assignment or pupil transportation" to ensure equal protection except to the extent mandated by federal courts under the Fourteenth Amendment. Subsequent to the primary, the Court of Appeal upheld that provision; the state Supreme Court denied review; and the U.S. Supreme Court affirmed.

Trapp gained further notoriety in 1978 in connection with a full-page ad placed in the Los Angeles Daily Journal, a legal trade paper, on Jan. 27, shortly before the filing period for judicial offices began. It bears this headline:

The message begins:
"On June 6, 1978, 50 Superior Court Judgeships, and 38 Municipal Court Judgeships Will be up for election. Historically, most of these Judgeships have gone unopposed. In order to encourage greater participation in the judicial election process, we publish the following information in the public interest."
It lists, by office number, 49 sitting Los Angeles Superior Court judges who were up for election that year (and one seat that was vacant), 17 members of the Los Angeles Municipal Court whose terms were expiring, and 21 judges in outlying Municipal Court districts in the same circumstance.
It tells the constitutional requirements for service as Superior Court judges (10 years of State Bar membership) and for the Municipal Court (five years), and where and when to file papers.
At the bottom, it says:
"THIS AD SPONSORED BY CONCERNED DEPUTY DISTRICT ATTORNEYS."
Those primarily behind it were Trapp, who was first vice president of the Los Angeles County Assn. of Deputy District Attorneys, and David Ross, the group's president.
The ad was generally viewed as a major cause of the record-breaking number of gauntlets dropped in judicial races. Eight Los Angeles Superior Court judges, seven members of the Los Angeles Municipal Court, and nine judges of other municipal courts of the county had to fight for their jobs. Fueling the fire was growing public disenchantment with the judiciary in this "Bird Court" era, with the charge of judges being "soft on crime" frequently voiced.
None of the 24 incumbents was beaten in the primary. On the Superior Court level, one judge was defeated in a run-off: Leopoldo Sanchez, who had in 1972 incurred a censure by the state Supreme Court for pre-signing bail release forms…and who might well have been felled had the ad not appeared. Sanchez drew three opponents in the primary (the victor in November being Deputy District Attorney James Ideman, later a judge of the U.S. District Court for the Central District of California).
Among the seven Superior Court judges who prevailed in June were Richard Schauer, who went on to become the court's presiding judge and later the first presiding justice of Div. Seven of this district's Court of Appeal; Harry Peetris, also to serve as presiding judge; and Vaino Spencer, who advanced to the post of Court of Appeal presiding justice of this district's Div. One.
In Municipal Court races in the county, two judges in Long Beach—Marcus O. Tucker and Frederick Kepka—were forced into run-offs, as were two Los Angeles incumbents, Antonio Chavez and Richard Moore. Kepka retired in August; Gov. Jerry Brown filled the vacancy; under the law then prevailing, the challenger was denied a place on the November ballot. Tucker held onto his post at the polls (and later became a member of the Superior Court). Chavez, censured by the state high court along with Sanchez, and Moore, who reportedly put in short hours—generally leaving the court by noon—were turned out of office. (Deputy County Counsel Paul Metzler gained Chavez's seat and attorney Ronald Schoenberg succeeded Moore.)

When Trapp entered the race in 1980 for district attorney, he had two things going for him: a modicum of name recognition and grumpiness on the part of law enforcement officers toward Van de Kamp.
A fatal shooting had taken place in West Hollywood when a sheriff's deputy was startled at a crime scene by a man alighting from a telephone booth. The man who was killed had been unarmed and had been phoning for help for an elderly assault victim at a motel.
Van de Kamp wanted to institute a "roll out" policy entailing a deputy district attorney and a DA's investigator rushing to the scene of any police shooting to get an independent reading on what had occurred.
The June 30, 1979, edition of the Times reports that Sheriff Peter Pitchess was willing to have a deputy DA at the scene of a shooting, but not an investigator, a remark that caused Van de Kamp to balk:
"That stage of the incident is an investigative one. Our purpose in being there is to gather information, not to advise the department on the law."
Friction later developed between Van de Kamp and Los Angeles Police Chief Daryl Gates.
"Roll-outs" did take place in the county, but with only grudging police cooperation.
In the 1980 race for district attorney, organizations of law enforcement officers were vocal in their support of Trapp. I'll recount the election in the next column.
Copyright 2009, Metropolitan News Company