Tuesday, March 10, 2009
Page 7
PERSPECTIVES (Column)
Van de Kamp's 1976 Campaign Gets Boost From Unlikely Source: Challenger Bugliosi
By ROGER M. GRACE
Eighty-Seventh in a Series
JOHN VAN DE KAMP, holding the office of Los Angeles County district attorney by virtue of an appointment to a vacancy, was assisted in his quest for election to a four-year term in 1976 by his major election challenger, former Deputy District Attorney Vincent Bugliosi.
At the start of the campaign, it appeared that Bugliosi had enough going for him as to render his candidacy formidable. The public wanted judges and DAs who were "tough on crime"…and Van de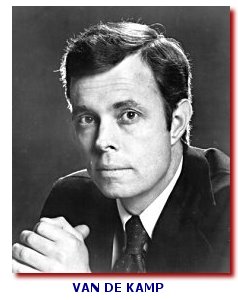 Kamp was the former federal public defender in Los Angeles and held membership in the left-of-center American Civil Liberties Union. By contrast, Bugliosi's public image, though he had been in private practice for the past four years, was that of a prosecutor.
The April 18, 1976 issue of the Long Beach Independent Press-Telegram contains this quote from Bugliosi:
"Van de Kamp's background is much more liberal than mine, although now he's acting like a crimebuster. While I was a prosecutor convicting criminals, he was defending them."
That message, alone, might have assured Bugliosi victory—even with higher spending by the Van de Kamp campaign—had Bugliosi not so conducted himself in the campaign as to repel votes.
A key factor in his favor was that his name-identification, according to polls, significantly topped that of the incumbent. Bugliosi had been chief prosecutor of hippie cult leader Charles Manson and his "family," and was co-author of the best-seller, "Helter Skelter," concerning that trial.
Van de Kamp, 40, was still a bachelor, while Bugliosi, 41, had a wife and two children. Van de Kamp was soft-spoken while Bugliosi drew attention to himself with dramatic statements.
And Bugliosi, in 1972, nearly won the race for district attorney against the incumbent, Joe Busch.
Van de Kamp, on the other hand, had two major factors in his favor: 1.) since his appointment by the Board of Supervisors in October, 1975, he had been pursuing his duties with vigor, seeking to restore the office to the heights it had attained under Evelle Younger; and 2.) more significantly, in the 1976 campaign, Bugliosi was being Bugliosi, and the public was catching on to just what that meant.

Resorting to sensationalism, Bugliosi vowed that if elected district attorney, he would re-open the investigation of the Robert Kennedy assassination and probe the theory that there was a second gunman. That theory had been discredited by experts, and the public yawned.
Again resorting to sensationalism, and abandoning truth, Bugliosi contended that Van de Kamp was only prosecuting seemingly sure-win cases to boost the ratio of successes to failures.
From the outset of the campaign, Bugliosi had been asserting in speeches that Van de Kamp's office was failing to prosecute the majority of persons arrested for felonies. The charge gained major attention after the Times, in a May 21 article, reported on a candidates' forum, sponsored by the Beverly Hills Bar Assn., the day before. The article quotes Bugliosi as declaring:
"I say that the Los Angeles County district attorney's office in no small way is responsible for the rising crime rate here in Los Angeles County."
The candidate proclaimed, the article reports, that according to a study commissioned by the Los Angeles County Bar Assn., seven out of every 10 persons arrested in the county on a felony charge was not prosecuted for a felony.
Bugliosi is quoted as declaring:
"That compares very, very unfavorably with the rest of the state, where only three out of 10 criminals are not brought to trial."
The clear implication was that 70 percent of the persons arrested for felonies escaped prosecution altogether. Bugliosi failed to factor in the number of persons arrested on felony charges who wound up being prosecuted by city attorneys' offices within the county for misdemeanors. Or did Bugliosi suppose that if a police officer arrested a suspect for a felony, the call by that officer was determinative as to how the perceived offense should be charged?
Van de Kamp did not address the allegation during his talk. The Times quotes him, in response to a reporter's question afterward, as labeling the charge "misleading and demagogic." The article says:
"Van de Kamp cited statistics from his office showing that of 30,279 felony arrests made by the Los Angeles Police Department during 1975 nearly 80% were prosecuted either by the district attorney's office as felonies or the city attorney's office as misdemeanors."

Bugliosi was caught in a lie. Nonetheless, he continued to tell it...and tell it some more.
As the campaign came to a close, the challenger bought radio spots. His commercials were based on his continued distortion of the crime statistics. One of the spiels included these words:
"Put bars on your windows. Get an attack dog. Buy a gun. Protect yourself. Why? Because seven out of 10 criminals are never brought to trial in Los Angeles County. Isn't that frightening? Here are the facts.
"According to the Public Commission on County Government, the L.A. District Attorney's Office has had the worst record of dealing with serious crime of any county in the state. Seven out of 10 criminals arrested for serious crime—thieves, rapists, murderers—are never brought to trial by John Van de Kamp...."
Note that Bugliosi's commercial equates suspects arrested on felony charges with "criminals"—thus assuming the guilt of all who are arrested...and uses the scare tactic of centering on "thieves, rapists, murderers." The message that comes across is: Van de Kamp lets 70 percent of those who steal, rape and murder off the hook.
Coming to Van de Kamp's defense was Los Angeles City Attorney Burt Pines (now a member of the Los Angeles Superior Court). A press statement he issued says the commercials were "false, misleading and go beyond the bounds of acceptable campaign rhetoric."
The statement goes on to say:
"In fact, seven out of 10 people are prosecuted according to the very reports Bugliosi said he was quoting. In the city of Los Angeles, the percentage is even higher. Almost 80% of the cases involving felony arrests are prosecuted."
A Times story of May 29 pins down that the statistics relied on by Bugliosi related to 1974—when Joe Busch was DA. Of those arrested on suspicion of having committed felonies, 29 percent were prosecuted on felony charges—but 41 percent were prosecuted as alleged misdemeanants, the article says...adding that Van de Kamp contended that the percentage of felony prosecution had increased since then.
Van de Kamp asked stations to pull the commercials because they were provably false and were defamatory. Bugliosi thundered, in a press statement:
"I am shocked and amazed that the district attorney would so blatantly intimidate the radio and television stations of Los Angeles by his attempt at censorship."

Political Editor Jack Brown's column in the Herald-Examiner on May 25 relates that Van de Kamp's headquarters had sent over a "thick packet of fact sheet material" seeking to counter claims made in Bugliosi's radio commercials. Aside from the contention that Van de Kamp was allowing felons to go free, allegations in the commercials included:
•"John Van de Kamp was given the D.A.'s job by a handful of political friends";
•"He never prosecuted a murderer or a rapist."
The column by Brown (who later worked for the MetNews) says that according to the materials supplied, none of the five supervisors who appointed Van de Kamp was a "friend" of his…rather, he had never met Pete Schabarum, James Hayes, or Baxter Ward, had chatted with Kenneth Hahn once in 1970, and had run into Ed Edelman at a few social gatherings. The column says that according to the materials, Van de Kamp, while assistant U.S. attorney, did successfully prosecute two murder cases.
The column, "Political Report," also mentions that Van de Kamp challenged Bugliosi's claim of having "successfully prosecuted 105 out of 106 felony jury trials."
An April 4 article in the Times labels Bugliosi's boast an "unsupported claim."

The Herald-Examiner endorsed Van de Kamp. So did the Times, in two editorials. The latter one, on June 4, scores Bugliosi for "using misleading tactics" in connection with the statistics.
A vigorous editorial appeared that same day in the Long Beach Press-Telegram, saying:
In eight months in office Van de Kamp has proven a forceful leader, an efficient administrator and a sensible man who can resist pressures for either foolish harshness or undue leniency.
Van de Kamp thus deserves election to a full four-year term.
His chief opponent, Vincent Bugliosi, has been conducting a noisy campaign, in which his primary, complaint about Van de Kamp is that the district attorney was once the federal public defender in Los Angeles.
"Do you want a public defender as district attorney?" Bugliosi asks.
But Bugliosi neglects to mention that Van de Kamp had also been a federal prosecutor. He neglects to mention that Van de Kamp was executive officer of the 93 U.S. attorneys' offices in the United States.
We should note here that Bugliosi's main claim to fame is that he once worked in the district attorney's office, prosecuted a sensational mass murder case and wrote a book about it.
He doesn't mention in his campaign that he also used his former office to harass a milk man who delivered milk to the Bugliosi household or that he paid a considerable sum of money to a former girl friend who was beaten up in her Santa Monica apartment.
In contrast to Bugliosi's emotional instability we find that Van de Kamp is admirably prepared—by instincts, by training, and by experience—to be district attorney.
He took command immediately and decisively. He is applying modern management techniques to the office. The office's success rate in prosecutions is improving. Morale is good.
The nation's largest district attorney's office is functioning smoothly and doing work of high quality. In Sacramento, Van de Kamp has been pressing for legislation that would enable prosecution as adults of older juveniles who are accused of crimes of violence.
The credit for this solid record of accomplishment in a short time belongs to Van de Kamp and the fine team he has put together.
John Van de Kamp deserves election as district attorney Tuesday.
The Pasadena Star News gave an early endorsement to Van de Kamp. Its May 11 editorial makes these points:
Van de Kamp's first move was to order independent studies of the operations of the district attorney's office. With the first reports of these continuing studies in hand, he moved forcefully to correct what was wrong and to strengthen what is right.
That, of course, is the most important aspect of a district attorney's duties in Los Angeles County. He must be a topflight administrator because the L.A. County district attorney is in charge of the largest prosecutorial office in the nation.
The D.A. must oversee and lead more than 520 attorneys. Just as an All American fullback may lack the qualities to be a good football coach, a deputy district attorney with a good record of convictions may lack the necessary qualities to successfully handle the top spot. The L.A. County district attorney seldom, if ever, appears in court. His job is one of leadership, moral dynamism and administration.
John Van de Kamp has proved himself in all of these areas—far more than any of his five challengers.
Vincent Bugliosi is the best known of the five because he has been able to profit from the publicity in his prosecution of the Manson family….Before leaving the D.A.'s office four years ago, Bugliosi did have a good record as a courtroom prosecutor, but had little administrative experience.

Van de Kamp attained 51.8 percent of the vote in a six-candidate race on June 8, and Bugliosi drew 36 percent. The Press-Telegram's edition two days later comments in an editorial:
"We're pleased to see [voters] spurned the appeals of smear artists and elected incumbent District Attorney John Van de Kamp over Vincent Bugliosi, whose campaign for the office was heavy on character assassination and misrepresentation of facts."
A June 12 retrospective piece on the race in the Times by staff writer Doug Shuit says:
"Persons close to [Van de Kamp's] campaign credit his primary victory to the fact that he stayed cool in the face of the heat coming from the Bugliosi campaign."
The article quotes Van de Kamp's media director, Michael Kaye, as observing:
"John is an honest and straightforward guy. He is a straight shooter, low key. He isn't the type to pound the table. He was a tremendous contrast to Bugliosi, who was very hot, very intense, very hyper and came on very strong."
Van de Kamp was characteristically straight forward with reporters the day after the election, with his candor perhaps creating the image of an ungracious winner. The Pasadena Star News quotes him, on June 10, as remarking that "Mr. Bugliosi is burned out politically" and that "the people have seen through his tactics."
The article relates:
"Van de Kamp said Bugliosi waged a 'reckless and dangerous' campaign in the last two weeks of the election, trying to scare voters with 'false statistics and misleading statistics.' "
Such post-election denigration by the winner of the loser was unorthodox. But was what he said the truth of the matter? Undoubtedly.
Copyright 2009, Metropolitan News Company