Metropolitan News-Enterprise
Thursday, December 18, 2008
Page 11
REMINISCING (Column)
Joseph Scott Dies, Hailed as 'One of the Greatest'
By ROGER M. GRACE
Joseph Scott died on March 24, 1958, 90 years from the time of his birth in England…69 years since his arrival in the United States, hoping to become a newspaper reporter in New York City…and one week short of 64 years since he was admitted to the bar in California after an oral examination before the state Supreme Court.
One thing he had in common with the other three lawyers whose careers I've examined over the past year—Lynn Helm, J. Wiseman MacDonald, and Isidore Dockweiler—was that in 1896, he became one of the original tenants of the Wilcox Building, where the MetNews offices are today. (Next year, I'll take a look at some of the other lawyers who had offices here.)
Scott was to gain the greatest prominence among the attorneys in that particular building, or, indeed, any building in Southern California. A March 25, 1958 editorial in the Herald-Examiner says:
"Los Angeles has just lost one of the greatest men in its entire history, grand old Joe Scott.
"His passing has stunned thousands upon thousands who knew him as a doughty old fighter for the rights of his fellow man, as a tremendous civic leader, as a gay wit, educator, orator, patriot and devout and earnest champion of his religion.
"Fifty years ago, the columns of the old Los Angeles Herald were carrying accounts of this then remarkable and handsome young man. They were calling him 'Mr. Los Angeles' and 'The Man of the Year' and he was being elected and re-elected to the Board of Education where he fought with all his tremendous vigor for better pay and better recognition of the importance of teachers."
After Scott, on May 26, 1911, joined the defense team for the McNamara Brothers, accused of being prime culprits in the Oct. 1, 1910 dynamiting of the Times Building, Times publisher Harrison Gray Otis declared war on Scott, deriding him bitterly in editorials, cartoons, and news articles. After Otis' death in 1917, however, the Times came to look with favor upon Scott. An editorial of March 26, 1958 remarks:
"In the death of Joseph Scott this community has lost an able citizen. a fine lawyer, and a man who devoted his life to his city, his church and his family.
"Known far and wide as an orator, he had developed a voice which needed no microphone to carry it to the farthest reaches of any hall or auditorium, and a philosophy on public and private endeavors which did not recognize or use in any form the technique of the pussy-foot. He spoke his opinion whether it was popular or unpopular at the moment and abided by the results or his frankness."
A March 26, 1958 editorial in the Pasadena Star News declares:
"His death at 90 is mourned from Pasadena to Rome. Though truly a world citizen, his love for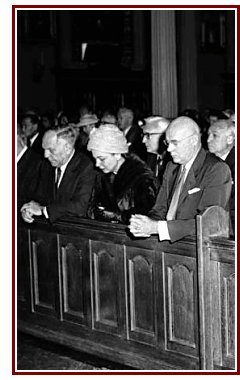 Pasadena and the Southland was only equalled by his love for his church.
"Joseph Scott was known for his host of interests. His civic activities were myriad. He was a tower of strength to the Republican party. He bore with humility honors heaped upon him by three Popes of his beloved Catholic church."
It goes on to say:
"Joe Scott, busy to the end, never lost sight of his fellow man. And there was one thing in particular he always tried to remember—to forget to grow old. It was that spirit that won for Joe Scott what California's governor calls 'the respect and love of all.' "
Those words were uttered by his friend—and errand boy at the 1920 Republican national convention—Gov. Goodwin J. Knight …who hailed Scott's "superb career as a lawyer, statesman, orator and civic leader."
At right is a photo of Knight, left, at Scott's funeral. Beside him are his wife, Virginia, and California Supreme Court Justice Marshall F. McComb.
Scott's body had lain in state in the City Hall rotunda—an extraordinary honor to someone outside of government.

Copyright 2008, Metropolitan News Company