Thursday, October 30, 2008
Page 11
REMINISCING (Column)
Scott Upstages Charlie Chaplin at 1944 Paternity Trial
By ROGER M. GRACE
There were two "stars" in the courtroom of Los Angeles Superior Court Judge Henry Willis. One was actor Charlie Chaplin, defendant in a paternity action that went to trial in December, 1944. The other was Joseph Scott.
Scott was a lawyer, yet also a performer. With dramatics, he interrogated witnesses, stood up to boom his objections, interjected asides. In closing argument, he was fiery, sarcastic, acerbic, powerful. He was every bit the thespian the putative father was.
Joe Scott, his grandson and namesake, recalls being allowed to play hooky one day to view the Chaplin trial—he thinks it was the day his grandfather delivered his summation. The lawyer, he recounts, was a "spellbinding orator."
The grandson, who is director of communications for District Attorney Steve Cooley, notes that his forebear, who had a love for children, took on the case out of compassion for the minor, 14-month-old Carol Ann Berry. The mother, would-be actress Joan Berry, "had no money," he says, and his grandfather (then 77 and hardly in need of publicity) "took it on, pro bono."
Andy Rooney, of "60 Minutes" fame, recalls in his 2000 book, "My War," that he covered the trial. He says:
"The big story one day was a witness who testified that Chaplin had spent two hours in the girl's bedroom. When Chaplin's lawyer denied anything went on, her lawyer [Scott] said, 'What was he doing for two hours? Painting her toenails red?' "
In the March, 2003 issue of L.A. Lawyer, Court of Appeal staff attorney Robert S. Wolfe writes:
"The trial was nasty. Chaplin was required to stand in front of the jury next to the mother and the child so that jurors could compare their facial features—an exercise likened by Chaplin's attorney to a "compassionate visualization of the ancient masterpieces of the madonna and child."
As Cecilia Rasmussen's Nov 28, 1999 "Then and Now" column in the Los Angeles Times tells of that episode:
"In a particularly dramatic scene, Scott held up his client's red- haired baby daughter and asked the jury to notice how closely the infant resembled Chaplin."
Chaplin was, by the way, not the father; blood tests proved that.
The trial drew nationwide attention. As Time Magazine's Jan. 8, 1945 issue reports Scott's Dec. 29, 1944 summation:
"Charles Spencer Chaplin, defendant in the paternity suit…brought by his onetime protegee Joan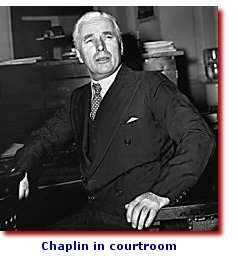 Berry, was conspicuously absent from the Los Angeles courtroom when Miss Berry's bush-browed Lawyer Joseph Scott, 77, roared his final plea to the jury. Samples: 'This pestiferous, lecherous hound....I'm sorry he isn't here so I could...hand it to him right on the chin....Did you ever hear the story of Svengali and Trilby? This fellow is just a little runt of a Svengali. He's not even a monster...just a little runt...This fellow doesn't lie like a gentleman. He lies like a cheap Cockney cad....That man goes around fornicating...with the same aplomb that the average man orders bacon and eggs for breakfast. He is a hoary headed old buzzard...with the instincts of a young bull...a master mechanic in the art of seduction....' "
With respect to the "Cockney cad" slur, Scott's grandson characterizes that as a reflection of the dislike by Scott—a staunch proponent of a free Ireland—of "Englishmen." (Though educated in England, he discerned, and reviled at, discrimination there based on his Catholicism, identifying with his Irish Catholic mother rather than his Scottish-Presbyterian father.)
Scott, highly religious, may also have been motivated to take on the cause by virtue of the fact that Chaplin was, in fact—as the lawyer imparted to the jury—an unabashed, amoral womanizer. Besides, Chaplin was a left wing extremist, and Scott was a fervent Republican.
The Times' account of Dec. 30, 1944, quotes other portions of the summation, including this, uttered by Scott at the outset:
"I feel frankly that I'm pretty much stirred up over this case. I feel we have before you the man who is responsible for the baby's existence…and I won't let him escape if I can help it."
The personal assurance of Joe Scott—known as "Mr. Los Angeles"—that his client's case had merit…despite the seemingly irrefutable blood-test evidence…no doubt had an impact on the outcome. The jury was deadlocked, 7-5, with the majority favoring a determination of nonpaternity.
There would be another trial.

Copyright 2008, Metropolitan News Company