Metropolitan News-Enterprise
Thursday, October 2, 2008
Page 11
REMINISCING (Column)
Joseph Scott Delivers Speech for Hoover Renomination
By ROGER M. GRACE
It was no small honor for Republican loyalist Joseph Scott to be designated to make the nominating speech for Herbert Hoover at the 1932 Republican Convention.
A June 16 United Press dispatch from Chicago begins:
"Joseph L. Scott of Los Angeles, nominated President Hoover as the Republican party's candidate for a second term at the national convention today, picturing him as a 'home spun American,' and a master in human engineering whose shield remains unsullied after four years in the White House.
"'I give to you as your candidate our great Californian—Herbert Hoover,' Scott said, climaxing [a] laudatory tribute to Hoover as a man and leader."
A separate UP story describes Scott as an "eloquent Los Angeles lawyer, striking in appearance" and further paints a picture of him by saying:
"A tall spare man with heavy white hair, Scott read rapidly in a high voice."
The Associated Press' version makes note:
"The convention gave Scott a hand as he appeared at the edge of the platform under the blinding glare of the kleigs. He was dressed in dark grey, just a shade darker than his iron-grey hair. He fitted a pair of spectacles under his bushy dark eyebrows, adjusted his manuscript on the speaker's stand, and began to read in a big voice that carried out to the far corners."
The next morning's Los Angeles Times says:
"Joseph Scott was warmly congratulated both byhis fellow Californians and by national party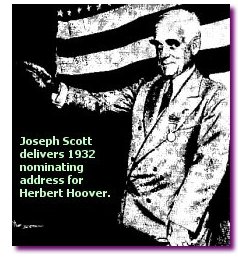 leaders following the conclusionof his speech nominating President Hoover.
"Departing wholly from the typical partisan and party appeal, Mr. Scott with an eloquence that evoked spontaneous response dwelt upon the qualities of simplicity, fidelity, devotion, devotion, intelligence and courage possessed by the Republican President."
The article characterizes the speech as "very human and moving."
The Reno Evening Gazette's June 17 issue contains an editorial remarking:
"THE GREAT old days of the political orator, judging from the speeches at the Republican nominating convention yesterday, have departed and a new age is not likely to see them return. The florid school of speakers, the gentry who used to tear the roof off the convention hall, the men whose chief capital was fierce sarcasm and denunciation of their opponents—all these have gone. The speech of Joseph Scott in placing Hoover's name before the convention yesterday is an instance of the altered fashion because "Joe" Scott, as he is universally known in California, once belonged to the older school himself and in campaigns of years ago has stumped the state ripping the opposition to tatters. Yesterday his address was a thoughtful, well timed, businesslike talk."
Humorist Will Rogers' nationally syndicated column of June 17 comments:
"Our Joe Scott from California, an orator from a crop of orators, nominated Mr. Hoover. And Joe nominated him, he didn't just put his name up; he said something. He is the triple-tongued elocution hound of our own Hollywood."
Time Magazine, in its issue of June 27, recites:
"...Joseph Scott, premier orator of Pasadena who has two tremendous eyebrows and two sons in the Catholic priesthood, stood up to renominate his friend Herbert Hoover.
"Movie lights were switched on in ample time to record the climax of the Scott speech."
The Dec. 3, 1934, issue of that magazine tells of efforts to raise money for the Community Chest, mentioning:
"With the same thunderous eloquence with which he nominated Herbert Hoover for President in 1932, beetle-browed Lawyer Joseph Scott whipped Los Angeles on toward a precise $3,094,805."
Scott had a busy night on Nov. 2. He spoke from a radio studio, with his remarks in support of Hoover being aired over stations in three western states. Then he went to the Shrine auditorium and addressed a rally of about 15,000. The audience earlier heard from Hoover whose address was made over the telephone from the White House.
Scott lambasted U.S. Sen. Hiram Johnson who, though a Republican, had delivered an address the night before excoriating Hoover and endorsing his challenger, New York Gov. Franklin Roosevelt. The lawyer said:
"This nation has had its share of embittered men, and I cannot help but feel that in his actions and utterances in Philharmonic Auditorium Senator Johnson presented the terrible spectacle of a man who has unfortunately yielded to the soul-destroying influences of a mighty hate."
Copyright 2008, Metropolitan News Company