Thursday, July 10, 2008
Page 11
REMINISCING (Column)
Trial of Griffith J. Griffith Draws Wide Attention
By ROGER M. GRACE
There was a capacity crowd on Feb. 15, 1904 at the criminal trial that was getting under way in the courtroom of Los Angeles Superior Court Judge B.N. Smith, with would-be spectators lined up outside. And this was only to view the voir dire. In days ahead, 200 persons a day would be turned away. Charged with an assault with intent to kill his wife was monied real estate investor Griffith J. Griffith.
Prosecuting him were District Attorney John D. Fredericks and three attorneys being paid by the victim of Griffith's assault, wife Christina Griffith. The lawyers were former Gov. Henry Gage, his partner, W.I. Foley, and the wife's personal attorney, Isidore Dockweiler. Representing the defendant were Earl Rogers, Luther Brown, John T. Jones, and J.W. McKinley.
"Too many lawyers!" is the complaint of a Feb. 17 news story in the Los Angeles Times. The article continues:
"Rogers would ask a question; the District Attorney would object; retort to the D. A. would follow from Maj. Jones; slap back at Jones from Dockweiler; dig at Dockweiler from McKinley; swat at McKinley from Mr. Gage; crack at Gage from Luther Brown."
The defense was insanity, induced by alcohol. There was broad-ranging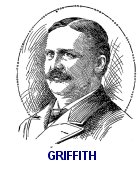 testimony in support of that defense…some from persons who had come into contact with Griffith, in various capacities, and found him strange.
The Feb. 20 issue of the Times contains this account of testimony by attorney Oscar Lawler:
"During Fred Eaton's mayoral campaign [in 1898], Lawler was a member of the Republican Committee. Griffith met him in a restaurant. Said his friends had been urging him (Griffith) to run. Said Eaton told him he would withdraw if Griffith ran. Griffith said no one else would stand any chance if he should run and that he believed the Democrats would not even nominate anyone.
"Lawler said to him in sarcasm, 'I think you should consider it an impertinence to offer you an office so small as the mayor of Los Angeles; you ought to go to the United States Senate.'
"Griffith (earnestly:) 'I think so myself, Mr. Lawler.'
"Lawler believed him to be insane."
Griffith was said to be suffering from delusions that people were trying to poison him. The Times article tells of this testimony:
"Dr. E. M. Griffith (no relation) said Griffith came to him years ago with some wine he thought was poisoned.
" 'What did you do with it?'
" 'Drank it.' "
As the trial went on, Christina Griffith was called to the stand four or five times. There was expert testimony from doctors, some pronouncing Griffith insane, others insisting his mind was sound. There were bartenders testifying for both sides.
Testimony ended Feb. 27. Smith admonished jurors to avoid persons who might seek to influence them, adding:
"I take it that none of you jurors will visit a saloon or any other questionable resort until this case has been finally submitted to you.
"There's nothing in the world like fair play in the administration of justice, and I want this jury to be like Caesar's wife, above suspicion."
Argument to the jury was as unbridled as the testimony. At one point, Fredericks referred to defense witness Lawler as a "curly-headed youth." Rogers retorted in his own summation, on March 1:
"If this curly-headed youth wanted the job Fredericks holds, if he had let it be known for about fifteen minutes that he would take it, Capt. Fredericks would not have been even among the 'also rans.' He would not have gone to the post. He would not have been taken from the stable."
Griffith was convicted…not of assault to commit murder, but only an assault with a deadly weapon, a misdemeanor. He was sentenced to the maximum term of two years in prison.
Affirmance came in a March 3, 1905, opinion which rebuffs evidentiary objections. It sets forth:
"The acts which [Griffith] committed were brutal and unpardonable, excepting upon the theory of insanity. The jury seems to have concluded that he was legally sane and responsible for his acts, but seems further to have entertained a reasonable doubt as to whether or not he actually and deliberately did the shooting, or whether his crime ceased with the assault, and the actual shooting was the result of misadventure. It gave him the benefit of the doubt in this instance, and so convicted him of a lesser crime…."
Copyright 2008, Metropolitan News Company