Thursday, May 29, 2008
Page 15
REMINISCING (Column)
Dockweiler Achieves Prominence in Law, Politics, Laity
By ROGER M. GRACE
It was in a structure at the southwest corner of First Street and Broadway—a site that today is across the street from the Los Angeles Times Building, and where construction of a new federal courthouse is under way—that Isidore Bernard Dockweiler was born on Dec. 28, 1867.
Catty-corner to that two-story building was a livery stable, and next to it, a vacant lot.
It could hardly have been envisioned then that this area would come to be in the hub of the civic center of one of the leading cities of the world. Dockweiler, who was to die in 1947, witnessed that transformation…and in the course of it, he and other members of his family were doers and shapers.
Dockweiler was to become a lawyer, one of high reputation and accomplishment, and would enjoy prominence in the Democratic Party and in the Catholic Church.
The house in which he was born was owned by his parents, Henry and Margaretha Dockweiler. Both, before they met in New York, had emigrated from Germany. It was the Gold Rush that had lured Henry Dockweiler here.
Wed in 1861, they had four sons, one of whom died in infancy. Isidore was the "middle" son among those who survived, and the one who would achieve the most.
I've mentioned Dockweiler before in columns. In my jottings on district attorneys, I recounted how a future DA, Thomas Lee Woolwine, punched Dockweiler in the face on Dec. 31, 1908, in open court, reacting to an affront. (The judge who was presiding, past District Attorney James Rives, ignored the skirmish.)
He also drew attention in a discourse in connection with one of his 11 children, his son John, the county's 30th district attorney.
Dockweiler was alluded to in this space last week. The column told of the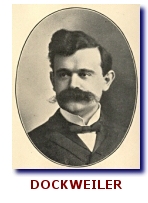 funeral of attorney J. Wiseman MacDonald and quoted the Nov. 25, 1942 issue of the Los Angeles Times as reporting:
"Joseph Scott and Isidore Dockweiler, veteran attorneys who had known Macdonald since he came to Los Angeles in 1891, were among the mourners."
As I've noted here, Dockweiler, Scott and MacDonald were among the original tenants of the Wilcox Building, opening offices there on the now non-existent third floor in 1896. (The building presently houses this newspaper's offices and our tenants.)
On March 1, 1924, as I've recited, honors were conferred on both Dockweiler and MacDonald by Pope Pius XI, Dockweiler becoming a Knight of St. Gregory based on humanitarianism and advancement of religion.
Another piece told of opposition in 1937 by Dockweiler, Scott, and Reginaldo F. Del Valle to the prospect of moving the statue of the late U.S. Sen. Stephen M. White (a former district attorney) from the downtown Los Angeles Civic Center to San Pedro…where a harbor had been constructed primarily through White's efforts. Dockweiler, Scott, and Del Valle were the only surviving contributors to the private fund that paid for the statue, unveiled in 1908. (In 1989, it was carted off to San Pedro as the result of little noticed action of the Board of Supervisors.)
Although Dockweiler never attained political office, he was a man who, over a period of more than half a century, was a Los Angeles figure who was noticed, had clout, and achieved.
Dockweiler had been admitted to practice in 1889. He was among 13 young men who were administered a bar examination on Oct. 14 of that year…an exam which took the form of oral quizzing by members of the California Supreme Court.
He soon set up practice in the new eight-story Bryson-Bonebrake Building, at the northwest corner of Second and Spring Streets, cattycorner to where the Wilcox Building would later be constructed.
On June 26, 1895, Dockweiler was elected the first president of the St. Vincent's College Alumni Society. He had received a commercial diploma from there in 1883, worked as a bookkeeper for a couple of years, then renewed his studies, attaining a bachelor's degree in 1887, and a master's degree in 1889.
Dockweiler had no actual law degree. He studied at a law firm while also working as a surveyor. In 1912, St. Vincent's bestowed on him an honorary law degree.
Dockweiler will be the focus of this column over the next few weeks.
Copyright 2008, Metropolitan News Company