Thursday, January 10, 2008
Page 11
REMINISCING (Column)
Lynn Helm Goes to Court Over His Dogs
By ROGER M. GRACE
Lynn Helm, a leading Los Angeles lawyer from the late 1890s to his death in 1921, twice found himself in court, as a party, in connection with a dog.
This was at a time when notions of legal obligations associated with the keeping of dogs were in flux.
Dogs are nowadays accorded roles as members of the family. Allowing dogs to roam the neighborhood, at will, would no more be contemplated nowadays by a caring dog owner than granting such liberty to a 5-year-old child. But 100 years ago, dogs commonly had coming-and-going privileges.
An 1897 United States Supreme Court opinion says that dogs are somewhere "between animals feroe naturoe (of wild nature)...and domestic animals."
Against that backdrop, here's a story from the Feb. 18, 1890 edition of the Chicago Tribune concerning Helm, then a 32-year-old Chicago lawyer residing in a southside neighborhood called Woodlawn:
"The suit of Attorney Lynn Helm against John A. Butterly for damages caused by the killing of Mr. Helm's English setter dog came up before Judge Anthony on appeal from a justice court. Mr. Helm brought suit originally for $200, and got a verdict of $50. Several young ladies, whose names are well known in Woodlawn society, testified that the dog howled and came running out from behind Butterly's barn into the street, where he dropped dead. He had been shot. A white pelt was shown in court with a bullet hole in it. The dog had been sent to Woodlawn for a time and had become unpopular by barking at night. The case was continued for a week to secure the testimony of the defendant."
You'll note there was no mention of criminal charges against Butterly.
The Feb. 25 edition of the newspaper reports that the $50 award was reaffirmed. The buying power of $50 then is equivalent to $1,094.46 in 2006.
Helm was in court on July 6, 1910, as a defendant, charged with violating the Los Angeles City's muzzle law. It was enacted by the City Council on March 1 of that year, and signed into law by the mayor three days later, in response to a rabies epidemic. No humans had been infected by dog bites, but horses and other animals had.
The ordinance provided that any unmuzzled dog spotted on the city streets could be shot by a policeman, or impounded.
The Los Angeles Times' March 8 issue says that police "only killed the animals which acted strangely and they feared might develop rabies."
They also made some arrests of owners—including Helm. The Times' July 7 edition contains this item:
"Lynn Helm, Referee in Bankruptcy, is thinking seriously about giving his pet bulldog away. A $10 or ten day's suspended sentence given him in the police court by Justice Rose yesterday [went] a long ways toward convincing him of the folly of keeping an unruly dog.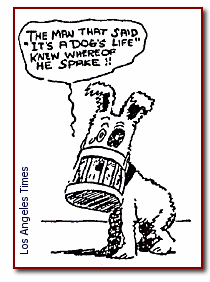 "The referee smiled as he stepped up to the bar to answer to a charge of violating the muzzling ordinance.
" 'I have been keeping that dog in a cage, sir,' he explained politely, 'but yesterday the Jap boy took it out for exercise and the dog ran away. I have tried to muzzle it, but its neck is so large and its head so big that no muzzle will stay on. I could tie a muzzle to its neck, but I scarcely think that would satisfy the ordinance, would it?'
"Justice Rose was not to be outdone in politeness.
" 'Mr. Helm,' he replied, 'the City Council has provided in its almighty wisdom that I fine you $10 or send you to jail for ten days. I am very sorry, but that is the law as you will readily understand.'
" 'Oh, now judge,' replied Mr. Helm softly, 'the City Council will not say anything if you suspend that sentence. I have tried to give the dog away several times, but on each occasion I have had a small-sized riot with the children. I guess I'll find a way to get rid of it, though.'
"The sentence was suspended."
On March 8, the county Board of Supervisors voted to make it a misdemeanor for any person to allow a dog to run loose without a muzzle.
In 1912, a new Los Angeles City ordinance went into effect under which unmuzzled dogs wandering free could be shot or seized by police...or by private citizens. Even those on leashes could be slain or impounded by police; private citizens would be limited to confiscating the pets and taking them to the pound.
A Pasadena ordinance that went into effect May 19, 1922, mandated that any unmuzzled dog apprehended by police be put to death.
It wasn't until Aug. 11, 1926 that the Los Angeles City Council enacted a law requiring that dogs be on a leash when outside the owner's premises.
Other cities around that time put like ordinances into effect.
Copyright 2008, Metropolitan News Company