Tuesday, December 30, 2008
Page 7
PERSPECTIVES (Column)
John Van de Kamp Appointed DA; Prevails Over Manuel Real, George Deukmejian
By ROGER M. GRACE
Eighty-Fourth in a Series
JOHN K. VAN DE KAMP was hired by the Board of Supervisors on Oct. 9, 1975, as the county's 37th district attorney. Van de Kamp, 39, came not from prosecutorial ranks, but rather, was federal public defender for the Central District of California since the inception of the office in 1971.
However, he did have experience as a prosecutor. Van de Kamp had been in the Office of U.S. Attorney for this district in 1960-67, serving as interim U.S. attorney from Nov. 14, 1966 to March 30, 1967, upon appointment by the district's judges.
The outgoing U.S. attorney whom Van de Kamp temporarily replaced was Manuel Real, who had been appointed to the U.S. District Court…and who would be Van de Kamp's chief rival in 1975 for the district attorney's post. The new U.S. attorney, appointed by President Lyndon Johnson, was William "Matt" Byrne, a future District Court judge who had been an unsuccessful applicant for appointment as DA in 1970.
Following the appointment of Byrne, Van de Kamp left Los Angeles to become director of the Executive Office for U.S. Attorneys in Washington, D.C. "So impressive was Van de Kamp's performance here that he was placed in charge of all 93 U.S. attorney's offices throughout the country," an April 28, 1969 editorial in the Times says of the promotion. The editorial is one endorsing him in a run-off with Barry Goldwater Jr. (son of the 1964 Republican presidential candidate) for a seat in a special congressional election, which Van de Kamp lost.

He was a contrast to his predecessor as DA in various ways.
Busch, middle-aged, was a registered Republican, though one with no past political involvement, and seemingly no interest in plunging into partisan politics. Van de Kamp, young, was a Democrat with ties to his party and brimming with aspirations for higher office.
Busch was a career prosecutor; Van de Kamp wasn't—but he did have a knack, which Busch lacked, as an administrator. Busch had been uneasy speaking before audiences; Van de Kamp was adept at it.
Too, the new DA had the confidence of Supervisor Baxter Ward...which Busch had not. A Times' article on Oct. 8—the day before Van de Kamp was selected—quotes a "source close to one supervisor" as saying:
"It is very important that the person who gets the appointment get support, or at least some kind of stamp of approval, from Baxter Ward.
"It's going to be hard enough for whoever gets the appointment to campaign in the primary next year, without also having to campaign against Ward. Ward would attack him every Tuesday, just like he did Busch."
The Times writer, Doug Shuitt, remarks:
"The reference to Busch involved a number of well-known disputes between Ward and the late district attorney.
"Though literally the attacks did not occur every Tuesday—the Board of Supervisors' regular meeting day—they seemed to in some minds."
The selection of Van de Kamp may well have been influenced by a desired to appoint someone who would be spared the wrath of Ward.

When balloting reached the showdown stage, Supervisor Pete Schabarum, a Republican, was clinging to his original choice, state Sen. George Deukmejian, R-Long Beach. Supervisor James Hayes, a former Republican assemblyman from Long Beach, would not back Deukmejian. (In 1962, the two vied for an Assembly seat from Long Beach, won by Deukmejian; in 1970, both applied for appointment as district attorney and Hayes pulled the backing of no supervisor, while Deukmejian drew two votes.)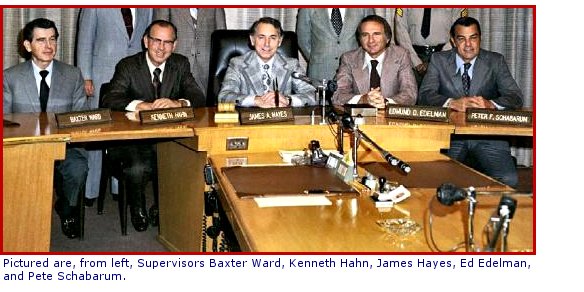 Instead, Hayes joined with Supervisor Kenneth Hahn in backing Real. Two supervisors—Ward and Ed Edelman—favored Van de Kamp.
Van de Kamp was now competing with the man who had made him his chief deputy in the U.S. Attorney's Office.
Real's emergence as a contender came late in the game. There had initially been 65 applicants; supervisors trimmed the list to 23 on Aug. 27, limiting consideration to those whom at least one supervisor thought ought to be interviewed; on Sept. 19, six finalists, all Democrats, were designated: Van de Kamp and attorneys Richard Mosk (now a justice of Div. Five of this district's Court of Appeal), Los Angeles City Police Commission President Samuel L. Williams (later State Bar president, now deceased), former state Assemblyman Walter Karabian, and Richard Crane Jr. and Brian J. O'Neill. Real's name wasn't there, nor was Deukmejian's.
The Times, taking seriously the board's proclamation that these six were the lawyers who had made it to the short list, proceeded to urge the appointment of Van de Kamp. Its editorial of Sept. 22 says he possessed "the strongest qualifications" among the finalists "for directing one of the largest public law offices in the nation," pointing to the "depth and diversity of his background."
Then Hahn, somehow, got two names added to the list: those of Real and Chief Assistant Los Angeles City Attorney Robert E. Thomson. A Sept. 25 Times article on the addition of the two names comments that the development "reveals much about the kind of free-wheeling spirit that has marked the board's deliberations from the beginning."
A Sept. 26 editorial in that newspaper bears the headline, "Another Good One for DA." It says:
"Our reasons for believing that Van de Kamp was a standout among the six candidates last week also apply to Real, now that he is in contention. Both have been successful prosecutors and administrators."
Deukmejian's name was restored to the list Oct. 1, courtesy of Schabarum. A Pasadena Star-News editorial of Oct. 5 declares: "When compared to the others still on the list, Deukmejian stands out as the only proper choice."

In the final stretch, with two supervisors voting for Van de Kamp and two for Real, there were these alternatives: one of the supervisors switching sides or, as in 1970 when Busch was brought in as a compromise appointee, choosing someone about whom the county lawmakers weren't gung-ho, but didn't find offensive.
As it turned out, it was Hayes who broke the stalemate on Oct. 9 by switching to Van de Kamp. The vote was then made unanimous in public session.
Hayes did not provide his reasons. Perhaps it had something to do with Real having been called to the Hall of Administration to meet with supervisors on Oct. 7, and encountering abrasive questioning by Ward. Appointing Real would have ensured renewed Ward-engendered disharmony with the DA's Office. Or maybe the motivation stemmed from controversy surrounding Real's approval of a Pasadena city schools plan for forced busing for desegregation purposes. Or both reasons or neither.
It could even be that something Ward elicited from Real during his grilling of the judge in the closed session turned Hayes against the jurist…one who has, in recent years, attracted a torrent of brickbats.

Three years after the selection of Van de Kamp, Ward was to declare publicly that it was he who caused Real to lose the appointment. Seeking in 1978 to disqualify Real from hearing a motion to dismiss three causes of action brought by the county at the supervisor's behest against a railway company (for allegedly causing a county sponsored commuter train to and from San Diego to cease operations), Ward said in an affidavit of prejudice:
"I do believe and contend that Judge M. Real holds me in personal dislike and disrespect, harbors intense bias and prejudice toward me, and is incapable of rendering fair and unbiased rulings on any issue so personally identified with me...."
Train transit was Ward's pet project.
The affidavit is quoted from in the Nov. 7, 1978 issue of the L.A. Times. The article says that Ward "claimed responsibility" for board members not appointing Real in 1975.
The report contains this quote from the affidavit:
"I placed particular emphasis on a case concerning a figure and/or figures known or alleged to be members of organized crime. I examined and cross-examined Judge Real on the leniency of sentences in such matters. Judge Real was forced to admit that he had erred in a number of those matters."
The article says that according to Ward's office, this had reference to Ward placing a man, identified as an associate of a Mafia chieftain, on five years probation, notwithstanding a recommendation by the U.S. Bureau of Prisons and the U.S. Attorney's Office that he be sentenced to 10 years in prison. The offense was interstate transportation of stolen and forced securities.
The affidavit also says:
"I questioned Judge Real on a number of appellate court reversals of matters in which he had presided where the reversals were based upon abuse of discretion and judicial improprieties."
(Real declined to step aside, and granted the motion.)
Of the five members of the board in 1975, Edelman and Schabarum are still living.

Enthusiasm greeted the selection of Van de Kamp. An Oct. 12 editorial in the Long Beach Press Telegram, for example, says:
"[O]ur first choice among those considered for the post was Sen. Deukmejian who has been a major statewide figure in the area of criminal law for many years. We're sorry he wasn't chosen.
"But we certainly don't feel that just because our first choice was not selected, that Van de Kamp won't make a good district attorney.
"We believe he will and we hope that the community will rally around him. He'll need all the help he can get in his fight against crime."
A Nov. 2 editorial in the Times comments:
"The new district attorney for Los Angeles County—John K. Van de Kamp—is off to a fast start.
"Although he took charge of the nation's largest prosecutorial staff only 2½ weeks ago, he has already set in motion two intensive audits of the office's management efficiency"
Noting his appointment of Stephen S. Trott, 35, as chief deputy, and Andrea Ordin, also 35, as assistant DA, the editorial says:
"We believe that Van de Kamp is off not only to a fast start, but also to an impressive one. At 39, he is the youngest district attorney in the county's history, and his top assistants are even younger. But all have a depth of experience and of commitment that signal not only a change in the old guard, but also a change in old practices."
Trott was head of the organized crime section, and had competed for the board's appointment of a DA. He is now a senior judge of the Ninth U.S. Court of Appeals.
Ordin had been executive director of the Los Angeles County Bar Assn. for two years, and had served from 1965-72 in the state Attorney General's Office. She was to serve in 1991 as LACBA president. Now senior counsel to Morgan Lewis & Bockius LLP, Ordin is a member of the Los Angeles City Board of Police Commissioners.
Like Younger, Van de Kamp chose his lieutenants wisely.
Next year: a look at the Office of District Attorney in the last quarter of the 20th Century and the men who headed it—Van de Kamp, Robert Philibosian, Ira Reiner and Gil Garcetti—and the election that brought the current DA, Steve Cooley, into power in 2000.
Copyright 2008, Metropolitan News Company