Monday, December 29, 2008
Page 7
PERSPECTIVES (Column)
Busch's Death Spawns Controversy—Was It Job Related?
By ROGER M. GRACE
Eighty-Third in a Series
JOSEPH P. BUSCH JR.'s demise on June 27, 1975, led to litigation over whether the widow of the late district attorney should receive county pension benefits based on an employment-related death.
The counter theory was that Busch had himself brought about his death through the voluntary ingestion of massive amounts of alcohol. It was determined by the coroner that his blood alcohol content was .36 percent...meaning that Busch had consumed about 20-24 ounces of 100-proof whisky, about a fifth-gallon, prior to succumbing sometime in the early-morning hours.
And he had been heavily imbibing over a period of time. At one dinner, he was in the second row on the dais, and disappeared from view...having tipped over in his chair in an intoxicated state. (I was at the dinner, but didn't notice him topple or being helped out of the room, as I'm told occurred.)
Criminal defense lawyer Harland Braun says it was generally known within the criminal bar that Busch was an alcoholic.

The widow, Jennie Busch, before seeking a hike in county pension benefits on the ground that "stress and strain" caused her husband's death, gained a $45,000 state award. On Nov. 4, 1976, a workers' compensation judge found that the death was "industrially related."
"[T]he alcohol question was left virtually unconsidered in the compensation case," a May 16, 1977 editorial in the Los Angeles Times bemoans.
Generally, editorials don't lag so far behind news events on which they comment. Here, however, there was fresh interest as to the adjudication of six months earlier in light of Jennie Busch's bid for a pension hike. Too, general concern over windfall compensation to officeholders based on purported work stress had been sparked by the April 3 revelation in the Van Nuys News and Green Sheet that former Supervisor Ernest Debs had won a $30,000 workers' comp award Nov. 12—only recently uncovered—based on his heart ailment having been aggravated by job-related tension.

Jennie Busch sought a boost in the widow's annual pension from less to $9,000 to about $24,000. A multi-day hearing was held before a UCLA law professor, who reported his findings to the county Retirement Board.
The eldest of the late district attorney's three sons, attorney Joseph P. Busch III (now with Gibson, Dunn & Crutcher), testified on June 9, 1977, that his father drank only beer and wine at a party the night before his death. But the lawyer obviously could not have known what his father consumed later.
Deputy County Counsel Paul Metzler (later a judge of the Los Angeles Municipal Court and Los Angeles Superior Court) a day earlier presented testimony by the doctor who was chief of the Retirement Board's medical advisory unit. The witness said the cause of death was "acute alcoholic poisoning" and opined that the quantity of alcohol in the decedent's system "would have killed a horse." He speculated while Busch was still alive, the blood alcohol content could have been .45 percent or higher.
There was other medical testimony, on both sides.
Contrary to the August recommendation of the hearing officer, the board in December decided the death was not job-related, and denied the claim. Jennie Busch sought a writ of administrative mandamus in the Los Angeles Superior Court, and Judge Robert I. Weil on May 31, 1979, granted it…with stated reluctance.
He found that under existing law, the pension had to be granted if the death was attributable to even a minor extent to job stress. The county did not appeal.
The Herald-Examiner report on Weil's decision, appearing the next day, quotes John Howard—chief deputy under Busch and acting DA for a few months after his death—as saying that Busch had "degenerated from a healthy, vital trial lawyer to a tired, frustrated administrator."
Busch is often pointed to as someone to whom the "Peter Principle" applies. He was a top-notch trial lawyer, but not equipped to head the office.

The article makes note that one source of stress which Jennie Busch claimed that her husband was subjected to was a continual "harassment" by Supervisor Baxter Ward.
It goes on to observe that Weil acted a few hours before a workers' compensation hearing involving the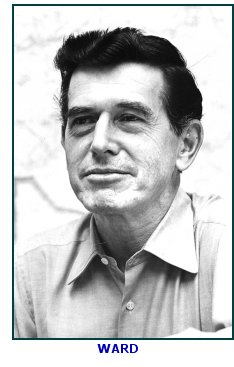 claim of former County Assessor Philip Watson who retired in 1977 after open-heart surgery—and who contended his heart condition was precipitated in part by Ward's "witch hunt" against him.
Debs had also blamed his ill health on Ward, the article recites.
Other newspapers had also noticed a common theme, revolving around Ward's aggressive tactics. The Pasadena Star News' issue of Aug. 7, 1977, notes that "[i]n all three of the claims. Supervisor Baxter Ward was named as part of the cause for the job-related disabilities," and points out:
"In 1975. Debs announced that on the advice of his doctor, he was not going to seek reelection. During that year, Debs was involved in a continuous verbal battle with Ward over Ward's investigative techniques.
"At one point, Debs publicly called Ward a 'jackass.'"
With respect to Busch, the piece relates, by way of example:
"Ward twice asked the Los Angeles County Grand Jury to disqualify Busch from investigations because of possible conflict of interests. Both times the grand jury refused Ward's request."
A Nov. 24, 1974 Times article quotes Busch as saying, in response to Ward's attempt to disqualify him from investigating a charge Ward made against Sheriff Peter Pitchess, that the former TV anchor was "the county's leading exponent of government by accusation," also charging:
"Time and again, he has made charges which do not stand the test of public scrutiny…."
Debs and Watson, as well as Ward, Jennie Busch, Howard, Weil and Pitchess, are all deceased.



YOUNGER WAS TOPS—That takes us three-quarters of the way through the district attorneys whose terms began and ended in the 20th Century, There were 11 of them.
It would be difficult to compare them with their predecessors. The post of DA, at the start, was a parttime position. The holder of the office continued a private practice of law, like lawyers today who act as city attorney for smaller cities as a sideline. (Even when the DA came to have deputies assisting him and the jobs were supposedly fulltime, moonlighting persisted. It wasn't until a change in the County Charter went into effect on June 2, 1913 that the DA and deputies in the office were barred from carrying on practices.)
Of the 11, three were crooks, one of them winding up as a resident of San Quentin. Another of the 11 was an erratic but competent publicity-seeker; one was a politico bought and paid for; one was earnest but too ill to do the job. Most were mediocre.
Only one was outstanding: Evelle J. Younger. He brought organization and professionalism to the office.
Some think that the DA who succeeded Busch—John K. Van de Kamp—exceeded Younger's performance. Others dismiss such a notion.
Tomorrow, I'll recount the competition Van de Kamp had for appointment by the Board of Supervisors as district attorney. Again, Baxter Ward will be a central figure in the discussion.
Copyright 2008, Metropolitan News Company