Monday, December 22, 2008
Page 7
PERSPECTIVES (Column)
District Attorney Busch Dies, Supervisor Ward Calls Upon Acting DA to Resign—Or Else…
By ROGER M. GRACE
Eighty-Second in a Series
JOSEPH P. BUSCH JR., 36th district attorney of Los Angeles County, died in his sleep on June 27, 1975. The coroner ascribed the death to a heart attack, but also noted that Busch's blood alcohol content was .36 percent.
The DA had been at his post since Jan. 4, 1971, when Evelle Younger vacated it to be sworn in as state attorney general. Busch had been a member of the office since 1952.
His death, at age 49, came a day before one of his three sons, Steven, was to be wed.

The day of Busch's death and those immediately following brought a mixture of mourning, wedding celebration, and political controversy.
The sequence of events following Busch's death in the early hours of Friday, June 27 was:
His death was discovered about 11 a.m.; Busch's chief deputy, John Howard, automatically became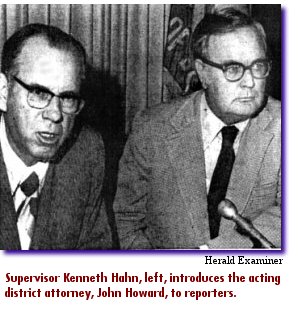 acting district attorney, pursuant to Government Code §24105; that afternoon, Supervisor Kenneth Hahn, in the company of Howard, met with reporters and announced that as chair of the Board of Supervisors' district attorney committee, he had appointed Howard acting DA (a power he did not have); next, Supervisor Baxter Ward, a former TV news anchor, summoned Howard to his office and insisted that he step down by 5 p.m., on penalty of Ward publicly humiliating him in connection with his recent misdemeanor drunk driving conviction if he didn't comply; Howard, in a written response delivered to Ward's office at about 4:56 p.m., declined; in a letter presented to Howard at his home at about 9 p.m., Ward pressed his demand; the wedding took place on Saturday, in Covina; on Sunday, the Los Angeles Times reported Ward's ultimatum; rosary for Busch was recited Monday night; the funeral was held Tuesday.
The Times story, by reporter Bill Farr (a former press deputy to Busch), provides this quote from Howard's June 27 missive to Ward:
"I am still somewhat shocked by your demand that I resign as acting district attorney under the threat that you will personally attack me. At this time of deep personal grief, your action comes as an especially heavy blow.
"You wanted my answer by 5 p.m. My answer is—No. The state law calls for me to serve as district attorney until the Board of Supervisors selects a successor to Dist. Atty. Busch. I intend to serve. I consider your suggestion to be a highly questionable attempt to subvert state law, as well as one of the most insensitive acts I have ever encountered."
Farr's Times article includes this passage from Ward's letter:
"Your occupancy of the district attorney post in an acting capacity will cause the public to become aware that the highest law enforcement position in this county has been filled by an official who, within the last two weeks, was found guilty of a drunk driving charge, which was compounded by the dropping of the hit-run aspects of the case that official reports indicated had occurred."
(Although the district attorney is considered a law enforcement officer, he does not hold the "highest" such post in the county. There's also a sheriff.)

From Ward, from Howard, and from others, came bombast and balderdash.
Howard sought to convey that he was obliged to remain as temporarily in charge because the statute so ordained, and that Ward was attempting to frustrate the legislative scheme. The statute, which reads the same now as it did then, in no way compels the chief deputy to stay put in the role of an acting DA until a permanent successor is appointed. As it relates to the DA's office, the code section says that if the office "is vacant the duties of such office may be temporarily discharged by a chief deputy...until the vacancy in the office is filled in the manner provided by law...." Had Howard stepped aside—with Assistant District Attorney Gordon Jacobson assuming the post of acting DA and making Howard his chief deputy—this would hardly have subverted state law.
Farr's report says that Ward's action "brought sharp criticism from fellow Supervisor Pete Schabarum, who questioned Ward's 'lack of sensitivity so close to [Busch's] death' " There would have been a "lack of sensitivity" if Ward had, on Friday, publicly called for Howard to relinquish his post. He didn't. It's doubtful that Ward would have anticipated any news coverage of his privately uttered threat. He, certainly, was not about to leak it himself; he would have to have realized that if the public learned of his behind-the-scenes effort at intimidation and manipulation, he'd look like a jackass. Since his premise was that Howard would be fearful of public exposure of the conviction, he was no doubt cock sure that Howard wouldn't leak it.
The article goes on to quote Sheriff Peter Pitchess as saying:
"If anyone had doubted Ward's dangerous state of mind, this unconscionable attempt to impose his control on another public office through extortion and threat should put that doubt to rest. This latest act is reprehensible and perhaps even criminal. I will call upon the grand jury to inquire into this matter."

Telling Howard that his remaining as acting DA "will cause the public to become aware" of the DUI conviction reveals that Ward was under the impression that the conviction, though a matter of public record, was, as a practical matter, secret.
"[T]he obtaining of an official act of a public officer, induced by a wrongful use of force or fear" is one form of extortion, under Penal Code §518. Sec. 519 says that fear must be induced by one of four sorts of threats, one of them being a threat to divulge a secret. The fact is, however, the matter was known to an appreciable number of persons. Howard's June 4 arrest had been reported by the Van Nuys News and Green Sheet (now known as the "Daily News") on June 12, and perhaps reported elsewhere.
Cases say that for the crime of extortion (or attempted extortion) to have been committed, the "secret must be unknown to the general public, or to some particular part thereof which might be interested in obtaining knowledge of the secret." There was knowledge among some members of the general public and Ward wasn't threatening to make a revelation to any particular group of persons.
Extortion can also be based on a threat to accuse the victim "of any crime" or to "expose or impute to him…any crime." This would seem to relate to "criminal blackmail"—threatening to reveal acts that could lead to prosecution—rather than publicizing the fact of a conviction.
Even if Ward did not commit the crime of attempted extortion, he did high-handedly threaten Howard with public ridicule if he did not relinquish a position which he was lawfully entitled to hold. The stench resembled that of extortion.

Other newspapers, other news media, picked up on Farr's story. Ward issued a three-page press release on Monday, June 30, explaining that his real concern was not that Howard had incurred a DUI conviction, but that he might have "sought or accepted special consideration."
At a press conference the next day, Ward snorted that Howard should have been prosecuted for felony hit-and-run, explaining:
"If you strike a vehicle, fail to stop and render aid when there is an injury, you are guilty of a felony. That is the state law. It couldn't be clearer."
The judge who 33 years ago sentenced Howard now reacts to Ward's pronouncement as to what the law was by joking: "I want to see his law degree." (Ward had none.)
Dickran Tevrizian—a Los Angeles Municipal Court judge in 1975, now a private judge after serving on the Los Angeles Superior Court and the U.S. District Court for the Central District of California—comments:
"There's also misdemeanor hit-and-run."
(For those who don't recall: misdemeanors were handled in municipal courts, prior to trial court unification in this county on Jan. 22, 2000.)
On motion of a deputy city attorney, Tevrizian on June 20, 1975, dismissed the misdemeanor hit-and-run charge (which was brought based on Howard having proceeded less than a block before stopping after hitting a vehicle), took the defendant's "no contest" plea, and sentenced him to the maximum fine of $500, plus a $125 penalty assessment. The retired judge notes that penalties are now substantially higher.
"He came up there," Tevrizian recalls. "I gave him what I thought he deserved as a first offender."
The former judge notes that "there were no significant injuries" to the victim, and says the fine "was the appropriate disposition of the case at that time."
He spells out: "There was no favoritism."
In fact, he notes, the usual fine for first-offense drunk-driving in those days was $250, plus a penalty assessment. Tevrizian apparently held Howard to a higher standard.
The city attorney at the time was Burt Pines, now a Los Angeles Superior Court judge. Pines says he doesn't recall the Howard case but does remember that "a lot of cases that started as felony arrests were handled by the City Attorney's Office."
Pines notes that DUI with bodily injury is a "wobbler," that is, chargeable as either a misdemeanor or a felony.
He says his recollection "is that the practice at the time was for the District Attorney's Office to refer a wobbler" to the City Attorney's Office when it seemed "unlikely" that the defendant "would get a felony sentence" if the case were tried in the Superior Court.
His office, Pines recounts, handled many prosecutions of such crimes as grand theft and assaults involving serious injuries.
He stresses that "a lot of well known people" were prosecuted by his office and "no one got special treatment." Pines says he "prided" himself on the office policy of bestowing no favors.
Police Chief Ed Davis was quoted in the Times on July 3, 1975, as charging that the newscaster-turned-supervisor had "transplanted yellow journalism into yellow politics."
News accounts I've seen mention no public official siding with Ward.
Indeed, Ward seems to have engaged, in this particular instance, in a quest that was characteristic of him: to score points with the public through purportedly uncovering official misconduct without doing something he should have learned as a journalist must be done before uttering accusations. That "something" is verifying facts.
Ward—whose true name was Baxter Ward Schwellenbach—was the nephew of Lewis Baxter Schwellenbach who had been a lawyer for labor unions, a United States senator, a federal district judge, and secretary of labor under President Harry Truman. Ward's father, E. W. Schwellenbach, was a member of the Washington Supreme Court from 1946-57, serving two years of that time as chief justice.
The supervisor was defeated in 1980 when he made a bid for a third term, losing to Michael D. Antonovich, who this month commenced his eighth term, his service marked by impressive, un-Ward-like performance.

Howard had been Busch's "heir apparent" as DA. But once the June 4 arrest took place, the prospect of his gaining the office, whether by election in some future year or by appointment if Busch were to die or become incapacitated in office, was substantially diminished. (The accident occurred as Howard was exiting Nicole's, a restaurant on Sunset Boulevard near downtown that served as a lunchtime and after-hours watering hole for members of the DA's Office. His blood alcohol content was .2 percent, twice what was then the legal limit.)
After Ward drew major press attention to the conviction, Howard's chances of appointment shriveled to near-zero. The July 1 issue of the Van Nuys News and Green Sheet reports:
"Hahn said Howard told him—even before the issue was raised by Supervisor Baxter Ward (Fifth District)—that he does not expect to get the job on a permanent basis because of his record."
Howard nonetheless applied for appointment. He was eliminated from consideration on Sept. 19 after the supervisors pared the list to six.
Federal Public Defender John K. Van de Kamp was appointed by the board as district attorney on Oct. 9, and he chose Deputy District Attorney Stephen S. Trott—a competitor of his for the position—as chief deputy. Howard remained as an advisor until the end of the year, then exited the DA's Office which he had entered as a deputy in 1952, the same year as Busch.
Next week: a look at the competition for the appointment, as well as a controversy in 1977-79 over whether Busch's widow was entitled to a hike in benefits under the county retirement system based on her contention that her husband's death was the product of work stress. A figure in that controversy was Baxter Ward.
Copyright 2008, Metropolitan News Company