Tuesday, September 30, 2008
Page 7
PERSPECTIVES (Column)
Outgoing State Bar President Bleich Stages Obama Fundraiser During Lawyers' Convention
By ROGER M. GRACE
One day before his departure from office last Saturday as State Bar president, San Francisco attorney Jeff Bleich, up-to-then bereft of controversy, did something that generated grumbling among some attendees at the annual convention, taking place in Monterey.
The grumbling came from Bleich's fellow Democrats. They're the ones who knew about the fundraiser he was staging that Friday afternoon in the presidential suite at a hotel where bar events were in progress and where lawyers were staying. It was to benefit the presidential campaign of U.S. Sen. Barack Obama.
It struck some of the Democratic lawyers that Bleich was lending the prestige of his office as State Bar president to a politically partisan cause and, much as they supported Obama and liked Bleich, they discerned impropriety.
Bleich had sent an e-mail on Sept. 21 to lawyers who had registered for the convention and whom he assumed to be supporting Obama. The e-mail explains that for a donation of $1,000, a well-wisher could attend a Sept. 26 reception at which former U.S. Sen. Tom Daschle (in Monterey that day to deliver the address at the State Bar luncheon) would provide analysis in connection with the presidential debate to occur that night. For $5,000, the donor could be in a room with Daschle and no more than nine others for an hour before that reception.
Why would someone want to be cloistered with the ex-politico? Daschle, defeated for reelection in 2004, had been the Democratic leader in the Senate; he's close to Obama to whom he's been an advisor; if Obama is elected, Daschle is apt to become secretary of health and human services (a post in which he's publicly expressed interest)…but whatever reward Daschle might be handed, he would doubtlessly be an influential force in an Obama administration.
The e-mail says:
"I'm writing to you privately, to invite you to a small fundraising event with Sen. Tom Daschle in Monterey on Friday, September 26, 2008. Since you support Obama and will be in Monterey for the State Bar Annual meeting, I'd love it if you could attend, and possibly invite other Obama supporters to join us as well. Sen. Daschle is one of Sen. Obama's closest advisors—in fact, Sen. Obama took on most of Sen. Daschle's staff when he arrived in D.C."
The e-mail gives particulars on the event, then reflects an awareness on Bleich's part that there was an ethical concern. The communique says:
"I am being discreet about advertising this event to avoid blurring my State Bar and Obama roles…."
Translation: he knew he shouldn't campaign as State Bar president for Obama, so he was attempting to limit knowledge of such campaigning by him as State Bar president to those loyal to Obama who, he assumed, would not tell others.
He underestimated the ethical sensibilities of Democratic recipients of his e-mail.

Did Bleich lend the prestige of his office to the Obama campaign? Undeniably.
Here's a portion of an announcement of the event attached to the e-mail: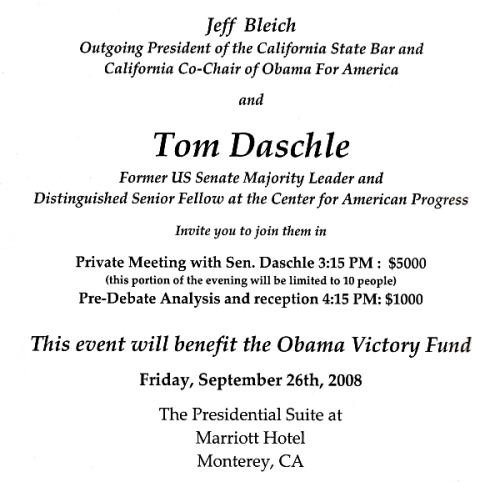 Below that, among the small print, it says:
"Paid for by Obama Victory Fund, a joint fundraising committee authorized by Obama for America and the Democratic National Committee."
The conclusions to be drawn are that Bleich's identity as State Bar president was utilized in promoting an Obama fundraiser; Bleich (as "California Co-Chair of Obama For America") was playing a key role in a partisan political campaign while serving as State Bar president; State Bar resources weren't utilized in designing the announcement.

Bleich insists that he "did not expend any bar resources" on the fundraiser.
The Presidential Suite was "comped" by the hotel but, nonetheless, he made a financial contribution to the State Bar in an amount representing two hours of the rental value, he tells me. The State Bar was not billed for the refreshments served at the event, Bleich notes.
Did the State Bar pay for Daschle's airfare and accommodations? "I don't know," he responds, but adds that Daschle "would have been here, anyway."
He denies that he used his status as State Bar president to promote the event. Shown a copy of the attachment to his Sept. 21 e-mail identifying him as "Outgoing President of the California State Bar," he says he didn't put the announcement together, the campaign did. (He attached it to his e-mail.)
As it turned out, Bleich says, about 10 persons met with Daschle—not at 3:15 for $5,000 and 4:15 for $1,000, but in a single reception that started at 3:45. Those attending paid varying amounts, some just $200 or $300, two of them being admitted gratis.
Did anyone donate $5,000? That, Bleich declares, he cannot disclose; as Obama's California finance chair, he's precluded from talking in specifics.
Contributions, once financial reports are filed, will become public records, and I doubt that Bleich is under any compulsion to avoid answering whether his fundraiser generated any single $5,000 donation. Of course, if the answer would be "no," he'd be admitting his fundraising effort fizzled, and that might be the factor inhibiting a forthright response.
Bleich was only partially secretive. At the event on Friday, he permitted our staff photographer, Sarah Morris, to take a shot of him and Daschle, but barred photographing of the reception attendees. He did respond to oral questions on Saturday, but refused to permit audio recording by a digital device.
Is he "finance chairman" of Obama's California drive? The announcement says he's "co-chair." Bleich explains that there are "political co-chairs" and "financial co-chairs," and he's a financial co-chair. That's not what the attachment to Bleich's e-mail connotes.
In a later e-mail, he elaborates:
"I'm a Co-Chair of the Obama For America California Finance Committee, and have had that position since early 2007; well before I was elected President….[I]ts fairly typical for California's political and finance co-chairs to simply use the title 'co-chair.' "

Among those who received Bleich's Sept. 21 e-mail is former state Attorney General John Van de Kamp, a Democrat who was the 2005-2006 State Bar president. He says of Bleich staging a political fundraiser:
"I would not have done it. It was a judgment call on his part."
Van de Kamp says that, "personally," he "never wanted to blur the roles" of State Bar president and party supporter.
Leon Goldin, a former member of the State Bar Board of Governors and a past chair of the Conference of Delegates of California Bar Associations, is another recipient of Bleich's e-mail to Democratic lawyers. Goldin opines that it was "completely inappropriate" for Bleich to hold a political fundraiser in the suite he was occupying solely because of his status as State Bar president.
He adds that the fundraiser "reflects poorly on his judgment—and it could reflect poorly on the bar."
Most of those from whom I sought comments at the convention declined to talk on the record, though sentiment there was discernibly strong that Bleich had made a bad move.

In soliciting reactions by e-mail from past presidents who weren't present, however, I find some support for Bleich.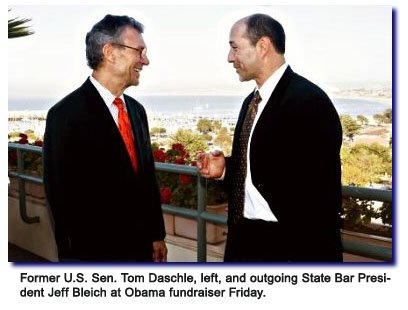 Raymond C. Marshall of San Francisco, who served in 1998-99, says: "A past or present State Bar President is free to do political fundraisers in his or home, office, or a hotel room as long as he or she isn't asking the State Bar to pay for it."
He adds that "in volunteering to serve as State Bar Presidents none of us believe we are foregoing our right to remain politically active."
Tom Stolpman, president in 1996-97, says: "Certainly recent Presidents such as Shelly were very public about their partisan positions; I don't think you can muzzle someone because they are elected to a one year term!"
"Shelly" refers to Sheldon D. Sloan, the 2006-07 bar chief, an activist for the Republican Party (except when personal interests deflect his loyalties). While Sloan, who is a Los Angeles City Hall lobbyist, did have Los Angeles Mayor Antonio Villaraigosa as a speaker at the 2007 State Bar Convention, he did not, to my knowledge, hold a fundraiser for his buddy, Villaraigosa, in connection with the convention, or otherwise engage in politicking while State Bar president.
I don't know of any State Bar president who has been so brazen as to do that…other than Bleich.

Bleich does, of course, have a First Amendment right to participate in a partisan political campaign. But there is, in my view, an ethical compulsion not to play a leadership role in a campaign while serving as State Bar president.
All lawyers in California are licensees of the State Bar, and are denominated "members." The State Bar president is spokesperson for, and symbol of, all the lawyers—lawyers whose views span the spectrum. The State Bar is composed primarily of those who are on "active status," that is, eligible to practice law, and who cannot renounce "membership" in the organization—no matter how much they are reviled by its activities or those of its leaders—without forfeiting the right to practice law.
Just as the judicial canons of ethics restrict political activity by judges, should not State Bar rules curb such activity by the State Bar president during his or her term of office?

It is true that Bleich did not gain visibility as finance co-chair for Obama, and did not—except in connection with the Sept. 26 fundraiser—invoke his status as State Bar president in promoting the Obama crusade.
On the other hand, his leadership role in the campaign was not fully and fairly disclosed to the membership of the State Bar. If it had been, there just might have been some sentiment that he should chose one role or the other.
The State Bar Journal, in profiling Bleich in the October issue, merely reveals that Bleich and former state Controller Steve Westly "work on Barack Obama's campaign finance committee."

There is no question but that Bleich is exceedingly bright and analytical. He no doubt realized that staging the fundraiser could cause some tongue-clucking. But weighing the mere prospect of momentary disapprobation on the part of a few fellow Democrats against possible political rewards by a presidential administration for bringing lucre into campaign coffers, he chose his course.
He refused to subordinate ambition to duty.
Bleich tells me that Obama is a longtime friend of his. The ex-bar chief is known to be well-connected politically. He's a smooth-talker and is personable; he adroitly avoids giving straight forward answers. He has definite political potential.
But in light of the proclivities he evinced in connection with his Sept. 26 political fundraiser, a question is raised in my mind as to his fitness for the high stations in the federal government which I suspect that he covets and for which he might well be destined.



OUR ANNIVERSARY—Today marks 31 years since my wife and I began operations in publishing the Metropolitan News, later to become the Metropolitan News-Enterprise (after merging with The Enterprise, founded in 1901). Sept. 30, 1977, was a Friday; our first issue came out on Monday, Oct. 3.
Copyright 2008, Metropolitan News Company