Tuesday, August 19, 2008
Page 7
PERSPECTIVES (Column)
Younger Tries to Silence Putnam (Boo!), Puts Fairness Over Victory in Prosecuting (Hurray!)
By ROGER M. GRACE
Sixty-Eighth in a Series
EVELLE J. YOUNGER's six years as district attorney were marked by little controversy. They were growing years, and productive ones, for the DA's Office. But, like just about every public official, Younger did have detractors...and Los Angeles Mayor Sam Yorty was one of them.
•In January, 1968, "Mayor Sam," as he was called, made a ruckus about a decision Younger made in connection with a murder case, as well as protesting particulars of the DA's probe of Yorty-appointed harbor commissioners.
•The following year, he blamed Younger for the Grand Jury spurning his request for a probe of Councilman Tom Bradley's role in a zoning matter, asserting a political motivation. Bradley was challenging Yorty in his reelection bid.
•In 1970, Yorty called for a state investigation into charges by a committee he appointed that local prosecutors and judges weren't tough enough in narcotics cases. That drew retorts both from Younger and the Los Angeles Superior Court's presiding judge, Joseph Wapner (later of TV's "Peoples' Court" fame).
•In July, 1970, at a time when Younger was in a run-off for attorney general, Yorty charged that the decision of the DA's office to prosecute seven police officers in connection with the shooting deaths of two Mexican nationals was predicated on a desire to boost the candidate's election chances.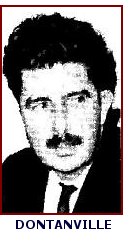 In today's column, I'll look at the murder case. Younger's actions in the proceeding also drew heat from powerhouse newsman George Putnam, anchor-commentator on KTLA, Channel 5. The prosecutor's counter-offensive to Putnam's adverse coverage was one of the few ill-considered actions of his administration.
The case was People v. Dontanville. Anthony David Dontanville was charged with the slaying and sexual molestation of two sisters, 6 and 7, in Altadena. He was convicted by a jury of first-degree murder on Nov. 30, 1967. The defendant had been represented by attorney Rexford Eagan.
Dontanville hired a different lawyer, Charles Hollopeter, who sought a new trial based on contentions that the defendant had not been competent to stand trial and that he received ineffective legal representation.

On Thursday, Jan. 4, and again the next night, Putnam, in his "One Reporter's Opinion" segment, slammed the DA for a decision, not yet made public, to go along with the defense bid for a new trial. Putnam saw this as a betrayal of the public's interest.
Younger protested to KTLA management that Putnam's reports were unfair, and threatened to file a complaint with the FCC.
On Monday, Jan. 8, KTLA's 10 p.m. newscast went on the air sans Putnam. He had been suspended.
Station spokespersons attributed the suspension to "a violation of management instructions" by Putnam.
The following day, Putnam talked with reporters. He recited that he was "told to lay off the story" by news director Stan Chambers and to "confine myself to wire service reports." Putnam continued: "When I refused, I was called and I was told I was being suspended."
Putnam later elaborated on the incident in an interview with Los Angeles Times television editor Aleene MacMinn. In the Times' Jan. 21 issue, MacMinn quotes Putnam as recounting:
"…I stumbled into a lulu of a story in which the district attorney had written a letter to the sheriff [Peter J. Pitchess] in which it was stated that he was going to ask for a mistrial in the Dontanville case.
"This to my way of thinking was without precedent, highly abnormal. I was flabbergasted and shocked. I later gained access to the correspondence. I saw the letter from the district attorney to the sheriff."
On Tuesday, Jan. 9, Putnam and his attorney met with management, MacMinn's article says, quoting Putnam's recitation of a potent argument by the lawyer: "The district attorney has threatened FCC action, but what happens if it can be proved that the station suppressed news?"
More from Putnam, as imparted to MacMinn:
"By this time, thousands of telephone calls had come into the station. People who had always called me a flag-waver or some kind of a right-wing extremist were suddenly on the team because they said hey, it's important the freedom of speech exist, that a reporter has that freedom."
That Tuesday night, Putnam was back on the air, unbridled; he again assailed Younger's decision.
The district attorney's threat of making a complaint to the FCC was high-handed and, in the end, gained him nothing. Plainly, it was a blunder.
Putnam—who on July 14 celebrated his 94th birthday—is still broadcasting via satellite radio, and his commentary, "One Reporter's Opinion," appears in the MetNews as a column. I tried to contact him for his reflections on the 1968 flap, but learned he was in the hospital, suffering from respiratory problems.

Younger issued this statement on Jan. 9, 1968:
"I have no doubt that the jury reached the right decision. We believe Dontanville is guilty and will ultimately seek the death penalty.
"Anything else I have to say on this matter will be said in open court for the record when the motion for a new trial, made by the defense attorney, is argued Jan. 22."
The following day, Younger's news secretary, Gerald Littman, responded to Putnam's remark that Younger's fidelity should be to the people, not a man convicted of killing two little girls. In a vague and insipid statement better left unissued, he said:
"Mr. Younger does represent the people, all the people, and Dontanville is part of the people. It is in the highest ethics of his office to ask a new trial for a man even if he believes he is guilty. And Mr. Younger believes Dontanville is guilty."

Now Yorty enters the picture. At his weekly news conference on Jan. 10, the colorful and feisty mayor assailed Younger's decision, remarking:
"How about the two little girls? They don't get any new chance. They're dead, and their bodies were dumped out in Watts in an attempt—just before the Watts Festival—to mislead the authorities investigating the case and to try and make them think that the killers came from that area.
"So this is a very serious matter and it leads me to wonder: The district attorney has a special unit investigating everybody else, but who investigates the district attorney?"
What Yorty was saying was that Younger's stance was all the worse because Dontanville (who lived in Monrovia) had taken the bodies to Watts for the purpose of creating the impression that the two little white girls had been sexually assaulted and choked to death by a black.
The mayor urged an investigation by state Attorney General Thomas Lynch "to determine whether Younger's action was improper."
With respect to the suspension of Putnam—whose commentaries in 1961 were highly instrumental in Yorty gaining election over incumbent Norris Poulson—the mayor remarked that "[t]he suspension didn't last very long and it should never have happened in the first place."
Yorty is quoted in news accounts as alleging that Younger entered into a "deal"—a term implying a "quid pro quo"—with Dontanville's new attorney, Hollopeter…leaving unanswered what it was Younger supposedly derived from any "deal."

Hollopeter argued in his written motion:
"Former counsel did practically nothing and was temporarily under a disability at the time of the trial."
Eagan did not put on any testimony…but that is sometimes an effective stratagem where, as in that case, the prosecution held back on the production of evidence, anticipating its use in rebuttal or cross-examination.
A declaration under penalty of perjury by Finnerty said, in essence, that Eagan was defending under the influence.
Younger personally appeared on Jan. 22 in the Pasadena courtroom of Mono Superior Court Judge Walter R. Evans, sitting on assignment to the Superior Court here. He told the jurist:
"After the jury brought in a verdict of guilty on Nov. 30. 1967, Deputy Dist. Atty. Thomas Finnerty advised me that defense counsel Rex Eagan was, in Finnerty's opinion, under the influence of liquor during the course of the trial and that Mr. Eagan's judgment and conduct was adversely affected and that defendant Dontanville did not receive adequate representation and that, therefore, the defendant did not receive a fair trial."
Younger explained:
"This conviction would not be upheld on appeal."
The defense motion for a new trial was granted.

A Jan. 23 editorial in the Times bears the headline, "D.A. Represents All the People." It showers Younger with deserved praise for abiding by a prosecutor's duty to see to it that no convictions take place except in conformity with fairness. It shovels derision at the DA's detractors. The editorial says, in part:
"After silently enduring nearly two weeks of uninformed criticism, the district attorney appeared before Superior Court Judge Walter Evans Monday to recommend a new trial for the convicted murderer, even though Younger believes that 'the jury arrived at the proper verdict.' "
In light of information Younger received from Finnerty, "no responsible district attorney could have acted otherwise." the editorial contends, adding:
"Yet when word leaked out that Younger would favor a new trial, he was maligned ignorantly and abusively.
"Would these critics have had the prosecution remain mute, knowing that an accused murderer may have failed to receive adequate counsel in a death penalty case?"
The editorial concludes:
"A lesser prosecutor might have ignored the conduct of the defense counsel and lost the case on appeal—or the accused might have lost his life as well as the constitutional guarantee of a fair trial.
"By his example, the district attorney has given new strength to the safeguards that are due every defendant, however mean or humble, in a system of justice that has become vast, complex, and often impersonal."
(I have no way of knowing for sure who wrote that forceful editorial, but I would wager that it was Phil Kerby, winner of the 1976 Pulitzer Prize for editorial writing.)
The Pasadena Star News also had praise for Younger in connection with the Dontanville case. Its May 24, 1968 editorial endorsing him for reelection says, in part:
"Los Angeles County has the best district attorney in the United States….
"Younger has proved to be capable, progressive, a leader and, above all, a man of honesty and integrity. He has managed to put the good of the public first and the necessity for winning convictions second.
"Pasadena's famed Dontanville case provides a good example. Younger's office obtained a conviction in the first trial, but when it was felt that Dontanville's legal counsel had failed to adequately represent his client, Younger personally joined with the defense in requesting a new trial."

Assigned to conduct the retrial were two top prosecutors, Joseph P. Busch Jr., who was to succeed Younger as district attorney, and J. Miller Leavy. Presiding was Judge Mark Brandler (who was to become the stepfather of California Chief Justice Ronald M. George).
This time, Dontanville was acquitted. He was held for a psychiatric examination and found sane; was promptly rearrested on an unrelated charge of child molestation and convicted on Oct. 31, 1968; was determined to be a mentally disordered sex offender; and was sentenced to prison from one year to life.
The picture presented so far is that Eagan was inebriated while representing Dontanville. There's no doubt that Finnerty so advised Younger, and that Younger believed him. After all, why would Finnerty make it up? On the other hand, why did he not bring the matter to the court's attention before the case ended? And why, if Eagan was soused, didn't the judge notice it?
The State Bar conducted a disciplinary hearing on May 14 and 15. Former Los Angeles Country Bar Assn. President Grant Cooper, who was soon to defend Sirhan Sirhan, represented Eagan. He was exonerated.
At a July 1 press conference, Eagan declared that the State Bar "examined the facts exhaustively," specifying:
"They talked to people I know, went to restaurants where I ate, and talked to jurors at the first trial."
He charged that Younger "publicly appeared in court and endorsed without investigation the statements of Finnerty."
Finnerty, as noted, had reserved the key piece of evidence—a scarf found around the throat of one of the victims—for use in countering testimony of Eagan's witnesses, testimony not produced. Eagan alleged at the press conference that the deputy brought false charges, asserting:
"Finnerty was caught when I rested. He knew that a new trial was inevitable, and he knew that at the second trial jurors would remember that the first was upset for insufficient evidence."
The outcome of the State Bar proceeding does point to a possibility, a strong one, that the conviction of Dontanville was forfeited by the DA's Office without an actual necessity.
Younger acted valiantly under the facts, as portrayed to him. But did he err in blindly accepting those purported facts as true?

Copyright 2008, Metropolitan News Company