Monday, July 28, 2008
Page
PERSPECTIVES (Column)
Younger Surmounts McKesson's Efforts to Block His Election as District Attorney
By ROGER M. GRACE
Sixty-Sixth in a Series
WILLIAM B. McKESSON lost, EVELLE J. YOUNGER won in 1964.
McKesson was not a candidate that year for reelection as district attorney…but was, as related in the last two columns, very much a partisan in the DA's race. He wanted his chief deputy, Manley Bowler, to succeed him, and toward that end, publicly derided Bowler's two election rivals in the primary, Los Angeles Superior Court Judges Evelle J. Younger and Vincent Dalsimer.
McKesson was a Democrat. Most of his invective was reserved for Younger, a Republican with a commanding presence who seemed to have a future in politics.
That's not to say, however, that he was solely guided by political partisanship. Bowler was a Republican, albeit one who did not brandish his party affiliation. And Dalsimer was a Democrat—indeed, one who ran as a Democrat for the nonpartisan county office, ballyhooing his California Democratic Council endorsement.
McKesson appears to have been motivated both by a desire to see "his boy" succeed him and a quest to stop Younger.
His fervor did not wane after the primary, in which Dalsimer was eliminated. For a year, McKesson, had been viewed as Bowler's de facto campaign chair; the Aug. 4, 1964 edition of the Pasadena Independent contains a report that McKesson "has taken over as chairman of the campaign to elect his chief deputy, Manley Bowler, as his successor."
In 1964, it was McKesson v. Younger.

McKesson's support of Bowler went so far as to his advising deputies and investigators in an internal newsletter, the "DA Digest," that under a recent California Supreme Court decision, they could campaign for Bowler.
"I feel justified in saying to members of our department that you are now free to work for Manley Bowler to help assure his success," he announced.
McKesson, you'll note, did not mention that the employees also had the prerogative of working for Younger in the run-off. The implication was, of course, that the only campaigning they should contemplate would be in favor of Bowler—with the inescapable underlying hint that such activity would be a good idea if they wanted to remain in favor within the department.
A Times editorial of Aug. 24, 1964, bearing the headline "Door Shut on Machine Politics," accuses McKesson of having demonstrated an "astonishing lapse of judgment." It expresses agreement with County Counsel Harold Kennedy who had observed: "We wouldn't want a Chicago or a Tammany Hall situation here."
An opinion rendered by Kennedy corrected McKesson on the law. The Supreme Court opinion did render unenforceable a Los Angeles County Charter provision similar to the one passed upon, he acknowledged. However, he declared, under a 1963 Government Code provision, civil service employees of the county still "may not take an active part in any campaign for or against any candidate other than themselves for an office of the entity (the county) by which they are employed."

Although news accounts did not identify the case McKesson referred to, it would appear to have been Fort v. Civil Service Commission of Alameda County, 61 Cal.2d 331, decided May 28. There, the Supreme Court invalidated a county charter provision which said, in part: "No person holding a position in the classified civil service shall take any part in political management or affairs in any political campaign or election, or in any campaign to adopt or reject any initiative or referendum measure other than to cast his vote or to privately express his opinion."
What McKesson failed to note was that the Alameda provision was not limited to barring a county employee from publicly supporting a candidate for a county office, and the opinion expressly did not rule out any such stricture, as contained in the new Government Code provisions. In the case before the court, a medical doctor who headed the county's Center for Treatment and Education on Alcoholism was fired because of his involvement in Gov. Pat Brown's 1962 reelection campaign.
"It should be emphasized," the opinion says, "that the restrictions [in the Alameda County Charter] do not relate solely to measures and candidates in the particular county but to all elections, including national and state elections and those conducted by local entities other than Alameda County."
The opinion also says:
"It is thus at least questionable whether [First Amendment] restrictions relating to issues and candidates in jurisdictions other than the employing entity can be justified even so far as concerns partisan activities."
The opinion notes the 1963 legislation and observes that it "restricts political activities in a much narrower manner" than the Alameda charter provision.
In light of Kennedy's advisement, the district attorney had to backtrack on the legal advice he had rendered to staff memos, sending out a memo Aug. 20 telling them they couldn't campaign for Bowler.

McKesson in mid-1963 called upon Los Angeles Superior Court Presiding Judge McIntyre Faries to yank Younger and Dalsimer from their criminal court assignments and shove them into civil, as previously discussed. His theory was that they shouldn't be judges, at all, since they had "decided" to run for DA and, under an American Bar Assn. canon, were obliged to resign. But if they didn't resign, he argued, they should be yanked from criminal cases because the prosecution could not "possibly get a fair and impartial trial before" any such judge "who so blatantly violates the canons of his own profession."
McKesson threatened to stymie the two judges in their criminal assignments through a blanket affidavit policy. However, after Los Angeles Supervisor Kenneth Hahn mediated the dispute between McKesson and Faries, that threat was dropped.
As January, 1964, neared, Younger and Dalsimer were given civil assignments for 1964...perhaps part of a compromise worked out with Hahn. (The MetNews directories show that as of Jan. 2, Younger, who had been in Department 109 in the Hall of Justice, was shifted to Department 53 in the Central Courthouse (where Shirley Hufstedler, later U.S. secretary of education, had been sitting) and Dalsimer was moved from Department 118 in Hall of Justice to Department 75 in the Old Hall of Records, previously the courtroom of Adolph Alexander, who ran unsuccessfully against McKesson in 1960.
As the Nov. 3 election neared, McKesson attempted to convert the fact of Younger's reassignment into evidence that the judge was soft on crime. This is Evelle Younger we're talking about...a former FBI agent and former Pasadena city prosecutor.
This appears in the Oct. 22, 1964 issue of the Valley News:
"Dist Atty. William B. McKesson today had publicly differed with Superior Court judge Kenneth N. Chantry who, in defending his fellow jurist Judge Evelle Younger from being soft on convicted criminals and child molesters, charged that the district attorney's office never had complained about such sentences.
"'My deputies and I personally registered numerous complaints and objections to the then Presiding Judge of the Superior Court McIntyre Faries about the leniency and lack of realistic sentencing in certain cases tried before Judge Younger,' McKesson said.
"'I honestly believe that as a result of these complaints that Judge Younger was transferred off the criminal bench to the civil bench Jan. 1, 1964."
The article goes on to quote McKesson as saying:
"I will not countenance a political cover-up or a cloak of secrecy. But in criticizing one judge for leniency, I wish to make it clear that this is not a blanket criticism of our courts and other judges who are as eager as the district attorney's office to see that justice is served."
It was during the primary that Bowler had initially raised the charge of Younger's supposed leniency in child pornography cases.
A Nov. 2 election eve editorial appearing in the Pasadena Independent and the Long Beach Press-Telegram comments:
"A SORDID FEATURE of the election campaign has been the unjustified attack on Judge Evelle Younger, candidate for district attorney. This attack charges that Judge Younger, while on the Superior Court bench, has been lenient with child molesters and other sex cases.
"This accusation has been thoroughly refuted and discredited by a statement by the, presiding judge of the Superior Court, who found Judge Younger handles these cases in accordance with the law and that, furthermore, the district attorney's office has never complained of his disposition of sex cases.
"Worst thing about it all is that the promulgators of this unfounded charge have circulated detailed descriptions of sex cases that are no less than pornography. This alone discredits their motive and their accusation."
The complete semi-official returns on Nov. 6 showed Younger capturing 1,330,939 votes, with 975,581 going to Bowler.

McKesson attended the swearing-in ceremony for Younger on Dec. 7, pinning the DA's badge on his successor. Leaving a reception for Younger, he complained of a shortness of breath and chest pains, and was taken to the hospital. He had suffered a mild heart attack.
He rebounded, but was to suffer another heart attack on March 20, 1967. That one was fatal.
Younger released a statement saying:
"We were all shocked and distressed to learn of the death of Bill McKesson. What impressed me most profoundly about him was that, in the many years he gave to serving the public, his dedication was so total that he never spared himself.
"When Bill McKesson retired...he left a going concern....It had the finest of lawyers, many of them still serving, and an outstanding record. This is the legacy which Bill McKesson left us."
McKesson had been a highly regarded judge of the Los Angeles Superior Court. As district attorney, he was considered able. It's just when he engaged in politics—in running for lieutenant governor in 1962, in orchestrating Bowler's 1964 bid for DA—that he evinced baseness.



SIDE-NOTE: Retired Court of Appeal Justice Lynn Compton, who sat in this district's Div. Two from 1970-90, had joined the Los Angeles County District Attorney's Office in 1951. In his book, "Call of Duty," released this year, he recalls the 1964 campaign, saying:
"I liked and respected both Bowler and Younger and was torn between who to support. My first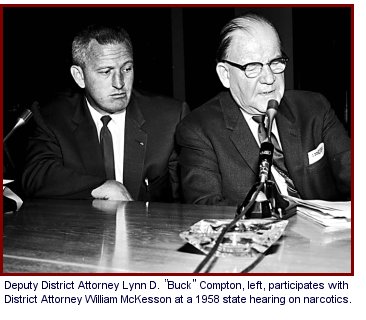 loyalty needed to be Bowler. I worked for him. But I was closer to Younger on a personal basis. Soon after the campaign began, Bill McKesson…stood up at a meeting of the Shrine Club, where we were members, and announced that I was being appointed executive assistant to the DA. This was a complete surprise to me. It was a newly created position that McKesson had made specifically for me. It meant that I was to function as pro tem district attorney, in order to remove any political influence on the operation of the office during the campaign. It meant that, for a while, I basically ran the whole show as the DA of LA County."
He didn't pinpoint when the appointment occurred, but the Los Angeles Times' edition of Wednesday, July 22, 1964, says:
"Lynn D. (Buck) Compton, deputy district attorney in charge of the Long Beach branch office, Tuesday was appointed by Dist. Atty. William B. McKesson as head of administration and supervision of the main office."
I telephoned Compton last week at his home in the State of Washington. At 86, he is as sharp, to-the-point, and straight talking as I remember him to have been when he was on the appellate bench.
Compton—whose heroism in World War II was spotlighted in a recent HBO miniseries, "Band of Brothers"—discloses that in 1964, even though Younger was "a real good friend," he did vote for Bowler.
"I felt a certain loyalty—he was my boss," the Silver Star winner explains.
He notes that publicly, he "stayed neutral," and says he told Younger (who was in the same Air Force Reserve unit as he), "I can't do anything to help you." Compton recounts:
"He said he understood."
Compton mentions that there were "some in the office that came out openly" for Younger, which he sees as having reflected "disloyalty"—and he points out that Younger, once elected, "did not reward any of them"…which he remarks was "to his credit."
The former jurist says of McKesson:
"He was a nice man. He was a kind man.
"I wouldn't call him a strong DA. He sort of let things run themselves.
"He wasn't a hard driver."
What about Younger?
"I think he was damn good," Compton says. "He was a good administrator."
Compton was to play a key role in Younger's administration as DA.
Copyright 2008, Metropolitan News Company