Tuesday, May 20, 2008
Page 7
PERSPECTIVES (Column)
Judge William B. McKesson Prevails Over Front-Runners for DA's Post
By ROGER M. GRACE
Sixty-First in a Series
WILLIAM B. McKESSON gained office as district attorney through appointment by the Board of Supervisors to fill a vacancy…as previous holders of the office had, and future ones would. But never, before or since, were there as many aspirants competing for the appointment, or so contentious a fray.
McKesson, 61, who relinquished his post as a Los Angeles Superior Court judge in accepting the Dec. 4, 1956 appointment, had become a contender late in the process. He found himself competing with the likes of Los Angeles Municipal Court Judge Evelle J. Younger (who later would become district attorney, then state attorney general); Los Angeles Bar Assn. President William Gray and attorney A. Andrew Hauk (both destined to serve as judges of the U.S. District Court for the Central District of California); Deputy County Counsel Baldo Kristovich (a future Los Angeles County public administrator/guardian); and Los Angeles Police Chief William H. Parker.
The vacancy was created by the death of District Attorney S. Ernest Roll on Oct. 26, 1956. Roll's own choice as his successor was Adolph Alexander who had been his chief deputy and who became acting district attorney when Roll resigned hours before his death.

Supervisor Herbert C. Legg was quick to announce, on Oct. 29, that he was backing Chief Deputy Attorney General William V. O'Connor for the post.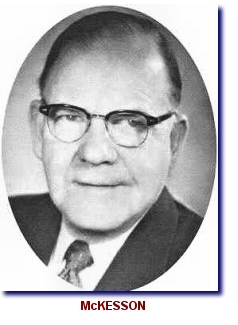 There was a tinge of partisan politics there. Indeed, the nonpartisan nature of county offices was seemingly not kept uppermost in mind that year.
Legg had been highly active in the Democratic Party through the years; in 1938, he was an unsuccessful candidate for his party's nomination for governor and was vice chair that year of the state Democratic Party. O'Connor—regarded as someone who would be going places in Democratic Party politics—had been Pat Brown's Southern California campaign manager when the Democrat Brown successfully sought the attorney general's post in 1950.
In fact, Supervisor Kenneth Hahn, a Democrat, charged Nov. 1 that party leaders were applying pressure on him to back O'Connor.
The other supervisor who backed O'Connor was Roger Jessup, a Republican...who had almost become a candidate for the GOP nomination for governor in 1942, but shied away at the last minute, apparently realizing that state Attorney General Earl Warren couldn't be beaten. Unlike Legg, an unwavering Democratic Party loyalist, Jessup was a maverick; in 1958, he was county chairman of Republicans for Brown, supporting Pat Brown in his successful quest for the governorship.
Supervisor John Anson Ford, a past chair of the county Democratic Central Committee, also announced on Oct. 29—hours after Roll's funeral—whom he was backing. His "first choice," he disclosed, was Los Angeles Municipal Court Judge Clarke E. Stephens.
At the following day's board session, Legg nominated O'Connor and Jessup provided a second, but a third vote was not to come. Ford nominated Stephens, but there was a lack of a second. It was then unanimously decided, pursuant to a suggestion by Hahn—which Jessup converted into a motion—to hold a public hearing at which the candidates would make statements and be questioned, followed by a vote at least a week later to allow time for public input.
The day after that board session, Stephens (who later became a Superior Court judge, then a member of this district's Court of Appeal) removed himself from consideration. He announced: "I shall remain in the judiciary"; a half hour later, however, after conferring with Ford, he said he would defer a final decision for 24 hours; the next day, Stephens reconfirmed that he wasn't seeking the appointment.
The fifth member of the board, Republican Burton Chace, had proclaimed that he was "open-minded," but was reported to be leaning toward Laughlin E. Waters, U.S. attorney for the Central District of California. At the time Waters was named to that position in 1953, he was both a Republican member of the Assembly and chair of the state Republican Central Committee. He later became a U.S. District Court judge in Los Angeles.
A Los Angeles Examiner editorial on Nov. 13, while mentioning neither O'Connor nor Waters by name, bemoans that "[p]rincipal among those being considered for District Attorney are two men whose backgrounds stamp them as active partisan political big wheels—one for the Democratic Party and one for the Republican Party." The editorial expresses the hope that the supervisors would not so act as to cause "the public to have even a suspicion that the District Attorney's office might be used as a filling station to gas up and lubricate either party's political machine."

Ford, in his 1961 book "Thirty Explosive Years in Los Angeles," recounts participating in the selection of four district attorneys: in 1943 when Fred Howser was chosen to replace John F. Dockweiler, who died in office; in 1951, when William E. Simpson was picked to succeed Howser following his election as state attorney general; in 1951, when S. Ernest Roll was hired to take the place of Simpson, who had died; and in 1956, when McKesson was selected.
Ford writes:
"Perhaps no public good would be served by particularizing the pulling and hauling that took place behind the scenes when it fell to the supervisors' lot to select a district attorney. I do not say it was a corrupt procedure; rather it was somewhat like a tug of war carried on in the dark, or at best with the good and bad forces only dimly visible. With the exception of the selection of McKesson, decisions were arrived at in private sessions of supervisors and then formally confirmed without debate in public meeting."
Twenty three of the 28 applicants for appointment appeared before the board on Nov. 14, testifying under oath.
One of the five who didn't show up—because of a prior commitment—was celebrity lawyer Robert A. Neeb Jr., 48, who had said he would accept the position if it were offered to him. Neeb, a partner of entertainment lawyer Jerry Giesler, was formerly Southern California chair of the Attorney General's Committee on Crime Prevention and was a founder in 1947 of the Greater Los Angeles Press Club (and its legal counsel for decades after that). The Nov. 10 issue of the Examiner quotes him as saying that he was not an active candidate but that "I am willing to submit my qualifications to the Board of Supervisors." How good of him.

The Los Angeles Times' account of the job-interview session, published the following morning, terms O'Connor and Alexander as the "front-runners for the appointment." It says:
"Alexander told the Supervisors that he was 'nervous' when he appeared before them, and O'Connor—annoyed by newspaper stories linking him in a business deal with an ex-convict—declared that he was 'mad.'
"The 45-year-old Deputy Attorney General called the stories—originated by another morning newspaper not the Times—'vitriolic innuendo' and an attempt to impugn his reputation."
Alexander did not wind up on any of the supervisors' "A" lists—but thirsted for the office, and was to seek it in the future through election.
O'Connor's immediate chances of appointment, as well as his political future, were substantially impaired if not tattered by assaults on him in the Examiner's news pages. The attacks started with a lead story on Page One on Nov. 10 revealing his association with Edwin Kenner, whom the newspaper identified as a man law enforcement regarded as "one of the nation's top bunco-confidence men." (Whether O'Connor could eventually have rebounded politically is unknown; he died Aug. 27, 1959, of a heart attack.)
McKesson's appearance before the supervisors received minimal attention in the press.

The Examiner's Nov. 15 issue tells of the unexpected appearance at the session by a deputy U.S. marshal who served the supervisors with a petition for a writ of mandate seeking an order to the county to count the write-in votes for district attorney that were cast on Nov. 6. The petition had been filed by former Republican state Sen. Jack Tenney who took the position that Roll's death invested voters with the power to choose the late DA's successor at that election.
The report also mentions that Deputy Public Defender A.A. Golden, another a write-in candidate, told supervisors:
"I have good reason to believe I am the new District Attorney. I say the board lacks the power to hold this hearing and appoint a new district attorney."
County Registrar of Voters Benjamin Hite had instructed members of the elections board not to count the write-in votes.
Tenney and Golden were relying on the California Supreme Court's Oct. 5 decision in Hedlund v. Davis which declared that the County of Tehama was obliged to include on its Nov. 6 ballot the names of candidates for district attorney to fill a vacancy recently created by the resignation of the incumbent, whose term extended to January, 1959. What the would-be DAs missed was that the decision was predicated on provisions peculiar to Tehama, contained in its county charter, and that the decision had no conceivable applicability here.

The LAPD police chief was not among the pack appearing before the supervisors on Nov. 14. It was later that he came to be in contention for the post.
The Nov. 21 issue of the Examiner reports that "Parker's four-star official cap sailed into the ring for District Attorney yesterday, but the chief insisted that he didn't toss it there." The article quotes Parker as saying:
"I have been approached by a member of the Board of Supervisors and several other persons who asked if I would consider it. I promised them that I would keep an open mind on the job, but certainly I did not seek it, and have done nothing to promote my candidacy."
The article explains:
"Parker, 62, studied law in his spare time after joining the Police Department in 1927. He was graduated by the Los Angeles College of Law in 1930 and admitted to the California Bar the same year.
"Although he has never practiced as an attorney, he has kept abreast of the profession…."
The following morning's Examiner says the mystery had ended as to which supervisor had encouraged Parker to seek the office. "I did it," it quoted Hahn as saying. The county lawmaker told the Times he mentioned to Parker that there might be "a deadline on this appointment" and secured an assurance from him that if he were drafted, he would accept the post.
The chances of that happening might well have been diminished by virtue of a letter to the board signed by 16 local attorneys complaining that Parker "has permitted only token integration" of blacks on the police force and has "expressed contempt for the law…in his denunciation of the Cahan decision" which barred use of illegally obtained evidence.
Among the 16 signatories were two future Court of Appeal Presiding Justices—Vaino Spencer and Bernard Jefferson—and a Los Angeles Municipal Court presiding judge-to be, Xenophon Lang.

Initially, the time for decision by the supervisors as to which candidate would be the new DA was scheduled for Nov. 27. But that didn't set well with Pasadena Mayor Warren Dorn, elected on Nov. 6 to replace Jessup. (Dorn outdistanced Jessup in the primary election and, in the run-off, Jessup, seeing the writing on the wall, urged his supporters to vote for Dorn.) Dorn made it known that he wanted the selection of the new DA to be put off until after he took office on Dec. 3.
Aside from that, there were nagging doubts as to the legality of choosing Roll's successor until that time when the term to which Roll had been elected at the primary (having drawn no challengers) was to commence. An 1895 California Supreme Court decision said that a vacancy could not be filled until it existed. The doubts persisted notwithstanding an assurance by County Counsel Harold Kennedy that an appointment could be made prior to Dec. 3, under county charter provisions enacted subsequent to that decision.
"Privately, several judges said they disagree with Kennedy, whose opinion has no legally-binding force," an article in the Nov. 2 edition of the Examiner says.
(Whatever may have been the correct view of the law in 1956, it's clear that if current law had been in force then —and, in particular, a 1967 statute, Government Code §25304.5—the Board of Supervisors could have appointed a successor to Roll following his death who could have served only until Roll's current term expired at noon on Dec. 3, 1956. The board could then have selected someone as DA to remain in office until the results of a contest in 1958 were declared.)
On Nov. 13, 1956, the board voted to defer to the wishes of their incoming colleague, with Jessup casting the sole negative vote. The winner would be chosen on Dec. 4.
In the next column, I'll tell how McKesson—not regarded by the press as even a dark horse candidate—crossed the finish line with no one at his heels.
Copyright 2008, Metropolitan News Company