Wednesday, June 25, 2008
Page 7
PEOPLE:
Legal Professionals and Their Canine Companions Vying to Become Top Dog
By SHERRI M. OKAMOTO, Staff Writer
When analyzing a legal issue, lawyers and judges examine precedent and parse statutory language to determine how such law applies to the matter before them. Here, meet some members of the legal community who take these analytical skills out of the courtroom and substitute that stack of pleadings with a dog.
That's right, a dog.
Conformation is not all that different from a trial, but instead of laws, a judge interprets breed standards, or written descriptions of certain distinctive characteristics for a given breed.
These standards generally describe the ideal size, color, and temperament of each breed, as well as correct proportion, structure, and movement. Dog breeders, handlers, and owners look for these ideal traits when selecting a dog to rear and show.
Call it a Code of Canine Procedure, if you will, and these legal professionals know how to apply it.
Daviann Mitchell's Nighthawks
An association between a judge and a pregnant call girl has all the makings of a torrid scandal, but not for Los Angeles Superior Court judge Daviann Mitchell. She is proud of her call girl, Nighthawk's Call Girl v Sierra Gold, better known as Trix, the former number four Rottweiler in the United States. Trix gave birth to seven puppies on May 1.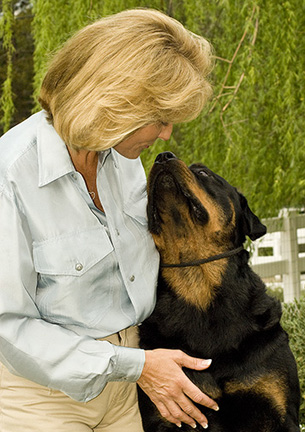 Mitchell's breeding business, Nighthawk Rottweilers, has produced some of the top Rottweilers in the country, including Ozz (Nighthawk's Born for Highwood), the current number one Rottweiler in the nation. Mitchell's own dog, Smooch (Nighthawks' Hells A Poppin Black Onyx) was the top female Rottweiler in the country back in 2004.
The life-long dog aficionado says that as a sixth-grader, she would go to the local pet store every day after school and ask for a job. Eventually the shop owners hired her to wash dogs, and Mitchell worked there through high school. The shop owners also raised whippets, and introduced her to the world of dog shows, Mitchell recalls.
After graduating from college, her parents said they would give her a dog as a graduation present. "I'd washed enough dogs by then to know I wanted a dog with short hair and no tail," she laughs.
Her parents presented her with her first Rottweiler, Mick (Michener's Michael) a certified police service dog. However Mick later developed hip problems, a common health complication for the breed, Mitchell says. Mitchell then acquired Hawk (Einmin Lanneret v Rottdan), who provided the namesake and foundation for Nighthawk Rottweilers, which Mitchell established in 1982.
In addition to breeding, Mitchell also works as a professional show handler. She has handled dogs for clients at the Westminster dog show in 2003—when the dog she handled won Best of Breed—and again in 2007. She also handled Eli, a champion conformation Rottweiler co-owned by Los Angeles Superior Court Commissioner Lori Ann Jones and Deputy District Attorney Greta Walker.
"It essentially is a second job," she says of rearing and showing the dogs, which for her, involves at least an hour of training every morning and another hour every night.
She has traveled with her dogs all over the country, and internationally, to breed and show. The furthest she says she ever went was to the Netherlands. Mitchell also says she is planning to attend upcoming shows in San Diego, Pomona, Irwindale, Minnesota, and Pennsylvania.
In recent years, Mitchell says she has limited the number of competitions she attends to once to twice a month so that she could have more time with her daughter, and she is training eight-year-old Mary Ann in the art of showmanship now.
Successful show handling involves "a lot of psychology," Mitchell says. "There is an emotion that travels down the leash, and you have to present the dog with confidence."
Confidence is one of the traits Mitchell looks for in a dog when she is judging conformation events, something she has done for over twelve years, in addition to overall beauty, energy level and sociability.
"Judging is fun," she says "But I'd rather be showing."
Karen Nobumoto Plans 'Doggy Heaven'
The chairs at Deputy District Attorney Karen Nobumoto's house are not meant for sitting.
She explains: "I bought the furniture for the dogs. That's why there's the Nobu Cocker towels to show it's not for you."
There are four black cocker spaniels who make up Nobu Cockers: Gigi (JDK N' Nobus Island Princess); Denzel (Be-Fit N' Nobu's Island Gent); Tiffany (Be-Fit N' Nobu's Island Gem); and Genie (Cocoa N' Nobu's Island Magic).
Their names are all based on a fictional tropical isle Nobumoto created by shortening her last name, to serve as her logo for promoting her dogs.
Nobumoto is a relative newcomer to the conformation world she says. She has only been actively showing dogs for the past five years, but she has done "pretty well" in her estimation.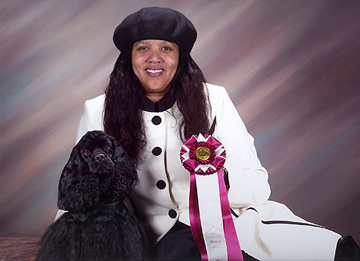 After having spent years being a lawyer and dedicating her extra time to the law, Nobumoto says: "I wanted to do something different, something fun." The former State Bar President adds that after her tenure in that office was over, she "was so bored I could spit."
Then Nobumoto saw the movie "Best in Show," a mock-documentary parodying conformation shows. She says she loved all of the "unusual characters" in the movie, and thought:
"Hey! I'll fit in there."
She obtained her first dog, Gigi, and began accompanying Gigi and her professional handler to dog shows. "I didn't know what I was doing," she admits. "I knew I had to get a video camera and that was it. [But] it was like a murder [trial], I had to win."
And win she did. After Gigi won best in sweepstakes, the category for puppies six to 12 months old, Nobumoto syas she thought, "Well, at least I'm learning at a decent curve, even though I didn't know what I was doing."
Gigi continued to win at events, eventually becoming the number one black cocker spaniel in the country. Nobumoto then aquired Denzel and Tiffany, a brother and sister.
"You're supposed to have different breedings, but I didn't know that," Nobumoto says, "but I thought I'm doing pretty good, so I'm going to stick to what I know."
Both dogs finished their championships, and Denzel went on to become the number 10 black cocker spaniel in the country.
Nobumoto's newest dog, Genie, is also doing well in the show circuit, recently winning her division at the American Spaniel Club Flushing Show and competing at the Westminster Dog Show earlier this year.
In the next year or so, Nobumoto says she was considering starting to breed her dogs. She says she eventually would like to show a dog she bred herself in the conformation ring when she retires, but she cautions, she is planning to work at least seven more years, which gives her "lots of time to learn" the art of handling.
Upon her retirement, Nobumoto has also promised her dogs a "doggy heaven," complete with playground equipment and bone-shaped pool on six acres she purchased in Georgia.
Until then, the dogs have run of Nobumoto's hillside home, eat homemade liver treats, and ride in Nobumoto's car, with the "NOBUCKR" vanity plate. She says:
"I am so corny but I don't care. I get way too much joy out of the dogs to care about what other people think."
Greta Walker and Lori-Ann Jones Root for the Underdog
Back in the day when Richard Ramírez, a prolific serial killer known as the Night Stalker, was terrorizing the Los Angeles area, Deputy District Attorney Greta Walker's husband, a police detective, was worried about her safety when he was working at night.
So he bought her a puppy.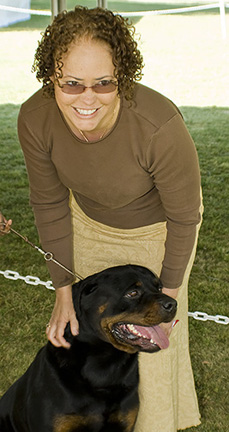 "That's right," Walker laughs. "[The dog] was supposed to protect me from the Night Stalker."
The Rottweiler pup, Aris, "was really pretty," Walker says, and people would often ask her why she did not show him in conformation events. She says that she started going to dog shows with her husband and they decided to give it a try.
"Everyone needs a hobby," she says, shrugging.
She later acquired two more dogs, including a female named Pegasus Zena Walker who earned her championship and formed the basis of Walker's breeding business, Olympus Walk Kennels, which she established in 2000.
In 2004, Walker bred Zena with Carter's Noble Shaka Zulu, a male Rottweiler who has the most Best in Show titles—the highest title at a dog show—out of any Rottweiler in history, Walker says.
One of the dogs in the resultant litter, Walker explains, did not seem to have the potential of his litter-mates, and was not expected to be a show dog. Walker says she offered the puppy to her friend and fellow prosecutor Lori-Ann Jones, now a Los Angeles Superior Court commissioner and judicial candidate.
"I call him my mortgage payment because I had to use that month's mortgage payment to buy him," Jones says, laughing. However, she says she viewed the dog as an "exclusive opportunity," and he was well worth the money.
The dog was named Eryx of Olympus Walk, but Jones' son Christian promptly renamed the puppy Eli.
Even though several professional handlers and breeders told her that Eli only had the potential to be "just a pet," Jones says, she found a handler and began entering Eli in conformation events.
"I thought he could be a show dog, but just not as good as some of the others," she explains. "Then he just bloomed."
As did Jones' new avocation.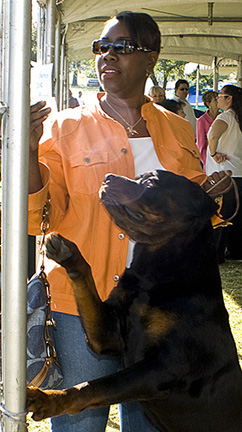 "That first time you win, it's like drugs," she jokes. "It's really good. I was hooked."
The two women co-own Eli, and formed an informal group consisting of Jones, Walker, Walker's husband, and Eli's professional handler which they refer to as "Team Eli" to raise, train, and show the dog.
Eli lives with the Walkers, and Walker's husband is in charge of Eli's grueling exercise regimen which involves miles of running each week.
Jones explains that Rottweilers are "working dogs" who were bred to herd cattle, so they are not supposed to be "couch potatoes." As for Eli, she says "that dog can work."
She says that some judges ask the handlers to run with the dogs for prolonged periods of time in the show ring so that the judge can gauge the dogs' endurance and level of physical fitness.
"It's not just about looks, it's about what's inside too…," she explains. "The heart, the lungs, all that. And it's the tiny things that make the champions stand out."
Eli has completed his championship and competed at the prestigious Westminster Dog Show. At the Lake Mathews Kennel Club event in late April, Eli finished in second place with Walker and Jones in attendance to cheer him on.
The dog shows "let me step away from what I do everyday," Jones says, while watching her dog trot around the ring at a recent event. "And that's good. Everybody needs that."
Jones also disclosed that Eli is about to become a father for the first time. He was recently bred with another dog in New Jersey.
"Talk about a love affair, long distance," she says, "It was nothing like a live hook-up." Laughing, she explains that Eli didn't travel to the east coast because, thanks to modern science, "just parts of him" were shipped.
Copyright 2008, Metropolitan News Company