Thursday, June 26, 2008
Page 7
PEOPLE:
Running a Different Kind of Trial on a 'Stopwatch'
Members of the Local Legal Community Step Out of the Courtroom to Take On the Newest Form of Competitive Dog Show
By SHERRI M. OKAMOTO, Staff Writer
Although the Third District Court of Appeal held that a trial cannot be run on a "stopwatch" in In re Marriage of Carlsson, these members of the legal community disagree. In fact for them a judge holding a stopwatch, and an obstacle course, are indispensable for their version of a trial.
Agility trials are a form of canine competition requiring dogs and their handlers to negotiate an obstacle course while racing against the clock. It is the fastestgrowing dog sport in the country, according to the American Kennel Club.
Nancy Gast Goes 'Overboard'
Los Angeles Superior Court Commissioner Nancy Gast has trials nearly every week. But unlike the trials at the Metropolitan Courthouse, she is not the judge here.
She raises, trains and competes with her Golden Retrievers Emma and Jessie, and her Australian Shepherd, Cannon, in agility and obedience events.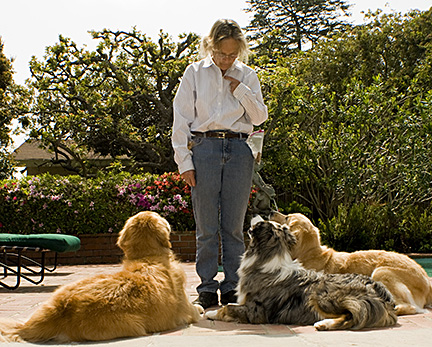 After seeing an agility competition on television, Gast says she thought it looked like fun and started working with Emma, her only dog at that time.
Her backyard is covered with equipment for training the dogs, and as the three canines playfully romped around her recently, she laughingly admitted, "I went a little overboard, I think."
Training the dogs occupies much of her time, Gast says, because "it takes months and months and months" and "thousands of repetitions" before the dogs will be able to perform the requisite commands or negotiate a new agility obstacle.
She says she also takes classes four to five days a week, because the agility and obedience events are "about training you…All mistakes are basically the handler's fault."
She also makes the nearly 50-mile-each-way drive from her Westwood home to Acton in the Antelope Valley so Cannon can have herding lessons.
"He herds sheep," Gast says. "He tried ducks once, but was very confused by the ducks. He jumped out of the ring and ran to me."
Cannon is named after the 1970s detective show of the same name, which was co-produced by Gast's father. She calls Cannon her "up and comer."
The 11-month old pup was sired by the four-time winner of the Most Versatile Aussie Competition, and his sister is the current number one Australian Shepherd in the country.
Three-year old Jessie is the current competitor, and has earned the American Kennel Club's highest title in rally, and second highest titles in agility and obedience.
Gast says:
"Goldens aren't typically good agility dogs…It doesn't come naturally for them, but we still have a lot of fun…Jessie's shown you don't need to come from a performance line to do well."
Seven-year old Emma has retired from agility competitions, having earned titles at the AKC's third highest ranking in agility during her time, but Gast says she still plans to enter Emma in obedience trials.
The competition is worth the time commitment, she says. "It's fun, it's good exercise, and you're doing something really unique and building a great relationship with your dog."
Lisa Runquist Thwarts Allergies, Raises Poodles
Some law offices boast spectacular views of the city skyline or the beach, but Northridge business and tax law attorney Lisa Runquist offers her clients a view of the full agility course she assembled for her three standard poodles: Jazz, Charlie and Zippy, who are regular fixtures in her office.
Runquist says she started out training her dogs for obedience because she wanted a dog "who is going to do what you ask." Then she found a place offering agility classes and "discovered it's one of the most fun things you could do with your dog."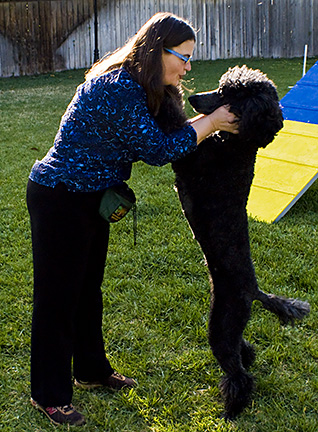 She trains the dogs by herself. The trick, she says, is finding what motivates the dog.
"Anything you do, you've got to reward them to make sure they have the incentive. It really is a question of what motivates the dog to do what you want," she says.
Her two dogs crowd around her as she doles out treats from a bag by her hip and she adds:
"Some dogs will work for kibble. Mine won't."
So she makes beef jerky for them. She says she buys beef at the grocery store, dehydrates it and adds garlic for flavor. She eats it too, but says she prefers hers with a touch of salt.
Based on the number of ribbons prominently displayed all over Rundquist's office, the jerky treats seem to provide ample motivation for the dogs.
Seven-year old Charlie (AKC registered name: Patrician Blue Boy) has 30 titles to his name, including the American Kennel Club's highest ranking for agility and for rally.
Five-year-old Jazz (D'Kamron All That Jazz) has 20 titles, which include the AKC's second highest ranking for agility and highest ranking for rally.
Nine-week old Zippy has not begun training yet. "It takes basically two years for them to mature enough and learn enough to begin agility competition," Runquist explains. "You can't be jumping them their full height or do weave poles with them...until the bone plates close, so that you don't do any damage."
Runquist also says she lavishes the dogs with attention, praise, and toys.
"Charlie loves toys…," she explains. "If I ever thought that something here was mine, he quickly dissuaded me of that. If I ever put something up where he can't reach it, he'll figure out a way. He's really smart."
She laughs and adds:
"Maybe poodles aren't for everyone, because they're really smart, and you need to be smarter than your dog."
That intelligence is one of the many traits she says she finds endearing about the breed. She also says that the breed does not shed, which is important to her because she is allergic to dog fur.
She calls poodles "all-around dogs" who can swim, hunt, retrieve, pull a cart, herd, and just about anything else.
With the breed's adaptability in mind, Runquist says she has started training the dogs in tracking, which is like competitive canine search-and-rescue work. The tracking tests are designed to demonstrate a dog's natural ability to recognize and follow a human scent.
"The more you teach your dog, the more you get out of it," she says, "You can never teach your dogs too many things."
Jody Dushkes Trains Mischievous Breed in Obedience
Los Angeles business litigation attorney Jody L. Dushkes says she was looking for a challenge when she picked out an Irish Water Spaniel puppy to bring home eight years ago. And another five years ago. And another two and a half years ago.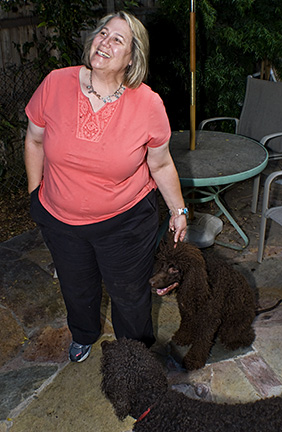 As a breed, Dushkes says, Water Spaniels are "thinking dogs" who get bored with repetition and have a constant need to keep their brains occupied. This trait, she confesses, tends to lend itself to mischief-making.
"They're called the clowns of the spaniel world, and they definitely live up to it," she says. "They are a handful."
Her brood "can open the fridge and toaster oven, but at least they don't open the cabinets," she says. "Well, not too often," she adds as something crashes in the room behind her.
"They are very clever," Dushkes says, "They use their front paws a lot."
Dickens (Muddy Waters' Great Expectations) has a habit of eating books and pantyhose, Dushkes admits. She calls him a "typical man," who favors electronics. "I've lost a few cell phones," she says, "and I can't tell you how many remotes I've lost."
The dog exemplifies what she calls the "Irish Water Spaniel boing," a tendency to jump. Once, she says, he leapt over the dining table and grabbed a piece of chicken off her plate in mid-flight.
Another of her dogs, Kerry-Ann (Whistlestop's Flash Mum's the Word), will "eat anything she thinks is food," Dushkes says. "If it's nailed down, she'll eat the nail."
Dushkes recalls the day she discovered the dog could open the refrigerator. She says she came home and found the dog looking like a "beached whale" after the sneaky canine had helped herself to a coffee cake, a turkey sandwich, a couple pickles, and four pounds of hot dogs.
She also recollects that the food-driven dog also once bolted out of the agility ring in the middle of a competition when she spied a cookie that Dushkes had left on a chair before they entered the ring.
Ria (Claddagh the Beat Goes On) has yet to match her companions' exploits, at least as far as Dushkes knows.
The dogs all compete in rally, agility and obedience events and have several titles each, but Dushkes says winning is not that important to her.
"You can't have an Irish Water Spaniel and be obsessed about scoring that high because they don't like all that drilling," she says. "Even the best ones get creative on the course."
Due to the breed's temperament, Dushkes says, she thinks she has the only Irish Water Spaniels competing in agility in Southern California.
"Everybody knows us," she says. "I don't know if that's a good thing or not."
Copyright 2008, Metropolitan News Company