Tuesday, April 8, 2008
Page 5
JUDICIAL ELECTIONS: Los Angeles Superior Court Office No. 72
Two Deputy District Attorneys, Civil Practitioner Vie for Open Seat
There are three candidates—two prosecutors and a sole practitioner with a civil practice—seeking the seat now held by Judge Francis A. Gately Jr., whose term expires in January, although he has said he may retire before then.
Marc Chomel and Hilleri Grossman Merritt are deputy district attorneys. Both have had significant assignments within the office, although Chomel has been there longer and is running as "Supervising Criminal Prosecutor." Merritt will be listed on the June 3 primary ballot as "Criminal Trial Prosecutor," while Steven Simons, whose practice includes automobile dealer fraud cases, is running as "Consumer Rights Attorney."
MARC A. CHOMEL
Veteran Prosecutor Touts Years of Experience
Marc Chomel, 47, lays out a simple case for his election to the Los Angeles Superior Court—he is the most experienced of the three candidates for the seat.
He was reluctant, he says, to run against a fellow prosecutor, and waited until the last day of the declaration period before filing, after flirting with another race. But with a deputy district attorney, a deputy attorney general, or a court commissioner in every race, his options were limited, he explains.
He describes one of his opponents, fellow Deputy District Attorney Hilleri G. Merritt, as "obviously very qualified," but says that professionally "she is where I was 10 years ago."
After 22 years as a prosecutor, 19 of them in Los Angeles County, Chomel notes that he has 10 murder trials under his belt, including that of rapper DaSean Cooper, aka J-Dee of Da Lench Mob.
Controversial Trial
Cooper was sentenced to 29 years to life in prison after a controversial trial in the mid-1990s, in which the prosecutor was allowed to present evidence of the group's lyrics to belie the defendant's claimed belief in non-violence. Chomel also prosecuted Samuel Chi, a minister who killed his church's choirmaster over an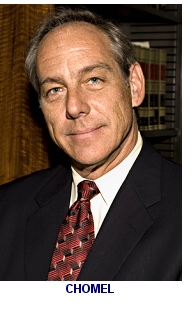 alleged affair, but shook the prosecutor's hand after pleading guilty to a lesser charge of second degree murder carrying a 15-year-to-life sentence.
The case was noteworthy, Chomel said, because the defendant initially pled not guilty by reason of insanity. The prosecutor recalls responding that Chi had to know the difference between right and wrong, because he "sermonized about it on Sundays."
As for civil lawyer Steven Simons, the third candidate in the race, Chomel said in a recent interview that he "doesn't know him" and "can't find anyone who does."
Running as "Supervising Criminal Prosecutor"—Merritt is listed as a "Criminal Trial Prosecutor" and Simons as "Consumer Rights Attorney"—Chomel touts the 22 years he has been prosecuting criminal cases. That includes three years in Conroe, Texas before coming to Los Angeles County.
He has worked his way through a series of assignments, and has been the deputy-in-charge of the Inglewood Area Office since 2005, after having been an assistant head deputy in Central Trials from 2001 to 2005 and the deputy-in-charge at the Kenyon Juvenile Justice Center for a short time before that.
As a supervisor in the District Attorney's Office, he explains, he is "not simply an administrator" and perform management duties that are "very similar" to those of judges, he explains. He has to interface with the bench and bar, stay up to date with the law, and make important decisions about cases, he says.
His easygoing but decisive management style, he asserts, will serve him well on the bench. He will allow lawyers to argue their points, he explains, but will be "extremely adamant about people being on time [and] being respectful to one another."
There's no place, he says, for one lawyer calling another "pigheaded" in open court, as a defense attorney once did to him, adding that he has never raised his voice in a courtroom.
He has definite perspectives on how run a courtroom. He says he will insist that counsel appear at 8:30 a.m. for morning calendar, and make sure that trials begin by 10:30.
'Too Many Sidebars'
Courts run poorly, he elaborates, when there are "too many breaks, too many sidebars" and relatively minor trials taking two weeks to complete. Jurors and witnesses, he says, shouldn't be kept sitting around for no reason, particularly in some of the branch courthouses, where there is "constant inappropriate contact between jurors and police and witnesses and defendants and family members" in the public areas.
"I want there to be respect for the law," he says.
For all of his legal experience, Chomel acknowledges, he is a political novice.
He admits that he is "clueless" when in comes to campaign fundraising, will only spend between $10,000 and $20,000 of his own money, and will not approach the six-figure spending that his opponents are promising. But he predicts he will be "competitive" in time for an anticipated runoff.
He made the decision to run, rather than apply for an appointment, he says, because he doesn't like "the uncertainty of the appointment process."
Chomel grew up in a multilingual household in Houston, speaking his father's native French and his mother's native Italian—she ran the Italian Studies program at the University of Houston—as well as English. He describes himself as being able to speak and write French fluently—he says he "grew up speaking English with a French accent," no trace of which is now apparent—and to speak Italian with semi-fluency.
______________________________
HILLERI GROSSMAN MERRITT
Candidate Says Former Colleagues Encouraged Bid
Deputy District Attorney Hilleri Grossman Merritt's career path was launched when she was 10 years old.
Merritt, who was born in San Francisco but grew up in Los Angeles, thought it was profoundly wrong that a former supervisor in her native city, Dan White, was not convicted of the murders of Mayor George Moscone and Supervisor Harvey Milk.
White's defense was diminished capacity, based in part on constant consumption of junk food. The so-called "Twinkie defense" resulted in White being convicted only of manslaughter. He served a prison sentence, and later committed suicide.
Consumption of junk food didn't sound like much of an excuse for killing someone to young Hilleri Grossman. It was "beyond comprehension," she says now.
So she announced at the family dinner table—"as only a 5th grader can do," she says—that when she was older, she was gong to rectify the situation.
'Pass the Butter'
The announcement didn't draw much of a reaction at the time—the response, she recalls, was to the effect of "that's nice, pass the butter"—but it steadied her career focus, and at age 39, she has spent her entire legal career in the District Attorney's Office.
Having fulfilled one career goal by becoming a prosecutor, she says, she is ready to complete another by becoming a judge.
She spent 14 years trying cases or supervising calendars, and is currently doing both. She "loves being a D.A." she says, but has been "gearing up for a long time" to seek a judgeship.
"We need strong, fair, ethical judges, and I'm all of those things," she says.
She describes herself as extremely sensitive to the effect that her actions have on people's lives, handling serious cases involving "a lot of people who are not going to be seeing the light of day."
The candidate and her family have committed heavily to the race. She's banked $200,000, in family loans for the race and says she had received several offers of fundraising assistance.
Encouraged to Run
She says she one filled out an application for an appointment, but never turned it in, and decided to run instead because of the huge numbers of other applicants, including fellow prosecutors, waiting for their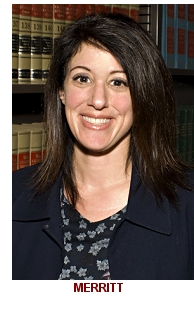 shot at appointment. Former deputy district attorneys who have run for the bench, such as Judge David Stuart, encouraged her to seek an elected position, she explains.
She has hired Cerrell Associates Inc., the most experienced of the firms running judicial campaigns. A major factor in that decision, Merritt explains, was the recommendation of Judge Hayden Zacky, a friend and former prosecutor who hired Cerrell for his 2006 runoff campaign after using another consultant in the primary.
Merritt professes little doubt of her ability to try criminal cases. A civil assignment might make her "a little bit nervous," she admits, but acknowledges that judges have to be flexible and learn areas of law with which they were not familiar in practice.
While she has spent her entire career as a prosecutor, she said, she says she has no problems with defense lawyers. As a matter of fact, she's married to one.
She met Brent Merritt at a continuing education seminar early in her career. They've been married 12 years and have a son and a daughter.
USC-UCLA Rivalry
Being on opposite sides of the criminal justice system is not as big a problem, the Merrits say, as the fact that she went to UCLA and he went to USC. But Brent Merritt says he's glad he doesn't have to take on his wife in the courtroom.
A defense lawyer, he says, doesn't want "an opponent D.A. who is always well prepared, well organized, and knowledgeable and is never flat-footed."
The candidate says she has been "very fortunate" as a lawyer, because she has never had a particularly bad experience with a judge, although one of the judges she appeared in front of when there were still municipal courts used to sleep on the bench. She has seen the occasional crazy, screaming defense lawyer, she comments, and on one occasion told a lawyer she would only talk to him on the record because he seemed incapable of rational discussion otherwise.
'Fairness and Integrity'
Being a parent, she says, has been good preparation for handling lawyers in the courtroom. If her children become hysterical, she says, she will insist they calm down before she will talk to them.
Her aspiration, she says, is to become the kind of judge whose "fairness and integrity" make lawyers happy that their cases have been assigned to her.
She has been endorsed by Sheriff Lee Baca. District Attorney Steve Cooley has endorsed both Merritt and fellow prosecutor Marc Chomel.
Merritt also has the backing of more than 20 judges and commissioners, including Stuart, who has known her since law school.
"I think she'd make an outstanding judge," he says. "She is intelligent and a hard worker with the personality for the job."
When they worked together in Van Nuys, Stuart says, "she had a reputation as an excellent trial lawyer and was given high-profile cases and did them well."
______________________________
STEVEN A. SIMONS
Contender Says Bench Needs Civil Lawyers
The Los Angeles Superior Court bench needs more civil practitioners, Steven A. Simons says.
After 21 years representing plaintiffs and defendants in civil cases, serving as a judge pro tem, and doing arbitrations and mediations, he says, "I find that I am very comfortable in helping people."
The odds are against him, he acknowledges, given the county's history of electing bench officers, prosecutors, or other public lawyers to open judicial seats. But he does not back down from challenges and intends to spend "whatever it takes" to be competitive, he says, projecting that he may spend $300,000 before the race is over.
He lists a few endorsements on his Web site, although none are from judicial officers.
Simons, 52, says he was interested in the law from the age of 13, when he read F. Lee Bailey's "The Defense Never Rests," an account of the famed attorney's earliest cases. But his life went through a series of twists and turns before he was actually able to pursue a degree.
Jack of All Trades
After a stint in the Navy, he explains, he pumped gas, installed car components, managed a warehouse, worked at the since-closed General Motors plant in Van Nuys, sold real estate in Mammoth Lakes, drove a taxi, and went through a marriage and divorce before he went back to school.
He graduated from California State University, Northridge, was admitted to Southwestern Law School, and worked at LaFollette, Johnson, DeHaas as a clerk before being hired as an associate. He left in December 1989 to take a position as a senior associate at Callahan, McCune, and Willis, specializing in insurance defense.
He started his own practice in June 1999, then joined the law firm that became Brennan, Wiener & Simons before going solo again in 2005.
Calendar Control
Being a sole practitioner, Simons explains, gives him a measure of control over his calendar and enables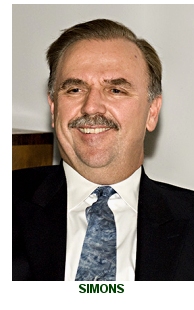 him to be more involved with his family and community. He is married and has two sons, one from each of his two marriages.
He has served as a Little League president and Boy Scout leader, a church deacon, and a charitable volunteer.
His ballot designation is "Consumer Rights Attorney." It reflects the fact that 40 percent of his practice is devoted to suing auto dealers for fraud, often committed by failing to disclose prior collision damage or misrepresenting loan terms, he explains.
The balance of his practice is general civil work, although he has done a minimal amount of criminal, family, and probate law, he says.
"I consider myself well-rounded....a quick study," he comments. "I know what it takes to get the job done."
Former partner Robert Brennan agrees.
"He'll show up prepared," Brennan comments. "He'll get through a formidable stack of papers pretty quickly... I think he's got a good judicial temperament...and he's worked both sides of the street [plaintiff and defense] and done everything from dog bites to sophisticated class actions."
Copyright 2008, Metropolitan News Company