Friday, May 30, 2008
Page 6
JUDICIAL ELECTIONS: Los Angeles Superior Court Office No. 4
Attorney Mounts County's Only Challenge to an Incumbent Judge
Redondo Beach attorney Sydnee R. Singer is facing off against Superior Court Judge Ralph W. Dau in the only challenge to a sitting judge to appear on the June 3 ballot.
Singer, a defense attorney with almost 20 years of experience, will appear on the ballot as "Trial Attorney." Dau, a 12-year incumbent with 29 years of prior legal practice, will be listed as "Judge of the Superior Court."
RALPH W. DAU
Jurist's Ability Praised, But Temperament Has Mixed Reputation
Deserved or not, Los Angeles Superior Court Judge Ralph W. Dau's temperament has developed a negative reputation among some attorneys.
The Los Angeles Times notes that "Dau is criticized as autocratic and disrespectful by more than a few lawyers who appear before him."
His opponent, Redondo Beach attorney Sydnee R. Singer, declines to criticize him directly, but refers to him indirectly when touting her own credentials, saying, "I believe in respecting counsel and in being candid."
Even those who disagree with the reputation and say they have never seen anything to justify it—such as former Court of Appeal Justice J. Gary Hastings of this district's Div. Four, who served with Dau when the latter sat on the Court of Appeal by assignment in 1999—admit that they are aware of it.
However, few question his ability as a jurist.
High Marks
The Los Angeles County Bar Association's Judicial Elections Evaluation Committee has rated Dau "exceptionally well qualified," one of only two such ratings given to the 30 candidates competing in the 11 contested races on the June 3 primary ballot.
The Times goes on to recommend Dau's election to another term, commenting that "Dau is intelligent and experienced, and his performance meets an acceptable standard, even if his courtroom is a less pleasant place than it could be."
The Whittier Daily News opines that, "[t]he way Dau moves the 300-350 cases on his calendar, his meticulous manner, his weighty experience and his sharp intellect are just a few of the pieces of evidence leading to one conclusion: Dau should be returned to the bench."
Even the MetNews, which opines in an editorial that Dau is "arrogant and bullheaded," "lacking in humility and 'people skills,'" and "hardly 'Mr. Congeniality,'" concedes that "Dau does possess judicial experience and legal knowledge," and recommends a vote for him over Singer, albeit "without enthusiasm."
Texan From Wisconsin
Dau, 70, is a native of Milwaukee, and grew up in Dallas where his family moved when he was four years old. He decided to go to law school after taking an undergraduate class in constitutional law at the University of Texas, he once told a reporter.
After graduating in 1959 and spending four years as an officer in the U.S. Navy on a destroyer, including a stint in the Tonkin Gulf as part of the first task force in the Vietnam War, he returned to his alma mater and earned a law degree with honors in 1966.
Dau and his wife Marilyn—whom he met while stationed in the Navy in California—moved to Los Angeles in 1966, where he took a job as an associate with the firm of O'Melveny & Myers. He was elevated to partner at the firm in 1974, and remained there until his 1995 appointment to the bench by then-Gov. Pete Wilson.
During his time at the firm, he handled litigation involving airport noise, class actions, insurance coverage issues and environmental law, and headed the firm's environmental law practice group from 1991 until he left.
Passed Over
Despite Dau's service by assignment on the Court of Appeal, then-Gov. Gray Davis reportedly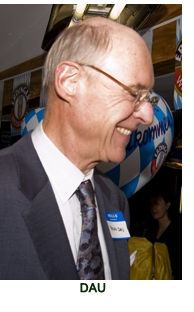 expressed privately a disinclination to appoint him to a vacant position on the court when the jurist's name was submitted in 2000. News reports at the time cited negative reviews Dau had drawn as a result of his temperament.
However Hastings, who retired in 2006, recalls of Dau that, "when he was sitting with us…he was a total gentleman."
Hastings cautions that he never appeared before Dau personally, and that he is aware of reports that Dau can be short with attorneys. But Hastings maintains that he had "no direct experience like those alleged," and that he does not recall Dau "doing anything off base."
Instead, Hastings comments that the candidate was always "very collegial," and that he was "very deliberate, researched diligently, read the briefs [and] understood the issues."
Hastings comments that he can "maybe understand" where some of the criticism comes from because, he says, if Dau thinks he's right, he will challenge an attorney to determine whether the attorney understands the facts correctly and "knows what he [or she] is doing."
But, Hastings adds, "I did that too," explaining that he usually did so in an attempt to make sure that he understood what the attorneys were actually arguing.
'Smart Cookie'
Los Angeles attorney Thomas V. Girardi, of Girardi & Keese, calls Dau a "smart cookie," and says that the judge "truly studies matters, maybe more carefully than any other judge."
Girardi acknowledges that Dau has a "more conservative bent," but he stresses that Dau is "massively honest" with "great integrity."
He comments that he does not think Dau is rude to lawyers who are prepared, remarking that attorneys who come before the jurist with their cases, arguments and papers in order are "warmly received."
Instead, Girardi says, Dau only gets "cranky" when people are "out of line."
"He plays by the rules, and he expects others to play by them," Girardi remarks.
Attorney Yolanda Orozco, of Jones Day, appeared before Dau in a 2004 workers' compensation case, and says that he was "very respectful" in his interaction with attorneys and that she "never got a negative vibe" from him.
Orozco, who successfully persuaded Dau to reverse an arbitration award, comments that the case presented "somewhat tricky" issues, and that Dau was a "very good judge," characterizing him as "well prepared…, very smart and decisive."
Low-Profile Campaign
Dau has retained Fred Huebscher as his campaign consultant. However, although both Dau and his opponent have each spent more than $125,000, most of that has gone towards candidate statements and campaign literature.
In campaign reports filed with the Registrar-Recorder's Office, Dau reported contributions of nearly $117,000 between Jan 1 and May 17 of this year. The amount—$88,000 of which was raised in the last two months—comes mostly from attorneys at Dau's former firm and other judges, and is in addition to the approximately $85,000 the jurist reported spending from his own funds for a candidate statement.
Dau also reported additional expenditures of almost $76,000, including $60,000 on mailings, leaving him with a bigger war chest than Singer, who has spent almost all of the approximately $128,000 she reported raising during the same period.
Party Endorsement
In addition to editorial endorsements, Dau has also been endorsed by the Los Angeles County Democratic Party, which represents the official endorsement of the state party. He has reportedly also been endorsed by Los Angeles District Attorney Steve Cooley, Los Angeles County Sheriff Lee Baca, and former California Attorney General John Van de Kamp.
Dau has declined to speak directly with the MetNews regarding his campaign, but he has posted the following statement on the League of Women Voters' "Smartvoter.org" website.
"I have served as a Superior Court Judge for 12+ years, presiding over 150+ criminal, civil, and probate trials, as well as managing a 300-case calendar, and deciding thousands of motions. Numerous appellate decisions affirm the quality of my decisions. The Los Angeles Daily Journal reported in its 1/5/06 edition that attorneys praise my integrity, thoroughness, painstaking research, graciousness, intelligence, and sense of humor."
______________________________
SYDNEE R. SINGER
Attorney Mounting Effort Says She Would Have 'Better Style'
Redondo Beach attorney Sydnee R. Singer's campaign strategy is novel, in that she has challenged a sitting superior court judge but will not say why voters should not return him to office.
The only candidate in the county challenging an incumbent judge in the June 3 primary, Singer says that the purpose of her campaign is not to argue for Superior Court Judge Ralph W. Dau's removal or replacement, but rather to point out that she can do a "better job."
"My feeling is that I can offer something more to the citizens," she comments.
To that end, she promotes herself as having a "better style" and a "different perspective," and she declines to engage in any direct criticism of the jurist.
Sole Practitioner
Singer, 52, opened her own practice in 2007 after spending nine years at Bragg & Kuluva, a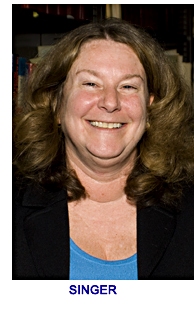 downtown Los Angeles firm which does defense work for insureds of the Chubb Group. She had previously worked at Murchison & Cumming, and before that at Howarth & Smith.
A graduate of Indiana University School of Law, Singer majored in music during college at the University of Miami where she later also earned masters' degrees in music and in business administration.
She relates that she came to California to work in the entertainment industry and that, in addition to being admitted to the State Bar of California in 1988, she is also licensed to practice in the State of Illinois.
Singer has not pursued appointment to judicial office, she remarks, because "it would be an honor to be elected." Instead, she reflects, she has been preparing to run since opening her own practice, and indicates that she targeted Dau in part because of an experience she had practicing in his court several years ago.
"I believe in respecting counsel and in being candid," she says, contrasting herself with the incumbent.
Multiple Races
Singer initially took out papers to run in several open judicial races, but discloses that she ultimately chose to challenge a sitting judge because she thought an open seat would be more difficult to win in an election.
If elected, she says that her judicial style would be "very different" from Dau's, and cites Los Angeles Superior Court Judges Edward Ferns and Rolf M. Treu as examples of jurists whose styles she would emulate.
Singer notes that a good judge needs to be bright and know the law; able to resolve cases quickly, amicably, efficiently, economically and in the best interests of justice; a mentor to young lawyers; and respectful towards attorneys and open to their arguments.
She demurs when asked which of these characteristics Dau lacks, but comments that her style would be to try to get people to work together to resolve issues, and to rely more on the attorneys who know the clients and facts of a particular case, rather than on her own prior decisions.
Although Singer makes a point of emphasizing that her challenge to Dau is not based on any "bad experience," she acknowledges that, in her case, she thought he made resolving issues "more difficult," and that she was not sure he was able to comprehend the "idiosyncrasies of the case."
Volunteer Activity
Singer is a member of the American Board of Trial Advocates, and was named volunteer of the year by the Los Angeles County Probation Department in 1992 for her work with the Juvenile Justice Committee through the Barristers and Constitutional Rights Foundation. She has also served as a volunteer mediator and arbitrator for the Los Angeles Superior Court, and a volunteer with AIDS Project L.A.
She will appear on the June 3 primary ballot as "trial attorney," and has been rated "qualified" by the Los Angeles County Bar Association's Judicial Elections Evaluation Committee.
Singer maintains a website which states her campaign slogan, "A vote for Singer will be music to your ears." Soliciting donations, it further advises viewers that "Your money will be put to good use in this hotly contested election!!"
However, even though Singer has spent some $126,000 on a candidate statement, campaign mailings and "campaign paraphernalia" in comparison to Dau's approximately $160,000, it remains unclear whether this characterization is accurate.
Singer was spotted last weekend in a booth at the Fiesta Hermosa street fair in Hermosa Beach handing out "Singer for Judge" fans to passers-by, but has not otherwise maintained a high-profile campaign.
She reported raising over $128,000 between Jan. 1 and May 17 in campaign reports filed with the Los Angeles County Registrar-Recorder's Office, but this amount includes $79,000 in contributions and loans from Singer herself, as well as $43,000 in contributions and loans from Deborah Lindberg, a banker with whom Singer shares a Redondo Beach address.
Her expenditures—which include over $80,000 on a candidate statement and $35,000 on literature and mailings—have nearly exhausted this amount.
Dau, in contrast, paid for his campaign statement from his own funds, and reports having spent $76,000 of the $117,000 in contributions he has received from others during the same period.
Scant Endorsements
The only endorsement Singer lists on her campaign website is that of the San Fernando Valley National Organization of Women, although the website also contains testimonials from attorneys Lori Serota and Jeri E. Tabback, and from Alexis Fishman, an insurance broker. Of the three, only Serota specifically recommends a vote in Singer's favor.
Nevertheless, other attorneys who have served as opposing counsel to Singer tell the MetNews that they regard her highly.
Los Angeles attorney Steven D. Archer, of Robins, Kaplan, Miller & Ciresi L.L.P., tried a dangerous condition case against Singer, which she won. He recalls that, in addition to being "very thorough" and a hard worker, she was "nice and personable, very responsive to witnesses and a good advocate."
Commenting that his vote is "not an easy [one]" to obtain, Archer reflects that "many times there's an impression that defense lawyers only work during the day, and don't continue working at night," but he says that Singer does not meet this description.
"She's smart, works hard…, will give a fair hearing [and] well-thought decisions," he comments.
Calabasas attorney Mark D. Apelian, of Bryman & Apelian, faced off against Singer in another dangerous condition suit and recounts that she told him she started her own practice because of a disagreement with other members of her previous firm during that case over whether they were providing him with a fair evaluation.
Saying the experience left him with the impression that Singer is "fair and honest," Apelian remarks, "she would be a good judge."
Copyright 2008, Metropolitan News Company