Wednesday, May 7, 2008
Page 6
JUDICIAL ELECTIONS: Los Angeles Superior Court Office No. 84
Four Candidates, All Rated 'Not Qualified,' Battle It Out
All four of the contenders for Los Angeles Superior Court Office No. 84, an open seat, have been proclaimed "not qualified" by the Los Angeles County Bar Assn. The candidates and their ballot designations are Pat Connolly, "Criminal Gang Prosecutor"; John "Johnny" Gutierrez, "Administrative Law Judge"; Bob Henry, "Prosecutor Deputy Attorney-General"; and Lori-Ann C. Jones, "Superior Court Commissioner."
They will compete for the seat presently held by Judge Gibson Lee, who opted not to run to succeed himself.
PAT CONNOLLY
Aggressive Prosecutor Acknowledges He's 'Pugnacious'
Flashback to Feb. 20, 1959: amateur boxer Pat Connolly of Arcadia is a contender at the Hollywood Legion Stadium in the 14th annual Southern California Golden Gloves Tournament. As the Los Angeles Times would recount the next morning, "[t]he crowd of 4,200…went nearly bezerk during the lightweight final" in which Connolly "outslugged" his "roughhouse" opponent, gaining the championship in his division, and capturing the trophy as "Outstanding Fighter."
That Pat Connolly is the father of Los Angeles Deputy District Attorney Patrick E. Connolly, 43, who is listed on the ballot in the June 3 primary election under the same shortened name his father used. The candidate Pat Connolly, like his father, is a fighter—though in the son's case, it's in the legal arena rather than the ring.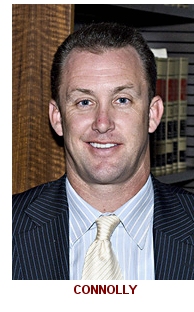 As a deputy district attorney, he slugs hard in court; he's not known to hit below the belt. The controversy surrounding him stems not from what he does in courtrooms, but from his conduct outside of court, his colleagues sometimes being the recipients of his verbal blows.
He has a reputation for picking fights.
"There may be personality clashes," Connolly readily acknowledges.
Many, on the other hand, find him personable and delightful.
He has strong supporters and strong detractors. As to that proposition, Connolly responds: "No doubt about it."
Qualities no one seems to attribute to him are being a wimp, a liar…or a diplomat.
It is not in doubt that he has a knack for convincing juries and gaining convictions. His performance evaluations through the years have been exemplary.
One person in office management opines that despite his having brought in "notable victories," Connolly is "not an all-around good [deputy] DA," observing that he "does have a temper" which "goes with kind of a pugnacious style."
Is he pugnacious?
"I'd like to think so," Connolly responds.
Is that good?
"I think so."
Why?
"Well, I take 'pugnacious' to be that I go forward, undaunted, against great odds."
With respect to his controversial image within the office, Connolly says:
"I think I've got very strong opinions and I think when I'm asked, I'm honest about them and I think that causes a lot of people, especially within the setting of the bureaucracy that we have, some issues."
Anti-Garcetti Website
Controversy is not something he shuns. As a deputy district attorney in 2000, he openly opposed reelection of his boss, District Attorney Gil Garcetti. In February of that year, he launched an anti-Garcetti website, "gilgarcetti.com."
A Feb. 20 Daily News report says:
"The site features a number of old accusations against Garcetti as well as some timeworn jokes, but also serves as an indication of some of the problems he faces within his own organization.
"'It is my hope that this Web site will be both entertaining and informative,' Connolly writes on his page.`"
Connolly now explains his antagonism to Garcetti by noting that he was passed over for promotion under his administration "for a long time," and says this just might be tied the fact that his father endorsed Garcetti's 1996 challenger, John Lynch. His father, he notes, was then chief of police in Chino and was a former chief of the police force in Huntington Park.
(As a prosecutor, Connolly is said to have a close relationship with police departments, boosting his effectiveness in garnering needed evidence.)
Within days of Steve Cooley trouncing Garcetti at the polls in the general election, Connolly posted on his website:
"The voters have spoken. It's over. Gil Garcetti has been defeated and our job is done….
"…I'd like to say congratulations to Steve Cooley. Mr. Cooley is going to make a great D.A. and the citizens of Los Angeles County can sleep well knowing that justice is in the hands of this honorable man for the next four years."
Resigns, Then Returns
While Connolly might have anticipated an upward path for him during the administration of the man he fought to have elected, such was not to be. Circumstances caused him to put on the gloves in 2001 with one of Cooley's lieutenants, then-Assistant District Attorney Peter Bozanich (since retired).
"We did not see eye to eye on how to try a certain case," Connolly recounts. The case involved the killing of a police officer in Connolly's bailiwick, Long Beach.
Connolly says that within 15 minutes of his confrontation with Bozanich, he filled out resignation papers. He explains:
"[B]asically, what caused my resignation, in a nutshell, was that I was told that I was a 'cowboy.' "
He says he understood that to mean "that I do not follow the orders of the office and will do things my own way."
Connolly also says he inferred that Bozanich was questioning his integrity.
Hearsay recitations of that confrontation within the District Attorney's Office commonly include attribution to Connolly of a particular phrase of a crude nature supposedly directed to Bozanich. Connolly disclaims use of that precise phrase, but says that "there was profanity" employed by him, adding: "I curse like a sailor."
After leaving the District Attorney's Office, Connolly says, he "coached football and traveled."
Was he out of work?
"Yes," he responds.
He gained reemployment by the office the next year. As Connolly recites it:
"Well, I missed it, and I spoke with Steve [Cooley], and I came back."
Cooley has endorsed Connolly (as well as all of the other deputies in his office seeking election this year as judges) although it is generally understood that Connolly has privately voiced criticisms of the way the office is being handled. Connolly says, simply: "Hey, look, I think Steve's a good guy."
Tevrizian Censures Him
Connolly in June, 2004 drew a rebuke from then-U.S. District Court Judge Dickran Tevrizian of the Central District of California (since retired).
On Dec. 27, 2002, Tevrizian had granted a petition for writ of habeas corpus to Thomas L. Goldstein, who had been convicted of a 1979 murder. Since then, one of the two key witnesses against him had recanted his testimony and it had emerged that the other, a jailhouse informer, had made a deal for a lighter sentence by virtue of testifying.
The Ninth U.S. Circuit Court of Appeals on Dec. 4, 2003 affirmed Tevrizian, and said: "We...ORDER respondent [the prison warden] to release petitioner Goldstein from custody."
The prison did not release Goldstein, however, instead turning him over to local authorities. Connolly on Dec. 15, 2004, had filed a "detainer," requiring continued incarceration of Goldstein in expectation of new charges being filed.
Goldstein was eventually released in April on orders of a Los Angeles Superior Court judge.
In June, Tevrizian issued an order declaring: "This court condemns and censors" Connolly and another deputy district attorney, Ann Ingalls, "for their cavalier attitude, ethical amnesia and questionable conduct in issuing a detainer that did not comply with" the state Penal Code.
Connolly says he was never served with a copy of the order, hasn't read it, and isn't curious enough to secure a copy.
He and Ingalls were among several sued by Goldstein in December, 2004. The Office of District Attorney at that time issued a statement saying that the two lawyers' "actions were fully supported by the law and were properly undertaken when reviewing whether or not to proceed with retrial of a murder case."
Connolly says they have since been dismissed from the action.
(The U.S. Supreme Court agreed last month to decide if absolute immunity applies to the actions of then-District Attorney John Van de Kamp in connection with the use by his office of a jailhouse informer.)
Connolly, a graduate of the University of San Diego, School of Law, has no campaign website. On the League of Women Voters' "Smart Voter" website, he lists only one endorser: Cooley, who also endorses Los Angeles Superior Court Commissioner Lori-Ann C. Jones, who is in the same contest.
______________________________
LORI-ANN C. JONES
Commissioner Plagued by Unfavorable Perceptions of Her By PD's Office
Lori-Ann C. Jones is making her second election bid for the Los Angeles Superior Court. Four years ago, she ran as a deputy district attorney, made it into a run-off, but lost to then-Deputy Attorney General Gus Gomez by 3.1 percentage points.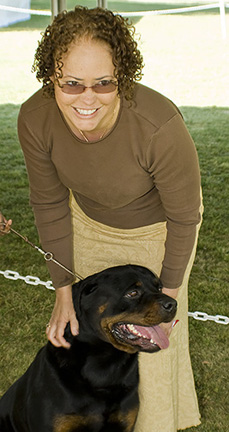 This year, she is running as a Los Angeles Superior Court commissioner—a post to which the judges elected her two years ago—and, since her last run, has gained maturity, composure and some gray hairs.
Jones says she is adapting to her new role…but, it would seem, not at a pace fast enough to satisfy critics. There are enough of those who assail her competence that the Los Angeles County Bar Assn. has rated her "not qualified."
Disparagement of Jones' performance does not come from the judges. One judge in a supervisory role lauds her as a "hard-working, exceptional commissioner," and another terms her "very good, bright."
Bad-mouthing does emanate from the Public Defender's Office. One management level attorney there terms her sentences to be "way out of line with everyone else's," such as her meting out a 9-month sentence, with probation, where the norm was 30-90 days for the same offense. The detractor goes on to relate:
"At one point, we refused to stipulate to her as a commissioner. They put her in traffic [court]. We got calls from clerks."
The purpose of the calls, he says, was to alert them that defendants, including those who had committed such offenses as jaywalking, were being sent off to jail.
Jones was "very jail happy," he says, recounting that she would have minor traffic offenders jailed if they could not put up excessive bail and caused violators who had been put on probation to be taken into custody if they did "not pay their complete fine on time."
Until persuaded that it was unlawful to do so, Jones "tried to use contempt for not paying a fine," he recites.
He says that when Jones was a prosecutor, she was "dogmatic and unsympathetic" and would not consider evidence favorable to the defense.
"Her desire to win overrode any sense of fairness," the attorney asserts.
Some aggressive prosecutors, when they ascend to the bench, are said to bend over backwards in favor of the criminal defendant. Jones is not seen as following any such pattern.
A knowledgeable source says that when she was a prosecutor, her counterparts in the Public Defender's Office "didn't trust her" and perceived that she sought sentences entailing "more time than the maximum allowable."
Her antagonists point to the Court of Appeal's decision in 2006 in People v. Woods, 146 Cal.App.4th 106, which finds prosecutorial misconduct on Jones' part, and reverses the defendant's drug conviction on that basis. The opinion, by Justice Paul Boland (since deceased) says there was a "clear effort" on her part "to obstruct" the accused's "presentation of a defense." The opinion says she engaged in "improperly vouching for her witnesses, arguing matters outside of the evidence, imposing a burden of proof or persuasion upon appellant, and denigrating defense counsel," and draws the conclusion that "it is entirely reasonable to conclude that Jones's misconduct may have played a role in appellant's conviction." The opinion also says she intimidated a potential defense witness into not testifying.
When interviewed four years ago, Jones described herself as "pretty law-and-order," noting that her father was a career member of the Los Angeles School Police Department.
Management in the District Attorney's Office remembers her as a "good journeyman deputy district attorney."
Jones Responds
The candidate reacts to criticism from the Public Defender's Office by saying that "[j]udges aren't always going to make people happy," and notes that "some [deputy] DAs have been unhappy" with rulings she's made.
"I did one occasion—once" have a man taken into custody "for not paying a fine," Jones recalls, remarking:
"The PDs in the courtroom turned green."
The commissioner recounts that she was shown the code section that bars such an action, and she relented.
"From time to time, traffic offenders would go into custody," she says.
Jones points out that she became a judicial officer "fresh from 17 years in the DA's Office." She reflects that it is "a difficult transition to go from having the mindset of a prosecutor" to that of a jurist.
"I wear a completely different hat [now]—and it's taken two years to get that hat adjusted just right," she comments.
Jones makes no apologies for her conduct as a deputy district attorney.
As a prosecutor, she was "hard-pounding, aggressive," she acknowledges, pointing out that Los Angeles County Public Defender Michael Judge "certainly wasn't signing my paychecks."
Jones draws attention to her endorsement by Los Angeles County District Attorney Steve Cooley, and discloses:
"It was Steve's recommendation that I get into the race….I respect Steve's input, so I decided to run."
Other Endorsements
Jones' other endorsements include those of the Los Angeles County Democratic Central Committee, Democratic Party of the San Fernando Valley, Democrats of the High Desert, Democrats of Pasadena Foothills, Democratic Women of the San Fernando Valley, Hubert H. Humphrey Democratic Club (Cerritos), New Frontier Democratic Club, Northeast Democratic Club of Los Angeles, Stonewall Democratic Club, Southern California Americans for Democratic Action, and the West Los Angeles Democratic Club Executive Board.
Two community leaders are listed on her campaign website as endorsing her: Marilyn Grunwald, vice chair of the California Democratic Party Disabilities Caucus, and Darren Parker, chair of the Los Angeles County Democratic Party African American Caucus.
Jones is represented by Evelyn Jerome Alexander who has been campaign consultant to other judicial candidates—including Donna Groman, elected to the Superior Court four years ago—who have ballyhooed their Democratic Party support.
The Democratic County Central Committee's filtering committee interviewed Jones and two of her competitors, Deputy Attorney General Bob Henry and Workers Compensation Judge John Gutierrez, and selected Jones by a vote of 8-3. Only Democrats were eligible for endorsement.
Jones' Background
Jones, 46, obtained her undergraduate degree from Loyola Marymount University and her law degree from McGeorge School of Law in Sacramento.
She owns a champion Rottweiler named Eli. She showed him in February at the Westminster Kennel Club Dog Show at Madison Square Garden—the nation's premier dog competition event. "The judge liked another dog better than mine," Jones bemoans.
Divorced, she is the mother of a 10-year-old boy, Christian, who tells why he thinks his mother should be elected to a judgeship:
"Because she's very attractive."
______________________________
JOHN "JOHNNY" GUTIERREZ
Administrative Law Judge Wages Fourth Campaign for Superior Court
"John 'Johnny' Gutierrez" is the way the workers compensation judge who has lost three previous contests for the Los Angeles Superior Court is listed on the June 3 ballot.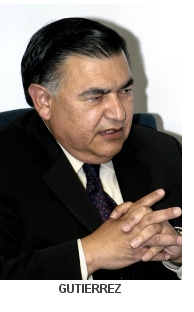 Gutierrez, who pulled a "qualified" rating by the Los Angeles County Bar Assn. when he ran in 2002, 2004, and 2006, is branded this time as "not qualified."
He supplied no information to LACBA and has no campaign website. Minimal information was supplied by him to the League of Women Voters. Gutierrez, who presides over administrative hearings conducted in hearing rooms, claims in response to a question from the League that "I regularly handle the most complex trials" and refers to his "courtroom."
In 2002, when questioned as to his apparent lack of familiarity with law outside the area of workers compensation, Gutierrez insisted that this would not impede him as a judge of the Superior Court because he could look up the law. "I can read the law just as good as anybody else could," he declared.
Gutierrez received his law degree from San Fernando Valley College of Law in 1978 but did not gain admission to the State Bar until 1983. He acknowledges that he failed the bar exam "four times, maybe five."
After a short stint as a deputy district attorney, Gutierrez went into private practice in 1984. He has been a workers' compensation judge since 1993.
______________________________
BOB HENRY
Deputy Attorney General Runs for Judgeship for Fourth Time
Deputy Attorney General Bob Henry has a campaign website. When a visitor clicks on a tab reading "ENDORSEMENTS," a page comes up. It's blank.
On the League of Women Voters' "Smart Voter" website, Henry has a page; it, likewise, lists no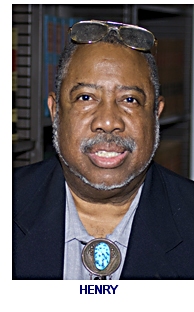 endorsements.
Henry, 59, been a member of the Attorney General's Office since 1974. The 1973 Harvard Law School graduate was named "Deputy of the Year" in 1992 by then-Attorney General Dan Lungren. In recent years, however, his productivity in the office is said to have petered.
In 1992, he ran unsuccessfully for the Los Angeles Superior Court, challenging beleaguered Judge Joyce Karlin (under fire for a sentencing decision). He came in second in a field of four candidates, his showing no doubt bolstered by the endorsement of him by the Los Angeles Times. Karlin (since retired) prevailed in the primary.
Henry was a candidate for the court again in 2004 and 2006, seeking open seats, again losing.
He also ran for the House of Representatives in 1978 and the Assembly in 1982, on each occasion bagging the Democratic nomination, but failing in the general election to topple the Republican incumbent.
Two years ago, he said that if he lost the judicial race that year, he would not run again—but has.
The Los Angeles County Bar Assn. rated Henry "qualified" in 1992, "well qualified" in 2004, "qualified" in 2006, and "not qualified" this time.
Copyright 2008, Metropolitan News Company