Friday, May 2, 2008
Page 4
JUDICIAL ELECTIONS: Los Angeles Superior Court Office No. 154
Deputy Attorney General, Commissioner, Deputy District Attorney Covet Open Seat
Deputy District Attorney Paul "Pablo" Bruguera, Los Angeles Superior Court Commissioner Rocky L. Crabb and Deputy District Attorney Michael V. Jesic are seeking the seat now held by Judge Jack P. Hunt, who says he will retire July 31.
Bruguera, who joined the state Attorney General's Office in 2000 after 19 years of private practice will be designated on the June 3 primary ballot as "California Deputy Attorney-General." Crabb, who was elected commissioner almost three years ago after 25 years of private practice, will be listed as "Superior Court Commissioner." Jesic, a 13-year veteran of the Los Angeles District Attorney's Office, will be decribed as "Criminal Gang Prosecutor."
PAUL "PABLO" BRUGUERA
Longtime Lawyer Runs Minimal Campaign Focused On Experience, Ethnicity
Deputy Attorney General S. Paul "Pablo" Bruguera has decided to highlight his experience and his ethnicity in his second attempt at a seat on the Los Angeles Superior Court.
The son of a Spanish father and a Finnish mother, Bruguera, 51, ran for a seat on the court in 2006, but lost to then-Deputy District Attorney Judith Meyer. Running as "S. Paul Bruguera," he polled only 28 percent of the vote—less than half of Meyer's total—in the three-person race that also included attorney Douglas W. Weitzman.
This year, he says, he will try to double those results by reaching out to more groups, and by appealing to voters who are interested in seeing more diversity on the bench.
One way in which he will do so is by listing his nickname, "Pablo," on the ballot.
Explaining that Pablo "is a nickname that I've had," he says that he will be using it in the election in order to "emphasize that I'm Hispanic and I'm interested in diversity."
Pittsburgh Native
Born in Pittsburgh, Bruguera came to California at the age of four with his parents, who had met in Paris as students at the Sorbonne.
The family settled in Palo Alto, where Bruguera attended high school before coming south to attend Claremont McKenna College, majoring in psychology. He then attended Loyola Law School, graduating in 1981, and was admitted to the State Bar of California that year.
Bruguera joined the Attorney General's Office eight years ago after practicing litigation at the Los Angeles firm of Burke, Williams & Sorensen, which represents many local government entities. His early career included insurance defense work, but in more recent years he has focused on condemnation and land use law.
In his free time, Bruguera says, he is active as an elder in the Presbyterian Church, and has participated in the Los Angeles County Bar Association's mentoring program at Garfield High School.
His wife, Los Angeles Superior Court Judge Soussan G. Bruguera, says he also travels to Mexico every Easter with their two teenage daughters in order to build homes for the less fortunate, and helped to start Loyola Law School's Public Interest Law Society.
Applied for Appointment
Paul Bruguera unsuccessfully applied for a judicial appointment during Gov. Pete Wilson's administration, but says he has not done so since. A registered Republican, he says he was planning to submit another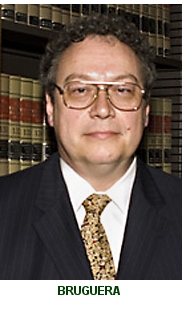 application for appointment to Gov. Arnold Schwarzenegger, but decided to seek a seat by election one "last time," saying he thinks he has a better chance with voters.
In information posted on the League of Women Voters' "Smart Voter" Web site, he lists his priorities, if elected, as being to "Follow the law," to "Efficiently administer justice" and to "Preserve and promote the integrity and independence of the judiciary."
He continues:
"My 26 years of experience as a litigator enables me to fairly and efficiently handle cases. I have been married for 25 years to…Judge Soussan Bruguera who has taught me plenty about being a judge over her 19 years of experience on the bench."
Bruguera was rated "qualified" by the County Bar during his 2006 run. He previously told the MetNews that he "enjoyed the experience" but realized after the fact that he was at a disadvantage in entering the race late and in running against Meyer, who was making her second bid for office after losing to Donna Groman in 2004.
However, this year, as in 2006, he has no consultant and is spending little money on the race, saying that he hopes to win by campaigning.
"Spending money doesn't guarantee a win," he says.
'Laid Back' Style
Bruguera said in 2006 that his approach to campaigning, much like his courtroom style, was "fairly laid back." In keeping with that approach, he maintains no Web site or published list of endorsements for his current campaign.
He has participated with the Los Angeles County Bar Association's Judicial Elections Evaluation Committee, but has not disclosed his tentative rating.
Bruguera's lack of endorsements might be surprising, given his wife's longtime presence on the bench, but he similarly proclaimed no endorsements in 2006.
Instead, he appears to be relying on the strength of his experience, and his nickname.
Both Bruguera and Deputy Attorney General Bob Henry initially took out nomination papers for Office Nos. 84 and 154. Bruguera returned papers only for the latter office, while Henry returned papers only for the former.
The pair acknowledged, prior to the March 7 deadline for returning nomination papers, having spoken to one other, but denied working in common. Bruguera also indicated at that time that he expected to choose Office No. 154 in order to avoid splitting the Hispanic vote with Workers' Compensation Judge John "Johnny" Gutierrez in the race for Office No. 84.
Style Criticized
Bruguera's "laid back" style has drawn criticism from some opposing counsel, including Los Angeles attorney Francesca Brotman-Orner, who found herself up against Bruguera during a case in 2002.
Although Brotman-Orner says that Bruguera was "cordial" and "polite," she says that she felt he did not pursue the case with the "energy or vigor that he could have."
However, she also says that she does not question whether Bruguera has the requisite knowledge and experience to be a good judge, remarking that "he knows how to do the job."
Bruguera also faces controversy over the use of his nickname and his appeal to the Hispanic vote.
In a letter to the editor of the MetNews, Pomona attorney Stuart O'Melveny Jr. summed up the thoughts of some observers when he said "[i]t's disheartening to our democratic system that a person has to resort to calling himself 'Pablo' in order to get votes."
Criticizing Bruguera's use of his nickname in the race as "Cheesy," "Tacky," "Manipulative," and "Pandering," O'Melveny asks, "Whatever happened to running for office based on merit and argument?"
However, Bruguera rejects any suggestion that his use of a nickname on the ballot represents pandering, saying that many voters are interested in ethnicity, and should care to the extent that they want a bench and bar that represent their community.
"It depends on what voters are trying to achieve with their vote," he says, explaining that a focus on ethnicity can be good where it seeks to include certain groups of people, but bad if intended to exclude them.
One Endorsement
Despite Bruguera's lack of proclaimed endorsements, at least one sitting Los Angeles Superior Court judge has gone on record in support of his candidacy: his wife.
The pair met while students at Loyola Law School, and Soussan Bruguera credits her husband with making her courtroom more "lawyer/user-friendly" by allowing her to continue to see things from an attorney's perspective.
She says that he has the "patience, openness and breadth of experience" to be a good judge, and comments that she thinks his "vast knowledge" of the law allows him to see issues from "both sides."
Soussan Bruguera discounts the idea that her husband's greater civil than criminal experience might be a handicap, calling it a "major asset" because she says civil law can be so much more "varied and complicated."
She similarly rejects the possibility that having two sitting judges married to one another could pose problems, noting that other Los Angeles Superior Court judges have been married to one another and that becoming a judge has been her husband's goal for over 20 years.
"He wanted to be a judge before I did," she says.
______________________________
ROCKY L. CRABB
Commissioner Described as Hardworking Seeks to Move Up to Judgeship
Los Angeles Superior Court Commissioner Rocky L. Crabb wants to move up to a judgeship, and is covering all the bases.
He has been a commissioner since November 2005, and had already applied for a judgeship when he was chosen for the post. But while the governor has sent his name to the Commission on Judicial Nominees Evaluation as a possible appointee, a lot of other names have gone to the commission as well.
So when Crabb, 53, learned that Judge Jack Hunt, who like Crabb sits in Pomona, was not planning to run for another term, Crabb threw his hat in the ring as a candidate for Hunt's seat.
Before he became a commissioner, Rocky Crabb—and yes, that's the name on his birth certificate, he affirmed in an interview—had his own practice for 25 years, with offices in Covina or West Covina the whole time. He started out as a commissioner hearing traffic and small claims cases, but now hears a calendar in family law, a field in which he used to practice.
He did criminal defense work during the first 10 years of his practice, but later concentrated on personal injury and business litigation, in addition to matrimonial work.
Solo Practitioner
He started his practice after graduating from Loyola Law School at age 25. He explains that he was single at the time and hoped that his contacts in the East San Gabriel Valley, including lawyers he had clerked for, would enable him to jumpstart a practice and they did.
Among those lawyers were Dan T. Oki, now a Los Angeles Superior Court judge, and Eugene Osko, who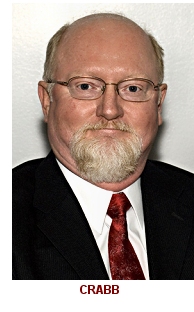 became a Citrus Municipal Court judge and now practices in Glendora.
Crabb's path to the bench was not a particularly easy one, he explains, because he grew up in a family with "a strong work ethic" but not a lot of money. He worked at Kaiser Steel in Fontana to pay for college.
Because the workforce was unionized, he explains, he "made as much money as my dad." And working the graveyard shift enabled him to attend Riverside Community College in the mornings before he had enough money to go on to UC Santa Barbara and Loyola Law School.
He was active in the Eastern Bar Association and trial lawyers' groups before going on the beach, as well as in local civic activities, including youth sports. He is married to a teacher and is the father of two children.
His long years of practice gave him a good idea of the kind of judge he wanted to be, he says, and sitting in family law has put that to the test. While the passions of the lawyers and litigants may get heated, he says, he keeps his own emotions under control.
What complicates family law is that many of the litigants are unrepresented, which means that "bench officers have to be a lot more forgiving," he says.
"I can feel my blood pressure rising" at times, he acknowledges, "but I never verbalize it." It is important to him that the lawyers and parties go away thinking that "even if I had a bad result, at least I had a fair hearing," he explains.
Thomas Brayton, a certified family law specialist who practices with Jones & Brayton in Claremont, says Crabb succeeds on that score.
"I like him very much," Brayton says. "He reads the material that you file in advance, he's willing to listen to arguments, and he does a good job of researching the law."
Brayton, who says of his exerience with Crabb when the two were on opposite sides as counsel was that the commissioner was "reasonable to work with, knowledgeable, and fair," says that, as a bench officer, Crabb makes decisions that "are always reasonable."
Crabb, who last month reported loaning $25,000 to his campaign and raising another $20,000, says he is prepared to put as much as $150,000 of his own funds into the campaign.
His campaign has drawn endorsements and contributions from other judicial officers in the East District.
"I'm very supportive of him," Judge Robert Dukes says. "From all of the feedback I get from the attorneys out here, they just think the world of him, and when he was a lawyer, he was considered 'top quality.'"
'Varied Practice Experience'
Another advantage Crabb would have as a judge is that "you can assign him just about anywhere" because of his long and varied practice experience, Dukes—the Superior Court's presiding judge in 2003 and 2004—commented.
Hunt says he encouraged Crabb to run for the seat because he has "known Rocky for a lot of years," and agrees with Dukes that the commissioner is highly valued by lawyers. He says Crabb always did a good job as a lawyer, and adds that he is popular with court staff.
Another thing about Crabb, Hunt says, is that "his word is his bond." He is universally trusted, and lawyers never refuse to stipulate to his hearing their cases, Hunt, himself a former commissioner, comments.
Commissioner H. Don Christian, who shares the district's family law calendar with Crabb and Judge Susan Lopez-Giss, has known Crabb for over 20 years and both litigated against him and referred clients to him when they were both in private practice.
He says of Crabb:
"This gentleman has my complete endorsement…. He is highly intelligent, well informed on the law, and has an excellent background in civil law and family law."
Christian also describes Crabb as "one hardworking commissioner, always on the bench or in chambers working on his files, making his notes on the cases." He was also like that as an attorney, Christian says, where he "excelled in discovery…and made you earn your fee" if you were on the other side.
______________________________
MICHAEL V. JESIC
Deputy District Attorney Seeks Judgeship Touting Criminal Law Experience
If elected to the Los Angeles Superior Court, Deputy District Attorney Michael V. Jesic would not be the first judge in his family, but he would be the first American one.
The son of immigrants from the former Socialist Federal Republic of Yugoslavia, where he says his paternal grandfather and one of his maternal great-grandfathers were judges, the latter on the country's Supreme Court, Jesic, 39, says that he grew up facing high expectations from his family.
So when he graduated from California State University, Northridge in 1992, Jesic says he did not celebrate as much as his peers because he knew he would be going back to school to obtain his law degree at the end of the summer.
Three years later, he was a graduate of Pepperdine University School of Law, a newly admitted member of the State Bar of California, and a rookie prosecutor with the Los Angeles County District Attorney's Office.
Yugoslavian Immigrant
Jesic was born in Belgrade, and came to the United States before he turned one year old, living first in Denver and then Hawaii before his family settled in Encino when he was eight.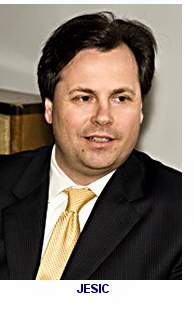 Now a 13-year veteran of the District Attorney's Office, he serves as a calendar deputy in the courtroom of Superior Court Judge Peter Espinoza, assistant supervising judge of the criminal departments in the Central District.
Prior to his current assignment, Jesic spent six and a half of his years with the office in its Hardcore Gang Division, and he will be listed on the ballot as "Criminal Gang Prosecutor," even though his current duties are not limited to prosecuting gang members.
A supporter of one of his opponents, Superior Court Commissioner Rocky L. Crabb, had disputed the designation, suing to force removal of the word "Gang" based on the undisputed fact that Jesic left the Hardcore Gang Unit 18 months ago.
However, in a hearing before Superior Court Judge James C. Chalfant, Jesic explained that overseeing the assistant supervising judge's calendar involved only about two hours a day of his time, and that the remainder was devoted to trying and preparing cases assigned to him because of his expertise in gang-related homicide prosecutions. He also told the court that he was currently prosecuting four special-circumstance murder cases, three of which involved gang violence.
Concluding that Jesic held a "hybrid position," Chalfant ruled that allowing him to use the ballot designation would neither mislead voters nor violate state election law.
Never Sought Appointment
Jesic is a first-time candidate and a registered Republican who says he has never sought appointment to the bench. Describing himself as fiscally Republican, but socially Democratic, he says he always thought that there were so many open seats that he would have a "decent shot" at taking the bench via election.
He has not hired a consultant, and says that he will be relying on a group of friends who have become judges to act as his de facto consultants.
Jesic says that his campaign strategy is to seek endorsement from as many bar associations and law enforcement agencies as possible. To that end, he has obtained the endorsements of Los Angeles County District Attorney Steve Cooley, Los Angeles County Supervisor Michael D. Antonovich, and Los Angeles City Councilman Dennis P. Zine; 30 sitting Los Angeles Superior Court judges; law enforcement and victims' rights associations; a labor organization; and local elected officials.
He says that the Los Angeles County Bar Association has advised him that its Judicial Elections Evaluation Committee has tentatively rated him "well qualified" for the position. As Jesic says he has no plans to appeal, it will automatically become his final rating.
Jesic has also been endorsed by the Los Angeles Times, and has joined with seven other deputy district attorneys seeking seats on the Los Angeles Superior Court in other races—Serena Murillo, Hilleri Merritt, Thomas Rubinson, Michael O'Gara, Lance Winters, Jared Moses and Kathleen Blanchard—to cross-endorse one another in their respective races.
Judicial Priorities
In information posted on the League of Women Voters' Smartvoter Web site, Jesic says that his priorities as a judge would be to "make sure that everyone who comes to court feels confident that they received justice…. treat everyone who comes into court with fairness and compassion…[and] protect our community from violent criminals, so that our families can feel safe."
If elected, he says he would model himself after judges such as Los Angeles Superior Court Judge Steven Van Sicklen, whom Jesic praises for always giving each side an opportunity to be heard and recognizing that it is "more important [for a judge] to be right than fast."
Saying that judges need to be able to recognize violent criminals who "need to be dealt with," Jesic also lauds the judicial styles of Espinoza, and Los Angeles Superior Court Judges Darlene E. Schempp and Michael E. Pastor, who have joined Van Sicklen in endorsing him.
Jesic is married with one son, and is not a member of any bar organizations. He judges moot court competitions at Pepperdine, and says that he is active in the American Society for the Prevention of Cruelty to Animals with his wife—they met in college when they both worked at a pet adoption day—and in his church and the Serbian community.
He says that voters should elect him over his opponents because of his courtroom experience, noting that he has been in court almost every day for the last 12 years.
Jesic acknowledges that Crabb—who hears family law cases—has experience on the bench, but says that the court's "greater need" is for jurists with criminal experience, making him the better candidate.
He says that the proudest moment of his career was when he took over a case and—after being presented with evidence calling into question whether they had the right defendant—reinvestigated the entire case and dismissed it when he became convinced they did not.
Defense counsel on that case, Los Angeles Deputy Public Defender Gail M. Bristo, says that she might have been more wary of turning the information over to a different prosecutor, but did so to Jesic because she trusted him.
"He has a lot of integrity," she remarks.
Praised by Opponents
Jesic also says that while his job can be contentious, he never takes it personally.
Encino attorney James E. Blatt, who has served as opposing counsel to Jesic "over 20 times," confirms this assessment, calling Jesic not only the "most formidable" prosecutor he has encountered, but also the "most ethical" and "most pleasant."
"He has a wonderful reputation for fairness to both sides," Blatt says. "He has an outstanding demeanor in the courtroom, is very professional, has a good sense of humor and is always well prepared."
Saying that Jesic is "far above average," and that Jesic "understands that the integrity of the court is based on the public's impression that it is fair," Blatt says that there is no question in his mind that Jesic would be "an outstanding judge."
Van Nuys attorney Curt V. Leftwich, who has practiced opposite Jesic in gang-related cases, echoed these sentiments.
Noting what he characterized as Jesic's honesty and straightforwardness, Leftwich comments that Jesic can be "tough but fair," but also that Jesic "doesn't have a mean bone in his body."
Copyright 2008, Metropolitan News Company