Monday, March 31, 2008
Page 5
JUDICIAL ELECTION: Los Angeles Superior Court Office No. 119
Deputy District Attorney, Unemployed Bar Member, Private Practitioner Vie for Seat
A 14-year deputy district attorney is in a Superior Court race against two attorneys who both ran two years ago and were found not qualified by the Los Angeles County Bar Association at that time. The three are seeking to replace Los Angeles Superior Court Judge Dzintra Janavs, who retired March 20.
Jared D. Moses, a deputy district attorney who has served in the Hardcore Gang Division, has not run before. He is listed on the ballot as a "Criminal Prosecutor." Robert R. Davenport's designation as "Lieutenant Colonel/Pilot" is facing a legal challenge from Moses. Douglas W. Weitzman is identified as a "Consumer Law Attorney."
JARED D. MOSES
Actor-Turned-Prosecutor Ready for the Role of His Life
Deputy District Attorney Jared D. Moses finally has his chance to play a judge.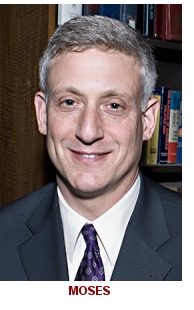 Raised in Evanston, Ill., on the north side of Chicago, Moses, 46, graduated from New York University in New York City in 1983 with a degree in drama and a minor in history, and came to California to pursue an acting career.
However, after seven years, and a number of credits in B-movies and television commercials—where "judge" was never one of his parts—he decided a new career was in order, and enrolled in UC Davis School of Law (King Hall).
Graduating in 1993 and earning admission to the State Bar that year, Moses practiced in civil litigation for one year in San Francisco, but returned to Los Angeles to take a position with the Los Angeles County District Attorney's Office, where he has remained for 14 years.
Moses spent five and a half years in the office's Hardcore Gang Division before accepting his current assignment teaching new hires in the office's Training Division.
Widespread Support
A registered Democrat, he previously sought a judgeship by appointment from Gov. Arnold Schwarzenegger in 2004, but his name was not forwarded to the State Bar Commission on Judicial Nominees Evaluation despite the support of Los Angeles County District Attorney Steve Cooley and 22 sitting Superior Court judges.
Now seeking the post by election, Moses has again secured the support of Cooley, who in a statement posted on Moses' campaign website says that Moses would be "a tremendous asset to the Superior Court bench," given his "extensive courtroom experience, his excellent communication skills, his intellectual ability and his commitment to serving, improving and protecting the community."
He has also received the endorsement of almost 40 sitting Superior Court judges, as well as the endorsements of a number of state and local elected officials and professional organizations.
If elected, Moses says he would seek to conduct himself and run his courtroom in a manner similar to Los Angeles Superior Court Judges Robert J. Perry and William R. Pounders, the latter of whom is one of those who have endorsed him.
He says that he places a strong emphasis on public safety, but stresses an ability to remain impartial, citing instances when he has had no hesitation dismissing cases where serious doubts existed as to a defendant's guilt or evidentiary support was lacking.
Pounders—who has observed Moses in two "very complex" gang trials before him—confirms this assessment, saying that he has "no doubts" as to Moses' ability to be an impartial jurist.
"He is a straight shooter who is not blind to the errors his side can make," Pounders says.
Calling Moses an "excellent" attorney, Pounders says Moses earned his endorsement because Moses is "very calm, very personable, and very knowledgeable," and because he is "so honest and straightforward."
Family Life
In addition to his official duties, Moses volunteers his time to travel around the state to teach and lecture on gang and homicide prosecution. A married father of twin boys who have autism, he also spends his time advocating on behalf of developmentally disabled children.
A member of the Los Angeles County Bar Association and active in its Criminal Justice Section, Moses says that it is important for judges to be involved in the legal community outside the courtroom and, as an official "campaign promise," says that he will become more involved in activities and have more contact with the legal community if elected.
He says he knows that being a judge will be stressful and hard work, but also fulfilling.
"I'm ready for that challenge," he says.
______________________________
ROBERT R. DAVENPORT
Non-Practicing Lawyer Again Seeks Judgeship Despite Disability Claims
Much concerning attorney Robert R. Davenport, 57, is inexplicable—including his quest for the Superior Court bench in light of his resistance in recent years to working in the field of law and his professed impeded talents in the area.
Admitted to the State Bar of California in 1988, Davenport has never practiced law in this state (except as a pro per), and had been on inactive status since Jan. 1, 1989 until last Friday, when his status on the State Bar's Web site was changed to list him as "active."
A sufferer of onychomycosis—a fungal infection which causes his toenails to become opaque, white and brittle which he incurred while serving in the U.S. Navy—Davenport has testified that the medicine he takes for his foot condition causes headaches and difficulty concentrating, diminishing his ability to practice law.
Other aspects to this candidate apt to raise eyebrows are that he has been declared a vexatious litigant, has been arrested for trespass, and put forth as a campaign issue in a previous race for a seat on the court that he was the only Christian running.
Naval Officer
Born Robert Bruce Davenport (he apparently changed his middle name to adopt the middle name of an ancestor), Davenport served on regular active duty with the Navy from 1973-77, followed by inactive duty in the Naval Reserve until 1982 when, according to court documents and military records, he was discharged honorably—but involuntarily—for having twice failed to earn promotion.
Having attended law school at St. John's University School of Law in Queens, N.Y. and gained a license to practice law in New York in 1980, Davenport began his legal career by serving as an attorney with the U.S. Department of Justice from 1979-82.
He also attended Harvard Business School from 1982-84, and then sought vocational rehabilitation benefits from the government over his foot disease in order to finance a master's degree in film arts. The uproar that ensued from resulting litigation later caused Congress to amend federal law defining an "employment handicap" as an impairment "resulting in substantial part from a service-connected disability."
Davenport attended classes at USC and later UCLA, and attained his master's degree in film arts in 1999. He ultimately transitioned into the entertainment industry, taking jobs as an executive vice president, director of business affairs, creative executive, and executive assistant to the chairman, and authoring several books.
Discharged From Army Reserve
Commissioned a judge advocate in the U.S. Army Reserve in 1990, Davenport was discharged in 2002 after a panel of officers found that he failed to advise the Army of his prior discharge and to obtain the waiver required when an officer discharged from another service branch seeks an Army Reserve commission.
The discharge was accompanied by other findings of misconduct and was originally labeled as being "under other than honorable conditions," but was upgraded to honorable by a military review board in 2004.
In 2004, Davenport filed suit in the U.S. District Court for the Central District of California seeking to gain reinstatement in the Navy and contesting his 1982 discharge, but Judge Gary Feess dismissed the action with prejudice based on the expiration of the statute of limitations and later denied an appeal by Davenport, finding it to be in bad faith and frivolous.
Previous Candidacy
Davenport previously ran for a seat on the Los Angeles Superior Court in 2006 with the apparent optimism that he would prevail by choosing as his ballot designation "Retired Judge Advocate" (he had requested a change of his Navy Reserve "designator" from that of "Navy Flight Officer" to "Navy Judge Advocate General's Corps" in 1980, but there is no indication that this occurred).
The Registrar-Recorder's Office, after reportedly consulting the Office of County Counsel, rejected his chosen label, as well as his second choice, "U.S. Judge Advocate," and Davenport eventually appeared on the ballot as "Disabled Veteran/Attorney."
Declining to be interviewed by the MetNews for a profile during that race, he reportedly also refused to meet with the Editorial Board of the Los Angeles Times and declined to participate in the Los Angeles County Bar Association's candidate evaluation process.
Davenport drew a "not qualified" rating from the County Bar, and was defeated in the 2006 primary election by then-Deputy City Attorney Daniel J. Lowenthal, who received 61.75 percent of the vote to Davenport's 38.25 percent.
Running again this year, Davenport sought once again to designate himself as a "Retired Judge Advocate," and then as a "Retired Criminal Prosecutor" when the Registrar-Recorder's Office denied his original request.
The office last week confirmed that it had agreed to allow Davenport to be designated on the 2008 ballot as a "Lieutenant Colonel/Pilot" after Superior Court Judge David P. Yaffe denied his petition for a writ of mandate with respect to his second requested designation.
However, it remains unclear on what basis the registrar determined that the designation reflects Davenport's "profession, vocation, or occupation," as required under Sec. 13107 of the state Elections Code.
Davenport, who last week had no comment on his ballot designation, has again declined to cooperate with the County Bar Association in its evaluation of his fitness for judicial office.
______________________________
DOUGLAS W. WEITZMAN
Candidate Makes Second Run for Superior Court
Douglas W. Weitzman, 52, is making his second run for the Superior Court.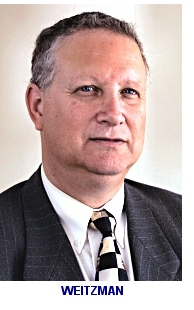 He told the MetNews during his 2006 run that he was seeking election to the court because he had aspired to be a judge ever since he became an attorney in 1980.
But Weitzman—who had no campaign consultant or endorsements, and little in the way of funding—drew a "not qualified" rating from the Los Angeles County Bar Association, and received only 14.51 percent of the vote in the primary election in a three-candidate race against then-Deputy District Attorney Judith L. Meyer and Deputy Attorney General S. Paul Bruguera.
Won't Cooperate
Now seeking election to Office No. 119 as a "Consumer Law Attorney," Weitzman, a graduate of Southwestern University School of Law with a master's degree in tax from USC, has reportedly declined to cooperate with the County Bar in its evaluation of his fitness for judicial office.
Designated a "Corporate Attorney/Professor" on the 2006 ballot, Weitzman told the MetNews at the time that he felt he had a lot to offer as a bench officer after having heard thousands of small claims and traffic cases and arraignment proceedings as a judge pro tem.
However, it was unclear then how much law he had actually been practicing.
A licensed real estate broker for over 25 years, he explained that he practiced law in connection with the brokerage, and that he has some private tax clients as well.
'Professor' Designation
He also said that the "professor" part of his designation referred to his teaching law-related courses at the University of Phoenix, a for-profit institution which bills itself as the nation's largest accredited private university, despite having not taught there in "about a year."
Weitzman's 2006 page on the League of Women Voters' smartvoter.org Web site included in his priorities, if elected, "To be fair, and have the highest integrity."
But he declined, during that election, any comment on a case in which he was sued by Allstate Insurance Company in connection with allegedly staged accidents.
The case, which was ultimately settled, resulted in a published opinion, People ex rel. Allstate Insurance Company v. Weitzman (2003) 107 Cal. App. 4th 534, in which the court held that Weitzman and his co-defendants could be sued on a qui tam theory under the California False Claims Act.
Copyright 2008, Metropolitan News Company