Monday, March 24, 2008
Page 5
JUDICIAL ELECTIONS: Los Angeles Superior Court Office No. 82
Referee Takes on Two Deputy District Attorneys for Open Seat
A Los Angeles Superior Court referee will face two deputy district attorneys in the contest to succeed retired Los Angeles Superior Court Judge Wendell Mortimer Jr.
Deputy District Attorney Thomas Rubinson has the support of Los Angeles County District Attorney Steve Cooley and 40 sitting Superior Court judges, while Referee Cynthia Loo has experience on the bench and expects strong support from the local Asian American community. Deputy District Attorney Mark Lee, who is little known, draws neither overly harsh criticism nor widespread demonstrated support.
Rubinson and Lee will both be designated as "Criminal Prosecutor" on the June 3 primary ballot, while Loo will be listed as "Superior Court Referee."
THOMAS RUBINSON
Criminal Prosecutor Seeks to 'Do Justice' As Bench Officer
Growing up in Florida, Deputy District Attorney Thomas Rubinson says he "always knew" he would become an attorney.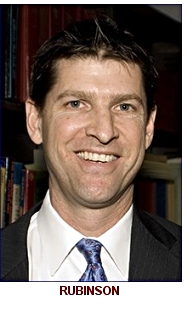 So after graduating cum laude from Duke University in 1986 and working for a year as a staff member on Capitol Hill for then-U.S. Senator Lawton Chiles, D-Fla., he decided it was time to make it happen.
Rubinson came to California and attended UCLA School of Law, where he worked on the school's law review and graduated in 1990. He was admitted to the State Bar of California that year, and also accepted a position with the Los Angeles County District Attorney's Office.
Having now been with the office for 17 years, Rubinson, 43, says he wants to move on and become a judge in order to "do justice."
He previously sought appointment to the bench from Govs. Gray Davis and Arnold Schwarzenegger, but was unsuccessful despite his application being forwarded to the State Bar Commission on Judicial Nominees Evaluation both times.
Limited Negative Feedback
A self-described Democrat who is "not involved in politics," Rubinson says that the only negative feedback he received from the commission was that his offers to settle cases were described as being "too high." He concedes that this might be "a little bit" true, but insists that his offers were never "excessive."
Now seeking a seat on the bench by election, he says that voters should choose him because of the "broad swath" of his experience as a deputy district attorney trying over 200 cases, including 117 juvenile cases.
His most recent experience includes six and a half years with the office's Hardcore Gang Unit, and subsequent supervision and management of newer attorneys in the office as deputy-in-charge of the downtown Preliminary Hearing Unit and office liaison to bench officers overseeing the Early Disposition Program and Drug Court. Since 2005 he has also been a member of the office's Special Circumstances Committee, which shoulders the responsibility of determining whether to seek the death penalty in cases in which special circumstances are alleged.
Rubinson says that, if elected, he would seek to emulate Los Angeles Superior Court Judges Michael E. Pastor, William R. Pounders, Larry Fidler, Sam Ohta and Mark S. Arnold, saying that good judges are those that listen and concentrate, rarely become over-excited, and have "no agenda."
Noting that "the atmosphere and tone of a courtroom emanate from a judge," he also says that judges "don't just rule," but must take charge of and effectively manage their courtrooms.
Rubinson rejects judges who "rule by fear" or who are "afraid to make decisions or disappoint parties" as being ineffective.
"Every case matters," he says, "[and] a judge must set the tone regarding mutual respect. Unreasonable or unfair judges send a message to the community that is very damaging—like a virus."
Rubinson argues that the breadth of his experience makes him more qualified to serve than his opponents, and points out that he has received the endorsement of Los Angeles District Attorney Steve Cooley, as well as 40 sitting Superior Court judges, including the five he would seek to emulate.
He has released to the MetNews copies of his last two performance evaluations which rate his professional skills, application to duties, adaptability, interpersonal relations and supervisory ability as "outstanding," and describe him as an "asset to [the] office." Neither evaluation had any negative comments.
Outside Activities
In his free time, Rubinson is active in the greater Wilshire neighborhood where he resides with his wife and son, and has also traveled nationally and internationally with Habitat for Humanity building homes.
He has also been a member of the Executive Committee of the Criminal Justice Section of the Los Angeles County Bar Association for seven years, and served as the committee chair from 2005-2006.
Arnold, who met Rubinson while serving with him on the committee, calls Rubinson "a leader, rather than a follower," and says that he decided to endorse Rubinson because the latter is "very bright, articulate, level-headed, smart and fair."
He says that the committee's meetings sometimes involved "spirited discussions," but that Rubinson "never lost his cool" and always showed "good common sense and reasoning."
"He is an ideal person to be a judicial officer," Arnold says.
Pastor, who knows Rubinson from the latter's appearances in his courtroom as a calendar deputy, says he endorses Rubinson "unequivocally" and that he is "really impressed" by Rubinson's temperament.
"There is no question that he's a dedicated advocate who has an innate sense of fair play," Pastor says.
______________________________
CYNTHIA LOO
Compassionate Referee Says She's Done Well on Bench, Some Disagree
Los Angeles Superior Court Referee Cynthia Loo cites judicial experience as the advantage she has over her two opponents. She says she expects her experience, coupled with the quality of her performance, to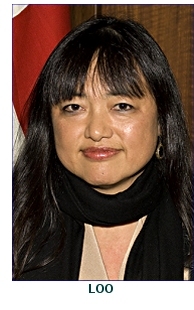 catapult her to an "exceptionally well qualified" rating by the Los Angeles County Bar Assn.
"I've been on the bench for eight years," she notes, adding: "I think I've done exceptionally well."
There are those who share that assessment. There are, however, others—a good number of them—who do not view her performance on the bench in so positive a light, diminishing the prospects of Loo attaining the top ranking she covets from LACBA's Judicial Election Evaluations Committee.
Two of those endorsing her are Judges Rudy Diaz, 2005-2006 supervising judge at the Eastlake Juvenile Courthouse where Loo is stationed, and Christina Hill, the present supervising judge there. Diaz remarks:
"Cynthia always demonstrated high interest in the work in which she was involved. She was very conscientious and showed compassion for the juveniles and their families who came before her in court. Her approach to handling her caseload was to be deliberate and thorough. She was industrious in her work habits and often when finishing her caseload for the day reached out to other judicial officers to assist when they needed help. I don't believe you can find another juvenile judge more committed to solving the problems of the troubled youth who appeared before her.
"She was excellent in her knowledge of the law and judicial temperament.
"I never received complaints about her from either side of counsel table."
Hill comments:
"Referee Loo is hardworking and cares deeply about the children who appear in her court."
Case Management Problem
Another judge who is in a position to form an opinion echoes Hill's evaluation, describing Loo as "a hardworking, caring juvenile court judicial officer," but goes on to question her proficiency when it comes to case management. The judge says her deficiency in that area "could be a reflection of either poor skills in that regard, trying to do too much for kids—which is not necessarily a bad thing except when it impacts the rest of the calendar—or both."
Yet another judge with knowledge of the referee's performance credits Loo with having "a tremendous amount of energy," and describes her as "very, very nice," but says she's "a bit on the goofy side," and comments, in like vein:
"I have the sense she's not serious enough."
A further view from an insider in the criminal justice system is that she is "indecisive, slow on the bench."
Disputing the latter assessment, Loo insists:
"Actually, I believe that I'm very quick. I have a very heavy caseload, and I'm able, because of my experience, to get through it, relatively quickly."
While it is not in doubt that Loo possesses the compassion for the accused youths, pointed to by Diaz, prosecutors complain that she is overly compassionate toward them, favoring their interests over those of victims.
Prosecutor Delineates Shortcomings
One deputy district attorney says: "I'm sometimes horrified by what she does."
According to the prosecutor:
•A defendant in a gang rape case recently drew a year in camp from Loo while a youth in a courtroom down the hall who was found to have committed forcible sodomy "got eight years."
•Where the People seek incarceration, Loo "gets this really pained expression on her face."
•A minor who was charged with an "unimaginably serious crime" and was a "hardened gang member"—but who was "very cute" and looked "sweet"—drew solicitous questioning by Loo along the lines of: "How are you doing? Are you Ok? Are they treating you well at Juvenile Hall?"
•Where there are favorable progress reports, and the People submit, Loo will still take 15 to 20 minutes to chat with the youngster and the parents, asking how the child is doing in school, and such. Her court tends to run until late hours.
•One murder case "dragged on for months" because of Loo's frequent unscheduled absences.
•Loo is "very emotional. She sometimes has to leave the bench and go into chambers because she seems upset." After listing to a victim recount a robbery, "tears came to her eyes."
•She was misusing the power of ordering "deferred entry of judgment," whereby charges are dismissed and records sealed after successful completion of probation. Under Welfare & Institutions Code §791, DEJ may be ordered only "if the minor admits the charges in the petition." Loo was conferring the benefit of the statute even where the offender had forced a trial and the allegations were sustained.
•"It's odd, it's really odd." When it comes to male gang members who commit serious offenses, Loo has "a very hard time sending them to camp." But girls who have a background of being physically and sexually abused, and might be on drugs, are readily "sent to camp" for prostitution, without regard to their status as "victims" of unlawful sex.
•"She's good on ruling on the facts. It's what she does with the facts that's somewhat terrifying."
•"It's like she doesn't recognize that there's a punitive component of juvenile law."
That prosecutor says Loo should be found "not qualified" to be a Superior Court judge.
Crying on Bench
Another deputy district attorney recounts that about a year-and-a-half ago, it was nearing 4:30 when a matter was called, and the defense attorney took her to task for the minor and his family having to wait all day. "In response to that," the prosecutor says, "she started crying."
A nickname for Loo among prosecutors is "Cindy Boo-Hoo." She is said to cry in court, on occasion—such as when she has to commit an offender to the Department of Corrections and Rehabilitation (formerly, the "Youth Authority.")
The image portrayed of Loo by detractors is at odds with that she seeks to project in a 2006 article in California Courts Review, in which she says:
Though the 14-year-old youth was being charged with murder, the boy had a surprised expression on his face when I denied his request to go home. As the boy was led by the bailiff back into lockup, his father left the Compton courtroom weeping. "Next case."
The expressionless way in which I ruled, my practiced calm, had actually started years before when I was an attorney representing abused children in juvenile dependency matters. On one occasion, while I was watching a sheriff's deputy pull my hysterical 8-year-old client from the outstretched arms of her sobbing mother, a prosecutor scornfully asked me, "Why are you crying?"
Ashamed, I promised myself I wasn't going to let that happen again.
Years later, when I was appointed to the juvenile court bench, I consciously sought to model my behavior as contrary to the meek and permissive stereotype of Asian women. I emulated what I thought a judge was supposed to be: strict, intimidating, and authoritative.
(A 2006 article in the Daily Journal says that "Loo's makeup had run from crying" at the Academy Awards presentation when her boyfriend, Hughes Winborne, won an Oscar for film editing.)
Loo says: "I strongly believe that I have never cried while on the bench," but then acknowledges:
"However, it is within the realm of possibility given that I have often felt like weeping inside by many of my cases, especially the first year I was in Compton juvie."
She adds:
"If there are tears by a judge who sits in Juvenile Court I would think it would be because of a concern the system has failed this youth, and a concern that perhaps there could have been something that could have been done to prevent the loss of life. Anyway, this is what I felt when I learned that a youth that I released home on house arrest was killed in a drive-by shooting....I wasn't on the bench when the grandmother came to see me, but it is true I was in the courtroom and hugged her and teared as she shared with me how her grandson was killed. In hindsight I regret not having that conversation with her privately."
Unsuccessfully Seeks Commissionership
The detractors are apparently sufficient in numbers to have blocked Loo's advancement.
During the time that she's served as a referee, Loo has applied three times to become a commissioner, the MetNews learned, each time failing to be found qualified by the 10-judge committee that reviews candidates' credentials.
A referee is hired by the presiding judge of the Juvenile Court or the supervising judge of the Family Law Department, while commissioners are elected by the judges of the court, from the list of certified candidates.
As to why she cannot get on the eligibility list, Loo says: "I wish I knew." She adds:
"[P]rior to getting on the bench I represented children in dependency matters. Those coming from dependency are perceived as being soft. Someone who made it on the Commissioners list suggested that you have to know someone on the committee, and have someone pulling for you. Many years ago it was suggested I try to get a job with the D.A., or the U.S. Attorney's office and then apply. Perhaps they believe I sit around crying all day on the bench! This is all just speculation."
Appears Youthful
Loo is youthful both in appearance and in manner, with 'um' and/or 'ah' cropping up in many of her sentences, the sureness that comes with maturity not yet having been attained by her. At a recent evening bar meeting, she was wearing a short skirt and was clad in patterned nylons, projecting other than a staid image.
"I'm not really young—I'm 44," Loo says.
Born in Los Angeles on March 30, 1963, she earned her bachelor's degree in business administration at USC in 1986. After graduating, she went to work fulltime for A&M Records, where she had been an intern.
Loo recounts:
"In that job, there didn't seem to be any hope for a promotion. I noticed that all the people in upper-management were men and Caucasians...and I just felt that to get where I wanted to go, where I deserved to be, I needed something to help me, and that was going to be a law degree."
She enrolled at the American University in the District of Columbia, but after a year, transferred to the law school at USC. She obtained her degree in 1990, and was admitted to practice June 14, 1991.
Loo spent the next decade representing juveniles in dependency cases.
In 2000, she was hired as a referee by Los Angeles Superior Court Judge Terry Friedman, then presiding judge of the Juvenile Court. On Sept. 4 of that year, she contributed a book review to Amazon.com, beginning the assessment by saying:
"I was recently appointed to the Los Angeles Superior Court, Juvenile Division. On July 3, 2000 I presided over my first case involving a child who allegedly killed another. I can't describe the utter despair I felt reviewing the case, and the thoughts that gnawed at me—could this tragedy have been prevented? I've been almost obsessive, trying to learn more about why kids commit crimes, why they kill…."
That, she says in the review, led her to the book on which she was commenting.
Loo served in Compton from November of 2002 to January of 2005, hearing juvenile criminal matters, and moved to the Eastlake Juvenile Courthouse near the Los Angeles Civic Center in 2005.
Family Life
In 1998, she was married in Las Vegas to Deputy Los Angeles County Counsel Howard M. Haffner, but filed for dissolution of marriage in 2002 in Ventura Superior Court. Their marriage did not produce any children—but, Loo volunteers, she has two cats.
She has two older sisters, both of whom are attorneys: Deputy Los Angeles City Attorney Wendy A. Loo and Sherman Oaks family law practitioner Lori A. Loo. Their father Thomas S. Loo, is a Santa Monica corporate securities lawyer.
Cynthia Loo's father will be loaning her campaign committee $20,000 and her mother will loan it $10,000, Loo says, noting: "Maybe I'll put in $5,000." She remarks she will engage in "a lot of fundraising" and expects to garner $200,000-$250,000.
"I believe I have a large constituency," the referee boasts, noting her extensive involvement in bar activities.
She is a lifetime member of the Southern California Chinese Lawyers Assn, is a member of the governing boards of the Women Lawyers Association of Los Angeles, Asian-Pacific American Women Lawyers Law Alliance, Asian Pacific American Bar Assn., and the California Asian-Pacific American Judges' Association, and chairs the Multicultural Bar Alliance's Diversity on the Bench/Judicial Mentoring program.
Loo also says she is "very well known" in the local Asian American community.
Lowers Expectations
The Malibu Surfside News has reported that Loo is "confident" of winning outright in the primary against her two opponents. However, she now cites a remark to her by a political consultant that she will probably receive 40 percent of the vote on June 3—which still pleases her. The consultant, she says, knew that she had already hired someone else to guide her campaign—Evelyn Jerome Alexander—so "he had no reason to kiss my ass" in prognosticating a large share of the votes going to her.
Now apparently resolved to there being a run-off, she says she will have a candidate statement (in the Voter's Pamphlet) "for the November election."
She says she assumes she'll be in a run-off with Deputy District Attorney Thomas Rubinson who, she points out, has 17 years' experience in the District Attorney's Office, while a third candidate, Mark Lee, has 10 years of experience in that same office.
Loo is a volunteer instructor at the People's College of Law. She was the 2004 winner of the Juvenile Court Bar Association "Judge of the Year" award.
______________________________
MARK LEE
Deputy District Attorney Is Viewed as 'Nice,' But Ineffectual
Los Angeles Deputy District Attorney Mark Lee is a nice young man.
That's the picture painted of him by three judges of the Los Angeles Superior Court—a court to which Lee is presently seeking election.
One of the jurists describes Lee, 39, as "nice, competent."
Another remarks:
"Mark Lee is young and sweet….I don't think he has the experience, yet, to do the various tasks of a judge."
A third judge says of him:
"He's a nice enough guy, he's nice."
The judge adds:
"He hasn't done any trials in a very long time."
Lee, after 10 years in the office, is assigned to an arraignment court, the judge notes, suggesting that if he were "a go-getter or high achiever," he'd be operating on a higher level.
The candidate, who is presently stationed in the Antelope Valley and previously worked in San Fernando, is little known, even by reputation, outside of his current bailiwick.
Defense Lawyer Comments
William A. Clark, a criminal defense lawyer who practices in the Michael D. Antonovich Courthouse in Lancaster (who unsuccessfully challenged an Antelope Municipal Court judge in 2000), says of Lee:
"My impression is that he could use a lot more seasoning for the intended position before he takes on the mantle.
"If the position were for the former Municipal Court I would be more enthusiastic, however it's not, and I don't think he's ready for the big time. In this day and age of strained resources he just isn't suited to the prospect of taking over an active trial calendar, or a busy prelim[inary hearing] court and being considered effective in the position."
Clark says the mid-level deputy "just hasn't had sufficient exposure with any of the upper level felonies to have earned his stripes."
Another practitioner comments:
"Mr. Lee is a very nice fellow. His temperament would be fine."
The lawyer goes on to add that Lee, assigned to the Early Disposition Program in the felony arraignment court, "has no concept of what a fair sentence would be," remarking:
"His offers rarely result in a settlement because they are often too close to the maximum. As a result, there are many preliminary hearings. Often, the offers are reduced at the prelim."
Needs More Seasoning
From a criminal defense lawyer in Lancaster come these words:
"He needs more seasoning before he could be a judge."
While Lee "seems to be a very decent fellow," he is not "hardworking, diligent," or willing to undertake more work than he has to, the attorney says. He sees Lee as ineffective as disposing of cases because he "would just take the safe route" and would not look at mitigating evidence, dismissing it with the advice: "Just show it at the prelim."
The Feb. 13 edition of The Signal, a newspaper in the Santa Clarita Valley, quotes Lee as saying:
"I work in the court daily as a prosecutor. I've been in the system long enough to know the ins and outs of the court, but not so long where I am indifferent to the needs of victims and justice for clients."
Lee, who has his undergraduate degree from UC Berkeley and his law degree from Rutgers, was admitted to practice on Dec. 10, 1996. He is married and has three children.
He declined to participate in the interview process with this newspaper.
Copyright 2008, Metropolitan News Company