Thursday, June 5, 2008
Page 1
Three Commissioners, Two Prosecutors Win Judicial Races
Judge Ralph Dau Easily Retains Post as Five Open Seats Go to Runoffs
By KENNETH OFGANG, Staff Writer
Three Los Angeles Superior Court commissioners and two deputy district attorneys have won election to open judgeships on the court.
Commissioners Patricia Nieto, James Bianco, and Harvey Silberman, and Deputy District Attorneys Kathleen Blanchard and Jared Moses all received a majority of the votes in their respective races, final but unofficial returns showed yesterday. They will begin their six-year terms in January.
In other contests, Superior Court Judge Ralph Dau, the only incumbent to draw a challenge, won re-election, while five contests went to November runoffs.
Prosecutor Designation Unsuccessful
Nieto received 57 percent to 43 percent for Deputy Attorney General Lance Winters, who ran with the popular Criminal Prosecutor designation, while Silberman defeated another prosecutor, Deputy District Attorney Serena Murillo. Silberman received 52 percent of the vote.
Bianco, who said he spent about $200,000, easily defeated controversial Los Angeles attorney Bill Johnson, polling 74 percent of the vote.
Silberman's consultant, Evelyn Jerome Alexander of SJA Strategies, said her candidate won because "he worked really, really hard." The election was "clearly an uphill battle," she said, because his opponent was a prosecutor who had the endorsements of the Los Angeles Times and other newspapers.
Murillo and her consultant, Hal Dash of Cerrell Associates Inc., attributed her defeat, in part, to an inability to compete with Silberman's spending advantage of perhaps 2 to 1. Although both candidates are Democrats, Murillo noted, her opponent was on the slate of candidates endorsed by the county party organization, as well as on those sponsored by Rep. Maxine Waters, D-Los Angeles, and former legislator Willard Murray.
Slates Heavily Distributed
Those slates received heavy distribution within the Second Supervisorial District, where turnout was high, relative to the rest of the county, because of the hotly contested supervisor's race.
Murillo said she does not expect to run again, but will seek an appointment to the bench. Her husband, Deputy District Attorney Christian Gullon, recently had his name sent to the Commission on Judicial Nominees Evaluation as a possible appointee by Gov. Arnold Schwarzenegger.
Blanchard polled 60 percent in defeating Deputy City Attorney Alan Nadir and San Fernando Valley practitioner Richard A. Nixon.
Moses received 54 percent in defeating attorney/realtor Douglas Weitzman and Robert Davenport, an unemployed Los Angeles lawyer and former military reservist who ran as "Retired Lieutenant Colonel." Moses said he would likely have been forced into a runoff had he not gone to court and successfully challenged Davenport's bid to call himself a "Lieutenant Colonel/Pilot."
The seat to which Moses was elected is already vacant as a result of the retirement of Judge Dzintra Janavs, and Moses said he was open to being appointed to the seat in order to start work early.
"I'll start whenever they need me and I'll go wherever they want me," he told the MetNews. In the meantime, the onetime film actor said, "I'm going to Disneyland."
Dau's consultant, Fred Huebscher, said he was "not at all surprised" at this client's large margin, about 66 percent to 34 percent for trial attorney Sydney Singer.
Singer, Huebscher estimated, spent $150,000 on the race, much of it her own money, yet never gave voters a reason to dump the incumbent judge.
"It's the worst investment you can make," he said. "She would have been better to have owned Enron stock."
In runoffs:
•Deputy District Attorney Hilleri G. Merritt will face Steven A. Simons, who ran as a "Consumer Rights Attorney." Merritt, who said she spent about $170,000 and received about 48 percent to 31 percent for her opponent, said she had "very high hopes" for the runoff. Deputy District Attorney Marc Chomel, who had some newspaper endorsements but spent little money on the race and did not employ a professional consultant, finished third.
•Superior Court Referee Cynthia Loo, with 39 percent, and Deputy District Attorney Thomas Rubinson, with 36 percent, will face off in November. Deputy District Attorney Mark Lee came in third, but said he was pleased with his performance, given his limited resources, and may run again.
•Deputy District Attorney Pat Connolly, with about 40 percent, and Superior Court Commissioner Lori-Ann Jones, with 27 percent, eliminated Deputy Attorney General Bob Henry and Workers' Compensation Judge John Gutierrez.
The race was unusual in that all four candidates were rated "Not Qualified" by the County Bar's panel.
Alexander, who served as campaign consultant to both Loo and Jones, who is African American, said they were both "positioned very strongly for November," when Democrats are expected to turn out in large numbers to support presidential candidate Barack Obama, giving a boost to women and minorities in down-ticket races.
•Deputy District Attorney Michael O'Gara, with 40 percent, and Deputy Public Defender C. Edward Mack, with 34 percent, will face off following the elimination of Deputy District Attorney Eduard Abele. O'Gara said he originally expected that he would face his fellow prosecutor in the runoff, but that it seemed clear recently that Mack, the only Democrat in the race, was in a strong position to make the runoff.
•Deputy District Attorney Michael Jesic, with 43 percent, and Superior Court Commissioner Rocky Crabb, with 34 percent, defeated Deputy Attorney General Paul "Pablo" Brugera, as he was listed on the ballot. Huebscher, who was Crabb's campaign consultant, said he faced a "very tough" campaign in November against Jesic, who received strong support from Republican groups.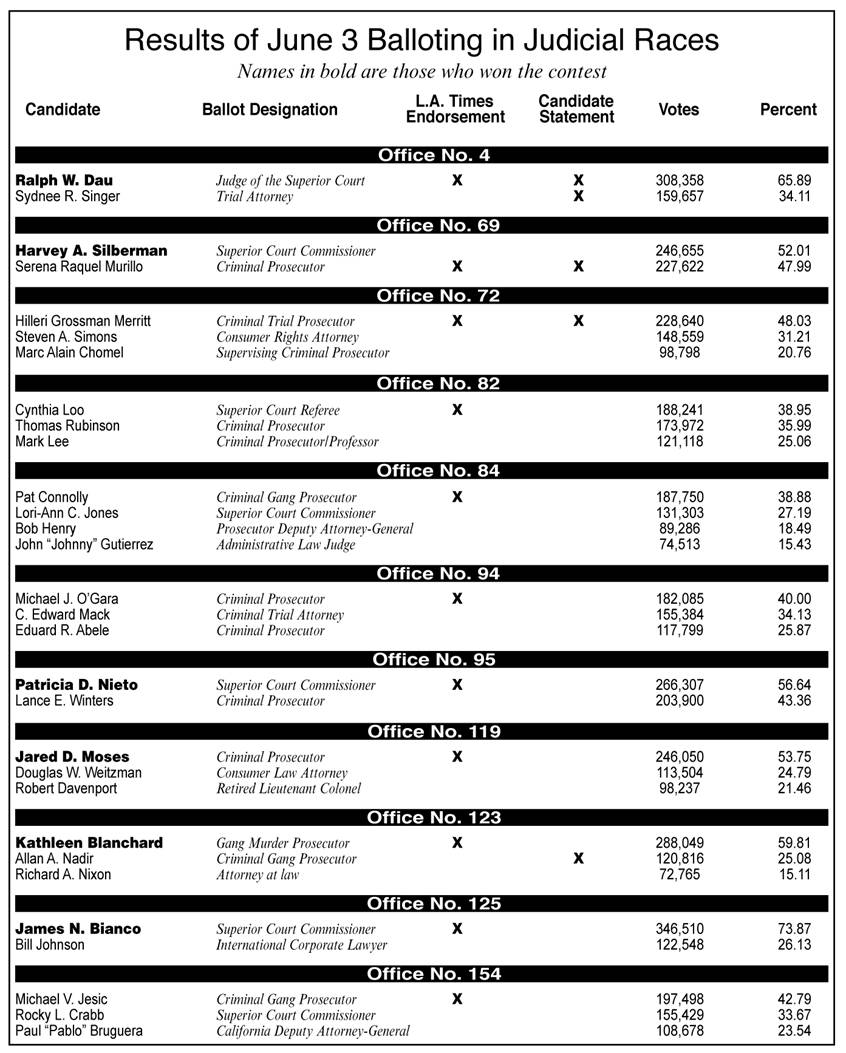 Copyright 2008, Metropolitan News Company