Thursday, July 19, 2007
Page 15
REMINISCING (Column)
M & M Launches Attack on Discriminatory Discounts
By ROGER M. GRACE
Promoting a clamp-down on shoddy business practices was an early objective of the Merchants' and Manufacturers' Assn. of Los Angeles.
It was in June of 1896 that the M & M was formed, an amalgam of the Merchants' Assn. and the Manufacturers' Assn. A few months later, it spawned the "Merchants' Auxiliary Organization," operating under the M & M's auspices. On Nov. 1 of 1896, through efforts of the auxiliary, a pact went into effect among 43 leading merchants. Each would desist from engaging in a "pernicious custom" declared to be "unjust to the general public and unfair to the mercantile community": that of giving discounts to some retail purchasers.
Signatories to a pledge to "abolish" the practice of selling to different customers at different prices included I. Magnin & Co., Broadway Department Store, J.W. Robinson & Co., and a men's store in which the M & M's president, Herman W. Frank was a partner, Harris & Frank.
The pact, published in the city's newspapers, included this blanket proviso: "We pledge ourselves to allow no discount, discrimination, commission or rebate of any kind or character upon any purchase."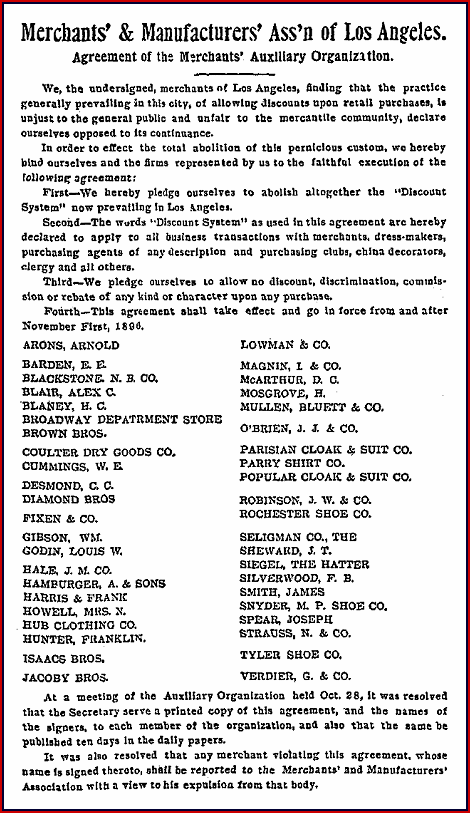 Despite that broad language, what the merchants were actually seeking to deter was the conferring of discriminatory or "special" discounts.
The ad declared that "any merchant violating this agreement, whose name is signed thereto, shall be reported to the Merchants' and Manufacturers' Association with a view to his expulsion from that body." Yet, on Jan. 15, 1897, an ad in the Los Angeles Times for Silverwood, a men's clothing store at 124 S. Spring St., offered: "25 per cent. discount on all umbrellas over $1 this week." The proprietor, F.B. Silverwood was a signatory to the pledge.
Silverwood wasn't ousted. Instead, he was appointed to a committee of Spring Street merchants with shops north of Second Street.
(Silverwood went on to write the lyrics for "I Love You, California" which in 1988 was adopted as the state song. There were 18 Silverwoods stores in California by the time they were closed in 1991.)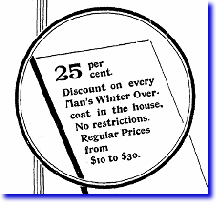 Another clothing store, The Hub,advertised a discount on Feb. 9, 1897, though that store had taken the oath. (A portion of its ad appears at the left.) The Hub, too, apparently remained in the M & M's good graces.
The sweeping pronouncement that to "no discount" would be allowed "of any kind or character" was also probably not intended to apply to policie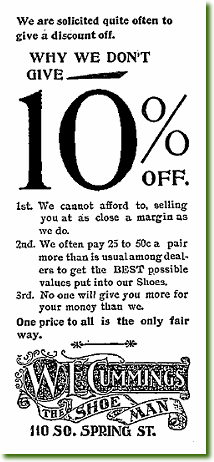 s, applicable to all customers, of giving "discounts for cash."
The anti-discount effort had originated in Los Angeles, bounced to San Francisco, then rebounded here.
Some months prior to the Nov. 1 pact taking effect, an ad hoc group of merchants, bristling at the prevailing custom of extending reduced prices to certain classes of customers (including dressmakers and those who were members of "discount clubs"), sought to band together to defeat the practice. They failed to gain momentum, but their concept was noted and successfully put into effect by a merchants' organization in San Francisco.
That, in turn, inspired the M & M in Los Angeles to hold meetings in its Wilcox Building offices, resulting its formation of the merchants' auxiliary, the first task of which was the promulgation of a same-price-for-everyone rule.
One of the merchants who signed the pledge was W.E. Cummings, "the shoe man," who had a shop at 110 S. Spring Street. Cummings explained in an ad appearing a week before the Nov. 1 accord went into effect why he could not honor any requests for discounts:
It was not until 1913 that secret rebates and unearned discounts were, under some circumstances, condemned by state law.
Copyright 2007, Metropolitan News Company