Thursday, June 7, 2007
Page 15
REMINISCING (Column)
Hans and Jack Jevne Encounter Local Court System
By ROGER M. GRACE
Hans and Jack Jevne, the father-and-son team that ran H. Jevne Company, each had sundry contacts with the legal system in Los Angeles. But their experiences before 1917 were nothing in comparison to what they would encounter when District Attorney Thomas Lee Woolwine targeted the bread bakers in Los Angeles—including H. Jevne Company—for an antitrust prosecution.
The tale of People v. H. Jevne Company comes next Monday in the "Perspectives" column. Below are some of the Jevnes' encounters with the courts that came earlier, gleaned from accounts in the Los Angeles Times.
•1888: Hans Jevne was a juror in the city Justice Court. The defendant was charged with vagrancy. A Times article refers to him as a "notorious mac"—being a shortened form of the French word "macquereau," meaning pimp. There was a police crackdown on such persons in progress, with vagrancy being the offense alleged. The man was convicted on April 29 and sentenced on May 1 to 90 days in jail, but was released on a writ of habeas corpus based on the sentencing having been delayed. A new trial was commenced May 25. The system did move a bit faster then.
•1901: Hans Jevne was a witness for the defense in a $50,000 libel action brought by one W.C. Furrey against the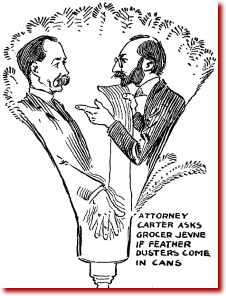 Committee of Safety, a citizens' group, based on its published allegation that "Furrey's bills [to the city Board of Education] are grossly excessive."
The case dealt with charges made in 1893 and 1894. Jevne, who had been a merchant here since 1882, was an expert witness on the wholesale prices of the sorts of goods Furrey sold to the city, such as feather dusters.
For example, he testified that on Aug. 28, 1893, the best quality 12-inch floor brushes were being sold, wholesale, for $16 per dozen. It was claimed that Furrey billed the city $30 a dozen.
More to the point, since Furrey was selling to the city not at wholesale but at marked-up prices, Jevne testified as to what prices items were going for on the open market during the relevant period.
Under cross examination by attorney Henry C. Carter, Jevne was asked whether he was a member of the Committee of Safety. This dialogue ensued:
JEVNE: Yes, sir.
CARTER: Have you contributed anything toward the work of this committee?
JEVNE: Some time ago I made a payment for something, but long before this suit was begun.
CARTER: Then you have an interest in this case?
JEVNE: Well, I am a member of that committee.
(After a 20-day trial and 15 minutes of deliberation, there was a unanimous verdict for the defendant.)
•1906: Hans and Jack Jevne were arrested May 30 for driving an automobile in "England's Park" in Redlands, a city in San Bernardino County.
The first sign someone would see in approaching the park read: "Look out for the automobiles"…implying that autos were permitted there. Inside the park, however, there was another sign reading, "No automobiles allowed."
The Jevnes each deposited $10 in bail, apparently content to forfeit the $20 since neither showed up the next day in Justice Court to contest the doubtful charge.
•1908: Jack Jevne came to the police station to confront an employee who had worked for H. Jevne Company as a door-to-door bill collector/order solicitor. It appeared that he had embezzled more than $1,000 from the company. The man confessed. His inventive modus operandi was to pocket a cash payment handed to him by a customer; the next time he was paid in cash by that customer, he would apply the new payment to the earlier charge, still shown on the company books as open.
•1916: A June 11, headline in the Times reads: "JACK JEVNE PINCHED BY BEACH MAYOR." S.L. Berkley, who had become Santa Monica's chief of police, as well as mayor, made his first arrest: that of Jack Jevne for speeding. The grocer/sportsman was charged with racing along Wilshire Boulevard…at the devil-may-care, break-neck speed of 34 m.p.h.
Copyright 2007, Metropolitan News Company