Thursday, May 17, 2007
Page 15
REMINISCING (Column)
Hans' Jevne's Son, Jack, Draws Frequent Mention in Print
By ROGER M. GRACE
Grocer Hans Jevne, president of H. Jevne Co., was a pioneering Los Angeles civic leader whose name, now and again, appeared in print…but not nearly so frequently as that of his son, Jack Jevne, the company vice president.
Hans Jevne was mentioned in news stories in connection with his handling of finances when the merchants' association annually staged Fiesta de Los Angeles in the 1890s; his support of reforms such as ending the nomination of candidates at political conventions and introducing "direct primaries" at which voters made the choices; and his opposition to business license fees.
Jack Jevne's name turned up in newspapers with regularity, most often on the society pages. He was a guest at this ball, at that wedding, at so-and-so's lunch. His wife, Genevieve (identified in articles only as "Mrs. Jack Jevne"), was at a tea, was hosting a "box party" at a theater, and so on.
All of this does seem like trivia today, hardly worth ink. Would you care that some couple was at an "elaborate dinner" which was "[o]ne of the small but exclusive events of the season at the Los Angeles County Club"? Those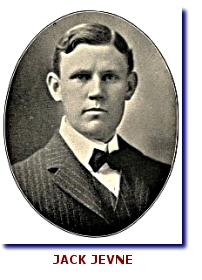 quotes are from the Fresno Republican; the couple was the Jack Jevnes; the date of the event was Sept. 1, 1912. Back then, such matter fascinated readers.
The names of Hans Jevne and his wife, Mina ("Mrs. Hans Jevne," that is), did, of course, appear in society columns, but not constantly, as their son's moniker did.
Too, Jack Jevne was often mentioned on the sports pages. He was an amateur golfer, and demonstrated proficiency as such. For example, on Feb. 12, 1912, the Times's sports section brings news that Jevne won the Victoria Club Invitation Golf Tournament in Riverside; that section on Jan. 28, 1917, reports that Jevne won the golfing sweepstakes at the Los Angeles Country Club.
Jevne and his wife, in hob-nobbing with the local aristocracy, attended social events linked to sports.
They had a box at the horse races at Agricultural Park (now known as Exposition Park) on Nov. 28, 1901. They attended a tea following tennis matches on Aug. 6, 1902, and another following the matches the next day, and a ball the following night after the tournament had ended. They were participants at a sporting carnival in July, 1903, in Santa Barbara, with guests coming by limousine or yacht.
"Jevne returned a week ago from his European sojourn, where I would expect he has sampled all the famous links," the "Country Club Gossip" column in the June 16, 1913 issue of the Times says.
Jack Jevne was the son of a Norwegian immigrant who started in Los Angeles with a cubby-hole grocery store. With determination and effort, he expanded operations in 1896 to the spot on South Spring Street now housing this newspaper's operations, then erecting a six-story retail facility at Sixth and Broadway, and operating a 7-story by factory at 7th and Central that turned out goods he retailed and wholesaled.
The son seemingly had much time on his hands for leisure activities and indulgences. If he'd putted less and labored more, the Jevne name might have as much presence today as that of "Ralphs," a retail grocery establishment that had been three blocks south of Jevne's Spring Street store, with far less seeming potential.
"Mrs. Jack Jevne" was identified by her first name in news stories in 1924 when she filed for divorce, charging desertion and cruelty. She was represented by Mitchell, Silberberg & Davis (known since 1933 as Mitchell, Silberberg & Knupp). The couple had been married in 1896, and had no children.
The court system moved a bit more quickly then. A divorce petition was filed Oct. 9; default was entered Oct. 27 after Jack Jevne failed to file an answer within the 10-day period allotted; a divorce was granted Oct. 28.
Genevieve Jevne testified at the hearing that her husband "said he wanted to live his own life to suit himself." She added:
"When I attempted a reconciliation, he just pushed me aside. When I asked him why he did not kiss me, he said, 'Why all this formality?' "
A year later, Jack Jevne wed a recent divorceé. I don't know if they went through the formality of kissing. In any event, they had no children.
Copyright 2008, Metropolitan News Company